Vietnam to get 31 million Pfizer vaccine doses this year
Vietnam will get 31 million Covid-19 vaccine doses developed by U.S.-based firm Pfizer and Germany's BioNTech Pfizer Inc. this year, the Health Ministry said.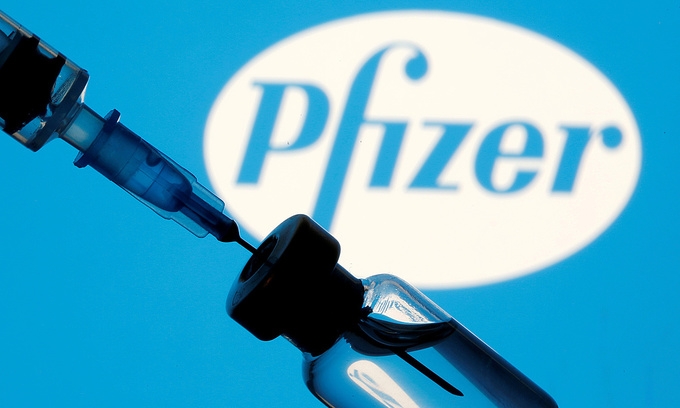 A vial and syringe are seen in front of a displayed Pfizer logo in this illustration taken January 11, 2021. (Photo: Reuters)
In a statement released Friday on its website, the ministry said it has made deals to have 110 million doses of Covid-19 vaccine provided for Vietnam in 2021.
Of the sum, there will be 31 million doses of the Pfizer-BioNTech Covid-19 vaccine, which is developed from the messenger RNA or mRNA, which contains the instructions for human cells to construct a harmless piece of the coronavirus called the spike protein, the ministry said without revealing further details on the contract.
For the remaining doses, 38.9 million of AstraZeneca vaccine, produced by British-Swedish firm AstraZeneca and Oxford University, will be provided to Vietnam via the global vaccine access mechanism Covax, which is backed by the World Health Organization to distribute vaccines to low- and middle-income countries as announced late last month.
Around 1.7 million doses under this program are scheduled to arrive in VietnaNationwide vaccine rollout started on March 8. In late February, the health ministry purchased over 117,000 doses via Vietnam Vaccine JSC. Over 800,000 doses supplied by COVAX Facility arrived in March. All the doses have been administered to prioritized individuals in 62 provinces and cities, including frontline medical personnel, Steering Committee for Covid-19 Prevention and Control members, police and military forces.m on Sunday, according to VNE.
Aside from the vaccine provided by Covax, Vietnam had already secured a deal to have Vietnam Vaccine JSC (VNVC) buy 30 million doses from British-Swedish firm AstraZeneca. Of these, 117,600 doses have been delivered.
Besides, the ministry has also registered to buy about 10 million additional doses through Covax under the cost-sharing scheme to enjoy the lower prices.
The country is scheduling to start its 3rd vaccine rollout as soon as the new AstraZeneca batch arrives this weekend.
On Friday morning, Health Minister Nguyen Thanh Long called for all localities to quickly draw up vaccination plans, which will cover new prioritized groups.
"Safety will be a top priority," Long added.
Medical authorities will organize training courses on Covid-19 inoculation at all sites, focusing on screening and handing of post-vaccination reactions, according to Duong Thi Hong, deputy director of the National Institute of Hygiene and Epidemiology. She emphasized that localities must go all out to ensure safety and avoid cross-infection at vaccination sites.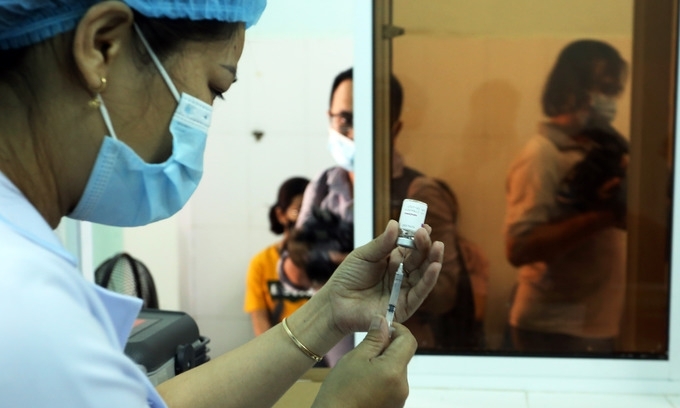 A nurse prepares an AstraZeneca vaccine shot in the central Quang Nam Province, April 23, 2021. (Photo: VNE)
Vietnam began its own Covid-19 inoculation program on March 8 after using the AstraZeneca vaccine that arrived either through contracts or Covax.
The World Health Organization (WHO) said on Wednesday it was reviewing a proposal by one manufacturer in Vietnam to become an mRNA-based COVID-19 vaccine technology hub.
"A vaccine manufacturer in Vietnam has already expressed its interest to become a mRNA-based COVID-19 vaccine technology transfer hub," Kidong Park, the WHO representative in Vietnam, said in an emailed statement to Reuters.
The proposal was being reviewed by the WHO, said Park, who added that the organisation expects Vietnam to also apply for "large scale manufacturing" of an mRNA-based COVID-19 vaccine.
Park did not say which vaccine manufacturer had expressed interest in the plans.
Earlier on May 11, VNA reported that Vietnam is seeking the transfer of mRNA technology to domestically manufacture COVID-19 vaccines as officials warned of supply issues until the end of the year. Vaccine makers have come under growing pressure to free up their patents to aid poor countries. BioNTech and other COVID-19 vaccine makers have said they were already transferring vital production knowledge to other parts of the world.
So far, over 969,697 people in 62 cities and provinces, or around 1 percent of the country's population, have been inoculated, mainly frontline workers of the Covid-19 fight and medics at local hospitals.
Vietnam's ongoing Covid-19 wave that broke out on April 27 has seen 808 local cases recorded in 26 cities and provinces.