Vietnamese in the United States more confident to go out after receiving Covid-19 vaccines
After receiving Covid-19 vaccine, Ngan Vu, a Vietnamese living in California, feels confident to go out to enjoy the life which has gradually returned to normal in the United States.
"I now feel more confident when going out or traveling. I also don't need to don a face mask all the time like previously, except for in public spaces," Ngan Vu told VnExpress.
Ngan admitted getting vaccinated against Covid-19 has been a blessing. She was administered two Pfizer Covid-19 vaccine shots in mid-April and last week.
"After being inoculated the first jab, I felt quite tired and achy. After the second injection, my arm was so achy that I couldn't lean towards that side. Besides, I suffered a mild fever. However, these reactions disappeared two days later," Ngan recalled.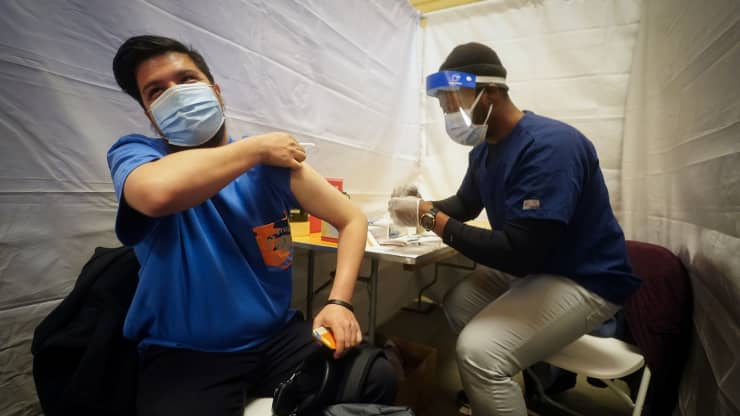 A commuter rolls up his sleeve to receive a vaccination shot for the coronavirus disease (Covid-19) at Grand Central Station Terminal train station in Manhattan in New York City, New York, the United States, May 12, 2021. Photo: Reuters
California has inoculated more than 33.6 million Covid-19 doses. Among its 39.5 million residents, 51.8% have received at least one dose and 35.8% received two doses, according to Bloomberg. Ngan added that registration for Covid-19 vaccination in California was easier and more convenient.
The average number of new infections in the last 7 days in the state is 1.772 cases, declining sharply compared to its peak of more than 50.000 in early January. The state has only documented 4 infections per 100.000 population, NYTimes reported. The number of cases needing to hospitalize has also dropped by 12% over the past 14 days.
"The pandemic has been better controlled. The life has almost returned to normal," Ngan said.
Like Ngan, Bao Long, an overseas Vietnamese student in Baltimore City, Maryland, was also vaccinated with two Pfizer Covid-19 vaccine doses in mid-April and early May. He said apart from experiencing pain at the bicep, he didn't display any post-immunization reactions.
Maryland has given vaccines to all groups, Long said, adding that he felt more secure when going out after the inoculation.
"Getting vaccinated not only helps to protect me but also the community. When coming back to Vietnam, I also hope that receiving vaccine will contribute to minimizing the contagion in the community," he said.
The latest guidance from the Centers for Disease Control (CDC) stated that vaccinated people don't need to wear face masks, except for crowded places and public transport. However, Long has still adhered to wearing mask.
Although the state has witnessed a decrease in Covid-19 cases, he feels a little bit worried as many Americans hesitate to get vaccinated. "The United States has so far inoculated only one third of its population," Long added.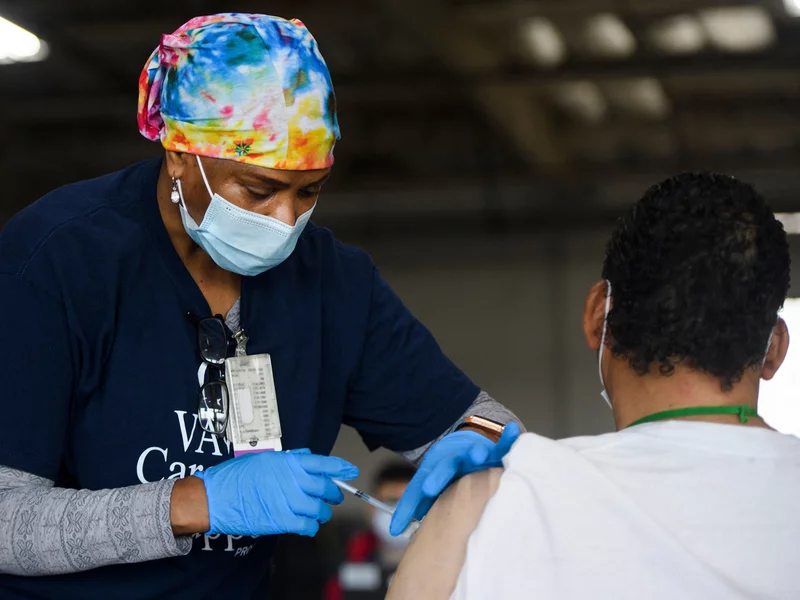 A nurse administers the Moderna Covid-19 vaccine at a Veterans Administration Long Beach Healthcare System pop-up vaccination site at the Dae Hueng Presbyterian Church. Photo: NPR
Quynh Lam and her husband, living in Austin City, Texas, said they were injected two vaccine shots one month ago.
"After the immunization of Pfizer vaccine, I did not suffer any reactions. But, my husband experienced fatigue and headache. Nevertheless, these reactions went away several days later," Quynh said.
She added it was easier to get vaccine in her state. Anyone wanting to be administered can make an appointment at injection sites. Thanks to a rapid and effective vaccination campaign, the pandemic in Texas has been basically under control and several anti-Covid-19 measures have been loosened.
The United States is reporting an average of 2.2 million shots per day over the past week, federal data shows, up slightly from the most recent low reported Saturday, when it dipped below 2 million for the first time since early March.
A key Centers for Disease Control and Prevention advisory panel is set to vote Wednesday on whether to recommend expanding usage of Pfizer's and BioNTech's Covid-19 vaccine to kids ages 12 to 15. An endorsement is the last step before officials give states the go-ahead to open vaccinations to millions of adolescents as early as Thursday.
Tuesday's reported totals also included 150,000 Johnson & Johnson shots, the highest one-day total since April 15. The latest seven-day average of J&J shots is 106,000 per day, down from a high point of 425,000 in mid-April, according to CNBC.