Vietnam to spend $520 bln from state budget for Covid-19 vaccines
Part of a sum saved from last year's budget expenditure will be used to purchase Covid-19 vaccines, as approved by the parliament.
The Standing Committee of the National Assembly (NA) has agreed to extract VND12 trillion ($520.44 billion) from an amount of VND64.76 trillion, which Vietnam has saved from last year's spending, to buy vaccines.
The NA's Finance and Budget Committee said it is necessary to serve an urgent issue, and complies with State Budget Law.
Besides, the government has also asked for the NA's approval to use a sum of VND1.237 trillion left from a pandemic prevention fund for 2020 of the Ministry of Health to buy vaccines.
The Finance and Budget Committee said the government proposal is reasonable given the complicated, unpredictable development of the Covid-19 pandemic, Vnexpress reported.
However, since the State Budget Law does not allow such a sum to be transferred from one year to the next, a final decision would be taken at the coming NA meeting in July.
Vietnam has secured a deal to have Vietnam Vaccine JSC (VNVC) buy 30 million doses from British-Swedish firm AstraZeneca. Of these, 117,600 doses have been delivered.
Through the Global Covid-19 Vaccine Facility (Covax), Vietnam will be provided 38.9 million doses of the vaccine.
Prime Minister Pham Minh Chinh said Tuesday authorities need to ensure greater access to Covid-19 vaccines through international collaboration.
The Health Ministry last month said local firms were in talks with companies in the U.S. and India for diversification of vaccine sources as Vietnam seeks to obtain a total 150 million doses this year to immunize 70 percent of its population.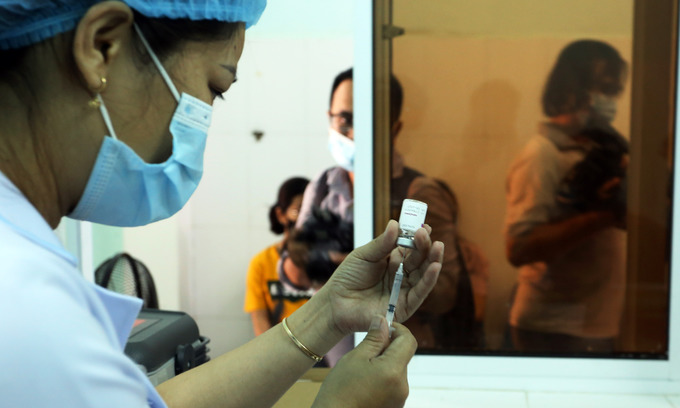 A nurse prepares an AstraZeneca vaccine shot in the central Quang Nam Province, April 23, 2021. Photo by VnExpress/Dac Thanh.
Besides frontline medical workers, medical staff, the military, and police, Vietnam's priority list for Covid-19 vaccination include teachers, diplomatic personnel, customs and immigration officers, those working in essential services like transport, people aged 65 and above, the poor, and those with chronic diseases.
People seeking to study or work abroad or living in pandemic-hit areas are also on the list.
The ministry has reported the nation now has 19.4 million people in priority groups, with Ho Chi Minh City accounting for the most at 1.56 million.
Demand for the free vaccine among priority groups, however, could be lower than expected because some are reluctant to receive it following global reports of side effects, the ministry noted.
Results from the second stage of human trials of Nano Covax, the first Vietnam homegrown Covid-19 vaccine show it is safe, according to the research team.
Navo Covax is developed by the Nanogen Pharmaceutical Biotechnology JSC.
The second stage trials of the vaccine were conducted on 560 volunteers divided into four groups, with 80 people injected with placebo and three other groups administered with 25mcg, 50mcg, and 75mcg doses. However, only 554 received second shots because six people withdrew from the trial.
All of the vaccinated volunteers have developed antibodies against COVID-19 at different levels.
Regarding the antibody index to neutralize the virus, people injected with 25mcg dose got the highest index with more than 90 percent at 14 days after the second shot and 42 days since the first jabs.
The research team is expected to submit a report to the Research Ethics Committee of the Ministry of Health on April 27 and propose a plan for the third phase of human trials, possibly on May 5.
The third phase of human trials is expected to involve 10,000-15,000 people in both Vietnam and Asian countries with severe coronavirus outbreaks. Volunteers will be administered with 25mcg – the only dose for this stage. Each person will receive two jabs. They are set to get second shots of Nano Covax 28 days after the first one.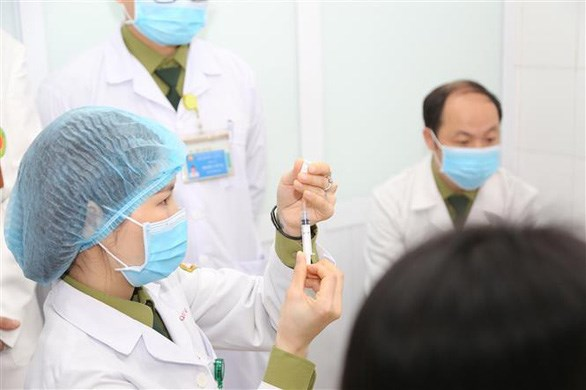 A medical worker is preparing to give the shot of Nano Covax for volunteers at the Military Medical University in Hanoi (Photo: ncov.moh.gov.vn)
Navo Covax vaccine started testing on humans on December 17 last year and has completed the second phase. It is prepared to enter the third phase, the final stage of testing before mass production.
The first-stage trials of Nano Covax showed the vaccine was safe and vaccinated volunteers had antibodies against the UK variant (B117).
Based on the results of the first and second phases, experts are optimistic that if the tests are successful, the third phase of the trial will be completed at the end of the third quarter, shortening the research by three months compared to previously planned.
Meanwhile, the first 6 volunteers got the second jabs of the Covivac vaccine on April 20 after all 120 volunteers in phase 1 of the clinical trial have been administered the initial jab.
The 120 volunteers aged 18-59 are divided into 5 groups who received different doses (1 mcg, 3 mcg, 10 mcg, 1 mcg with supplemented adjuvant and placebo). All the second jabs of phase 1 of the clinical trial are expected to complete by May 15, according to Associate Professor, Dr. Vu Dinh Them, Director of the Center for Clinical Trial, Central Institute of Hygiene and Epidemiology. Reports evaluating the vaccine's immunological efficacy will be published two weeks later before Covivac enters phase 2 of human trials in June.
Covivac is Vietnam's second indigenous Covid-19 vaccine to enter human trials. It was studied and developed by the Institute of Vaccines and Medical Biologicals (IVAC). One shot of Covivac is proved effective on the British and South African variants of nCoV, which have emerged several months ago and are more dangerous than the original variant.
Besides, Vietnam is having two other potential candidates studied and produced by Vabiotech, Polyvac.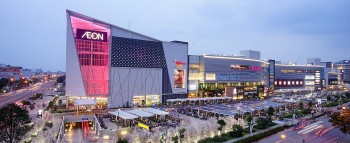 Handbook
From Big C Vietnam to Lotte Mart, here are the 8 biggest retail supermarkets in Vietnam that you can find all different products, food and friendly services such as entertainment, movie theaters and play areas for children.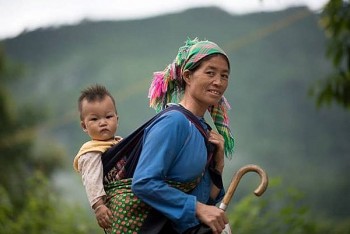 Viet's Home
Innovative interventions needed to reduce maternal mortality in ethnic minority regions in Vietnam.
World
Everyone wants a beautiful and gorgeous house to live, but to some people, it is also about outstanding architecture, majestic looking and extremely luxurious. Here is top 10 most beautiful houses in the world.