Foreigners yearn for returning to Vietnam after getting vaccinated
After receiving two Covid-19 vaccine jabs, many foreigners long to enter Vietnam to continue their work or settle down.
"I was administered two doses of the Pfizer Covid-19 vaccine in mid-February. I'm looking forward to coming back to Vietnam soon", Charlie Bowland, a veteran living in Maryland, the U.S was quoted by Vnexpress as saying.
He is even more eager to know that the Vietnamese Government may allow three groups including overseas Vietnamese, foreign investors and visitors with "vaccine passports" to enter the country.
Bowland has stayed in Vietnam since 2011 to do charity. He donated to the poor, taught English for children in Ho Chi Minh City, Da Lat, and Phu Quoc. He said he made friends with many people and considered Vietnam as his second home.
The Covid-19 pandemic turned his life and plans upside down. After getting vaccinated in his country, Bowland in April sent a letter to the Vietnamese Embassy in Washington asking to return to Vietnam.
"If I'm allowed to return to Vietnam, I will buy a house there to stay longer," he said.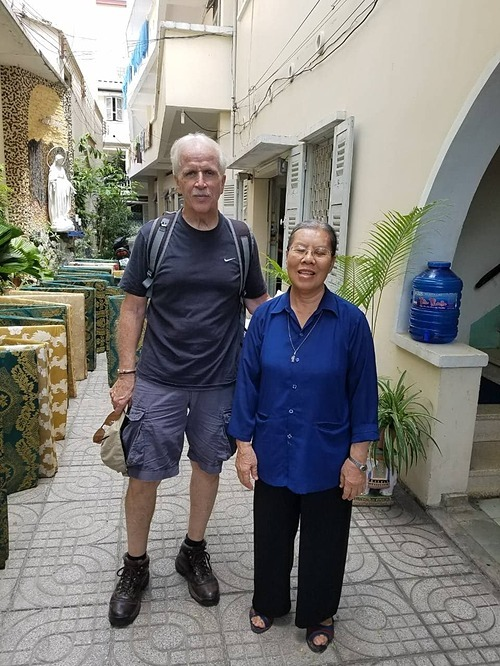 Charlie Bolland takes photo at a church in Ho Chi Minh City, 2019. Photo courtesy of Charlie Bolland
Bowland is willing to go through Covid-19 testing and quarantine to return to Vietnam. He used to contract nCoV. He has certificates showing he tested negative for the virus and receiving two vaccine doses.
In the UK, Rebecca Jennings completed her second vaccine shot in February. She craves for coming back to Vietnam to continue her teaching profession. In the U.K, she is working as a nanny.
"I miss my job. I miss a Vietnam with friendly people, nice weather and delectable cuisine," she said.
Rebecca Jennings hoped she could back to Vietnam in July or August. Like Bowland, she said she was ready to go through testing, quarantine or do anything else to be eligible to enter Vietnam.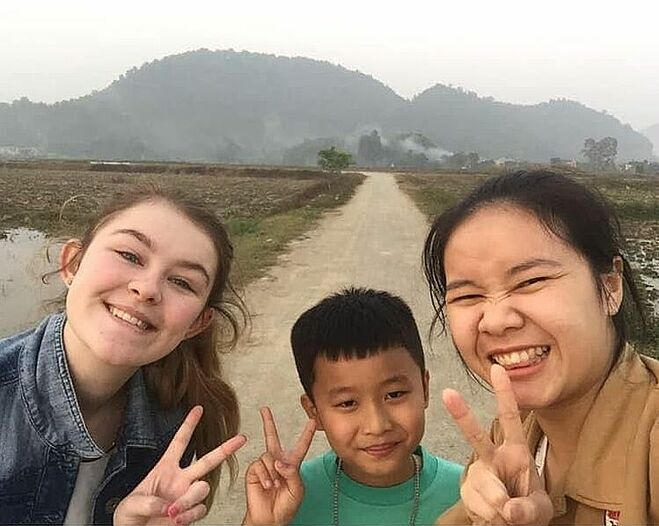 Rebecca Jennings (L) along with her friends in Thanh Hoa province, 2019. Photo courtesy of Rebecca Jennings.
As an immigration consultant in Ho Chi Minh City, Rey Concepcion, a Filipino, knows that it is not easy to be injected with the Covid-19 vaccine in Vietnam. Hence, he decided to fly to Canada to receive the Moderna vaccine in March. He also has a desire of returning to Vietnam to go on with his business.
Concepcion wishes not to be quarantined since he got vaccinated. Nevertheless, he is still willing to comply with the regulations if requested by the authorities.
"I'm glad to see Vietnam has put the Covid-19 epidemic under control thanks to its drastic measures", he said.
Yuliana Leon, a teacher in Hanoi, returned to Mexico for holiday last February, also wants to come back to Vietnam. Leon is willing to abide by the quarantine rule, but she hopes to flexibly opt for hotels for quarantine. She has the intention of arriving in the U.S to get vaccinated and then coming back to Vietnam if the country opens its border.
"I'm still waiting. I miss Vietnam so much," she said.
Quang Nam Province, home to UNESCO heritage sites Hoi An ancient town and My Son sanctuary, is pending government green light to become the first locality to welcome foreign tourists carrying Covid-19 vaccine passports.
Dinh Hai, former director of the Quang Nam Department of Culture, Sports and Tourism, said the central province is capable of meeting traffic infrastructure, health service and tourism demands implicit in welcoming vaccinated foreign tourists. "Quang Nam has Chu Lai International Airport and some large resorts in South Hoi An."
He proposed only welcoming tourists to two cordoned off resorts in Duy Xuyen District or Nui Thanh District in the province, which neighbors Da Nang City. They along with resort staff would be strictly supervised to avoid the risk of spreading the virus to the community.
Under the vaccine passport pilot project outlined by Quang Nam authorities, arriving foreign tourists must have a vaccine passport (documented proof of two shots of vaccination) and a certificate from medical agencies showing negative Covid-19 test results, and only stay in cordoned off resorts. They will be tested for Covid-19 from once to twice.
Due to the closure of the borders as a pandemic safety measure, the number of international visitors to Vietnam was only 3.7 million in 2020, down 80 over 2019.
Vietnam stopped all international commercial flights in March 2020. International visitors entering the country since are mainly experts, high-tech workers, investors and foreigners working on national projects.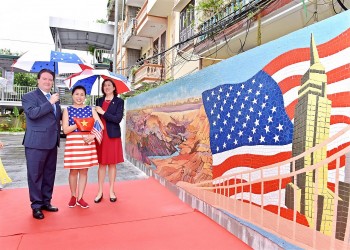 Multimedia
A ceramic mosaic mural named "Vietnam - US friendship" depicting the natural and cultural heritages of the two countries, was just revealed in Hanoi