Vietnam Top Destinations: Exotic suspension bridge on the top of O Quy Ho pass
The new suspension bridge on the top of O Quy Ho pass, which is made up of many pieces of wood, has been receiving great attention from netizens. This bridge is considered a challenging experience even for adventurous travellers.
The bridge in the middle of the sky
Recently, a Facebook account named Bui Quyet shared a video showing his first time being on the 180-metres long suspension bridge, suspended on the top of O Quy Ho, which is 600-metres high from the foot of the mountain. The post quickly attracted thousands of impressions and comments from social media. Many people were surprised at the height of the unique suspension bridge, while many tagged their friends or asked for more details as they wanted to go there.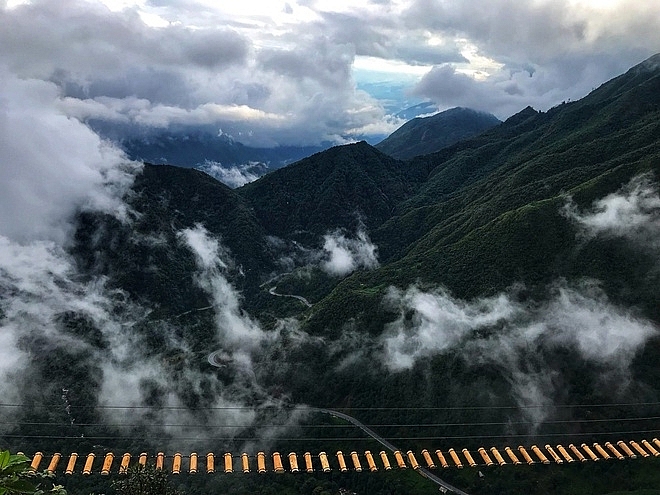 The suspension bridge on the top of O Quy Ho pass. Photo: travelmag.
Exotic experience on top of Vietnam's most magnificent pass
According to the owner of the video, the suspension bridge, which is made up of separate wooden panels, spanning between the craggy cliffs, is called Doc Moc Bridge. This new adventurous destination has been welcoming visitors since June 26th at the Rong May Tourist Area on top of O Quy Ho Pass (Lai Chau province), 17 kilometres from Sapa (Lao Cai province).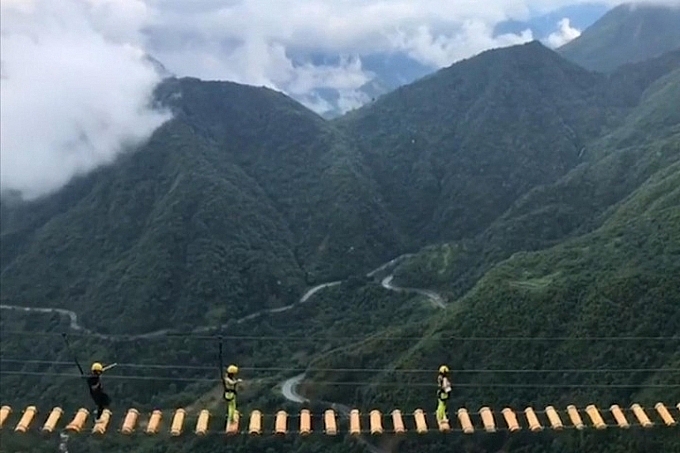 The Doc Moc Bridge. Photo: travelmag.
Quyet also left positive feedback for the unique experience he had there: "Walking on this bridge felt like walking in the air. You may slip if you're not careful. There's no doubt this would be an unforgettable experience for anyone coming there". Many people felt excited to experience the bridge after watching Quyet's video.
Despite the safety belt, the suspension bridge still looks scary to many visitors. "Those who are afraid of heights should not play this game, I felt like my heart skipped a beat even when I just watched the video", a Facebook account named Linh Nhi left a comment.
A video of the bridge
Many people are excited to challenge themselves with the new bridge. Photo: travelmag.
Walking on suspension bridges is quite a common extreme sport around the world. Although there have been some bridges like this at a few tourist attractions in Vietnam, no great attention was attracted due to their small scale. To experience this bridge, tourists have to pay 100,000 VND (US$ 4.32) each (discounted price applied until July 26th), including one drink. In order to get there, you need to get on a glass elevator which costs 400,000 VND (US$17.28) per adult and 200,000 VND (US$8.64) per child.
The year-round magic of Y Ty village

Nestling behind the magnificent Nhiu Co San mountain range, Y Ty village which lies at the height of over 2,000m, boasts a year-round beauty. From ...