The year-round magic of Y Ty village
Nestling behind the magnificent Nhiu Co San mountain range, Y Ty village which lies at the height of over 2,000m, boasts a year-round beauty. From picturesque terraced rice fields in the summer to winter's sea of clouds, the Northwest village is a magnetic destination for holiday markers.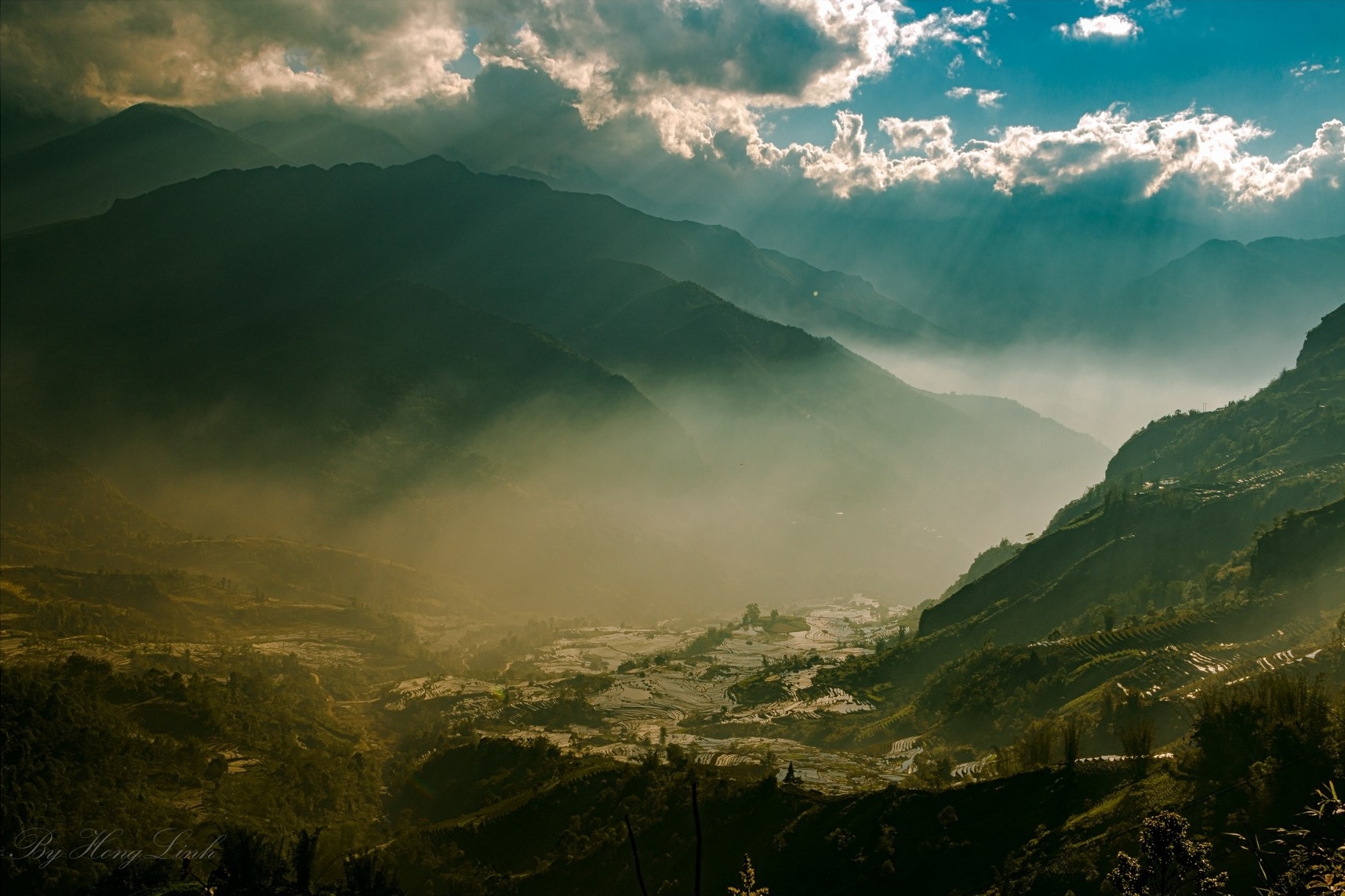 (Photo: Zing News)
Y Ty is a highland commune in Bat Xat district, more than 70km far from the center of Lao Cai city. It is dominated by Ha Nhi enthic minority people, followed by Mong, Dao, Giay. Each ethnic group has its own activities, creating a special cultural picture for the highland village.
Traveling to Y Ty is the trail of zigzagging lines and then wanders in the forest leaves, the houses are looming in the clouds. Because of that, many people feel like they are entering another world, and separated from the world, Gala tourist describes.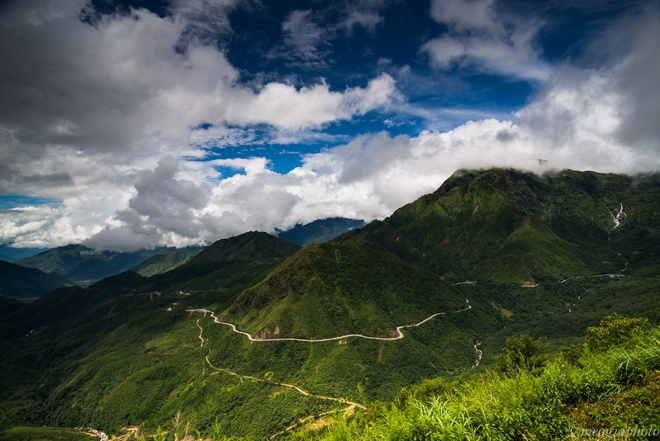 (Photo: Zing News)
Around 12 km from Sa Pa is O Quy Ho pass, promising to offer an unforgettable adventurous experience. O Quy Ho is one of the "four great passes" of the Northwest.
Mesmerizing terraced rice fields during water season in Y Ty
Just like the beauty of terraced fields in Sapa, the curving lines of the terraces, which stretches on slopes and mountainsides, embrace the chambers of water glittering fields, reflecting the sun and clouds, creating the magical effect of Y Ty in the summer.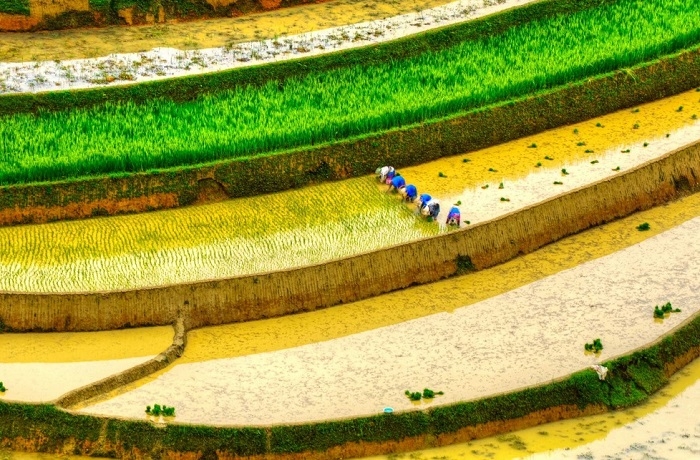 (Photo: Du lich Vietnam)
When the water from summer rains flooded the fields, ethnic minority people began to make be shore and prepare for the new season. The flooded fields inevitably become the playground of the children while parents worry about farming.
Water pouring season (May-Jun) and ripe rice season (August-October) are among the most beautiful times, favorable in the year to explore the Y Ty plateau region, according to Viettravel magazine.
People doing their farming on terraced rice fields.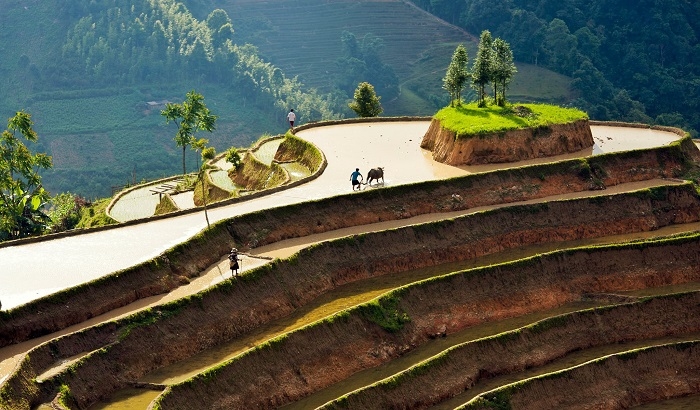 (Photo: Du lich Vietnam)
The terraced rice fields in the water pouring season are "flooded" with rainwater, reflecting the vast sky.
Y Ty's terraced fields in ripe rice season
The village colors itself in yellow during rip rice season.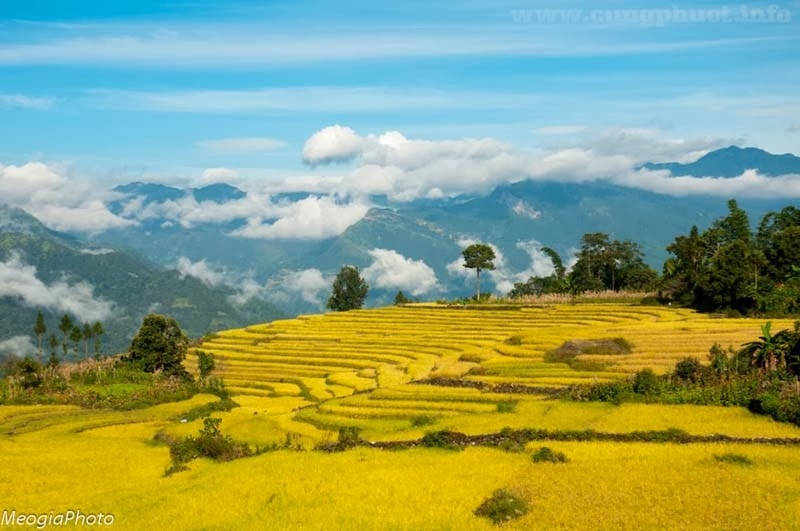 (Photo: Meogia Photo)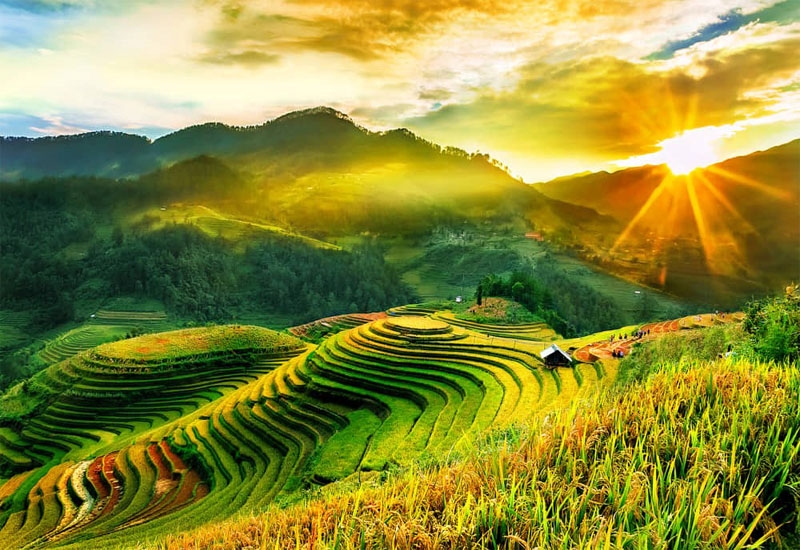 (Photo: Du lich Viet)
A worth-conquering stop for cloud hunting
Nestling behind the magnificent Nhiu Co San mountain range, Y Ty village lies at the height of over 2,000m, making it an overwhelming stop for "cloud hunter".
According to VNE, cloud blankets in Y Ty are at their best between September and Apirl, which normally appear in late afternoon or at dawn and disperse at noon.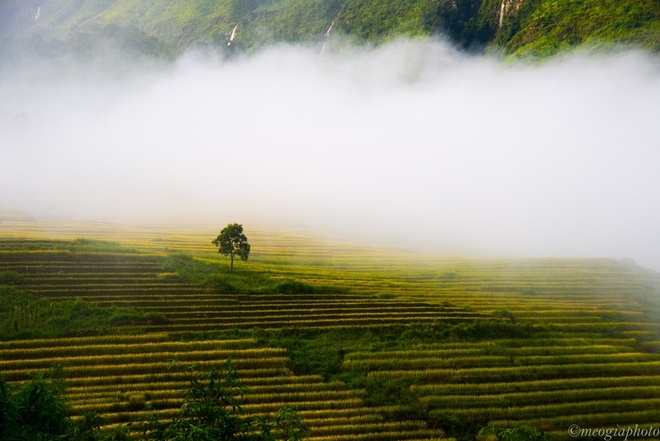 (Photo: Zing News)
Along the way from Sa Pa to Y Ty, one can easily catch sight of the terraced rice paddy fields covered in cloud, which, for many visitors, gives them a sense of romance.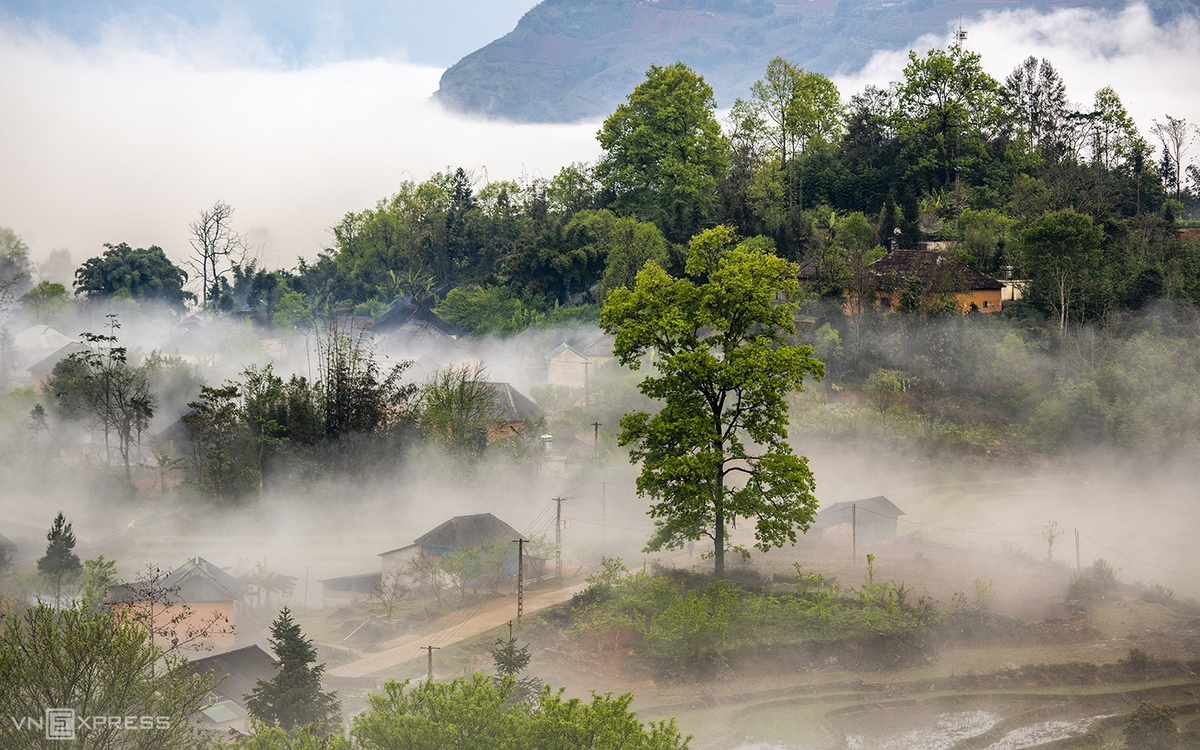 (Photo: VNE)
"Traveling the 70km road, all the way from Sa Pa to Y Ty, I feel super excited. It's like I'm walking on the cloud and got allured by the Mother Nature", Pham Ngoc Thach, from Hanoi, the photographer behind this shot told VNE.
The Choan Then village covered itself in cloud. Choan Then is one of the oldest villages in Y Ty, which dates back to some 300 years ago. Over 50 black Ha Nhi ethnic minority households living in Choan Then village.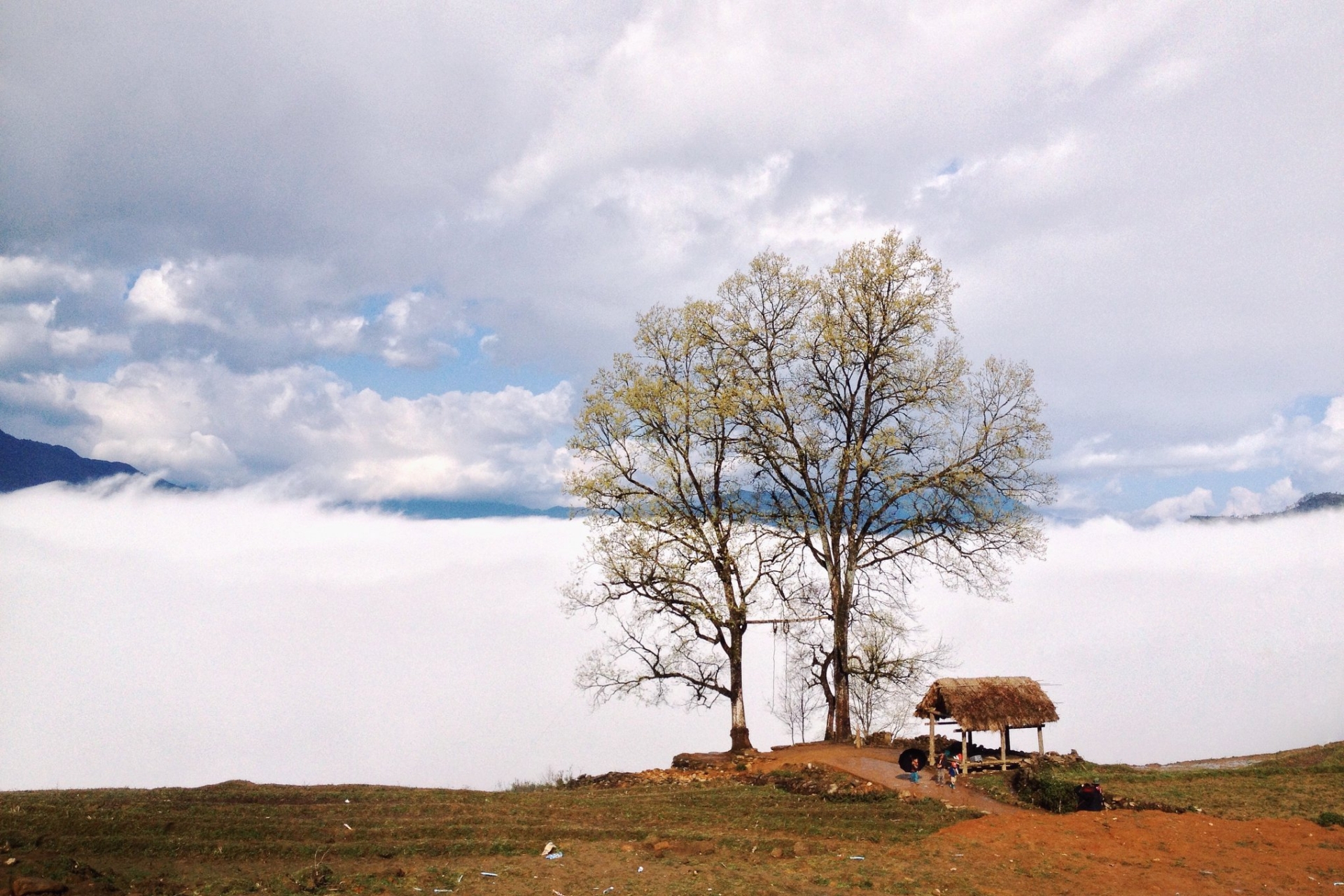 (Photo: Lux Stay)
Two trees and a "cottage" rise above the cloud. Imagine you're standing here, that must be overwhelming!
A small village rises above the cloud.
The small road winding amid the cloud, which is seemingly leading to heaven.
A sea of white clouds just appears right in front of your very own eyes.
Beloved locals and houses in Y Ty
Wandering around the old village, you're likely to come across ethnic minority people, mostly are Ha Nhi ethnic people. They live a simple, slow and honest life. Their smiles will surely make anyone's day.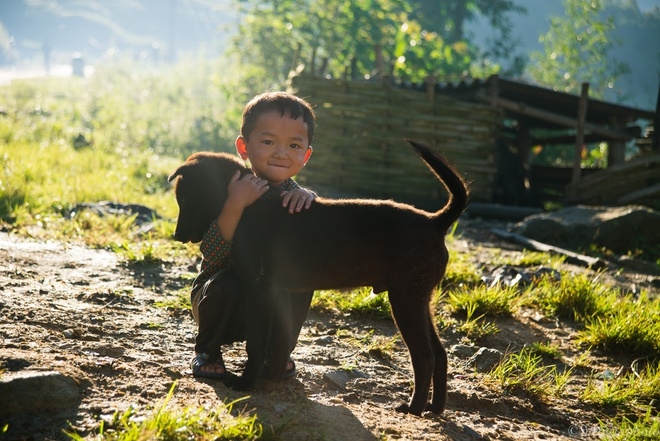 (Photo: Zing News)
Two little girls put on a bright smile seeing the cameraman. They were picking up corns for their mother on harvesting season.
Handbook
Yoga has recently become one of the best exercise methods that bring many health benefits to people, but it also requires a lot of technique and training to avoid injuries. There are several ways to practice it home, and will still help you achieve your goals.