Doc Moc suspension bridge (Video: VNE)
Doc Moc suspension bridge is located in Cong Troi (the Heaven's Gate) area, O Quy Ho pass – some 20km from Sapa town – and was opened for visitors on June 26. It lies at a peak of 2,200 m above sea level and has an altitude of 600 m from the foot of a rocky cliff.
With a length of 200 m, the bridge has a total of 171 wooden steps. Stepping on the bridge, visitors can have a chance to admire the panorama of the pass and the majestic scenery of Hoang Lien Son mountain range.
Those experiencing the bridge will be equipped with protective gear, including clothes, a helmet, and a seatbelt that attached to the cable fixed above. On the two sides of the bridge are two big ropes for visitors to cling on. To further ensure safety, each visitor will be accompanied by a trained employee from the tourist agency.
It normally takes about 8 to 10 minutes for each guest to cross the bridge and go down the stairs on the other side of the bridge. One must pay VND 150,000 (US $6.45) for one turn. In the first week of opening, the destination welcomed around 200-300 visitors each day, according to VNE.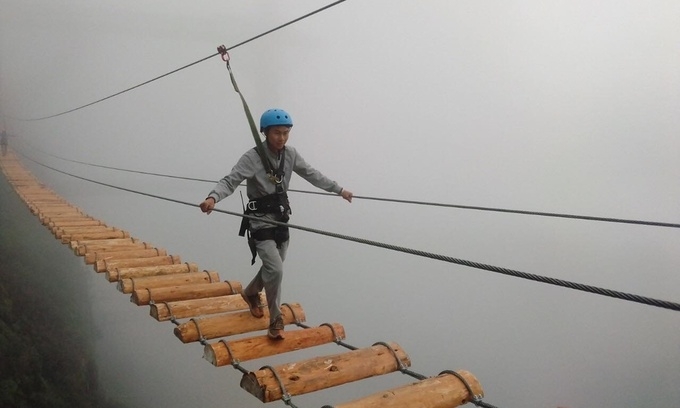 Walking on the bridge with clouds so close would make the experience more adventurous (Photo: VNE)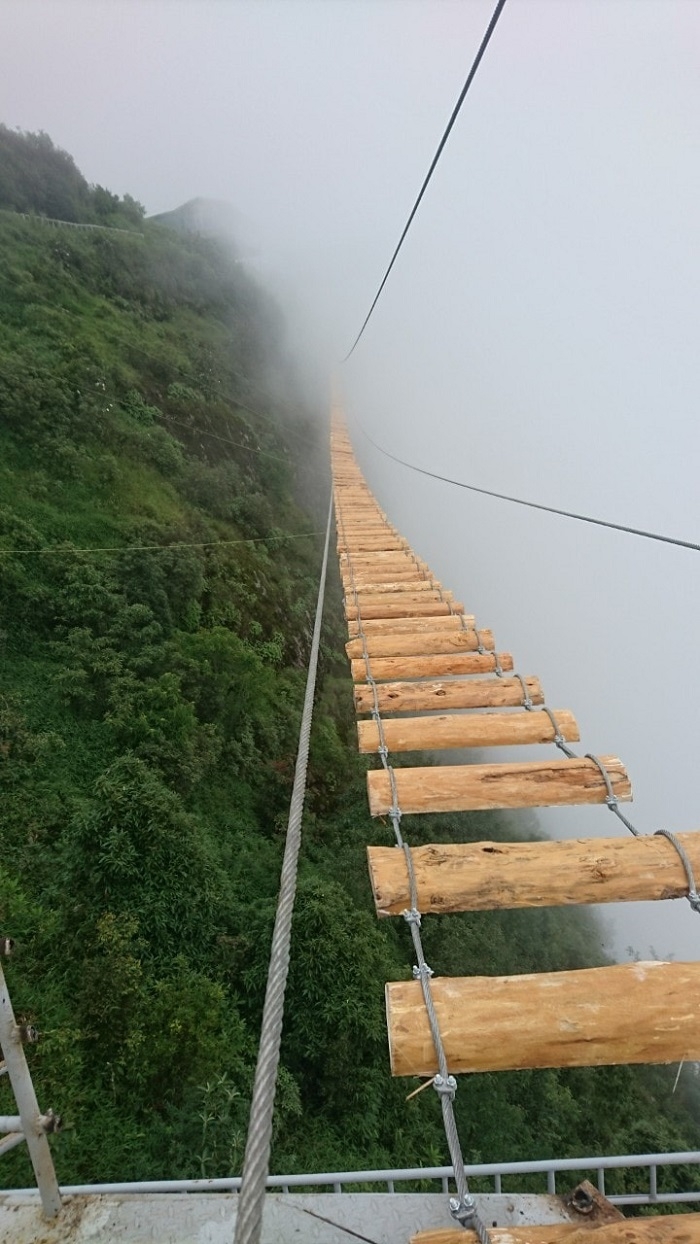 It has 171 wooden steps (Photo: VNE)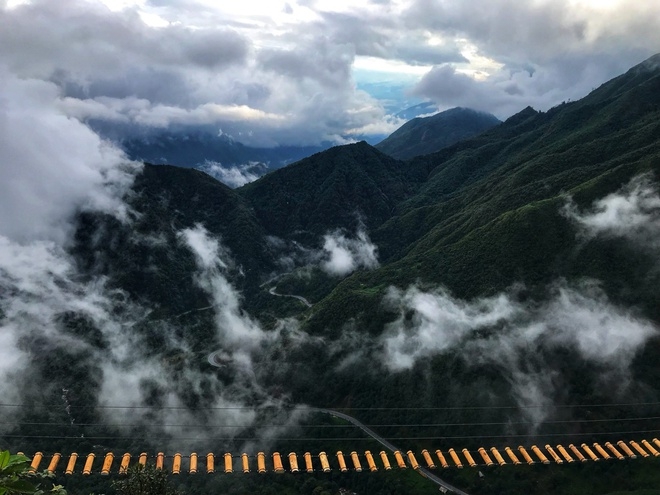 Walking across the bridge, one can have a chance to embrace the sheer beauty of Mother Nature (Photo: RongMay)
"I was scared in the first steps, especially when the winds caused the bridge to swing. However, the bridge is well designed, the stairs are close to each other so it's very easy to go. Once getting used to it, you'll feel extremely excited, and trust me, the stunning scenery underneath will make your day", Dang Thuy, a visitor from Kien Gian province told VNE.
Thanh Tung, another guest at the newly-opened bridge said "The experience makes me feel super excited. You know, there seem to be only clouds, winds, the nature and me in this place. However, personally I think this activity is only suitable for those into adventure and thrilling games. It's not for those with height phobia or heart disease".
Earlier on November 16, a glass bridge reaching the cliff at an altitude of 300m, known as the highest of its kind in Vietnam, was also opened at O Quy Ho pass. Just like Doc Moc suspension bridge, Doc Moc offers panoramic views of O Quy Ho pass and Hoang Lien Son mountain range. Visitors will have to get into an outdoor elevation to reach the glass bridge to admire, take photos, and experience the thrills.
Jasmine Le