Vietnam tourism 'forgets' ASEAN market
The formation of the ASEAN Economic Community is expected to open new markets for tourism, but Vietnam still cannot exploit the advantage.
The formation of the ASEAN Economic Community is expected to open new markets for tourism, but Vietnam still cannot exploit the advantage.
According to VNAT, of 10 million foreign travellers coming to Vietnam last year, 1.45 million were from seven ASEAN countries, including Thailand, Laos, Malaysia, Indonesia, the Philippines, Singapore and Cambodia. The number from Myanmar and Brunei was insignificant.
In the past, 20 percent of total foreign travellers were from ASEAN markets. But the figure has decreased, partially because of the considerable increase in the number of Chinese and Korean tourists, and the decrease in some regional markets.
The number of tourists from Cambodia, for example, which was among Vietnam's top 5 markets, was 423,000 in 2011. But that has fallen by half.
Meanwhile, tourism promotion agencies in other regional countries all report that the number of travellers from Vietnam has been growing steadily and Vietnam is among the most important markets.
Cambodia and Thailand receive about 2 million Vietnamese tourists a year, Singapore 469,000 and Malaysia 216,000.
For many countries, ASEAN is a source market which brings a high number of tourists. In Malaysia, ASEAN travellers accounted for 76 percent of foreign tourists to the country last year, while the number of Vietnamese tourists to Malaysia was higher than the number of Malaysians to Vietnam.
An imbalance continues to exist between inbound and outbound travellers, even after the AEC was established. Analysts commented that Vietnam's tourism cannot exploit the 600 million people market.
The director of a HCMC-based travel firm said the number of ASEAN tourists it serves has decreased by 5-10 percent. The foreign partners say prices are not competitive, while there are few sale promotion programs.
Meanwhile, Vietnam has to compete fiercely with other destinations such as South Korea, Japan and Taiwan.
The businessman admitted that his travel firm cannot satisfy requirements of its partner of providing in-land services to 4-day-and-3-night tours to HCMC and neighboring destinations at a $130-150 price.
However, Jeju in South Korea and Thailand can accept the price thanks to the low hotel service fee and the support of the closed service chain, from transportation and in-land services to shopping and excursions.
An economist commented that Vietnam is incomparable with Thailand, Singapore and Malaysia in terms of convenience and persity of services.
He also said tours to Vietnam are expensive because travel firms cannot negotiate good prices with service providers. The problem is that many products and services are still in the first phase of exploitation and the depreciation period has not ended. Meanwhile, Vietnam is weak at tourism promotion./.
VNF/Vietnamnet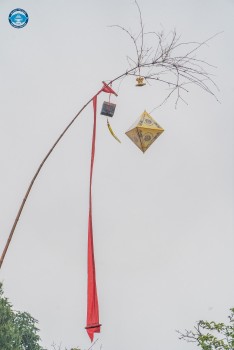 Viet's Home
In the past, the Neu pole (a tall bamboo pole with red garment strips used to ward off evil spirits during the lunar New Year) lowering ceremony at the royal palace of the Nguyen Dynasty was performed to mark the end of the New Year holiday and prepare to enter a new working year.