Vietnam will take initiative in COVID-19 vaccine availability
With two promising homegrown COVID-19 vaccine candidates, Vietnam is expecting vaccine availability in late 2021, early 2022.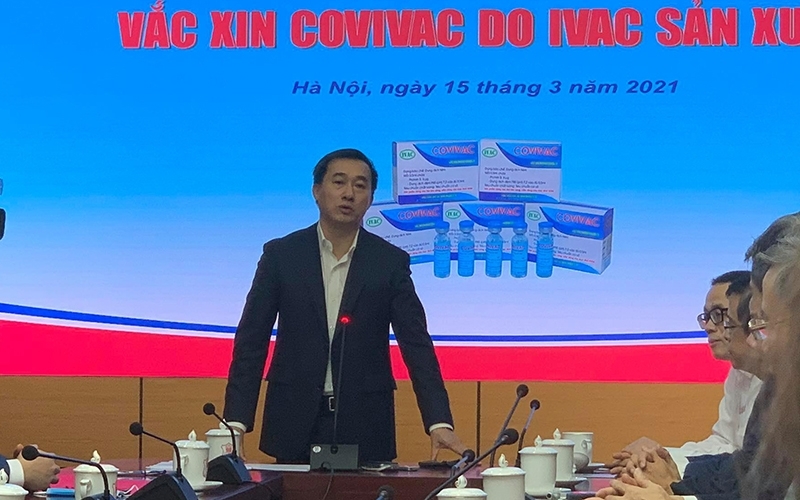 Deputy Health Minister Tran Van Thuan speaking at Hanoi Medical University on March 15 (Photo: Thoi Dai)
"We are having high hope on Covivac and Nonocovax, the two made-in-Vietnam vaccines currently under human trials. They are the fruits of Vietnamese researchers. Pre-clinical results in Vietnam, India, and the US show their efficacy on not only the common strain but also new variants in the UK and South Africa", Tran Van Thuan, Deputy Minister of Health said March 15 morning at Hanoi Medical University. "If the two vaccines are approved, Vietnam could take the initiative in local COVID-19 vaccine. We might even be able to export the vaccines".
Thuan further stressed that the ongoing clinical trials must be conducted in line with protocols, including close health monitoring post-injection. The entire implementation research and evaluation throughout phase 1 will be supervised by the Health Ministry. The Deputy Minister also tasked related units to follow three criteria: science – rigor – safety.
Vietnam on March 15 kicked off the first phase of human trials of the locally-produced Covivac vaccine at Hanoi Medical University, which involves 120 volunteers. The first 6 volunteers have been given either Covivac vaccine or placebo and were required to stay for further monitor at the medical facility within 24 hours.
The volunteers must first prove that they are physically eligible to get the vaccine, which involves survival indicators measurement, physical examination, screening, test sampling, pregnancy test (for females only). If all the ratios are satisfied, these people will wait for their turn in the waiting room.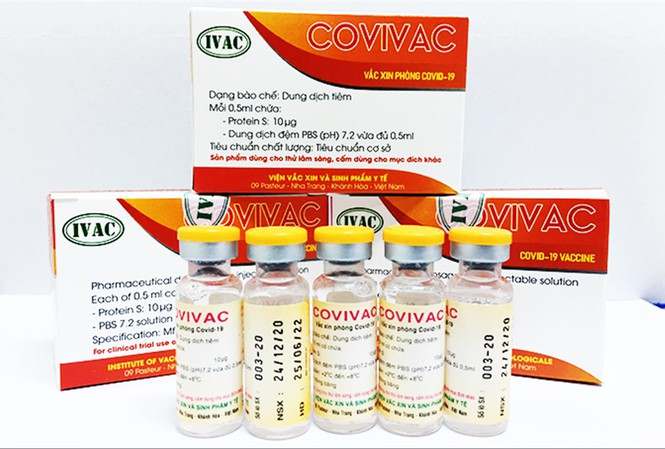 Covivac is Vietnam's second homegrown COVID-19 vaccine to enter human trials (Photo: Tien Phong)
Covivac is studied and developed by the Institute of Vaccines and Medical Biologicals (IVAC). It was proved effective on animals back in January. Clinical results in India, the US, and Vietnam showed the candidate was immunologically effective against the new coronavirus variants in the UK and South Africa.
The vaccine is expected to be launched later this year after passing through three phases of human trials. Moving forward, the IVAC plans to offer the Covivac vaccine at a price of VND60,000 (US$2.6) per dose.
Meanwhile, Nanogen's Nanocovax vaccine was Vietnam's first homegrown COVID-19 vaccine to enter human trials (starting December 2020). Nanocovax is priced at VND120,000 ($5.17) per dose.
Along with injections, Vietnam's COVID-19 Nanocovax vaccine will also be developed in the form of eye-drop and nasal spray for special subjects.
The promising vaccine is currently under the second trial phase which involves 560 volunteers.
Vietnam kicked off its vaccination campaign with AstraZeneca vaccine on March 8 in Hanoi, Hai Duong, Ho Chi Minh city. To date, 12 provinces and cities across the country have vaccinated its prioritized front-liners. Nearly 16,000 people have received the first dose.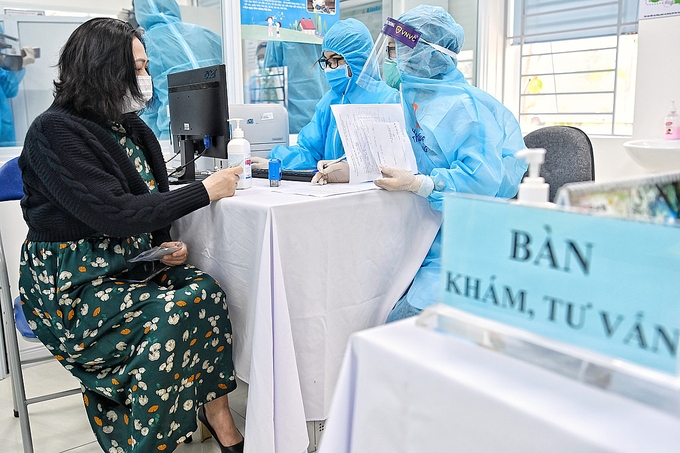 One AstraZeneca recipient at the consultant table (Photo: VNE)
Northern Hai Duong Province confirmed two Covid-19 cases from its ongoing outbreak Tuesday morning, raising its tally to 719 since late January.
Both the new patients had close contact with previously confirmed cases. They have all been isolated as per the contact tracing protocol before the tests arrived as positive on Monday. Ever since community transmission returned to Vietnam on January 28, epicenter Hai Duong has recorded as many as 719 infections.
From 6 am to 6 pm on March 15, Vietnam recorded three new cases of COVID-19, all Vietnamese citizens returning from abroad and being quarantined, according to the Ministry of Health.
The remaining people are divided into 5 groups, with one expected to get placebo, the four others injected with different doses.
The second dose is scheduled for the next 28 days.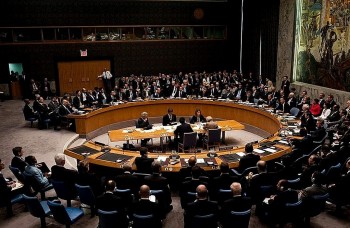 Friendship
The "International Day of Women in Diplomacy" is recently adopted by the United Nations (UN), which is to be celebrated every year on June 24. UN General Assembly Abdulla Shahid said that the resolution opened the door to discuss the challenges of women in diplomacy face, to celebrate women in diplomacy and to inspire the next generation.