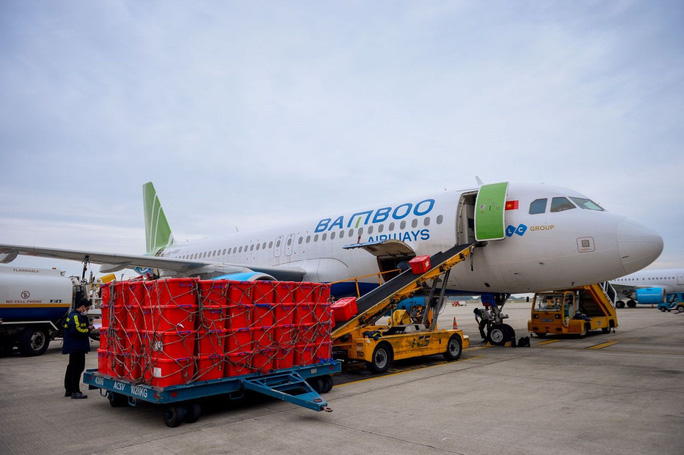 Between February 18 and March 15, Bamboo Airways receives and transports medical equipment for free to the Hai Duong. Photo: Nguoi Lao Dong.
Between February 18 and March 15, Bamboo Airways receives and transports medical equipment for free to pandemic-hit Hai Duong province.
This is part of Bamboo Airways' program to provide support for Hai Duong, the country's current Covid-19 hotspot, Nguoi Lao Dong reported.
Medical equipment and supplies sent to Hai Duong will be given priority on Bamboo Airways' flights from provinces and cities across the country to Hanoi- based Noi Bai International Airport.
In addition, Bamboo Airways gives free round trips or refunds for airfares for health workers coming to assist their colleagues in Hai Duong with the hope of helping the locality to soon control the epidemic.
"Seeing the importance of the assistance for Hai Duong province, Bamboo Airways is ramping up the number of flights, mobilizing experienced staff to serve the flights to transport medical workers and equipment to Hai Duong quickly and safely", said a Bamboo Airways leader.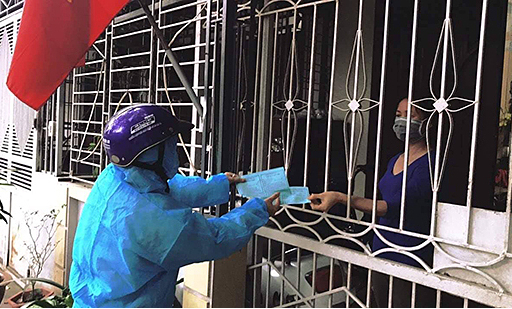 A person gives another one shopping coupons through a gate in Hai Duong Province due to existing social distancing measures against Covid-19. Photo by the Ministry of Health.
Given the complicated development of the Covid-19 outbreak, the Hai Duong Steering Committee for Covid-19 Prevention and Control has requested the Ministry of Health, Bach Mai Hospital, and National Hospital of Tropical Diseases to provide it with medical equipment, help it to establish testing rooms as well as send more experts in treating Covid-19 patients to the locality.
Hai Duong Province is currently the biggest coronavirus hotspot in Vietnam, with 575 cases from the latest outbreak as of Thursday night. The province has imposed a 15-day social distancing campaign starting Tuesday to contain the outbreak. People are asked to stay home and not venture out, except to buy food or medicine or for other emergencies.
The latest outbreak has reached 13 cities and provinces since late January, with 755 cases recorded. The nationwide Covid-19 tally is 2,347.
Malie Nguyen