Vietnamese American girl proposed by COVID-19 first responder after three months apart
Anh-Linh Trinh was taken by surprise to witness the proposal from her partner Alyssa Kayhill, who's just back from a three-month stay in the hospital caring for COVID-19 patients.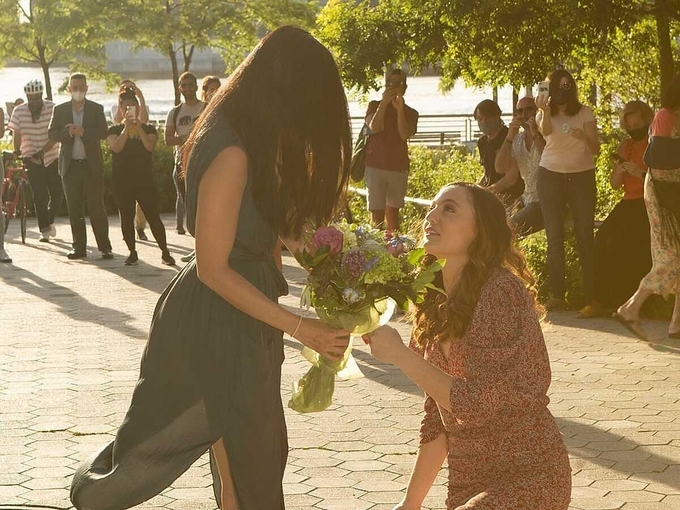 Anh-Linh Trinh is proposed by her girlfriend Alyssa Kayhill on June 8 (Photo: Insider)
According to Insider, Trinh was proposed in Long Island City on June 8, the minute she reunited with her nurse girlfriend after three months of being apart.
Kayhill has enlisted both of their families and residents in her sisiter's apartment complex to help make the magical moment happens. She popped the question to her lover under the cheers and wishes of families, apartment residents and passers-by as well.
"It was the first time we've seen each other, and it was so many people out on their balconies and outside clapping," Kayhill told Insider. "It's just this really beautiful moment that couldn't have gone better."
June 8 was Kayhill's birthday. While Trinh was preparing to throw Kayhill a surprise birthday party, she'd never known she was the one facing a sweet surprise.
As soon as Trinh walked towards Kayhill to say happy birthday, she was taken by surprise to see Kayhill knelt down on her knees and proposed to her.
It was 7 p.m, the time when all New Yorkers take to their windows and claps to cheer for COVID-19 front responders every day. Having informed all households in Kayhill (Kayhill's sister) neighborhood in Long Island City of the proposal beforehand, Kayhill and Trinh were showered with claps and cheers from above, which made the already romantic, meaningful proposal even more wonderful.
"She was shocked. It was just wonderful", Kayhill told Business Insider.
A piece of lyrics to a song that Kayhill wrote for Trinh was inscribed on the engagement ring, says "Love is what it will be", inferring that no one deserves being judged for who they love.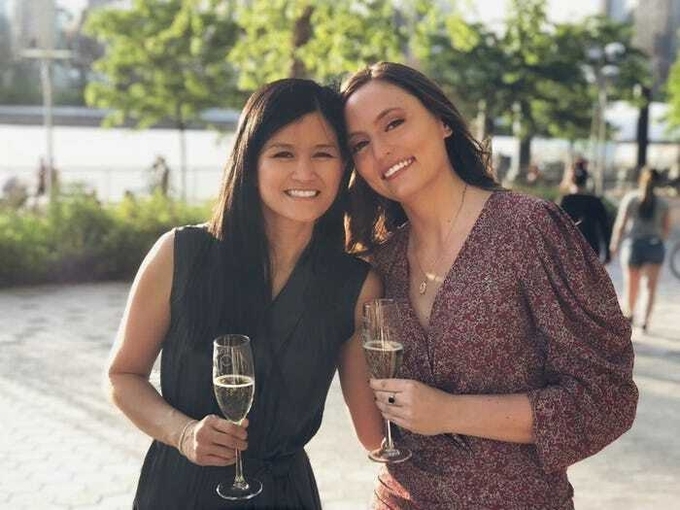 The couple has been together for almost 8 years (Photo: Insider)
Trinh met Kayhill at a party more than seven and a half years ago and had immediately fallen for each other.
But when the pandemic hit New York earlier this year, Kayhill, who works for the Brooklyn Hospital Center, was transferred to an ICU where she helped to care for patients with COVID-19.
Kayhill suggested Trinh to stay at her brother's and separated for a while over transmission fear. The last three months is reported to be the longest "break" from the couple and though they Facetime on a daily basis, it was still a tough time.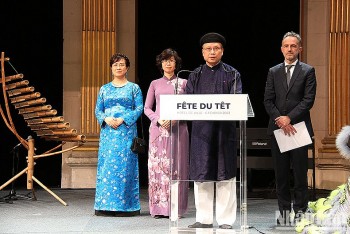 Friendship
Speaking at the celebration on the occasion of Lunar New Year for the overseas Vietnamese in France on February 6, Ambassador Extraordinary and Plenipotentiary of Vietnam in France Dinh Toan Thang emphasized that 2023 is an important milestone to promote the friendship and cooperation between Vietnam and France to the next level.