Vietnamese blockbuster hits international screens
After shattering box office records in Vietnam, 'Bo Gia' (Old Father) hit screens in Singapore and Malaysia on April 22.
A Vietnamsese blockbuster hits international screens
According to Vn Express,'Bo Gia' is released under the international title 'Dad! I'm sorry'. It keeps the time for 128 minutes like the local version. Due to Covid-19, the crew did not go abroad to hold the premiere event. However, the film received support from the audience, many screenings filled the seats since this morning. According to Ms. Huyen Trang - Galaxy representative (the publisher), the film's audience in Singapore and Malaysia are mainly overseas Vietnamese.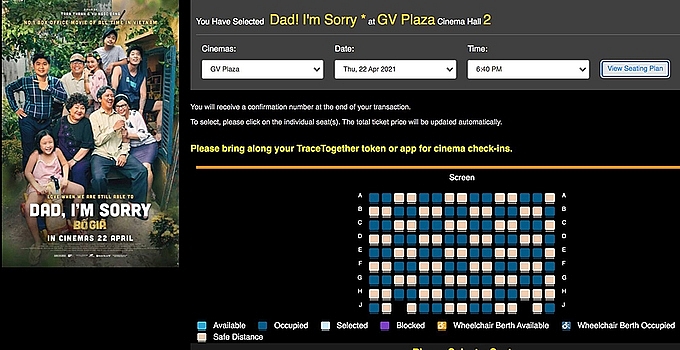 Photo: Golden Village.
It will also be shown on international flights and cruise ships, and its producer is currently in talks to screen the film in Thailand.
Tran Thanh, the main actor, said that the release of the film in the international market is a part of his promotion plan. After the first two countries, the film is waiting for release in Thailand, Philippines, Indonesia and America.
Bringing Vietnamese films to overseas premiere has been the direction of many producers recently. In March 2019, Ngo Thanh Van launched 'Hai Phuong' in the US after a month of domestic release, helping film revenue to reach more than 200 billion. Many viewers commented on the film on Reddit social network, compared it to Hollywood blockbusters of the same genre as Taken (2008), John Wick (2014).
Shattering box office record
"Bo Gia" (Old Father) set a new record for the fastest to a box office collection of VND100 billion (4.3 million USD). It reached the milestone in four days after being released in March, beating the previous record of six days held by "Gai Gia Lam Chieu 3" (The Last Egg 3) since 2020, according to independent tracking company Box Office Vietnam.
Cinema chain Galaxy, which also produced "Bo Gia," said the movie also broke the record for single-day collections, raking in nearly VND40 billion (1.7 million USD) on the fourth day.
It reportedly cost VND20 billion (870,000 USD) to make.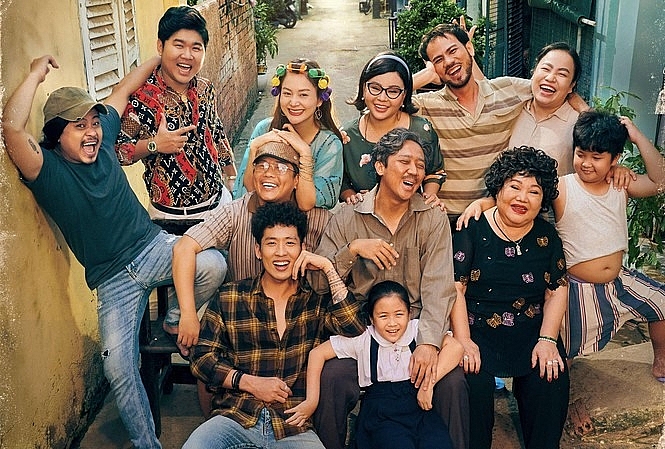 Cast and crew of "Bo Gia". Photo courtesy of the movie. Photo: Vn Express.
The film adaptation of a hit web drama directed by Vu Ngoc Dang stars comedian and TV host Tran Thanh. The web drama version, released on YouTube in early 2020, was the most viewed in Vietnam with more than 90 million hits for its five episodes, as reported by VOV News.
It tells the story of Sang, an old motorbike-taxi driver who lives in a low-income neighborhood in downtown Saigon and cannot earn enough to take care of his family.
Despite the film's massive popularity, it seems to be receiving mixed reviews from the audience. Many say it's a deeply touching film balanced out by well-placed moments of humor, The Smart Local reported.
"The movie brought me both laughter and tears. Watch it or you'll regret it," Facebook user Vu Kim Nhung commented in a post about the movie.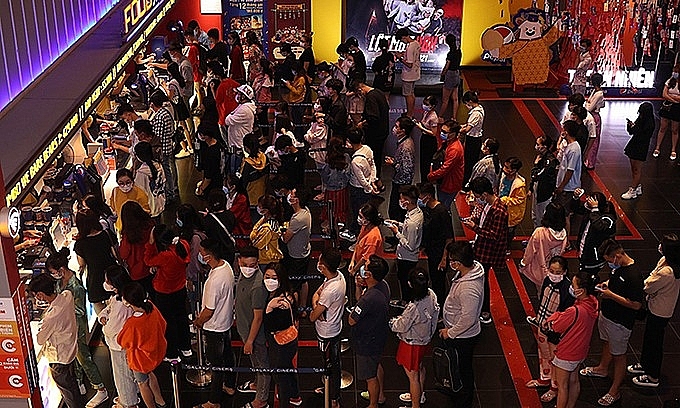 People line up to buy tickets to "Bo Gia" (Old Father) at a cinema in District 1, HCMC, March 8, 2021. Photo by VnExpress/Huyen Do
Agreeing with Vu Kim Nhung, netizen Anh Duong wrote, "I cried like a baby watching it and still felt sad until the next day. It felt like the movie was a story of my own family. The dialogues when the father argued with his son, in particular, were so emotional and natural. I just wish I could erase my memories to watch it all over again."
On the other hand, some others found the movie wanting. "I think it's just ok, not great. Despite all the reviews glorifying it, I'd rate the movie 6/10. Some bits were illogical and didn't resolve all the [plot] issues, not to mention lengthy. It's worth a watch for fun, but don't buy all the PR or you'll find yourself disappointed," was the opinion of commenter Nguyen Vy Quynh Nhu.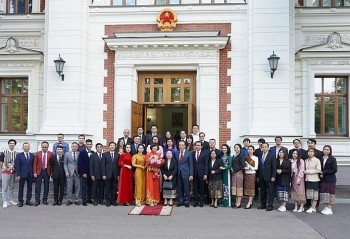 Friendship
The Vietnamese Embassy in Cuba will make efforts to consolidate and cultivate the special Vietnam-Laos relationship in the spirit of respect and support for mutual benefits.