Vietnamese citizen to be conferred with Japan's prestigious Order of the Rising Sun award
A former official of Ministry of Public Security will receive the Order of the Rising Sun, Gold and Silver Rays by Japan government for his contributions to the cooperation in security field between Vietnam and Japan.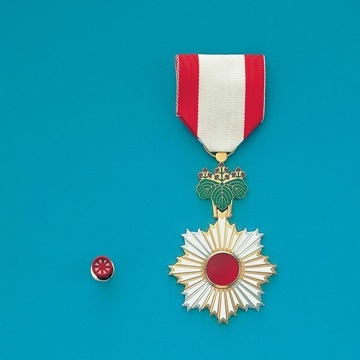 The Order of the Rising Sun, Gold and Silver Rays. Source: Japan's Cabinet Office
The Japanese government said on November 3 that a total of 4,100 people, including 141 foreign nationals from 60 countries and regions (24 out of recipients are women), will be decorated in this year's autumn honors.
Nguyen Hoang Long, 59-year-old, former Deputy Head of North-East Asia Division, External Security Department, Ministry of Public Security, has been awarded the Order of the Rising Sun, Gold and Silver Rays.
He was recognized "for his contribution to promoting cooperation in the security field between Japan and Vietnam."
He is one of 141 foreign recipients of the 2020 Autumn Decoration, which is conferred by the Emperor of Japan.
The Grand Cordon of the Order of the Rising Sun will be given to the 81-year-old former governor of the southernmost Japan prefecture, and five other Japanese people.
The same honor will also be granted to seven foreigners, including former European Commission President Jean-Claude Juncker, 65, and US Senate Finance Committee Chairman Charles Grassley, 87.
A ceremony to present the grand cordon, the Order of the Rising Sun, Gold and Silver Star, and the Order of the Sacred Treasure, Gold and Silver Star, will be held at the Imperial Palace on November 11, JIJI Press reported.
Japan's Emperor Naruhito is slated to meet only with the recipients of the decorations, as he did this spring, due to the novel coronavirus epidemic.
The 'Order of the Rising Sun' is conferred on persons with achievements in international relations, promotion of Japanese culture, environmental preservation, welfare or achievements in their fields. It was constituted by Japanese Emperor Meiji in 1875.
Japanese Decorations are conferred upon foreigners twice a year, on April 29 and November 3, concurrently with the conferment of decorations and medals on Japanese nationals.
This award is also conferred upon foreign nationals who have made notable contributions to the promotion of relations between Japan and other countries in areas such as politics and diplomacy, research and education, medicine and social welfare, economy and industry, and culture and sports./.