Special Advisor to Japanese PM Isao Iijima received Friendship Order
Approved by the State President, the honour is bestowed upon foreign individuals and collectives that have made substantial contributions to building, consolidating, and developing the friendship between Vietnam and other countries around the world.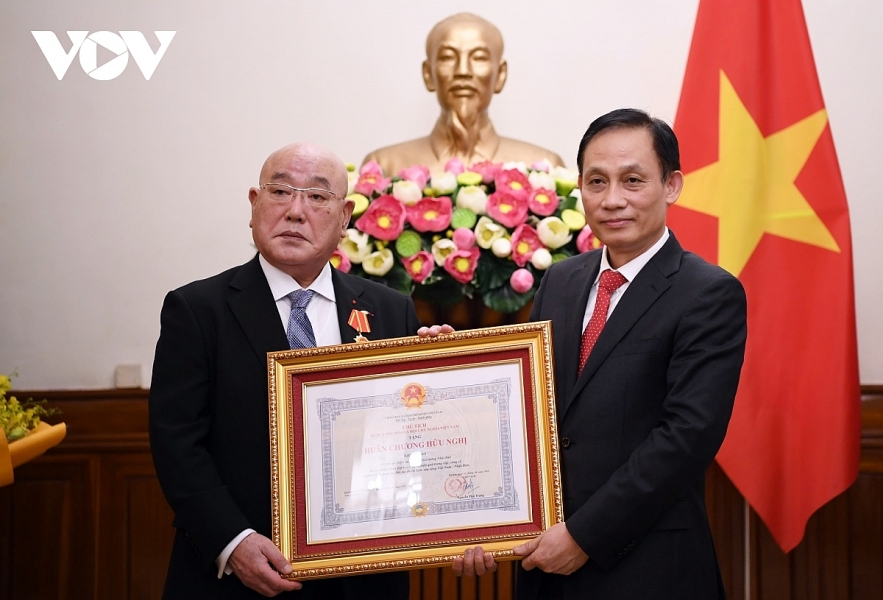 Deputy Foreign Minister Le Hoai Trung (R) presents Friendship Order to Special Advisor to the Japanese Prime Minister Iijima Isao. Photo: VNA
Vietnamese Deputy Foreign Minister Le Hoai Trung, empowered by State President Nguyen Phu Trong, on October 19 presented a Friendship Order of the Vietnamese State to Iijima Isao, Special Advisor to the Japanese Prime Minister, in honour of his contributions to Vietnam - Japan ties.
Speaking at the ceremony, Trung lauded the special advisor's contributions to the strengthening of the Vietnam – Japan extensive strategic partnership, adding that Isao has actively promoted bilateral ties in various areas over recent years, from politics and diplomacy to business-to-business and locality-to-locality exchanges and culture.
He expressed his belief that Isao will make further contributions to the effective and substantial development of the Japan - Vietnam extensive strategic partnership.
For his part, Isao expressed thanks for receiving the noble distinction from the Vietnamese State, and shared about special feelings and memories with Vietnam as a Special Advisor to the PMs of Japan over the past 10 years.
He highlighted the significance of two Japanese PMs having selected Vietnam as the destination of their first overseas trips, expressing the Japanese Government's appreciation of Vietnam and the bilateral relationship.
The official vowed to continue proposing specific policies and measures to the Japanese Government to bolster the bilateral friendship in the future.
Isao Iijima, who currently serves as Special Advisor to Japan's Prime Minister Suga Yoshihide, boasts a wealth of experience in the workings ofJapanese politics, government and diplomacy.
Between 2001 and 2006, he acted as Chief of Staff to Prime Minister Junichiro Koizumi, who led the most stable government in modern Japanese history. Their working relationship dates back to 1973, when Mr.Koizumi was first elected to Japan's House of Representatives.
He was also Koizumi's Chief of Staff when the former Prime Ministerserved as Minister of Health and Social Affairs and, later, as Minister of Posts and Telecommunications.
Secretary of Dong Nai provincial Party Committee Tran Dinh Thanh hands lacquer portrait of Mr Iijima Isao made by Vietnamese artisan to Isao Iijima, special advisor to Prime Minister during his working visit to Dong Nai in 2015. Source: Dong Nai newspaper
Since 2008, Iijima has taught at various universities and continues to play a central role in Japanese economic, government, diplomatic and political life.
He boasts an extensive network of contacts around the world, especiallyin Russia, Asia and the Middle East, and he also serves as Advisor to the Government of the Republic of Uganda, as well as Honorary Consul-General of the Republic of Sierra Leone in Japan.
Last month, Yoshihide Suga, who was formally elected as as President of the ruling Liberal Democratic Party (LDP) of Japan. He is replacing Shinzo Abe, who resigned earlier in the day because of ill health and become the new Prime Minister of Japan.
The Japan's government has newly appointed Takaya Imai, who was an assistant to the Prime Minister in the second Abe administration, as a member of the Special Advisor to the Cabinet, and reappointed four people, including Isao Iijima./.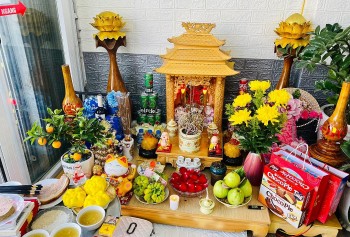 Handbook
Learn more about an ancient Vietnamese tradition that may bring you good fortune!