Vietnamese community in Germany growing larger with its significant contribution
Founded some 40 years back, the 170,000-resident Vietnamese community in Germany has been significantly contributing to the host country's overall development.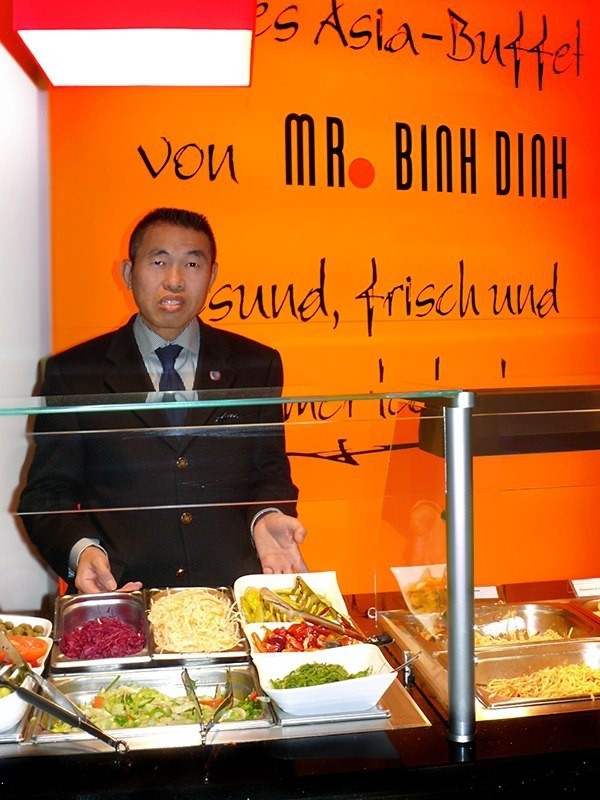 Mr. Nguyen Binh Dinh and his Vietnamese fast food restaurant "Mr. Binh Dinh" (Photo: VOV)
Over 40 year ups and downs of establishment and development have gone by, the community is now enjoying a peaceful, integrated life with the native. There are a lot of individuals and businesses in the community representing their important competence in the country's development.
Statistically, there are more than 8,000 Vietnamese businesses of different fields across Germany, ranging from trade, services, restaurants, hotels, tourism, insurance, to logistics, small manufacturing, etc.
Thang Long Group, one of Vietnamese's leading corporations, is now a large corporation that has been identifying its brand in the central European country.
Businessman Mr. Nguyen Binh Dinh who is famous for "Mr. Binh Dinh", the Germany-based Vietnamese fast food restaurants chain in Germany said "Overseas Vietnamese's business trends in previous days normally were to open Asian restaurants, sell fruits in markets, produce and sell clothes, nowadays turned to run Vietnamese dining places since Vietnamese cuisine becomes well-known to German and rest of the world. The successful Vietnamese confirmed in Germany resulted from their relentless efforts, hard work, perseverance and constant learning".
"I think no matter who you are, as long as you're Vietnamese, you can do things others can even if you're not that rich and experienced. You can pick up what you don't know. It's a normal thing", Dinh noted.
Many press agencies and German politicians commented that the country found Vietnamese people integral into local society. There are Vietnamese descents affirmed their political attainments in Germany even though they weren't native.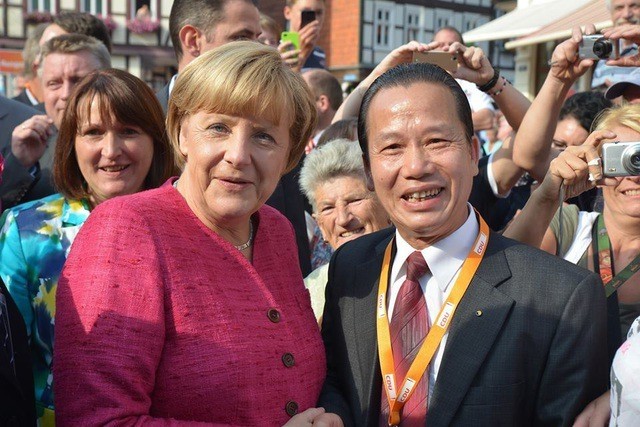 MP Nguyen Dac Nghiep and Ms. Angela Merkel, Chancellor of Germany (Photo: baodantri)
Mr. Nguyen Dac Nghiep, member of the Christian Democratic Union of Germany (CDU) – the largest political party in power in Germany - became the first Vietnamese Germany to be elected 5 consecutive terms in the German government in general, and Thale city in particular when he declared another 5-year term (2019-2024).
This is a particularly rare case in the electoral history of the CDU Party Committee in this city. Nghiep used to be an experienced sound engineer at Hanoi Conservatory of Music before moving to Germany. He became chairman of the Vietnamese Association in Thale and the surrounding areas, General Secretary of the Council of Vinh Phu compatriots in the Federal Republic.
According to Mr. Le Quang Vinh, a Vietnamese chef living in Hatz, Wernigerode, MPs like Mr. Nguyen Dac Nghiep have made great contributions regarding bridging the development cooperation between the two countries.
"I'm living in Hatz. Mr.Tran Dang Nghiep, MPU Party member, is always the one to hold conferences. He is also the current bridge between Leipzig University and HCMC. Nghiep used to lived in Germany, when he returned in 1987, he assisted numerous Vietnamese communities in the country, organized many Vietnam-German cultural exchange programs.
Every year, Wernigerode city and Hoi An also work together to hold musical events, cultural exchange programs between the two countries. German travel to Hoi An, Hoi An locals travel to Wernigerode.
When the community grows larger, Vietnamese nationals have opportunity to meet, support and perseverance traditional culture, they still actively blend themselves into German society.
At the moment, there are around 80 various size associations across Germany. Along with organizing activities to maintain solidarity, mutual support, and integration, these associations also actively head themself towards Vietnam, partake in charitable and cooperative activities.
The pride of oversea Vietnamese in the West in general and Germany, in particular, is also the second and third generations. "I learn that the German really look up to us Vietnamese. In their eyes, Vietnamese students are all high- academic winners. Among other oversea students in Germany, Vietnamese got the highest slots admitted to gifted schools, up to 50 percent", Truong Hoang Hai Yen shared on a forum dedicated to German oversea students.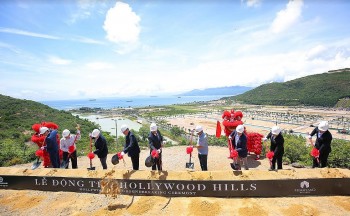 Economy
On October 2, at Hai Giang peninsula (Quy Nhon city, Binh Dinh), Hung Thinh Corporation held the groundbreaking ceremony of Hollywood Hills by YOO Inspired by Starck – a subdivision at MerryLand Quy Nhon. The event marks the first time that the world's No.1 ranked design and branded residence company YOO Inspired by Starck is officially present in Vietnam, with a collection of villas designed by creative director, Philippe Starck.