Initiatives of corporate social responsibility to build community connections
"Our third core value is to be a responsible member of Vietnamese community and society.", said Tan Hiep Phat Group Deputy CEO Phuong Uyen Tran.
Giving back to the community
Local businesses are also best placed to understand how, when, and where to give back some of their profits to the local community. THP is a very strong believer in active corporate social responsibility (CSR), the acronym corporations have adopted for charitable giving.
In recent years, consumers have grown a lot more conscious of how the brands and businesses they support impact the environment. The ease of accessing information allows consumers to be more informed than ever before and many have made it a priority to understand how and where products are being made, how they are being shipped, and the overall impact they have from "cradle to grave." A 2014 Nielsen study confirms that the majority of consumers care about sustainable companies enough to pay a premium for their goods and services.
Phuong Uyen Tran. Photo: tapchisaoviet.com
Our communities are healthier and more sustainable when we, as businesses, take a vested interest in the impact we make on the environment. When sustainability becomes a priority, resources can be allocated to ensure an impact is made.
Our third core value is to be a responsible member of Vietnamese community and society.
The company does not have a fixed CSR budget, nor does it allocate a set percentage of revenues. However, we are open to all suggestions and proposals that meet our criteria. Specifically, we want to improve the lives of young people, particularly in rural areas. We also target long-term development.
The company's charitable ethos comes from my maternal grandmother, Nguyen Thi Roan. When she was alive, she was constantly asking my mother for money. This made my mother worry, particularly as my grandmother would often try to get the family to eat rotten food.
However, my grandmother did that for a reason: so we could understand what it was like to be poor. When she died, dozens of bicycle rickshaw drivers turned up to her funeral. It turns out she had been donating the money to them and their families.
Giving something back is the right thing to do. And there is nothing softheaded about it from a business perspective, either. It promotes profits. Customers increasingly consider a company's CSR practices when they make shopping decisions. It also embeds companies in the communities where they are selling their products.
THP's main projects to communicate with society
CSR builds bridges to the community - literally, in THP's case. One of our main projects is the Bridge of Dreams Initiative, which was launched in 2016. So far, we have built eighteen bridges across the Mekong Delta. Each bridge is thirty to forty meters long and and a half meters wide.
They are located in the Mekong Delta, which is famed for its beautiful landscape, crisscrossed by rivers and small canals. However, this network isloates villages from the road transport system, making life difficult for villagers who cannot afford to build the bridges themselves.
The company has also been very active providing clean water, a natural resource we rely very heavily on for our drink products. We partner with community groups across the Mekong Delta to donate water-filtering equipment to convert briny water into potable water for drinking and cooking.
THP also has a program called the Golden Cattle program, which indentifies needy families in poor provinces and awards them a pair of breeding cows. One of the driving philosophies behind THP's CSR programs is to foster self-sufficiency and independence. Our CSR strategy is continually evolving. Sustainability also means being responsive in a timely manner. Responding to natural disasters is one way to do this. Thus, in 2012, THP changed one key of aspect of the Anniversary Day celebrations.
Traditionally, all the guests would bring expensive flower baskets. However, in 2012 there were devastating floods across central and southern provinces. THP employees organized donations that generated over VND700 million for relief instead. This annual fundraising initiative is something we have continued ever since.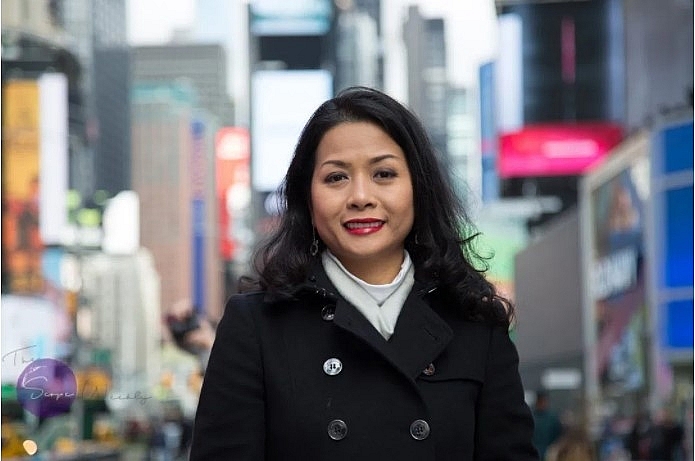 Phuong Uyen Tran. Photo: scopeweekly.com
Another major way local companies set themselves apart is the events they sponsor. Multinationals tend to go for the big international sporting fixtures such as a country's grand prix. Local companies often have far better insight into national- or regional- level events with far greater resonance among the local population. It is a great exercise in brand-building.
For example, in 2008, THP set up and sponsored the first and and only Vietnamese team to conquer Mount Everest. A national flag and a flag bearinf "Number 1" were planted at the top.
Another local event that THP has been sponsoring since the turn of the century is cow racing in An Giang Province in the Mekong Delta. Each year on the final day of the Khmer calendar, the local Khmer population (one of Vietnam's ethnic minorities) holds a fetival to honor their acenstors. The cow race, which takes palce at the foot of Ta Pa Mounatain, is the highlight.
The racetrack, set in a muddy and slippery paddy field, is 120 meters long. Each race involves two pairs of cows, controlled by one or two men. The races are both exciting and hilarious. They are part rodeo, part race, and part comedy since cows are not renowned for their sprinting ability.
In the past few years, especially in 2018, Tan Hiep Phat and Phuong Uyen Tran are among Vietnamese names in the field of business that appear the most on international media because of their stories inspiring co-startups as well as millions of consumers around the world.
That Forbes first published the book "Competing with Giants" by a Vietnamese businesswoman has help promote the name of "rich man" Tan Hiep Phat.
Afterward, in the minds of many consumers, each water bottle is not only a drink but a crystallization of the desire to overcome difficulties and the spirit of entrepreneurship, an organic trend and Vietnam of miraculous stories.
And also from this book uncovered the aspirations of Tan Hiep Phat, as Mr. Hiroshi Otsuka, President and CEO of Musashi Seimitsu said: "An unmissable insight into how and why Vietnamese businesses are quietly growing into global players."
About author Phuong Uyen Tran
Working as a powerful businesswoman, Forbes published author, Phuong Uyen Tran is a model of success in Vietnam. Phuong Uyen Tran is also a special contributor for Vietnam Times. Her writing, including "Competing with Giants" book, and her latest articles are to advise and inspire young people to start-up, overcome challenges and reach out to the world. It is the story of a little girl taking the great responsibilities for a corporation and devoting herself to society.