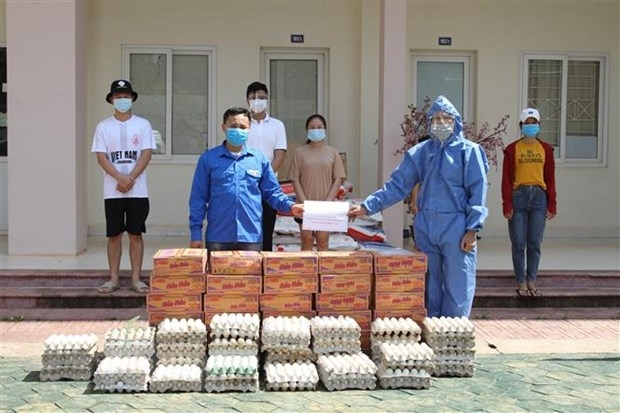 Representative of the Vietnamese Embassy in Laos handed over gifts to Vietnamese students at the National University of Laos. Photo: VNA
Representative from the Vietnamese Embassy in Laos, Counsellor of Culture and Education Tran Dai Thang and the officer in charge of community work Vu Tu Oanh handed over gifts including 1000 face masks, 500 kg of rice, 30 boxes of instant noodles and 2000 eggs to students.
Amidst the complex Covid-19 situation in Laos, the Vietnamese Association in Vientiane cooperated with Lao medical workers to take samples from all Vietnamese students at the National University of Laos and Vietnamese people in three wards of Thatluang, Naxay and Sisangvone for Covid-19 testing.
Those who show symptoms will be put under quarantine and receive timely treatment.
Laos confirmed 60 new cases of Covid-19 on Tuesday, bringing the total number of cases in the country to 1,026, according to the Laotian Times.
Deputy Prime Minister and Head of the National Taskforce, Kikeo Khaikhamphitoun, has moved to extend the lockdown period for Laos until 20 May.
Many provinces across Laos went into lockdown on 21 April or in the following days, with measures prohibiting all residents to leave their homes except for essential grocery shopping, hospital visits, and any other tasks authorized by the government, such as work undertaken by essential workers.
Malie Nguyen