Vietnamese in Laos join hands with local authorities to battle Covid-19
The Vietnamese Association in Vientiane has coordinated with the Lao authorities to assist in contact tracing, sampling taking and testing for Vietnamese people in close contact with Covid-19 patients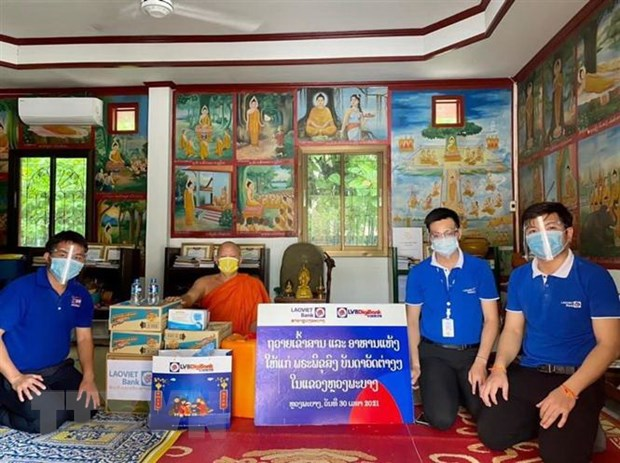 Lao-Viet Bank in Luang Prabang supported four pagodas with rice, food and masks, etc worth 10 million kip (1,059U.S dollars). Photo: Vietnamplus
Amidst the complex development of Covid-19 in Laos, the Vietnamese Association and enterprises in the countryhave called for organizations and individuals to join hands to assist the nation's Covid-19 battle, Vietnamplus has reported.
As there are more and more Vietnamese contracting the novel coronavirus, the Vietnamese Association in Vientiane has coordinated with the Vietnamese Embassy and Lao authorities to assist in contact tracing, sampling taking and testing for Vietnamese people who have been in close contact with Covid-19 patients. The association has also distributed relief aid to Vietnamese expats and Lao citizens who have suffered difficulties caused by the epidemic.
In a spirit of solidarity and mutual support, the Vietnamese enterprise community in Houaphanh aided the province with 40 million kips (4,238 U.S.dollars) and 12,500 face masks.
Lao-Viet Bank in Luang Prabang supported four pagodas with rice, food and masks, etc worth 10 million kips.
The Vietnamese Association in Xiengkhuang has also appealed for Vietnamese expats and businesses in the province to give a hand to help the local authorities in preventing Covid-19.
The epidemic situation in Laos has been worsening especially in Vientiane capital with a spike of new cases.
The quickly-spreading epidemic has put great pressure on the health system as well as the people's lives, including Vietnamese people in the country.