Vietnamese Embassy to Tanzania holds meeting on April 30th - May 1 anniversary
On the National Reunification and International Labor Day celebration, Vietnamese Ambassador to Tanzania Nguyen Nam Tien had a meeting with the Vietnamese community in Tanzania.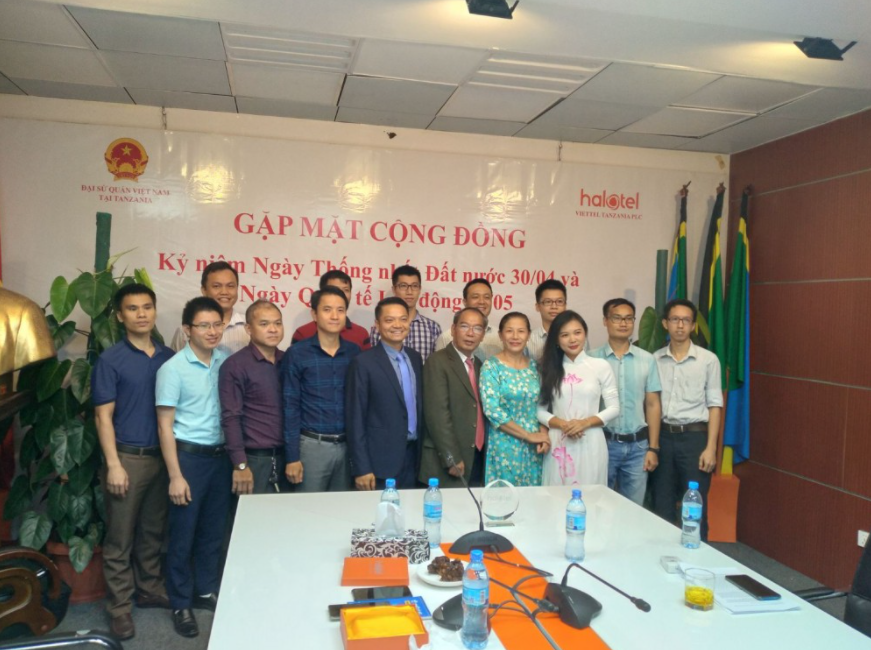 The Ambassador and staff of the Vietnam Embassy to Tanzania took a photo with the Vietnamese community. (Photo: Vietnam Embassy to Tanzania)
At the meeting, the Ambassador quickly reported the 13th Party Congress result and the country's outstanding achievements in diplomacy, socio-economic over the past time.
The Ambassador asked about the lives of the Vietnamese community living and working in Tanzania, and at the same time, encouraged them to stay connected, helping each other to overcome difficulties caused by the pandemic.
On this occasion, Ambassador Nguyen Nam Tien listened to overseas Vietnamese's warm hope, wishes, and comments to contribute to activities of the Vietnamese community in the locality.
In his remark, Mr. Nguyen Tien Dung, General Director of Viettel Tanzania Company, shared that the company's achievements were proud because the company had overcome many difficulties and continued to develop well in the recent time.
Mr. Nguyen Tien Dung hoped that the Embassy would continue to accompany, share and support businesses in their activities in Tanzania.
The meeting took place in a friendly, open, and constructive atmosphere for a developing, stable, and united Vietnamese community, aiming to overcome difficulties and challenges to successfully contribute to the development of Tanzania and Vietnam's relations.
Vietnam and Tanzania set up diplomatic relations in 1965. Vietnam maintains an embassy in Dar es Salaam which is mandated to serve all of East Africa. On 12 October 2014, Tanzania's President Jakaya Kikwete makes a two-day state visit to Hanoi. On 9 March 2016, President Truong Tan Sang makes a three-day state visit to Tanzania and held bilateral talks with President John Magufuli. Various trade and investment agreements were signed.