Vietnamese guard vessels holds exercise on Paracel Islands
Quang Trung guard vessels held exercises in combat situations, coordinated with maritime helicopters in Truong Sa (Spratly) archipelago.
"In Truong Sa archipelago, Khanh Hoa province, Quang Trung guard vessel is a type of warships with stealth functions, working to "hunt" submarines, surface warships, equipped with advanced weapons. Exercises were held in each combat situation. Ka-28 anti-submarine helicopters also coordinate in emergency takeoff situations while the vessels are running at top speed.", VTV reported.
"On the islands of the Spratly, combat readiness is also carried out at the highest level. Every officer and soldier in each position is working hard in severe weather conditions", the State televition added.
Vietnam has full evidence and legal basis to claim sovereignty over the two archipelagos of Hoang Sa (Paracel) and Truong Sa (Spratly), in accordance with international law.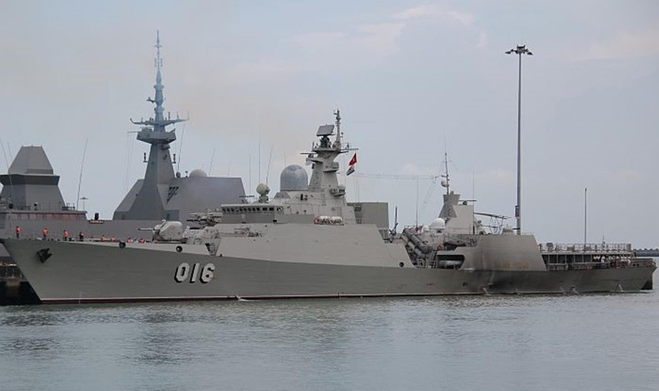 Quang Trung guard vessels (Photo: Zing News)
016 Quang Trung is a Project 11661E "Gepard" missile defense vessel that has been in service with Brigade 162, Vietnam People's Navy since February 2018. The ship is equipped with many modern Russian-made weapons, in order to build an official naval force, improve the capacity to protect the country's islands.
Vietnam's Gepard-class guard ship is equipped with many stealth technologies, combining angular hull and radar-absorbing paint, minimizing the area of ​​radar reflection caused by enemy reconnaissance systems. The ship is also equipped with modern electronic warfare and jamming systems.
The main weapon on 016 Quang Trung is 8 anti-ship missiles 3M24E with a range of 130 km, a naval cannon AK-176MA caliber 76.2 mm, a complex of artillery - anti-aircraft missiles Palma, two polar defense artillery near the AK-630M with 4 torpedo tubes with the size of 533 mm. The ship can carry a Ka-28 helicopter to increase its ability to detect and destroy submarines.