Vietnamese in Cambodia severely affected by pandemic
Khmer-Vietnam Association President said that the most severely pandemic-hit sites are Phnom Penh's central districts, where most Vietnamese-born perform trading activities.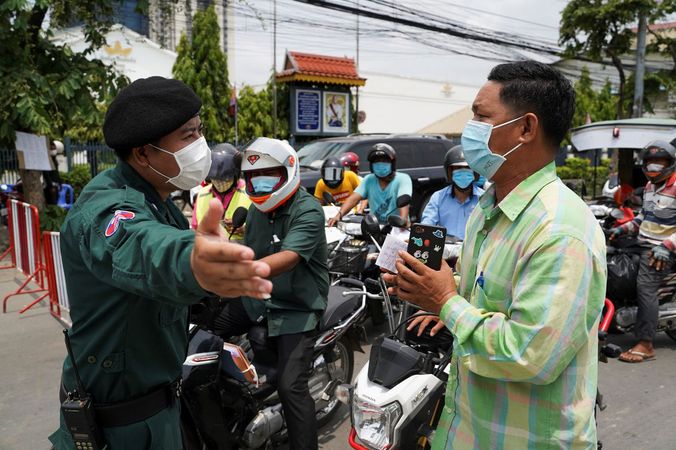 Police stop vehicles to enter Phnom Penh (Photo: VN Express)
The Vietnamese community in Cambodia currently includes nearly 30.000 members, mostly living in the districts of Chbar Ampov, Russey Keo, and Prek Pnov in Phnom Penh. Mr. Sim Chy, President of the Khmer-Vietnam Association in Cambodia said that this COVID-19 outbreak had led to a lockdown order that hard-hit four central districts. Though Vietnamese in Cambodia mostly live outside those districts, they still are Vietnamese' trading places. Therefore, the pandemic is seriously affected Vietnamese-born Khmers who live in Phnom Penh, shared Sim Chy.
The lockdown order applied to Phnom Penh and Takhmao lasts from April 15 to 28, intending to slow down the COVID-19 community infection rate and preventing further transmission. On April 18, Cambodia reported 618 new COVID-19 cases, raising the total tally to 6,389, said Reuters. There are a lot of Vietnamese who haven't visited their homeland for up to 2 years. There also are Vietnamese Khmer born and raised in Phnom Penh but never for once in their lives see the capital such deserted.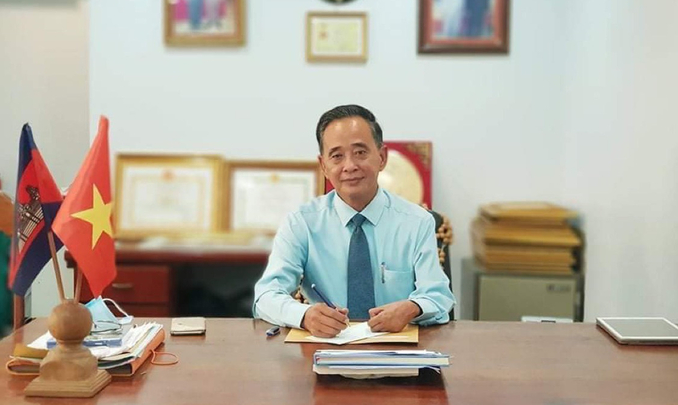 Mr. Sim Chy, President of the Khmer-Vietnam Association in Cambodia (Photo: VN Express)
Orussey Market, which lies in the center of Phnom Penh, is the gathering place of many Vietnamese-born traders. The place is even more crowded and hustle than the Chinese-borns and the Khmers' market in the same region. At least 3 members of the Vietnamese community are positive with COVID-19. "They were put in quarantine and treated by Cambodian medical agencies for more than 10 days," said Sim Chy.
Ms. Ny Tryhua and her husband, a Vietnamese Khmer family living near Orussey market said that their residence was opposite the quarantine site. The lockdown order was issued so suddenly that they could barely prepare. It was until some hours before the lockdown that they got the news. "There are a lot of infection cases in my district. There are restricted areas just across the street, no one is allowed in or out.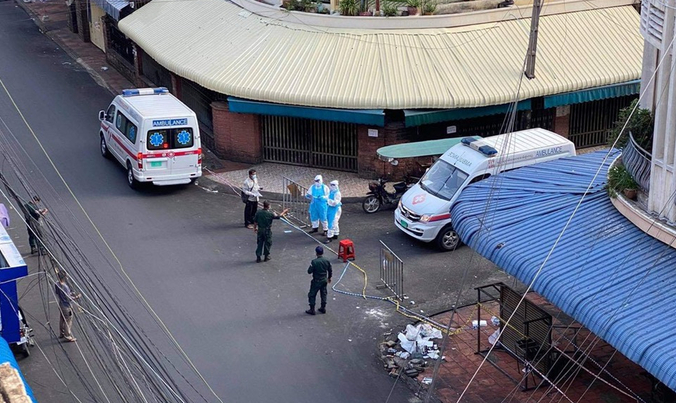 Police quarantine Orussey Market. (Photo: VN Express)
The situation here is dangerous, my family has not dared to go anywhere a few days now," Ny's husband, named Ti, who used to work as a tour guide in Phnom Penh before the pandemic, answered VN Express reporters via mobile. In nearly 14 months since the pandemic appeared, Cambodia has restricted cross-border activities. Ny and Ti family lose their income from foreign tourists and have to live on Ny Tryhua's small business, which is worsening because of this lockdown.
Ouk Channy, a Vietnamese Khmer working as a tour guide in Cambodia, who used to make USD 1000 per month, fell into debt due to the pandemic. Though confused about the situation, Ouk knows that Cambodian authorities had to use strict measures to prevent the situation from turning worse. A large number of Vietnamese Khmer support the lockdown order as a necessary step to control the pandemic.
A deserted Phnom Penh. (Photo: Zing News)
Chol Chnam Thmay (Cambodian New Year) is the country's biggest holiday. Due to the pandemic, the holiday bears a sad atmosphere. Sim Chy's family just welcomed Chol Chnam Thmay at home. His family has been in Cambodia for 6 generations yet never experienced such a sad Chol Chnam Thmay. "My family and I welcomed my grandparents in Cambodia.
These days, Cambodian are only celebrating the holiday in their houses instead of going out", Sim Chy said. The government only allows art performances on television and radio. Outdoor activities are prohibited, including going to the temples.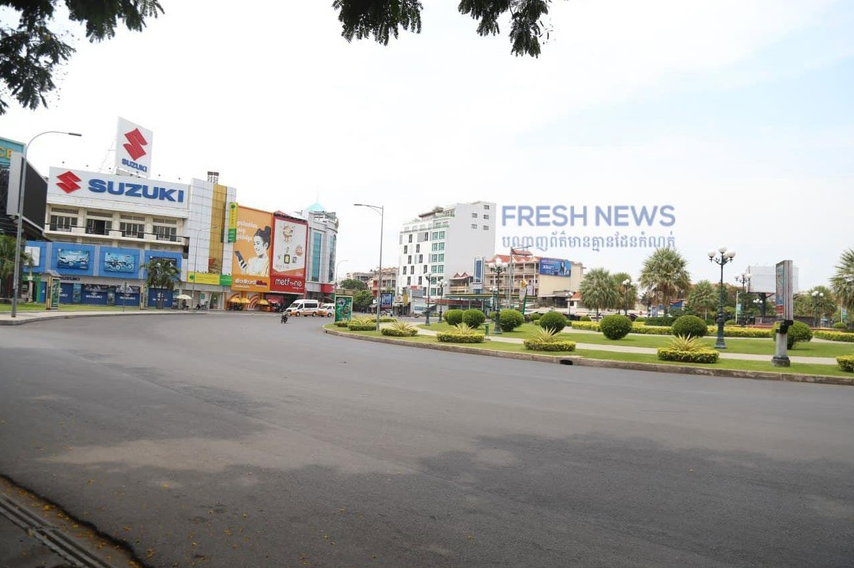 Restaurants close at Cambodian New Year. (Photo: Zing News)
However, many Vietnamese living in Cambodia considered this a break from work. Phuong Thuy, who lives and works in Phnom Penh, shared that she did not celebrate the Khmer New Year. "I work during the holiday both last year and this year. I can't go anywhere or meet anyone, so this year holiday is just the same as last year. The only difference is that there is a lockdown order," Ms. Thuy said.
As of April 18, Cambodian medical authorities have organized vaccination against COVID-19 for more than 1,2 million people nationwide. The vaccination has still been carried on in Phnom Penh and Takhmao despite the lockdown. According to Mr. Sim Chy, the Vietnam Embassy to Cambodia has worked with Cambodia's Foreign Ministry on vaccination support for businessmen and investors in Cambodia.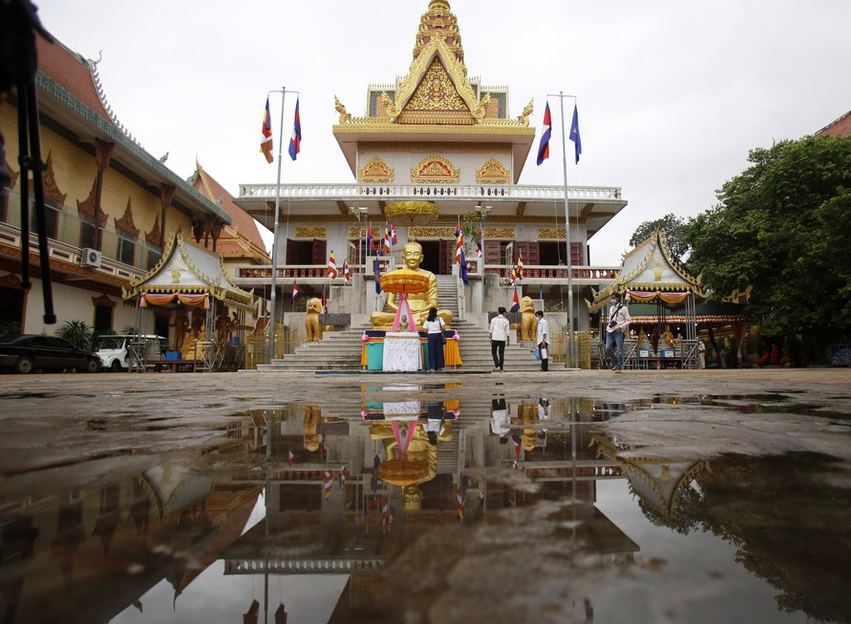 Pagodas welcome barely any visitors. (Photo: Zing News)
For not having Cambodian nationality, the majority of Vietnamese here faced difficulties in the initial pandemic times. However, after the Khmer-Vietnam Association worked with the Cambodian Ministry of Interior and 25 localities, more than 10 have agreed to allow Vietnamese legally residing in Cambodia to be vaccinated.
During the pandemic, business and production activities are halted. Many Vietnamese in Cambodia have difficulties in doing business. However, the Vietnamese here try to support each other. Sim Chy said that it is necessary to share how to live with the pandemic. He told his compatriots to be careful, avoid gathering, protect themselves. Sim Chy acknowledged the efforts of the Vietnamese embassy and general consulates to promptly support the people.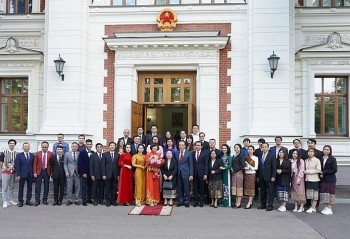 Friendship
The Vietnamese Embassy in Cuba will make efforts to consolidate and cultivate the special Vietnam-Laos relationship in the spirit of respect and support for mutual benefits.