Vietnamese in Japan can register for online healthchecks
Hanoi Medical University Hospital and Grandsoul Nara Center (Japan) have just signed a cooperation agreement on "Online HealthCare".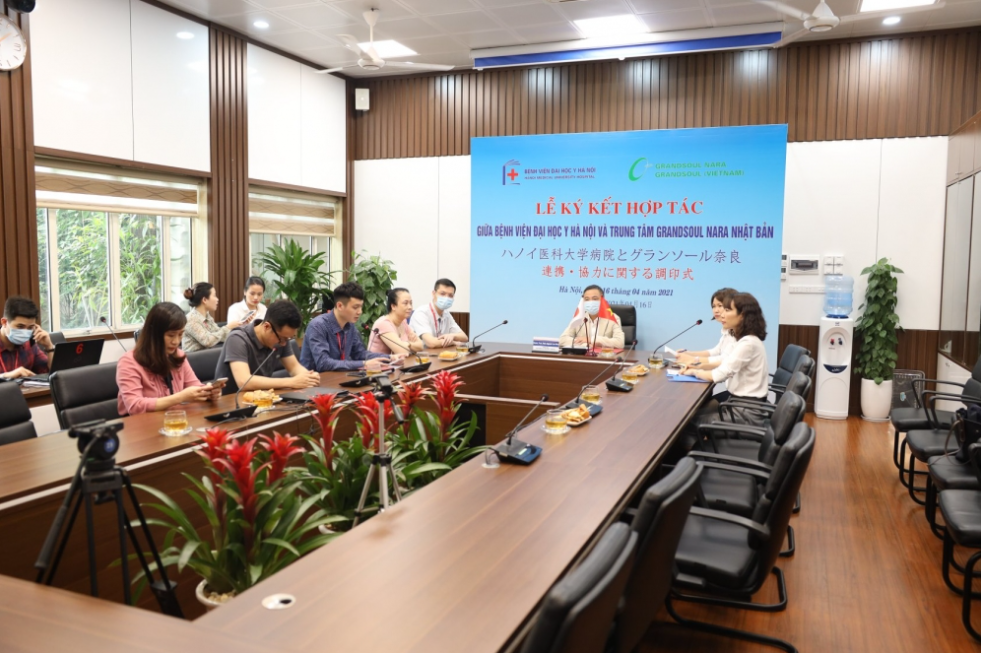 The signing ceremony in Vietnam.
Grandsoul Nara center coordinate with Hanoi Medical University Hospital - a partner unit in JICA Baseline Survey - to provide an "Online HealthCare" service to perform remote diagnosis, examination, and consultation for patients who cannot visit Japan.
In Japan, the center is also a connecting unit to support Vietnamese people who are unable to return to their homeland due to the COVID 19 pandemic to get examination and consultation online from Hanoi Medical University Hospital.
Speaking at the ceremony, Assoc. Prof. Doctor Nguyen Lan Hieu - Hanoi Medical University Hospital Director hoped that the cooperation and development between the two units would achieve initial success and develop according to the wishes of both sides.
In the current global development trend, online medical practice play a very important role. The two units' cooperation will be the driving force to implement the Japanese - Vietnamese TeleHealth system, thereby connecting Vietnam's TeleHealth system to the pandemic-stricken world. Clients wishing to have medical examination, treatment, or health check in Vietnam or Japan can participate in the examination, diagnosis, treatment, follow-up, and consultation directly through the remote medical examination and treatment system.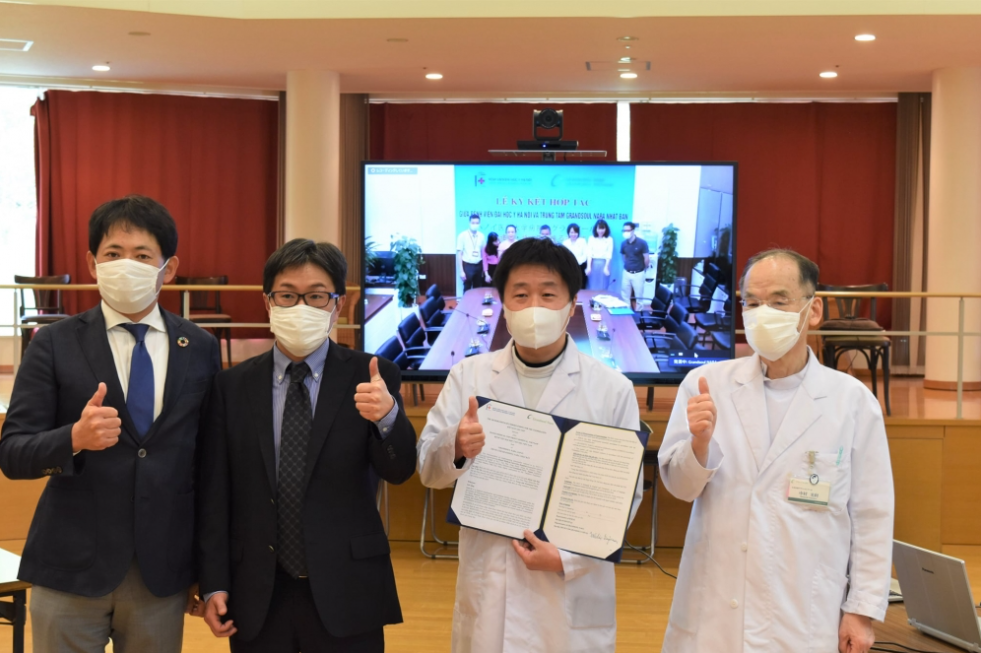 The signing ceremony in Japan
Together with experiences sharing in training, research, medical examination, and treatment, there will be opportunities to improve the capacity of Hanoi Medical University Hospital's staff, as well as staff of other hospitals participating in TeleHealth.
The Grandsoul Nara - Japan Center was established on April 8, 2001, in Nara, Japan. The Center's work focuses on two main tasks: Ningendock Intensive General Screening and researching and conducting cancer treatment with immune cell therapy in Japan.
Hanoi Medical University Hospital is a medical treatment facility and a teaching, practicing institute for Hanoi Medical University. Hanoi Medical University Hospital has the function of medical examination and treatment, research, application, and transfer of new technologies, techniques, and models of healthcare to Vietnam's healthcare and training system. The hospital joins the remote examination and treatment program as a central hospital.