At the awarding ceremony.
To commend the positive contributions in supporting the Vietnamese community in Japan to overcome the difficulties of the COVID-19 epidemic in particular and community work in 2020 in general, Vietnam Embassy in Japan held a ceremony to present certificates of merit to collectives and individuals who have made a lot of contributions to community work in 2020.
Due to the impact of the epidemic, in the past year, the Vietnamese community in Japan had to go through a difficult period. Responding to the calls and campaigns of the Embassy of Vietnam in Japan, many Vietnamese individuals and associations have provided spiritual and material help to help the Vietnamese community in Japan step by step overcome difficulties and challenges resulting from COVID-19.
Some 17 associations and 9 Vietnamese individuals were honoured to receive certificates of merit from the Embassy, ​​including: Vietnam Knowledge Association in Japan, Community of Vietnamese Experts in Japan, Vietnam Youth and Students Association in Japan (VYSA), Vietnamese Buddhist Association in Japan, Vietnamese Association in Hokkaido, Shizuoka, Ibaraki prefectures, etc.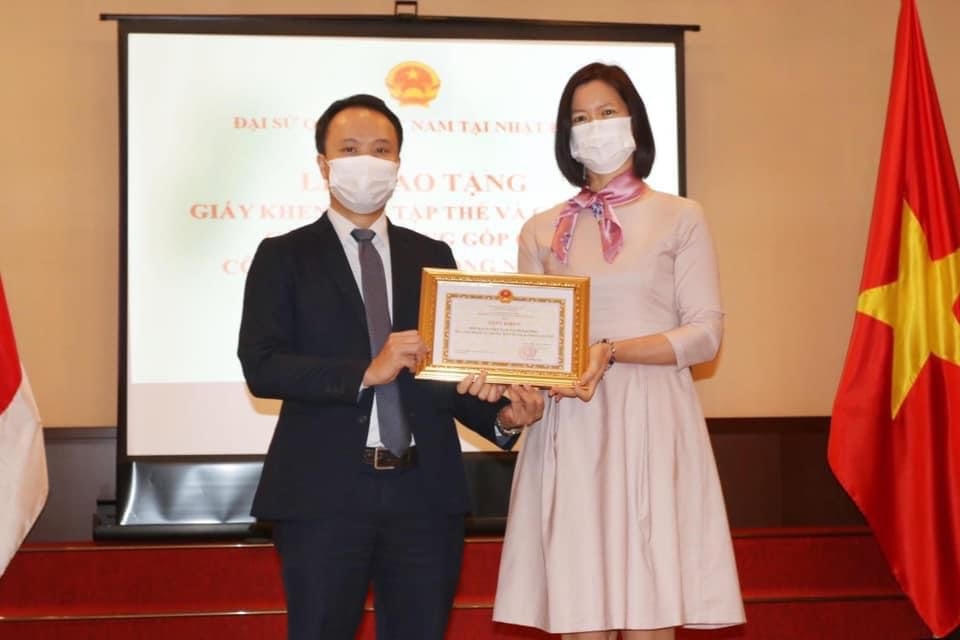 President of the Vietnamese Association in Hokkaido (VINDO) Le Quang Hung, on behalf of the Association receives the certificates of merit from Charge d'Affaires of the Vietnamese Embassy in Japan Lam Thi Thanh Phuong.
Speaking at the ceremony, Charge d'Affaires of the Vietnamese Embassy in Japan Lam Thi Thanh Phuong sent her congratulations to the rewarded collectives and individuals and affirms that the recent contributions have great significance to the Vietnamese community in Japan.
"When COVID-19 broke out, the world did not understand what it would be like, governments' confused in how to handle the epidemic, while some people in the community did not have jobs, many are frightened by not knowing how to respond. However, at that time, we thank you for always having the enthusiastic support of associations, individuals who regularly contact the Embassy, ​​responding to requests for assistance from the Embassy. You are really the 'extended arms' of the Embassy to all regions."
The Vietnam Embassy in Japan will continue to hold a ceremony to award certificates of merit to Japanese individuals and collectives who have made great contributions to the Vietnamese community in Japan in 2020.
According to the latest data by Japan's Immigration Services Agency (ISA), Vietnam, for the first time, has overtaken South Korea to become the second-largest ex-pat community in Japan. The number of Vietnamese residents living in Japan reached 448.053 last year, up 10 percent from the previous year and an increase of more than 10 times over the past 10 years.
China topped the ex-pat list with 778,112 and South Korea was third with 426,908 people.
There were about 2.89 million foreign nationals in Japan at the end of last year, down by about 46,000 over the previous year. Vietnamese ex-pats accounted for more than 15 percent of total foreign nationals in the country./.
Hannah Nguyen