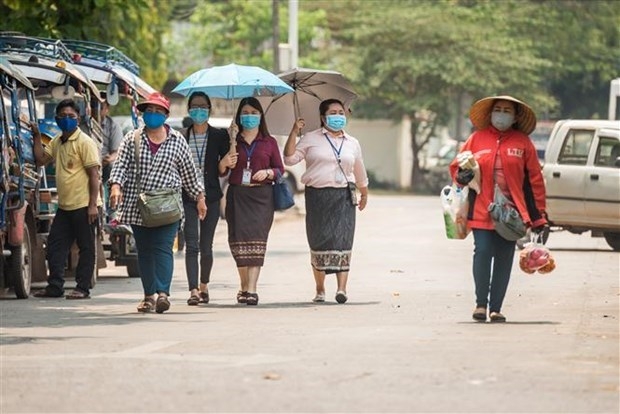 People in Laos wear face masks to prevent SARS-CoV-2 (Source: VNA)
They were advised to obey the Lao Prime Minister's Directive No.06/TTg and the Lao Foreign Ministry's Diplomatic Note NO.189/BNG.APA.2 which affirm that the host government has completely closed all of its international border gates and not allowed any individuals to go through these border gates, except for trucks carrying goods and emergency cases from April 3-19.
Therefore, Vietnamese citizens are unable to return home during this period, the embassy noted, asking them to follow regulations of the Lao Government and localities on pandemic prevention and control.
It is necessary to avoid big gatherings, not leaving places of residence intentionally, going to border gates to seek ways to return home or popularising fake news related to the disease, the embassy said, suggesting Vietnamese citizens to get updated on the pandemic situation by themselves.
For support, they were recommended to contact the Vietnamese Embassy in Laos via hotline at +85 620 96 10 67 75, the Vietnamese Consulate General in Savanakhet at +85 620 98 20 86 66, the Vietnamese Consulate General in Pakse at +85 620 99 69 16 66, the Vietnamese Consulate General in Luang Prabang at +85 620 91 11 23 45, or call the Citizen Protection Hotline +84 981 84 84 84.
By the end of April 5, Laos recorded 11 infection cases.
VNA