Vietnamese in Russia Make Banh Chung to Welcome Year of Cat
The 'making chung cake' event is an opportunity for overseas people, especially the young generation in Russia, to preserve and nurture the traditional culture of the nation.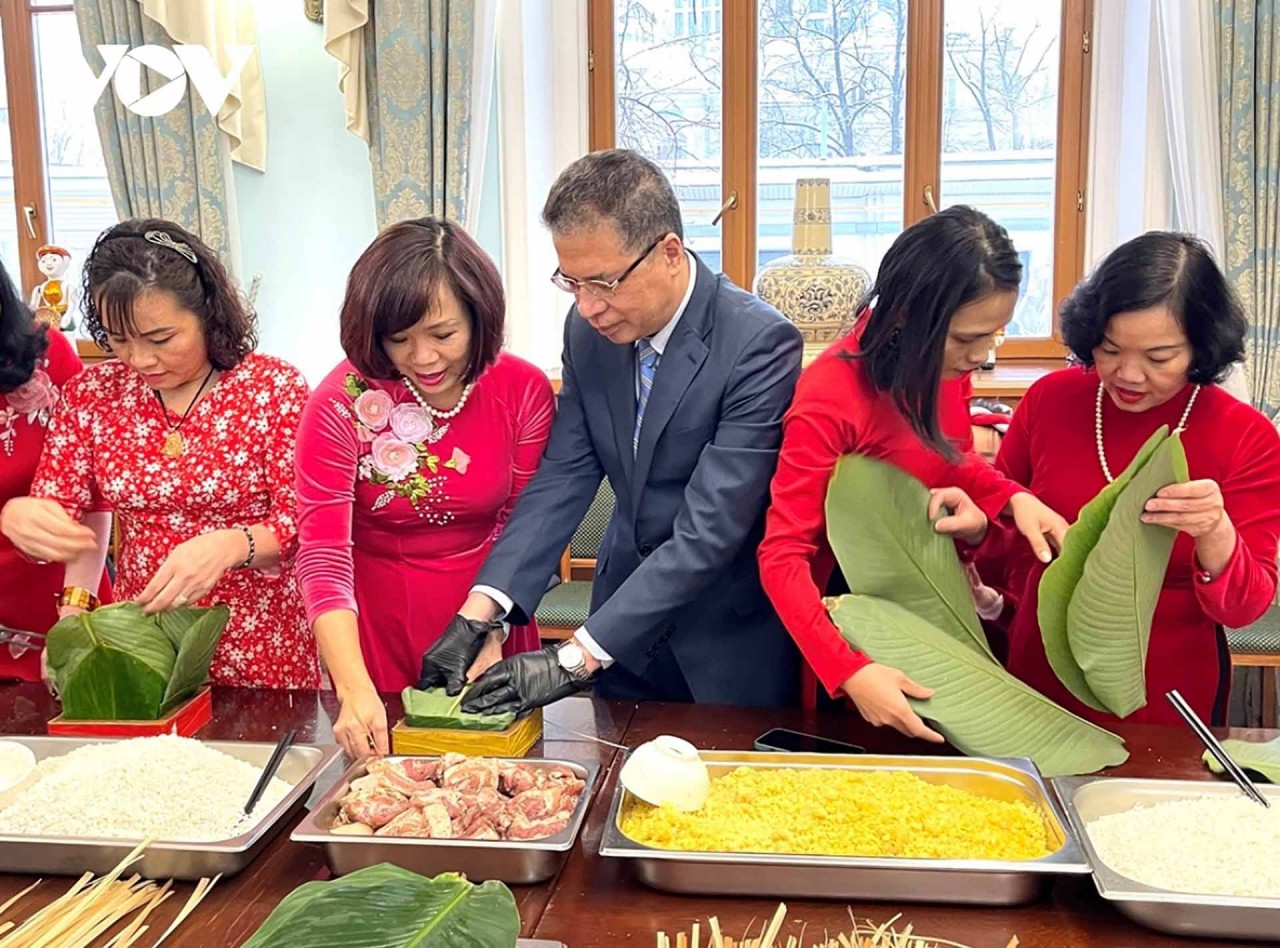 Ambassador Dang Minh Khoi and his wife participated in making Chung cake. Source: VOV
In spite of extremely difficult conditions in the area throughout 2022, the Vietnamese Embassy in Russia organized a Banh Chung (square glutinous rice cake) making event in celebration of the Lunar New Year.
Tet (Lunar New Year) festival is the biggest holiday of the year for the Vietnamese people. One of the most traditional special foods for Tet is Banh Chung or sticky rice cake. The cake, a must-have food during Tet, is made of sticky rice, pork and green bean wrapper inside a special leaf called Dong and boiled for about 12 hours.
Officials and employees of the Vietnamese Embassy as well as the whole community have been affected by Covid-19 pandemic and Russia - Ukraine conflict. Transport is disrupted, the two-way direct flights between Russia and Vietnam and vice versa, have been suspended since March 2022.
Therefore, in order to organize a 'Chung cake making day' to welcome the traditional New Year, the Vietnamese Embassy in Russia has made more elaborate preparations than every year. In addition to the attention and direction of Ambassador Dang Minh Khoi, departments and departments, it is impossible not to mention the role of Do Thi Yen, an employee of the embassy, who has had 8-year-experience in preparing for chung cake making activity.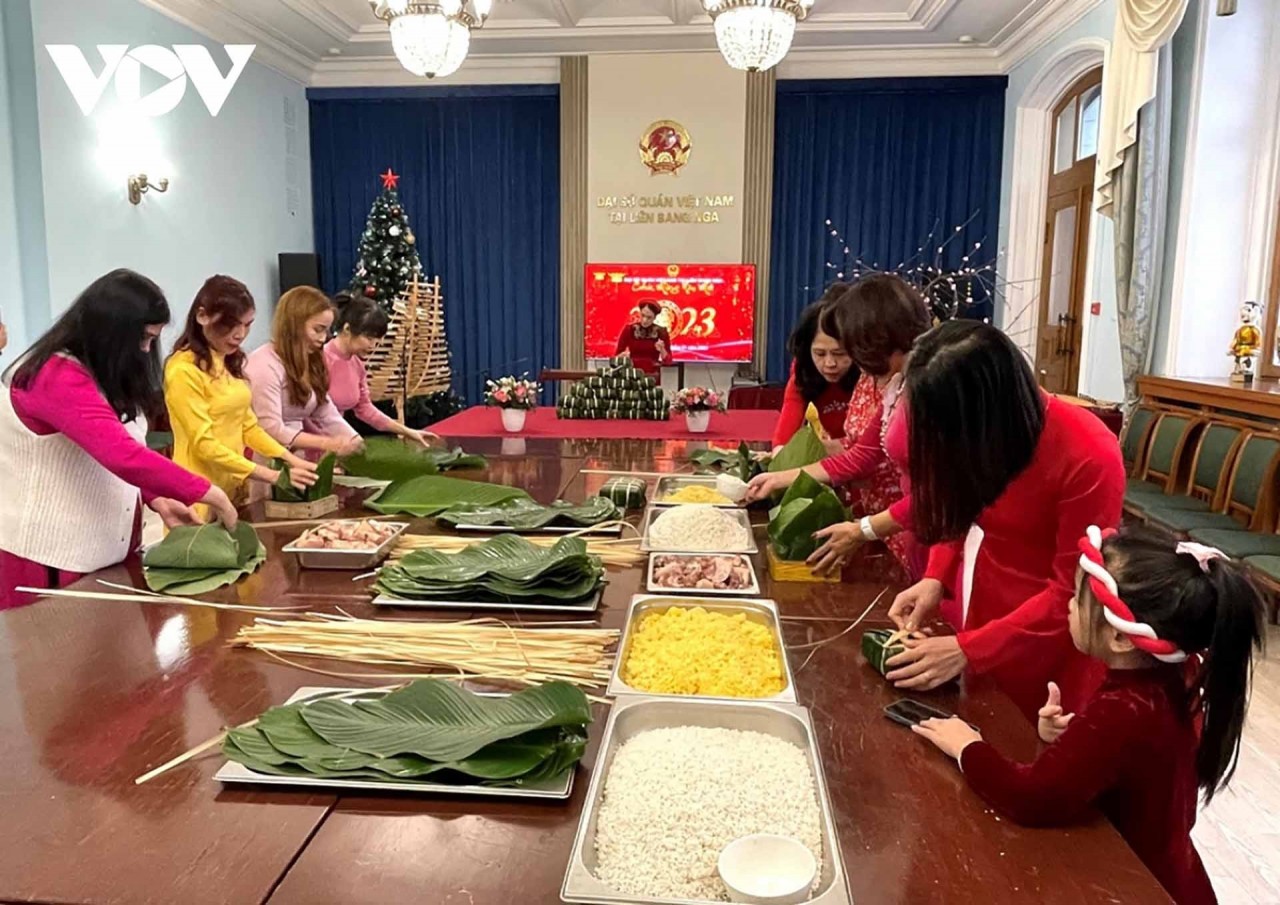 Vietnamese make banh chung. Photo: VOV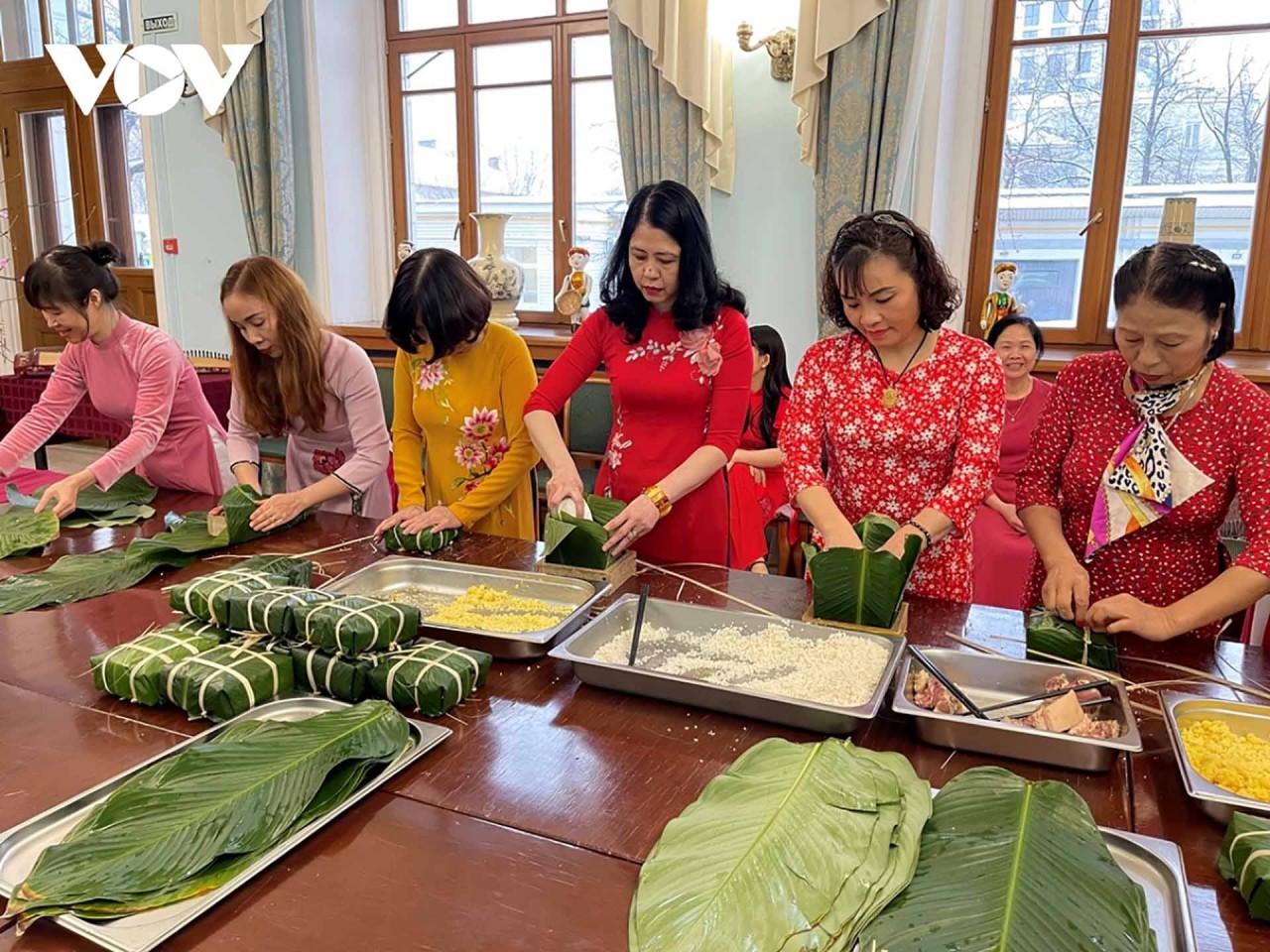 The event is an opportunity for overseas people, especially the young generation, to preserve and nurture the traditional culture of the nation. Photo: VOV
Yen said, unlike every year, it is much more difficult to transport dong leaves, sticky rice and mung beans to Russia, due to the lack of direct flights. "Some colleges helped bring dong leaves during their business trips to neighboring countries, ensuring that all embassy's officials have a Tet holiday just like every year."
This year, the embassy planned to pack about 230 chung cakes.
Yen and the embassy staff was in charge of preparing leaves, pork, beans, to marinating meat.
The atmosphere of this year's banh chung wrapping session was more joyful than in previous years thanks to the performance of Le Thi Hang Nga - a lecturer from Military University of Culture and Arts. She enthusiastically came to perform for the event.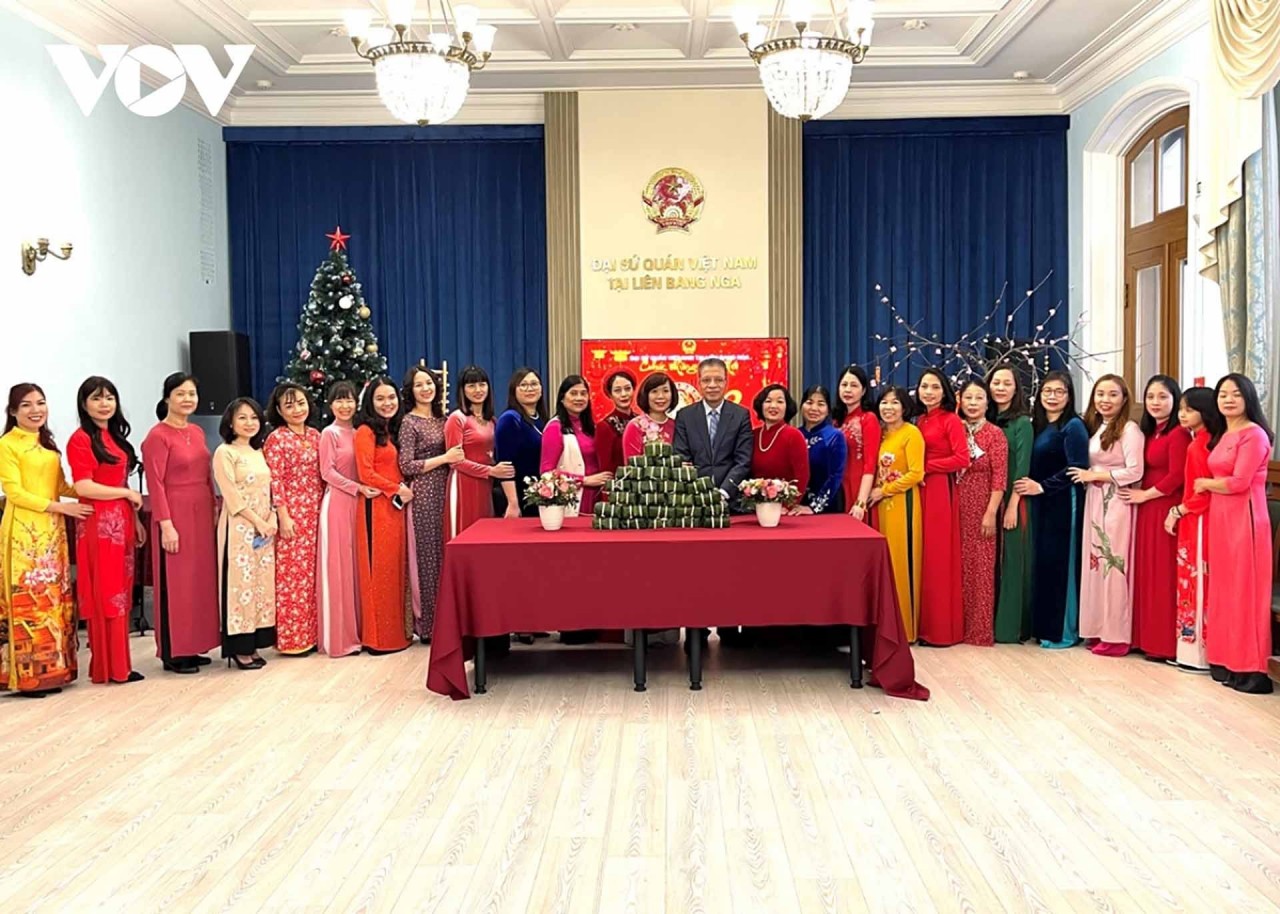 Banh chung will be put along with other traditional dishes in the tray on the family altar on New Year's Day. Photo: VOV
Participating in this activity, many expressed their emotions and joy. Even though they are far away from their homeland, they are still able to celebrate Tet in the traditional way.
12-year-old Nguyen Vu Thu Giang, who came to Russia for the first time during her parents' working term, felt the same atmosphere as in her homeland Vietnam. "This is my first time speding Tet here yet can still enjoys the Lunar New Year preparation. Joyful, bustling and warm. Everyone happily make banh chung. Aunts and uncles all instruct me on how to make the traditional cake. It reminds me of my hometown where people also gather to make banh chung like this."
Perhaps celebrating Tet away from home but still full of intimate and cozy atmosphere of a traditional Tet like at home will be imprinted in the minds of children like Giang. In the future, no matter where they go or what they do, they will always remember their roots and cherish the customs and habits of the homeland.
The Vietnamese Embassy in Russia and the community will hold a Tet celebration on January 19 evening. Hopefully, all the difficulties will be put behind us. The new year will bring a lot of joy, happiness and success to the whole Vietnamese community in Russia.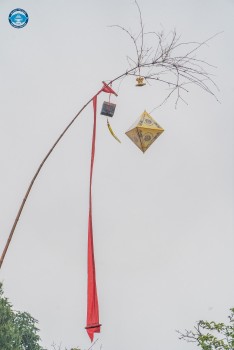 Viet's Home
In the past, the Neu pole (a tall bamboo pole with red garment strips used to ward off evil spirits during the lunar New Year) lowering ceremony at the royal palace of the Nguyen Dynasty was performed to mark the end of the New Year holiday and prepare to enter a new working year.