Vietnamese people in Thailand grapple with the most severe Covid-19 outbreak
The third wave of Covid-19 is sweeping through Thailand ahead of the Songkran New Year festival, making many Vietnamese people in the country worried and forcing them to scrap their holiday plans.
Thailand is grappling with the third wave of Covid-19 ahead of the Songkran New Year festival. Pham Phu Thinh, 27, started to work from home several days ago since an employee at his company tested positive for the virus, Zing News reported.
"I feel extremely anxious. Both at my company and my apartment building, there have been Covid-19 cases", Thinh told Zing News.
As reported by AFP, Bangkok has reported 1000 fresh cases this month.
As many as 40 provinces in Thailand have imposed regulations on quarantine or travel restrictions for those returning from Bangkok or other Covid-19 hotspots for the New Year holiday.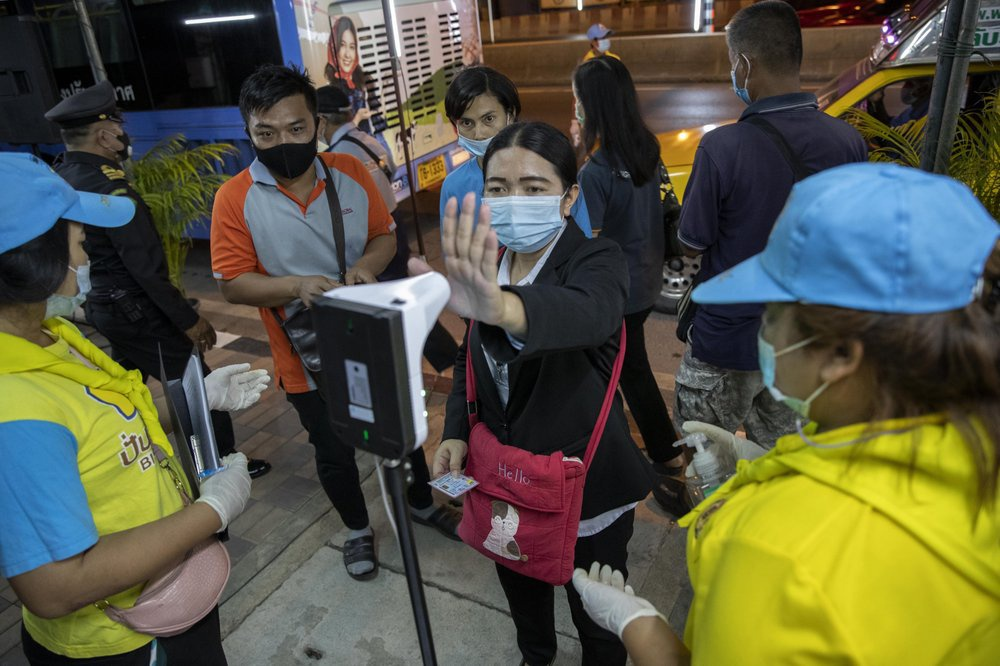 Passengers have their body temperature checked at a Covid-19 checkpoint between Samut Sakhon province and Bangkok. Photo: AFP
Protecting themselves from the deadly disease
Thinh's colleagues feel really worried given the quick spread of this Covid-19 outbreak.
"Many of my co-workers have registered the Covid-19 insurance packages to prepare for the worst situation", he said.
No sooner did an employee contract the virus than Thinh's company was put under lockdown and disinfected.
As having lived with the epidemic for more than a year, Thinh has "got used to" the anti-Covid-19 measures.
During this outbreak, he has protected himself by donning a face mask and maintaining a safe distance of more than 1 meter when coming into contact with other people.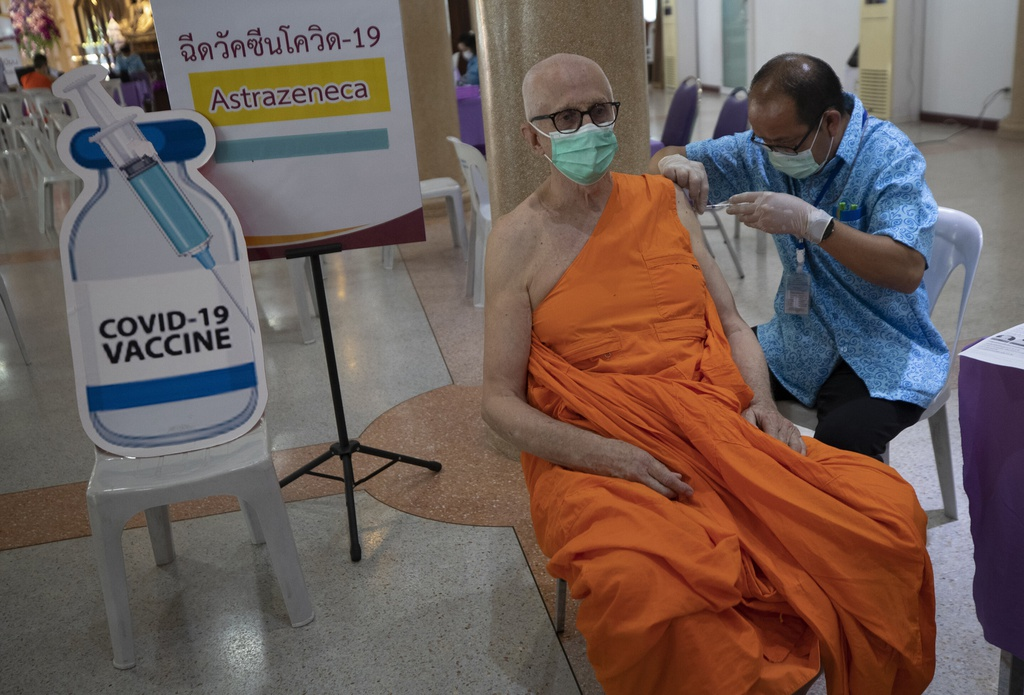 A monk is vaccinated against Covid-19 in Bangkok on April 9. Photo: AP.
"I refrain from going to crowded places like shopping malls and restaurants. Besides, I exercise and follow a healthy diet to improve my resistance", he shared.
Also living and working in pandemic-hit Bangkok, but Le Thao Vy, 25, hasn't yet had to work from home.
"I still go to company to work normally, however, wearing face masks is a must during the working hours", Vy was quoted by Zing News as saying.
"That Thailand reported new highly contagious virus variant originating from the UK and some residents here have ignored the pandemic prevention measures has forced me to restrict going out", Vy added.
Water-splashing festival forced to be canceled
Suksan Kittisupakorn, Director General of Thailand's Medical Service Department, said Bangkok set up 10 field hospitals, with a capacity of 3,000 patients, to deal with the "most severe Covid-19 outbreak" in the country.
The Bangkok authority canceled a series of events welcoming the New Year festival including the water-splashing festival which attracts a slew of visitors every year.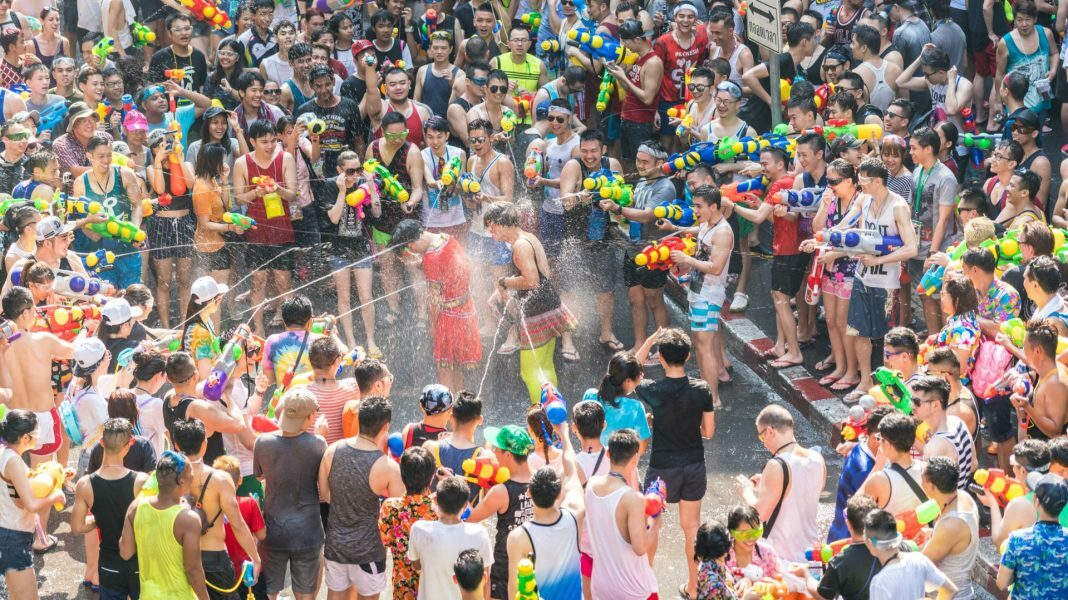 The water-splashing festival in Thailand. Photo: Lovepattayathailand
According to Vy, many of her colleagues couldn't return to their hometowns for the New Year holiday and scrapped their travel plans.
Having lived and studied in Nonthaburi, Bangkok's neighboring province, since the end of 2019, Thai Thi Thanh Ha said this was the second year that she hasn't had the opportunity to attend events welcoming the Songkran festival due to Covid-19.
Although witnessing a surge of Covid-19 cases every day, both Thinh and Ha expressed their belief in the Thai government.
"I feel quite secure about the anti-Covid-19 measures that the Thai government has adopted especially putting people coming back from Covid-19 hotspots under quarantine", Ha said.
"With current measures, the number of infectious cases may gradually decline by the end of May", Thinh predicted.
The outbreak, which has infected at least one cabinet minister and forced a number of other politicians into self-quarantine, has brought Thailand's total to 32,625 confirmed positive cases and 97 deaths as of Sunday. Monday's record total followed 967 new Covid-19 cases on Sunday – another total – and 789 cases and one death the day before that. On April 1, by contrast, the country recorded just 26 cases, said the Diplomat.
The current spike is the largest since an outbreak in mid-December, centered on a seafood market in the coastal province of Samut Sakhon, which is home to a large population of migrant workers, mostly from Myanmar.
Handbook
Yoga has recently become one of the best exercise methods that bring many health benefits to people, but it also requires a lot of technique and training to avoid injuries. There are several ways to practice it home, and will still help you achieve your goals.