Vietnamese Restaurant Owners Want to Explore New Zealand
Overseas Vietnamese have taken advantage of the New Year's holiday to travel with family and visit friends - plans they were unable to do before because of the pandemic.
Snow Nguyen, the owner of a Vietnamese cuisine restaurant in Auckland,New Zealand, plans to explore more than 20 cities and towns with her family during her vacation in early 2022.
"This long trip is a reward for myself after a year of lockdown," Snow Nguyen shared with Zing. "This time around New Zealanders, especially in Auckland, travel a lot to make up for nearly four months at home."
The city of Auckland has been placed under a strict lockdown for 107 days - from mid-August 2021 to December 3, 2021 - in response to the Covid-19 pandemic.
So, she said, most New Zealanders, after receiving a salary "like the bonus 13th-month salary in Vietnam", often travel during the year-end holidays.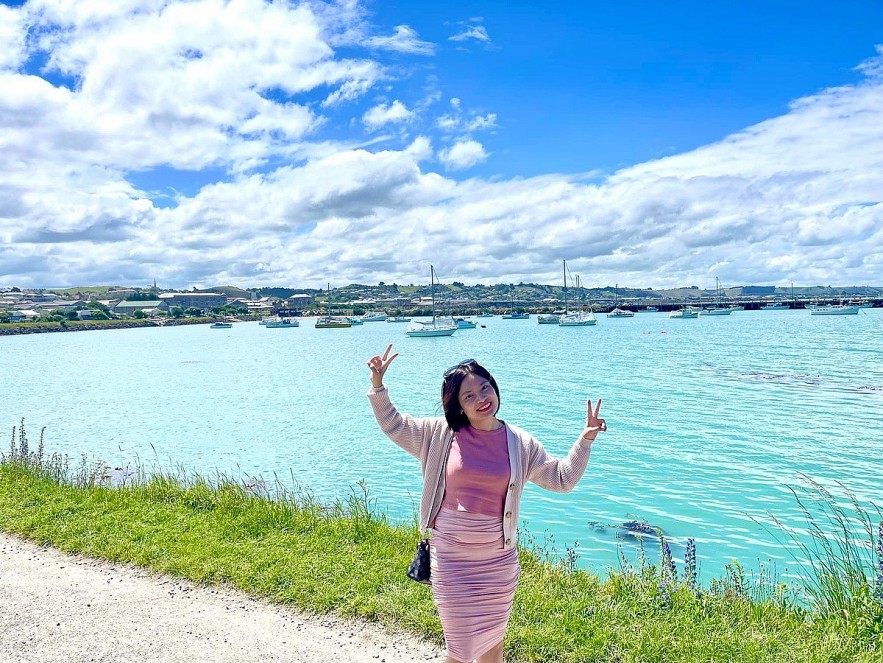 Ms. Snow Nguyen at Oamaru, Otago area, New Zealand. Photo: NVCC.
New Zealanders love being in nature and enjoying the outdoors. They often camp, bring tents to go where they can rest, or take a boat out to fish, to picnic on an island.
"I want to record and re-experience beautiful little-known places, delicious food, interesting games. I've gone before, but this time it's with a big family, so I want my relatives to also go to places that I think are great," she shared.
Khanh Linh, a PhD student living in Graz, the capital of the Austrian state of Steiermark, is also planning a journey to see friends in Germany and Italy on this occasion. Linh sees this as a vital opportunity to reconnect with important people she hasn't seen in a long time, similar to the practice of attending to New Year's greetings at the start of the new year.
The pandemic has affected the lives of most people all over the world in the last year. Many Vietnamese had to postpone or cancel previous plans due to the advent of new strains and the Covid-19 outbreak.
Some people used the holiday season in early 2022 to travel with their families, visit friends, and see relatives.
Unknown travel date
Snow has not determined the time to complete the "trip." Apart from some places in the North Island, she mainly explores the South Island area, including Queenstown and Christchurch.
Currently, New Zealand's border is remained closed, so most tourist destinations are only locals. However, the population density in the country of kiwi is quite sparse, so the restaurants and tourist attractions are not too crowded.
"I was quite surprised when restaurants and tourist attractions were empty than I thought. At first, I thought I had to book everything in advance, such as going to an onsen in Queenstown. Last time I went, I had to book a month in advance, but now I only book two or three days in advance," said Snow.
The first thing a restaurant owner does when a customer walks in is to check their vaccine passport. The restaurant does not impose a limit on the number of customers who can enter because it is not yet "full."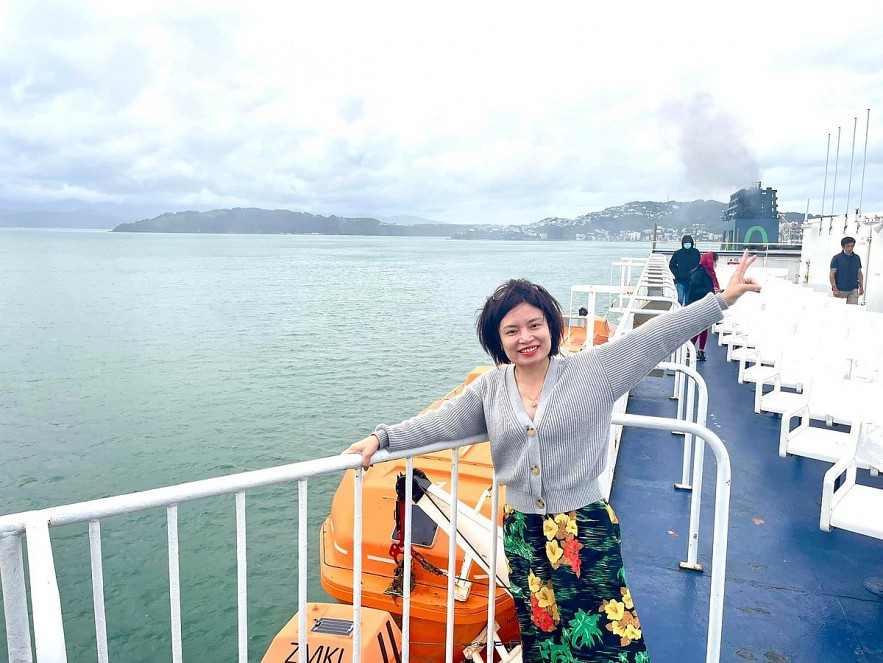 Snow Nguyen took the ferry from Wellington to Picton. Photo: NVCC.
Snow Nguyen celebrates New Year's Eve in Queenstown - the most popular tourist city on the South Island of New Zealand - with the family of a close friend who has been with her since the day she arrived in New Zealand. The two met in Christchurch, then rented a car to explore small towns such as Oamaru, Dunedin, Invercargill.
Because New Zealand is a peaceful and gentle country, on New Year's Eve in Queenstown, Snow watched fireworks, went for a walk and dined at a restaurant.
"My friend's two children will be bungee jumping (a type of sport standing from above, tying a rope to their legs and jumping straight into the lake)," she said since this is one of the activities that New Zealand youth are passionate about.
The weather in New Zealand at this time of year is also "pleasant" to visitors. The beautiful thing about New Zealand, she continued, is that even during tourist season, hotels and restaurants keep their prices the same or only slightly increase them, keeping the cost moderate and inexpensive.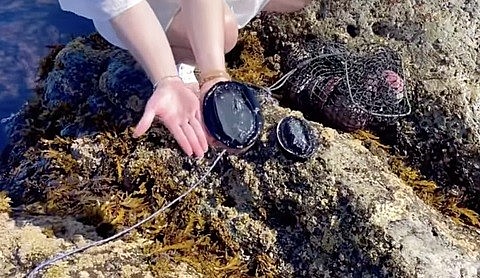 Sister Snow catches abalone in Kaikoura. Photo: NVCC.
Snow's most impressive activity on the trip so far is catching abalone in Kaikoura. People park their cars along the sea to catch, abalone crawling on rocks, standing on the shore can also be caught.
"I have never seen so many abalones, bigger than my hand and so fat. The seawater is clear, just up to the waist level and easy to wade to catch," she shared.
Snow said that each person can only catch 5 fish, and only those over 12.5 cm are allowed to catch.
Continuing customs in Europe
Meanwhile, Khanh Linh shared that Austria has a low population, so New Year's activities seem to be "submerged" compared to other neighboring countries.
Especially in Graz - where many Vietnamese people often joke to each other as "the city of students" - at Christmas and New Year, many students go home to visit their families, so the streets are even more deserted.
However, twinkling lights or images of pine trees and white snow still fill the streets, so the atmosphere of Christmas and New Year is still around here.
Earlier this year, Khanh Linh decided to go to Germany and Italy to visit friends she had not seen for a long time.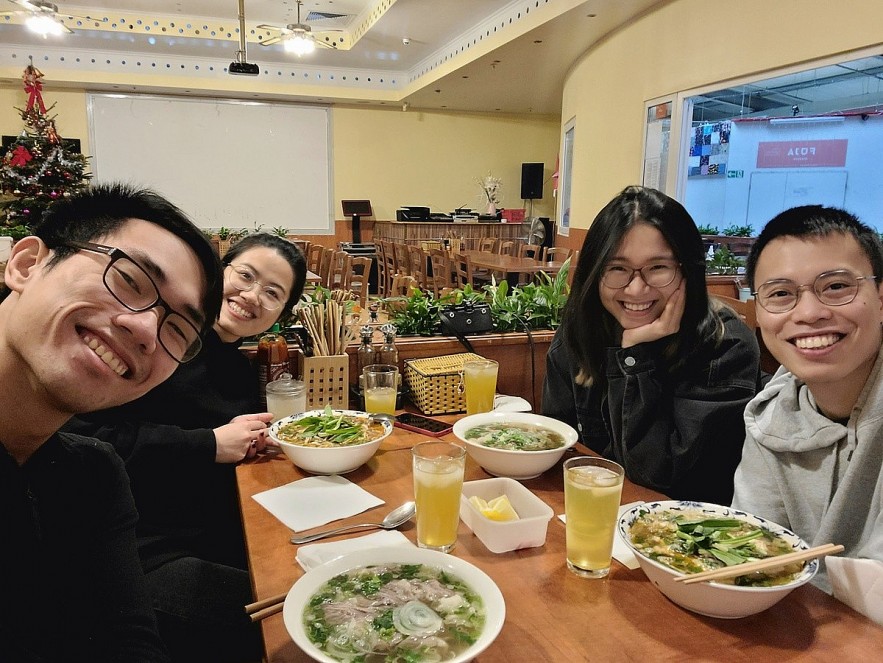 Khanh Linh (right) and friends go to eat pho at Dong Xuan Trade Center, Berlin, Germany. Photo: NVCC.
At the very beginning of a new year, Khanh Linh remembers the annual tradition of visiting and wishing each family New Year when she was still in Vietnam. For her, it's a precious time of the year to connect with loved ones.
"This year I want to continue doing that custom, just not with my family but with people I haven't had time to connect with for a long time," said Linh.
The Austrian student said that travel is no longer as restrictive as it was at the beginning of the epidemic. Most people have been vaccinated and learned to cohabit with the virus, so life is almost back to the original trajectory.
However, governments are constantly prepared due to the emergence of the new variant - Omicron and the fear of a new wave of pandemics make governments always prepare.
Linh stated that she must also check the legislation on mobility on a frequent basis because each country has its own set of regulations, and countries change rapidly.
"For example, I have no problem from Austria to Germany, but my friend from Germany to Austria needs three injections or if only two injections are given, he will have to have a negative PCR test certificate," Linh shared. "I have to carry my ID and vaccine certificate at all times."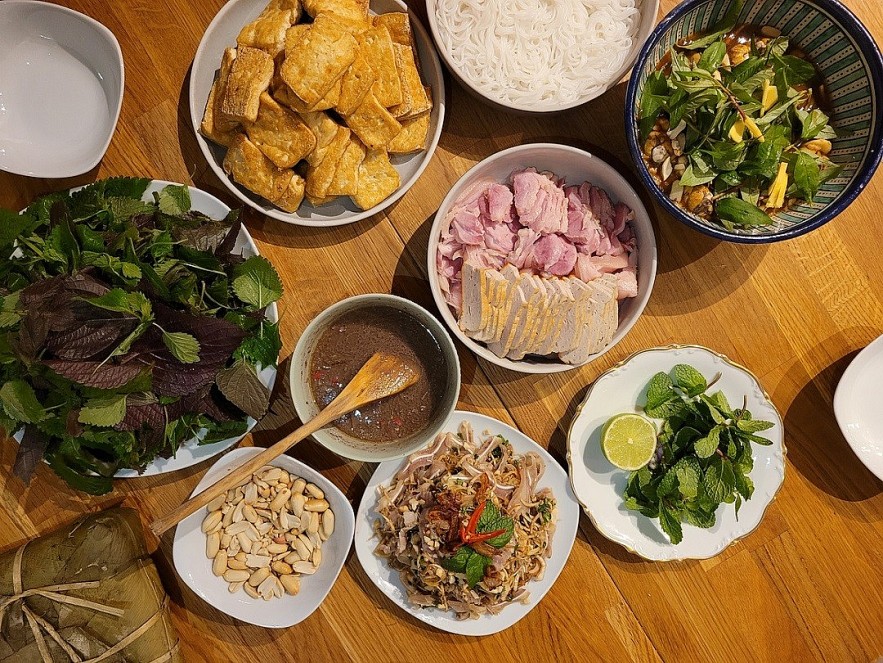 The meal Khanh Linh and her friends cooked at home. Photo: NVCC.
Khanh Linh also considered a lot before planning to visit friends. "It's not because I'm afraid of infection, but because I'm more afraid of spreading the disease to those around me," Linh added.
Linh avoids crowded venues this New Year by throwing small, intimate gatherings with three friends at her home.
In addition, despite her regret, Linh also had to refuse to visit a colleague's home in Germany. "I will pass through this friend's city during the trip, but I am worried during the move that I may bring the disease and spread it to the elderly and young children in my friend's family," Linh shared.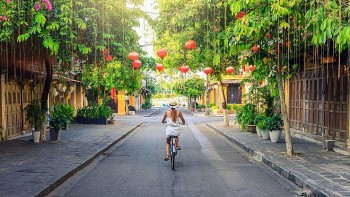 Viet's Home
What has International Living (IL) research revealed about the best retirement havens in 2022? Read on…