Vietnamese Rock Band Makes their Mark in Japanese Music Scene
Celebrating 10 months of hard work, KURROCK, a Vietnamese/Japanese rock band, released their debut music video "Vuot" on August 7th. The Vietnam Times spoke with the rising stars about their first music video making, favorite live performances in Tokyo, and upcoming plans.
Rocking Tokyo's music scene since 2020, KURROCK is made of 6 members, 5 Vietnamese and 1 Japanese from six different backgrounds.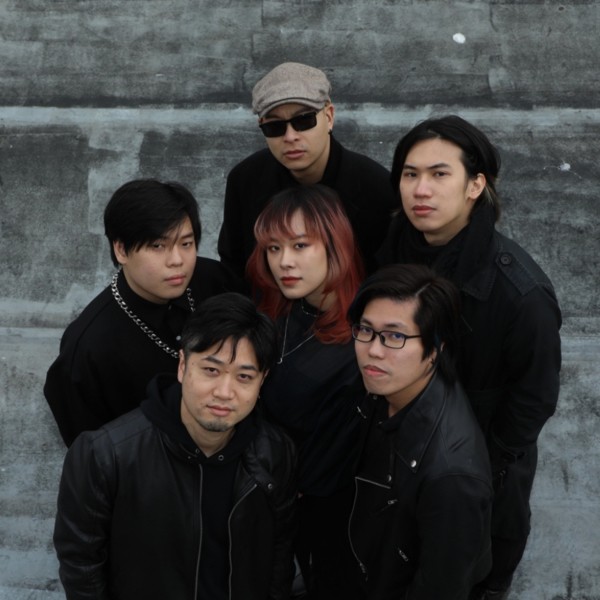 KURROCK is KJO, Heather, TroK, Sang, Danna, and Daisuke (Photo: Eggs).
This Vietnamese/Japanese rock band, the first of its kind, recently put out their debut music video, marking a milestone in their career. The song "VUOT", music and lyrics by KURROCK, will have you headbang to youthful messages while watching stunning digital replica visuals of Tokyo's most iconic landmarks.
A challenging beginning
The band began working with Director Watanabe Tomonori when they wanted to introduce their unique concept to the world.
Screen cut from the MV making documentary: Director Watanabe Tomonori and KJO working on the idea of "VUOT" MV.
When introducing "VUOT" to the audience, the Japanese director is excited about the cooperation between the Vietnamese and Japanese teams.
"I want to make an impressive music video that would leave viewers in awe with the quality of the music and the imagery," said Watanbe. "That is why we took on this challenge to make the video entirely computer-generated. The Vietnam's CGI team is superb".
The music video is set on the roof of Nagoya Mode Gakuen Building, recreating the view of Shinjuku from above at the break of a new day. The members are seen performing on top of the skyscraper, embracing the darkness. With the twin vocals singing and rapping in harmony, they kept the tempo then smoothly eased to a slow built-up, then finally rocked out under a meteor rain.
As the fading mist unveils a new day upon the city of Tokyo, the chorus echoed "'Cause I believe / Tomorrow will come / We too have our own dreams / So trust in yourself / Even if we fail we won't back down / I still believe / Live your life strong."

Nagoya Mode Gakuen Building in Tokyo

Screencut from KURROCK's "VUOT" MV.
The making of "VUOT" stumbled upon many challenges, mostly because it was filmed and produced during the Covid-19 restriction in Japan. Although the team members scattered across Japan, and even some in Vietnam during the process, the spirit of the song came through.
"This is not only a debut music video for us but also a milestone affirming KURROCK's ability to produce more than audio products. The music video is a message we want to send to everyone that no matter how different our backgrounds and circumstances are, Vietnamese people in Japan as well as Vietnamese living abroad can produce quality music and visuals, and that KURROCK root for you to stick to what you believe in,", said KURROCK's leader - KJO.
Almost one year later, after the filming wrapped up, on August 7, 2022 KURROCK hosted a MV premiere event in Kameido (Tokyo).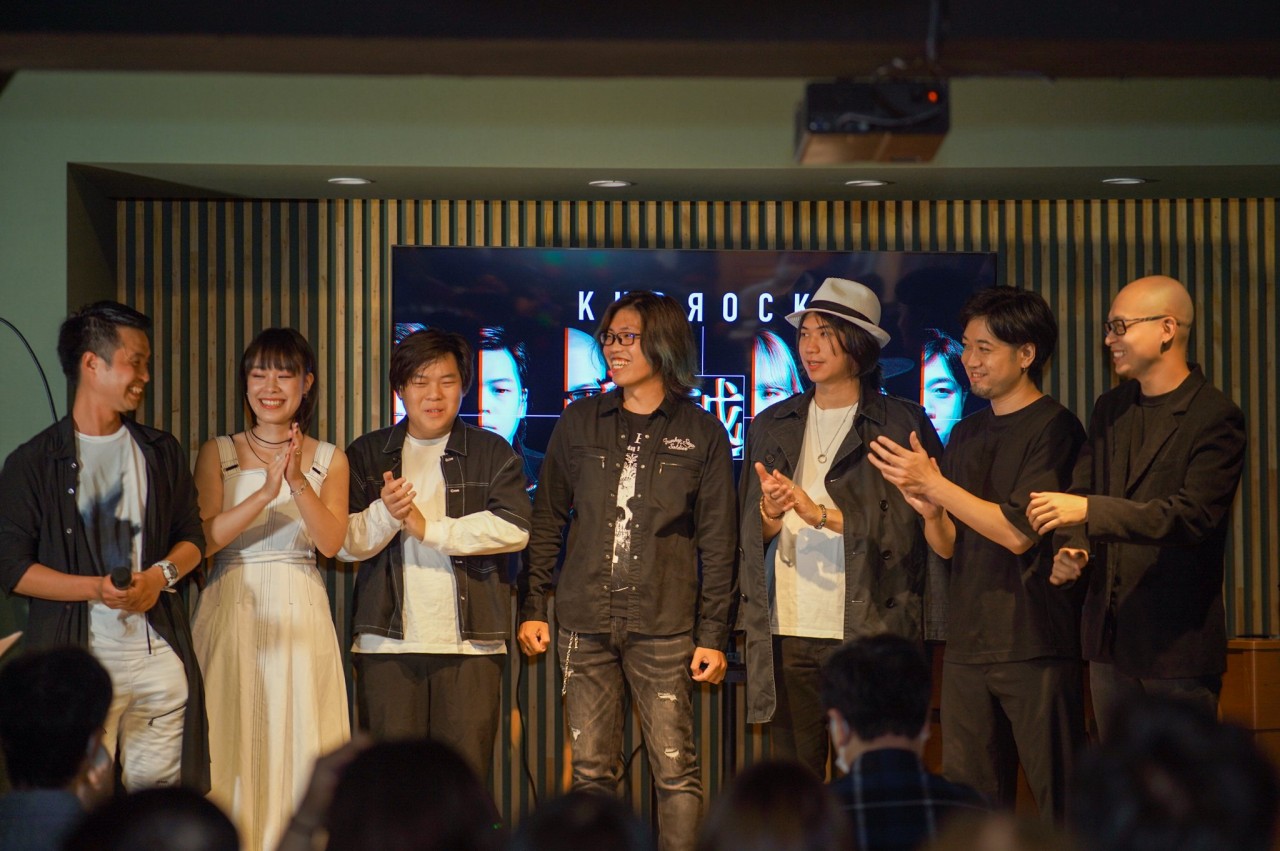 KURROCK's active members and ex-member Trung (first from left) at the MV premiere event (Photo: KURROCK Facebook).
"We are excited to hold this event, mainly because we get to meet everyone [who worked on the MV project] in person. While we worked together, we mostly met online." said the band members.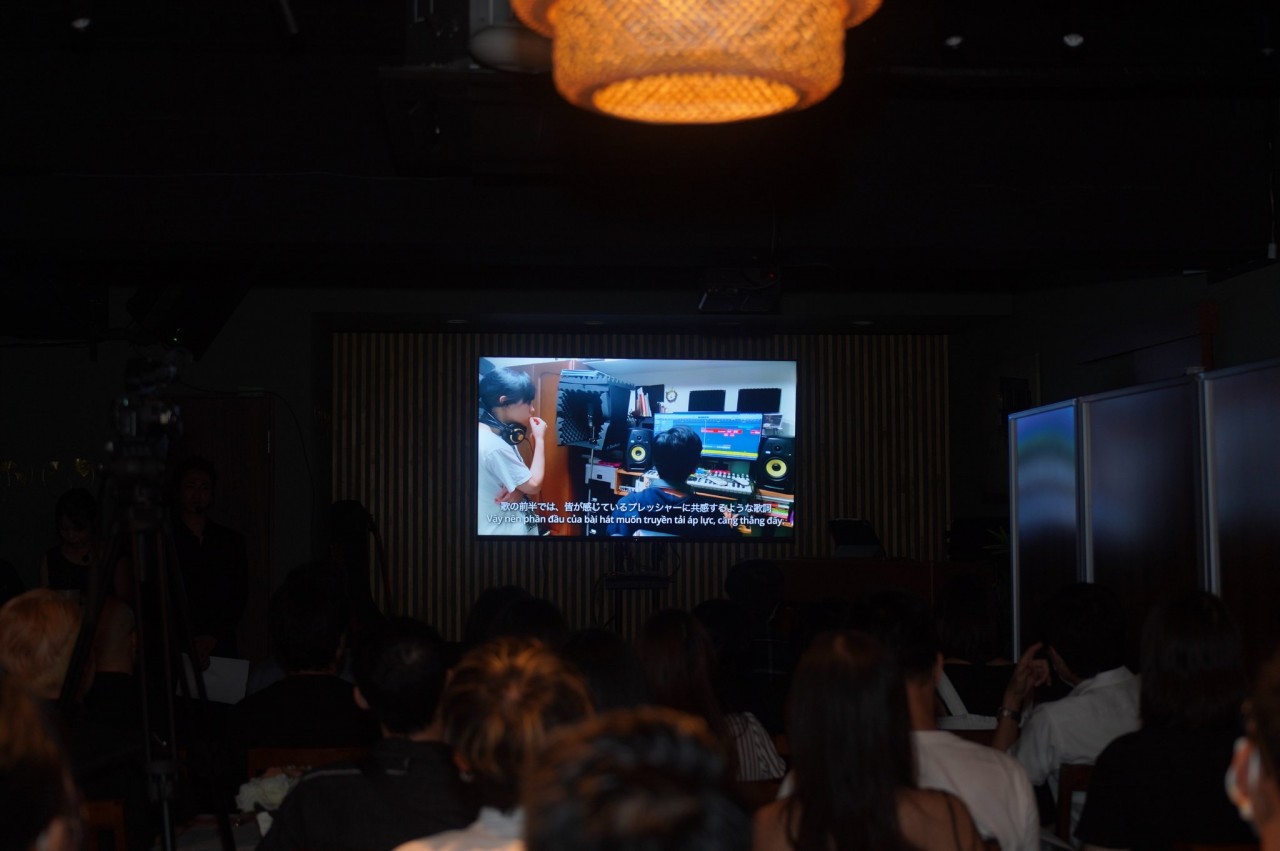 The MV making documentary being shown at the event. The music video took nearly a year instead of the originally planned 5 months to be published (Photo: KURROCK Facebook).
Tokyo's rising stars
Only 48 hours after its release, the music video had reached almost 8,000 views on YouTube. Many rock fans shared the song on social media, congratulating the band on their successful debut. Some first-timers quickly became KURROCK's fans, saying they wished they had known of the band sooner.
Although KURROCK is still a new band, they have been recognized thanks to their unique sound and their professionalism.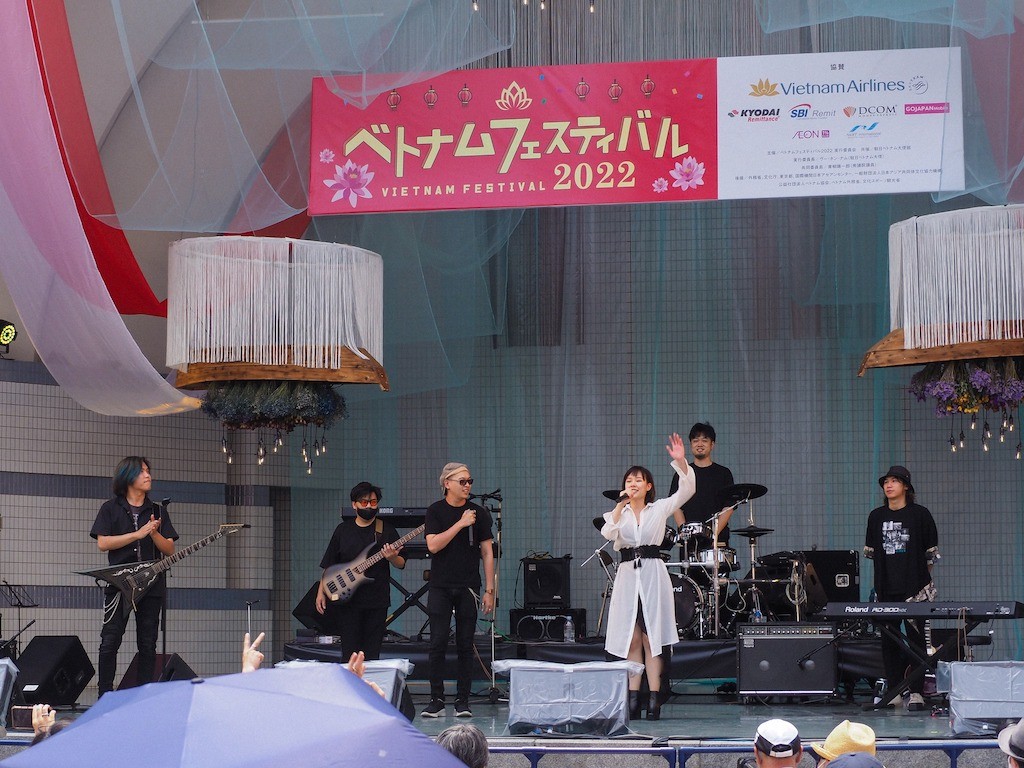 KURROCK performed at the Vietnam Festival 2022 in Tokyo (Photo: KURROCK Facebook).
Tokyo's music community is also welcoming this new rising star. For the third time, they reunited with the audience of Vietnamese Festivals on June 5, 2022. They rocked out on the stage, and earned many "hard-core" fans of all ages. Also, starting from September, KURROCK will be in regular line-up at one of Tokyo's most well-known venues - Guilty Live Stage.
In the crowd, a passionate fan rocked to KURROCK's performance with his keyboard. Video source: KURROCK Facebook
One of the biggest challenges for KURROCK used to be mastering the stage and interacting with the audiences. Thanks to their new member Daisuke, a veteran performer, they learned to make the stage their playground.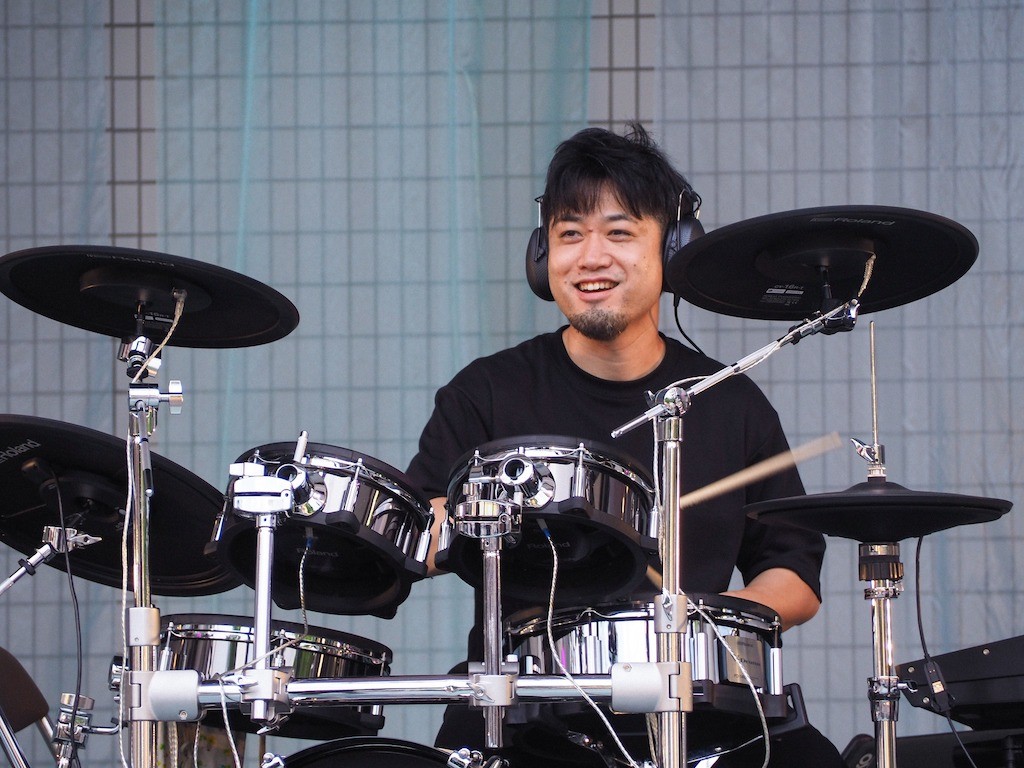 KURROCK's drummer Daisuke (Photo: KURROCK Facebook).
The Japanese member carefully learned the strengths and weaknesses of the team members and mapped out a pattern for the band members to move during the performance. After practicing under Daisuke's instruction, not only did they have a more coordinated flow of movements but also formed a stronger bond as a team.
They find it very encouraging that many rock fans and press agencies in Japan expressed their love for KURROCK's music even before finding out about the Vietnamese/Japanese concept. VIETJO, a well-known Vietnam's news site in Japan, wrote about KURROCK in June 2022's special feature, introducing the band's journey in the foreign land.
"We were surprised to find that a reporter from VIETJO went [to the band's performance] and wrote a 3-page article in Japanese about us," said KJO, "Later when we contacted her, we found out that she was so impressed with us that she did her own research to write about us. We did not know anything until our Japanese friends called to congratulate us on the article. Things like that make KURROCK feel we have been acknowledged for our efforts and abilities.'
New music direction
Although busy with many live performances and audio releases on streaming platforms, KURROCK dedicate most of their time to making new music.
Veteran composer Nguyen Dan, the mastermind behind many Vietnam hit songs like Chao Buoi Sang (Good Morning), Yeu Doi (Loving Life), talked about the bright future of KURROCK with great expectations.
| | |
| --- | --- |
| Vietnamese composer Nguyen Dan | "I am deeply impressed with their song "VUOT", both its lyrics and music," said Nguyen Dan, "As I worked with the band, I have given them 30 different master versions of the song. With my experiences of 20 years in showbiz, I believe KURROCK will be the modern music's icon for their Vietnamese/Japanese concept and that they will be the trend-setter for using elements of traditional and modern cultures from the two countries together in the path they pursue." |
While keeping their feet on the ground, these musicians confessed that sticking to the Vietnamese/Japanese concept can be challenging sometimes.
"At one point we considered putting the released songs in an EP and then going with a different direction, but we decided to keep the original concept. Our debut album will include 8 or more songs, performed in both Japanese and Vietnamese. We will consider playing in different languages depending on the audiences," said KJO.
KURROCK is now putting their creative abilities to the test. For the remainder of the year, they plan to finish the debut album and introduce it at live shows in both Japan and Vietnam.
Like a Local: Hanoi's Bia Hoi Culture

Hailed as the best beer for backpackers, Hanoi's beer halls are frequented by tourists and locals alike. While a friendly atmosphere, the Vietnam Times offers ...