Vietnamese Teachers' Day (November 20): Best wishes, messages and quotes to show affections
No matter how old we grow, the lessons taught by our teachers can never be forgotten. They build the foundation for our moral values and nurture children with their love and care. Here are lists of best wishes, messages and gifts that you can send your teachers on this 2020 Teachers' Day (November 20).
Teachers' Day best wishes from students
The websites Business Insider, Times of India and Hindustan Times have shared some Happy Teachers' Day wishes and quotes.
You have always been an excellent educator who knew how to illuminate a soul with its light. Happy Teacher's Day to my favorite teacher!
Wishing you joy and happiness, you are an amazing teacher, and you only deserve the best.
The best teachers teach from the heart, not from the book. Thank you for being a wonderful teacher. Happy Teacher's Day!
You have taught me many things in life, but the most important lesson I learnt is how to be a better person. Happy Teachers' Day!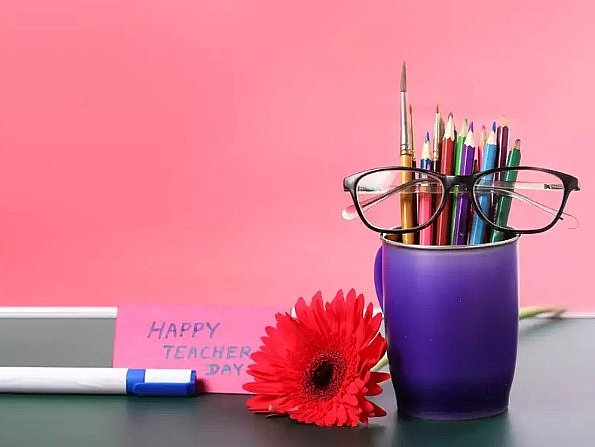 Photo: Times Of India
Happy Teacher's Day! It has been an honor to get to learn so many things from you; thank you for inspiring me! We need more instructors like you in our schools and universities.
I feel extremely lucky that I have you as a teacher. Here's wishing you a very Happy Teachers' Day.
It's been an utmost honor to be able to attend your classes; you taught us in the most possible friendly way! Thank you for being kind to us!
Dear Teacher, I would not be where I am in life right now, had it not been for your guidance and wisdom. I owe you all of the success. Thank you! And a Happy Teachers' Day!
All the efforts and hard work you invested to bring out the best in us can never be repaid in mere words. We can only feel grateful for having a teacher like you!
Teacher, you have always challenged me to work hard and get good grades. I will always remember you. Happy Teacher's Day!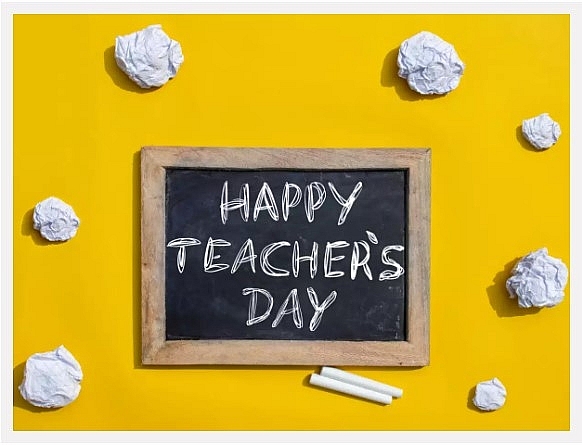 Photo: Times Of India
Even though my grades may not always be the best, I assure you that having you as my teacher makes me truly blessed. For now I know that you'll never give up on me, Thank you for helping me be all I can be. Because of you I can see that my future is bright, Above all you taught me to shine forth my light. Happy Teacher's Day!
You are the spark, the inspiration, the guide, the candle to my life. I am deeply thankful that you are my teacher.
I was lucky to have a teacher as wonderful as you are. Wishing you a Teacher's Day that's full of joyous moments!
Our parents gave us life and it was you who taught us how to live it. You introduced honesty, integrity, and passion to our character. Happy Teacher's Day!
This beautiful message is for my retired teacher whose service in our school is greatly appreciated and who has been one of the stalwarts of our school with her good teaching. Teacher, I thank you with all my heart for your service.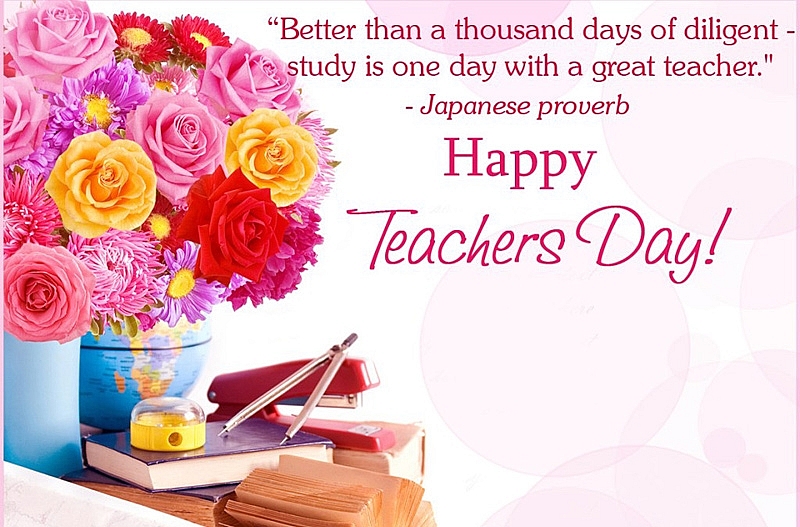 Photo: WishesMsg
The best teachers don't give you the answer, but they spark within you the desire to find the answer yourself. Happy Teacher's Day!
From ABC's to red, white and blue; to history and mathematics too, all I want to say is a big THANK you!
I feel so blessed to have a teacher like you who not only pushes me towards achieving my goal but also supports me in every step. Today I celebrate you for being selfless, devoted, hardworking, and the wisest person in the classroom. I am grateful to be your student. Happy Teacher's Day!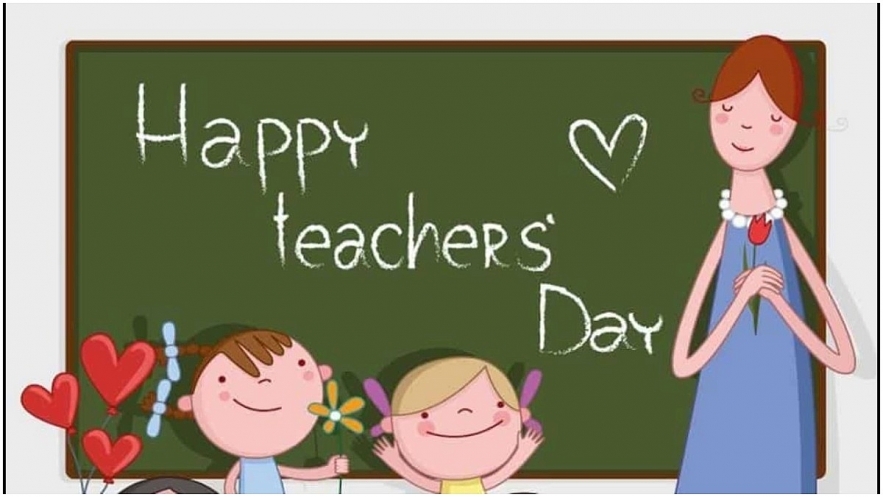 Photo: India TV News
Teachers have to lead by example, and you have always been an excellent example to follow. As a student, I feel very grateful to have such a great mentor in my life. Happy Teachers' Day!
You are perhaps the only teacher who assured me that everything is possible to achieve in life if we divert all the life energy in attaining that goal. Happy teachers' day!
The moment you enter the classroom, we all can feel strong energy vibes that still inspire us to be like you. Happy teachers' day!
You acted like a friend, you cared for us like parents, you taught us like a master, and you nurtured us like a gardener. Happy teacher's day!
I still miss your long but interesting lectures. I hope you are doing fine in life sir. Happy teacher's day 2020!
I vaguely remember your punishments that now seem like sheer blessings to me. You are no less than a parent to me. Have a memorable teacher's day!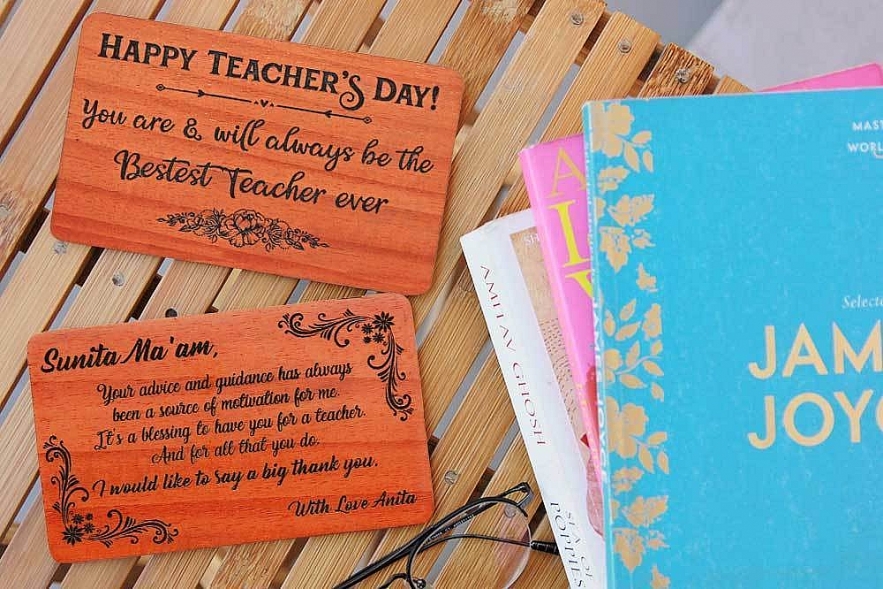 Photo: Woodgeek Store
Teachers' Day best wishes from parents
We are so happy that our child is enjoying preschool. It's not easy to send your first child to school, but seeing what a ball he/she is having makes it a breeze. We know we have you to thank for that. The activities you plan, the room you decorate, the friendships you help foster – it's all incredible, and it's helping our child (and us!) believe that school is fun, which is incredibly important.
Preschool years have now come to an end! We would like to thank you for all of the hard work, support, and encouragement that you have given our children during their 3 years in the elephant group. [Insert Child's Name] loved every minute of preschool and always came home full of enthusiasm and stories to tell. We can't thank you enough for making their years so happy.
As the parents of your students, we may be accountants, scientists, doctors, and engineers – but nothing contributes to the nation's development more than the sacrifices made by teachers like you. Thank you.
Thank you for your guidance, friendship, and even for your discipline. I learned that I am strongest when I recognize what yet is weak, and how I might best develop those parts of my character. Thank you for taking the time to be my friend. Thank you for being the best!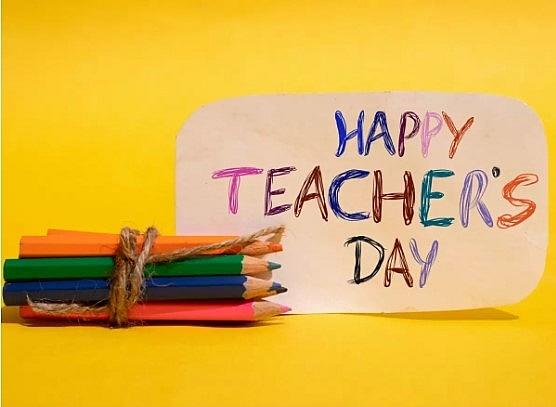 Photo: Times Of India
Inspiring. Empowering. Engaging. These three characteristics are just a few of that which you demonstrate to all of your students, including me, every single day. Thank you for being like you are, and for teaching us all how to follow your example!Thank you for being an excellent educator! We know teachers like you are not easy to find. We appreciate your time, your patience, your ability to make a dry subject interesting, and not least of all, your smile.
I want you to know how grateful we are to have you as the teacher of our children. Your teaching style really engages the kids and gets them pumped up and excited about learning. It's wonderful to see them coming home in a very happy mood, with wonderful things to say about you, and eager to share what they've learned in class that day. I appreciate all of your hard work, and the positive learning environment you provide for your students.
You didn't just educate my kids. You taught them the importance of education. I am grateful to you. You were kind and considerate, but played the stickler when you needed to. You have played a key role in molding my child into a good human being. Thank you so much!
The loving ways of teachers like you are the difference between teaching and educating. Thanks for teaching our children, educating them and empowering them. Classrooms can survive without iPads and computers, but never without inspirational teachers. Thank you for being the irreplaceable teacher that you are.
Our children are safeguarded from all of life's negative influences because teachers like you shower their love in a ton and not just ounces. Thanks.
Thank you. You have made a great difference for all of our children. Because you care so much about them, you have directed them to trust themselves in all that they do and to become all that they dream to be.
A good teacher is someone who can think like a student, look like a parent, and behave like a boss. You are the boss our kid is lucky to have. Thanks.
Just wanted to let you know how much we appreciate the work you do every day. I know we don't say it enough, but you're the best teacher our children could possibly have. Thanks!
I hope you know what a wonderful teacher you are. We sure do, and we appreciate your ability more than words can say. Our children have gone through so many positive changes, and we know that a lot of it is due to your loving guidance. Please keep being yourself and doing what you do!
I want to express my appreciation for your excellent work caring for my children. The difference you're making in our lives is immeasurable. Thank you for everything you have done for my children in the last two years.
I feel so blessed to have a teacher like you for my child. I am a witness on how dedicated you are in teaching your students, and I feel relieved that you are the one who will be nurturing her/his future. Thank you and may you keep up the good work!
Thank you very much for being such a good teacher to my child. As a parent, I know perfect teachers are hard to find, but for me, you are the best teacher for my child. Thank you for your love and the care you are giving to my child each day. I truly appreciate that. Thank you!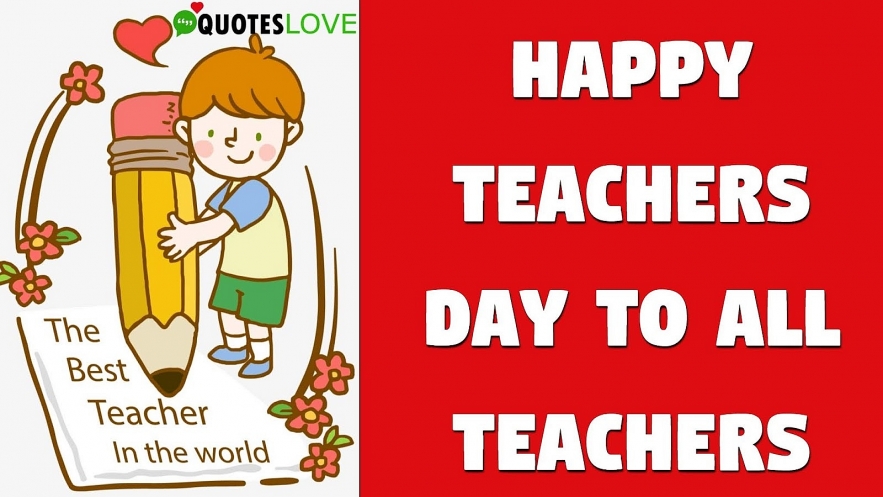 Photo: Quotes Love
If all teachers were like you, every child would be well-educated, with proper values and conduct. Thank you!
They say teachers plant seeds that grow forever. Thanks for being such a wonderful gardener to our children!
We are grateful to you because you are the person who has shown our children where to look, without telling them what to see.
Putting a child in a good school can never compare to finding a child a great teacher. We are so blessed that you've accepted our child as your student. Thank you!
We are grateful to you for what you have taught our children. We feel that those who educate children well are just as honorable as parents. While parents give life, teachers help instill the art of living well.
You are not only our teacher, you are our friend, authority, and guide, all rolled into one person. We will always be grateful to you for your support and kindness.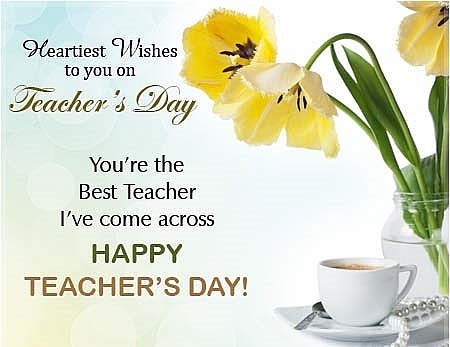 Photo: Filmy Critic
Dear teacher, thanks for not making us learn the way you wanted to teach, but teaching us the way we wanted to learn.
How can I express my gratitude to someone who has given so much of their time and energy, paying attention to my child's growth and education? I'll always be thankful to have you in my life.
The school year has now come to an end. I'd like to express my gratitude for the endless dedication and patience you have provided to my kid during her/his school year in your class. Thank you!
We look back with appreciation to you as a brilliant teacher, and with gratitude to you, who touched and inspired the minds of our children. The curriculum is only so much necessary raw material, but the warmth you provide is the vital element for the growing minds and souls of them.
Teachers' Day best quotes
"If a country is to be corruption free and become a nation of beautiful minds, I strongly feel there are three key societal members who can make a difference. They are the father, the mother and the teacher." - Dr APJ Abdul Kalam
"Education is not the filling of a pail, but the lighting of a fire." -William Butler Yeats
"Good teaching is more a giving of right questions than a giving of right answers." - Josef Albers
"Let us remember: One book, one pen, one child, and one teacher can change the world." - Malala Yousafzai
"You are the bows from which your children as living arrows are sent forth." - Khalil Gibran
The dream begins with a teacher who believes in you, who tugs and pushes and leads you to the next plateau, sometimes poking you with a sharp stick called 'truth'. – Dan Rather.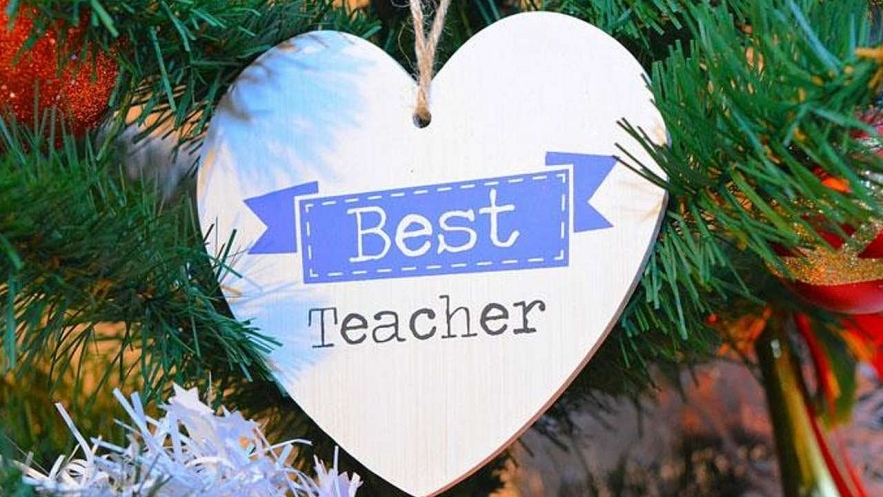 Photo: DNA India
A teacher who can arouse a feeling for one single good action, for one single good poem, accomplishes more than he who fills our memory with rows and rows of natural objects, classified with name and form. – Johann Wolfgang von Goethe.
Success is a lousy teacher. It seduces smart people into thinking they can't lose. - Bill Gates
"Those who educate children well are more to be honoured than parents, for these only gave life, those the art of living well." – Aristotle
"It is the supreme art of the teacher to awaken joy in creative expression and knowledge." – Albert Einstein
"A good teacher is like a candle – it consumes itself to light the way for others." – Mustafa Kemal Atatürk
"Good teachers know how to bring out the best in students." – Charles Kuralt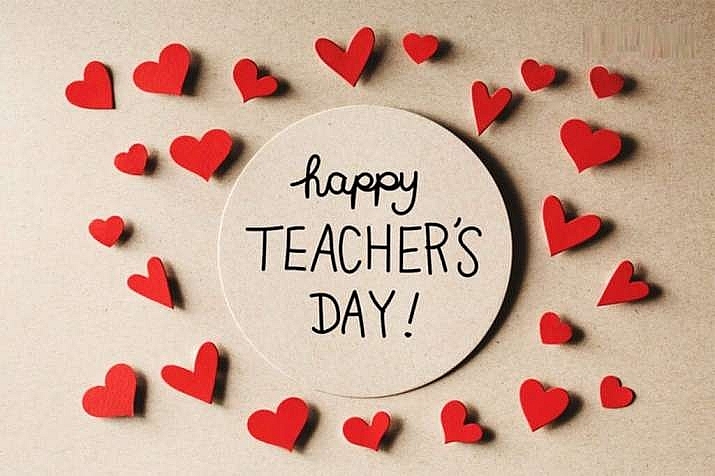 Photo: India TV News
"The teacher who is indeed wise does not bid you to enter the house of his wisdom but rather leads you to the threshold of your mind." – Khalil Gibran
The mediocre teacher tells. The good teacher explains. The superior teacher demonstrates. The great teacher inspires. - William Arthur Ward
A teacher who loves learning earns the right and the ability to help others learn." ― Ruth Beechick
Teachers can change lives with just the right mix of chalk and challenges. – Joyce Meyer
A great teacher who is full of excitement and love for her students can make all the difference in their lives. – Deval Patrick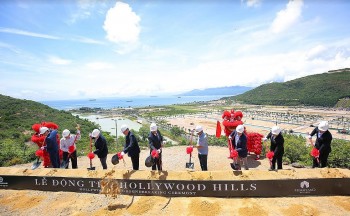 Economy
On October 2, at Hai Giang peninsula (Quy Nhon city, Binh Dinh), Hung Thinh Corporation held the groundbreaking ceremony of Hollywood Hills by YOO Inspired by Starck – a subdivision at MerryLand Quy Nhon. The event marks the first time that the world's No.1 ranked design and branded residence company YOO Inspired by Starck is officially present in Vietnam, with a collection of villas designed by creative director, Philippe Starck.