Vietnamese woman becomes top data specialist in New Zealand over an incredible 10-year journey
Before becoming a specialist at Ministry of Business, Innovation and Employment New Zealand, Tu Vinh used to failed University 2 years in a row, was rejected by 200 companies, and once worked as a janitor at a supermarket to support herself.
Being the youngest child in the family, Nguyen Thien Tu Vinh (born in 1991) had been different from her two older sisters when she was young. She loved freedom, hated being confined in anyone or anything, and was somewhat rebellious.
In her high school years, Vinh's parents were disappointed in her when their daughter skipped class and played pranks on the teachers. When she finally graduated, Vinh applied to University of Economics Ho Chi Minh City. However, she did not pass the test with a low score and failed university entrance exam in 2009.
After the first ever failure in life, she spent a year at home studying and learning English. Even though she tried so hard, she still failed the test the second time.
Language barrier difficulty
Concerned that their daughter could not enter University in Vietnam, Vinh's parents had persuaded her to follow a joint course in economy between University of Economics Ho Chi Minh City and Victoria University of Wellington, New Zealand.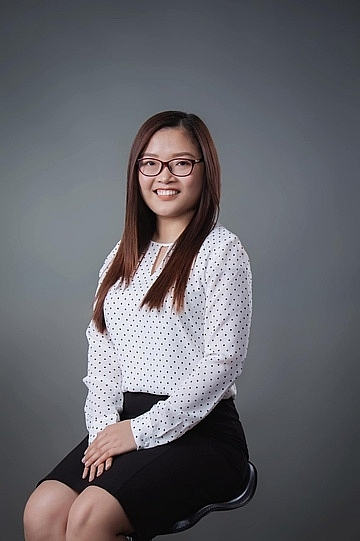 Photo: ZingNews
The course only required conditional English scores and high school graduation results, so Vinh easily passed the requirements.
Before moving to New Zealand, Vinh took IELTS test and passed with a 6.5 score. She once thought her English skills were good enough, but when she set foot on New Zealand, she realized she could not understand or listen to what the teachers were saying, and were not able to communicate with other students.
The young girl explained that when she studied English back in Vietnam, the teacher focused heavily on grammars and accent. Meanwhile, the Kiwis' accent is very much different than American-English one. Their pronunciation is heavier, and they use a lot of slangs.
"The first time when I came here, I struggled constantly with language barrier. The tuition fee was insanely high compared to my family income. If I had to retake the exams that I failed, it would be very costly. So, I tried not to failed."
Not wanting to become a burden for her family, Vinh tried her hardest to improve her study by asking the Vietnamese students in her class to borrow their notebooks, and recording the lessons of the teachers. After three months, her scores were slowly improved.
To have money to pay for the fee, Vinh had to work as a janitor in a supermarket. During the time working here, Vinh found herself unsuitable for the economy classes, and decided to switch to business administration.
Determined to stay back in New Zealand after graduation, Vietnamese girl quickly rushed to find a job.
200 failed interviews
In 2014, New Zealand only allowed students to stay one year to find works. If they can not apply for any jobs in this time, the students will have to return to Vietnam. During that year, Vinh was eagle to send her CV to nearly 200 companies. However, she was rejected by all the companies.
Her family called her home, and said they would help her find a job. "They must have thought that I failed searching for a job in New Zealand. I was determined to prove that I was strong enough to succeed here."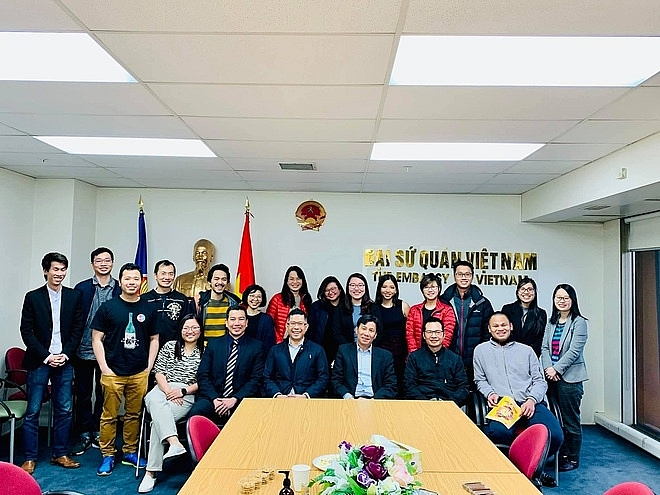 Tu Vinh in the meeting with a group of young Vietnamese at Vietnam Ambassador in New Zealand. Photo: ZIngNews
Aware of her own flaws, she joined some online classes for data analysis and data management. At the same time, Vinh kept sending out her CV and answered hundreds of inteviews through the phone.
Finally, in September 2016, Vinh simultaneously received invitation to work as data analyst for the Ministry of Electricity, Ministry of Education, Ministry of Trade, Innovation and Employment.
Vinh recalled when she applied into the Ministry of Electrictiy, she had used her experience working as a janitor to answer the HR department.
From what she told, in the time working here, Vinh used all her skills that she had learned in school to improve the working process. Every week, she had to buy cleaning supplies, chemicals, how much they costed and how long they would last to make a report.
After 18 months working at the Ministry of Electricity, Vinh kept looking for a better opportunity. In 2018, when the Ministry of Business, Innovation and Employment wanted to find a recruitment for data warehouse developing spot, she decided to apply for the job even though she did not study in this field.
With her confidence, Vinh had persuaded the HR department and was recruited for the job, and was helped with a three-month course studying data developing.
After her 10-year journey, Vinh realized that her previous failure did not define her life or the person she wanted to become.
"I used to be mocked and laughed at when I was a janitor. I also used to fail 200 interviews, but those times gave me experience for me to become who I am today", Vinh said.