Vietnamese Women's Forum in Europe Visits National Assembly Building in Vietnam
To celebrate the upcoming Independence Day of Vietnam on September 2, about 30 members of the Vietnam Women's Forum in Europe visited the National Assembly Building on August 22.
The delegates included Former Member of the Party Central Committee, Former President of the Vietnam Women's Union Nguyen Thi Thanh Hoa, President of the Vietnam Red Cross Association Bui Thi Hoa; Director of Center for Women and Development Duong Thi Ngoc Linh.
At the National Assembly Tradition Room and Dien Hong Meeting Room, they learned the history of the Vietnamese Legislature, the development of the National Assembly of Vietnam, and saw the first Constitution.
Another highlight of the tour is the exhibition area of ​​archaeological artifacts, where the delegates learned about the architecture of the Imperial Citadel of Thang Long during the Ly Dynasty.
This tour was held right after the Vietnam Women's Forum in Europe visited the Senate Room of the Hungarian Parliament Building on June 3, 2023. They also organized with the theme "Industry 4.0 - Women preserve Vietnamese values and integrate abroad" while at the Hungarian Parliament Building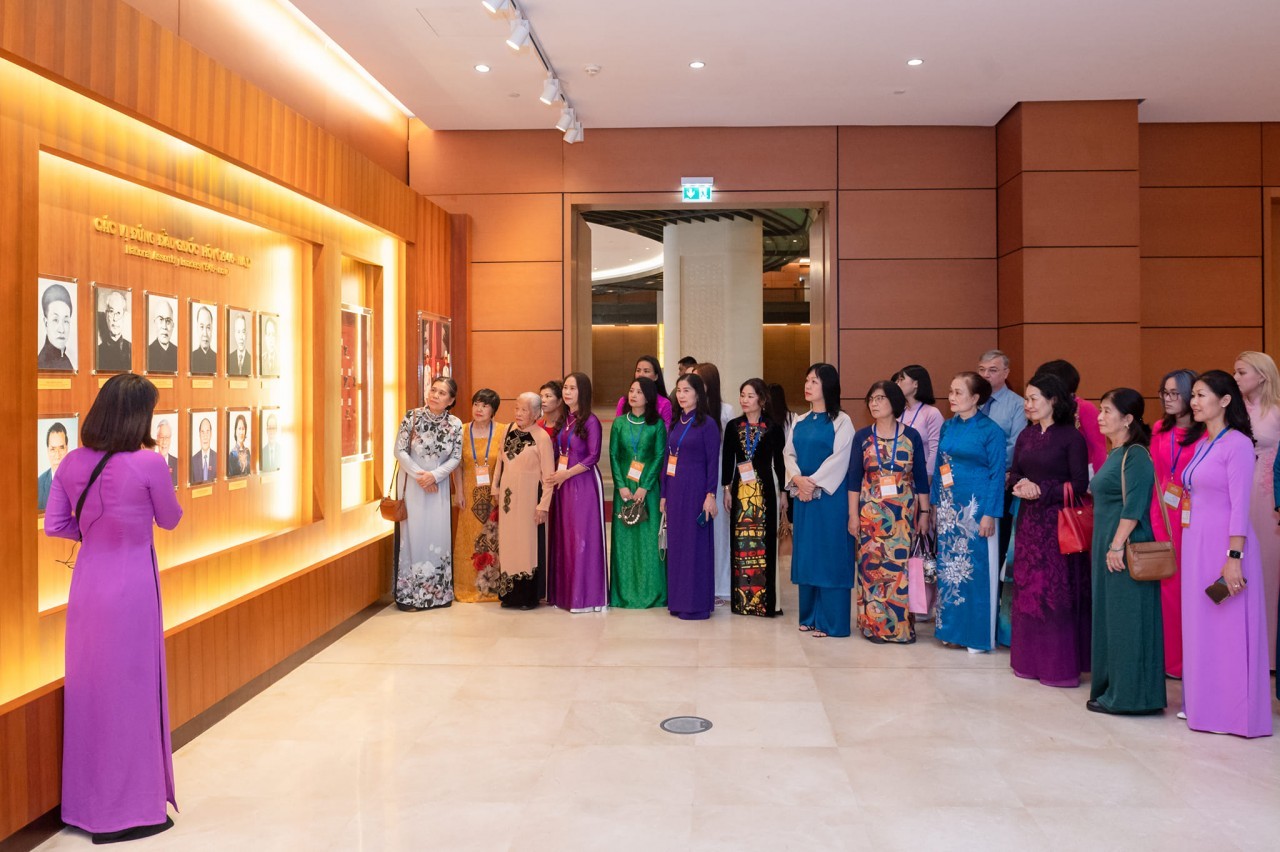 The delegates were grateful to visit the National Assembly Building during their trip to return to the homeland and to learn more use about the history of the country and the legislature.
Head of the Forum's Organizing Committee Phan Bich Thien exclaimed her happiness to visit the National Assembly Building. Thien thanked the National Assembly Leaders, and the National Assembly Television Leader for creating favorable conditions for the Forum delegates during this visit.
"This will be a dear memory for the members, help them feel more attached to their homeland and when they come back to Europe, they will bring along the pride of their country, the traditional identity," said Phan Bich Thien.
Held on June 3, 2023, the first-ever Vietnamese Women's Forum in Europe was sponsored by the State Committee for Overseas Vietnamese Affairs, the Ministry of Foreign Affairs, and the Vietnamese Embassy in Hungary in cooperation with the Vietnam Women's Union in Hungary.
With the participation of 250 guests, the forum discussed issues related to women in the new era such as the opportunities and challenges for Vietnamese women and overseas Vietnamese particularly amid the current rapid technological development.