Vietnam's Covid vaccine likely over 90% effective
If the trial results are satisfying, Vietnam will have the first homegrown coronavirus vaccine approved for emergency use.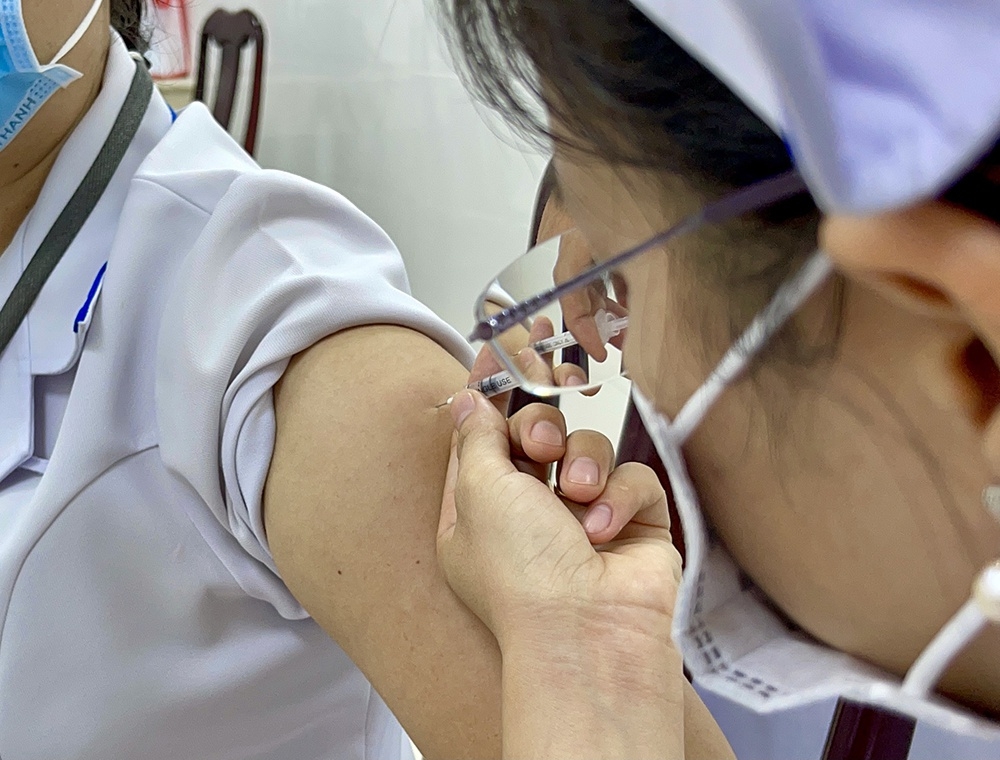 One volunteer getting the Nanocovax dose (Photo: Thanh Nien)
Researchers from Nanogen pharmaceutical company are confident their Nanocovax vaccine is over 90% effective against coronavirus, equivalent to the best approved Covid-19 vaccines in the world. The third human trials phase of the candidate is currently underway, with over 1,000 volunteers have been given the first jab. Evaluation will be made two weeks after the second jab.
Another 12,000 volunteers in Hanoi, Hung Yen, Long An, Tien Giang are expected to participate in the rest of the trials.
The research team will submit the results to the Ministry of Health and the Clinical Research Regulation for emergency use approval.
Nanogen has chosen recombinant protein – the technology it's most confident in – to research and produce Nanocovax vaccine. The company can have stable sources of raw materials and waste less time selecting research chemicals, according to Do Minh Si, director of vaccine research and development of Nanogen.
Meanwhile, other mRNA-based Covid vaccines like Pfizer, or Moderna require a combination of hundreds of materials from dozens of countries.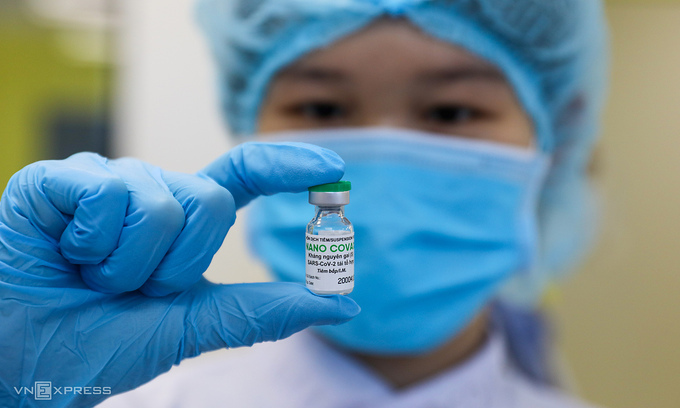 A worker holds up a vial of Nanocovax Covid-19 vaccine, in a laboratory in HCMC's District 9. (Photo: VNE)
Nanogen is capable of churning out 8 million doses per month, which will soon reach 10 million. It is completing the cold storage system preserving up to 10 million doses and preparing five refracted trucks.
The vaccine is expected to cost VND 130,000 – 230,000 (US$5.6–10).
To date, Nanocovax has gone half its way onto the third trial phase. Researchers will use the serum samples of over 1,000 volunteers to test if the vaccine is effective against the novel Delta variant. It was earlier proved effective against coronavirus variants from the UK and South African.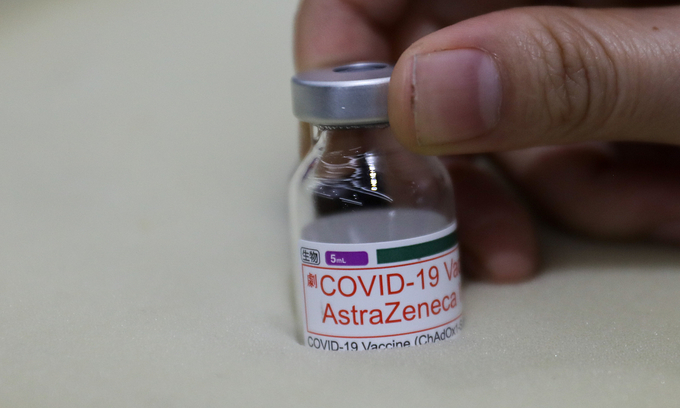 A person holds a vial containing the AstraZeneca Covid-19 vaccine in HCMC. (Photo: VNE)
Researchers in late April wrapped up the second trial stage involving 560 volunteers, including the elderly and children who are vulnerable to the virus. 100% of the recipients yielded immunity, the seroconversion rate was 99.4%. Such rate in circulated Covid vaccine in the world is from 91% to 100%.
Vietnam is expected to produce some 100 million doses of Nanocovax each year.
Mild pain at the injection site is reporting the most common post-injection side effects (23.4% and 26.9% after the first and second shot, respectively). Seven recipients experienced high fever, only one had high fever.
Vietnam is having three other homegrown Covid-19 vaccines, from the Institute of Vaccines and Medical Biologicals, Vaccine and Biological Production Company No. 1, and Polyvac.
The country kicked-started its quality vaccine rollout on March 8, prioritizing frontline healthcare workers, police and border force, Steering Committee for Covid-19 Prevention and Control members, industrial workers, and other essential personnel. It has inoculated over 1.55 million recipients, with more than 60,000 fully inoculated.
HCMC on June 19 started its biggest vaccination campaign yet as the city faces a rising number of daily cases. Workers are first in line for the doses along with frontline workers.
To reach herd immunity, Vietnam must vaccinate 70% of its citizens aged 18 and over, equivalent to 150 million doses.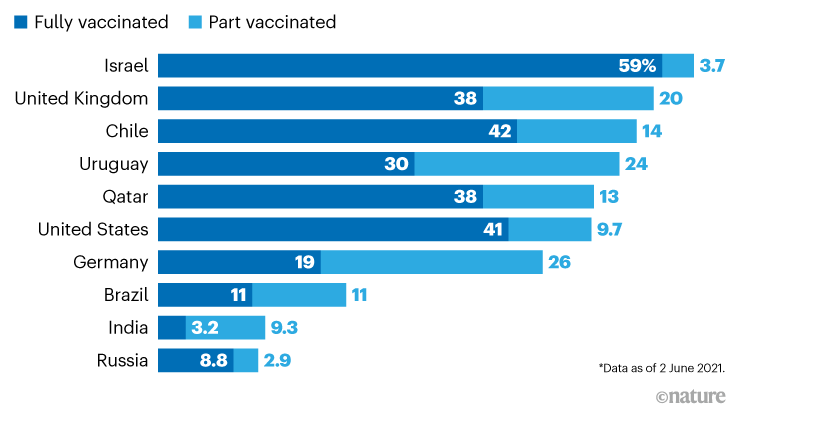 Vaccination variation (Source: Our World in Data)
Effective rate of other Covid-19 vaccines in the world
A clinical trial1 in more than 40,000 people found the Pfizer-BioNTech vaccine is 95% effective in protecting recipients from symptomatic Covid-19, as reported by Nature.
The Gamaleya National Research Center of Epidemiology and Microbiology in Moscow and the Russian Direct Investment Fund announced that their Sputnik V vaccine has been 97% effective in almost 4 million people in Russia.
In May, London-based Public Health England reported4 that the Pfizer–BioNTech and Oxford–AstraZeneca vaccines are both 85–90% effective in preventing symptomatic disease after two doses. It cautioned, however, that it had low statistical confidence in the result for the Oxford–AstraZeneca jab, developed by the University of Oxford, UK, and AstraZeneca in Cambridge, UK.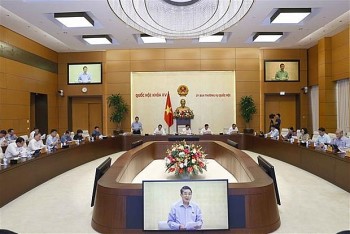 National
The National Assembly (NA) Standing Committee examined the draft revised Law on Protection of Consumer Rights on August 15 as part of its monthly session.