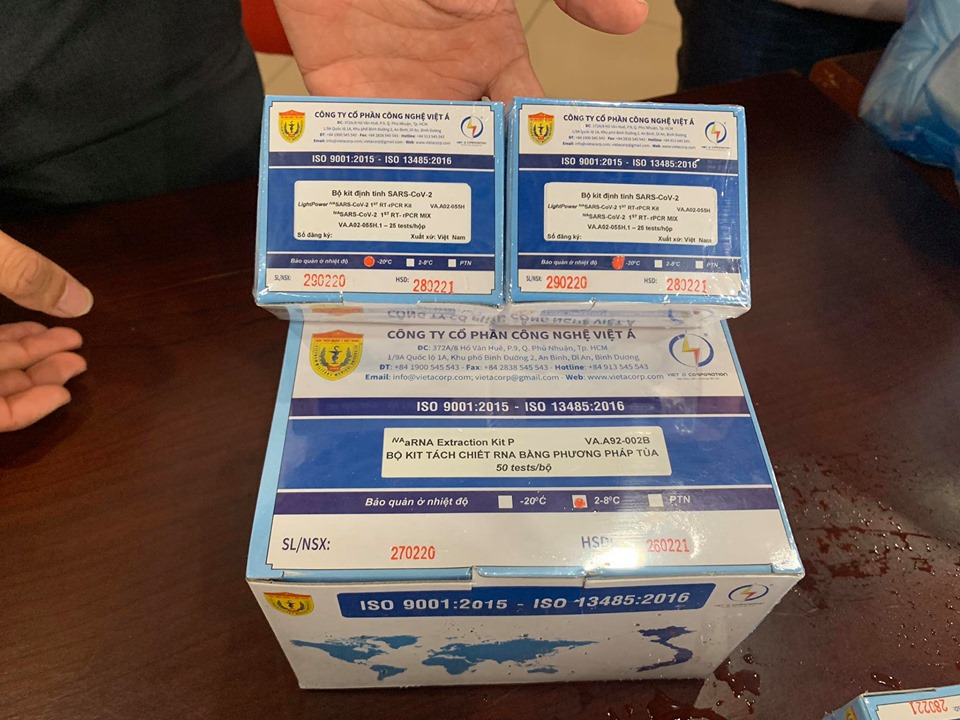 Illustrative photo by VGP.
The COVID-19 test kits researched and developed by Military Medical University and Viet A Corporation under the assignment of Ministry of Science and Technology have been granted the CE marking and Certificate of Free Sale (CFS).
Although The United Kingdom is no longer a member of the European Union (EU) on January 31 this year, the legal framework for pharmaceuticals still takes effect in the UK until year-end. EU's law stipulates that products which are granted CE marking by any member countries of the union are allowed to access in the European internal markets.
After receiving the certification, made-in-Vietnam COVID-19 test kits are exclusively ordered by a client to distribute in the UK, India, Mexico, the US and some countries in Europe.
In March, there were as many as 20 countries negotiated with the producer, Viet A Corporation to purchase the products. In the coming times, Viet A said that it will export the COVID-19 test kits to Iran, Finland, Malaysia, Ukraine. Of those countries, Iran ordered 4,000 test kits while Ukraine demanded 300 ones.
In Vietnam, Hanoi People's Committee ordered 200,000 test kits for local use and present to Italia as gifts.
Information of the made-in-Vietnam COVID-19 test kits
Up to now, Real-Time RT-PCR is the only method to detect SARS- CoV-2 that is accepted by the World Health Organization (WHO). The Military Medical University and Viet A Corporation also adopted the method to develop the test kits, which are affirmed to produce results of positive or negative for the virus in around two hours.
One kit includes 50 tests, to be used 50 times. In theory, it can be utilized for testing 50 patients.
Currently, Viet A is capable of producing 10,000 kits daily and can increase the capacity to threefold when needed, ensuring to meet domestic, export and international aid demands.
Prices of a test kit are ranging from VND 400,000 to VND 600,00 ($17 - $26) each as the manufacturing expenditures are sponsored by the Ministry of Science and Technology.
The virus has spread to 210 countries and territories around the world and 2 international conveyances, killing almost 166,000 patients and infected nearly 2,500,000 people.
Some of the hardest-hit countries in the world can't get enough coronavirus tests for people, though those governments have ramped up producing and shipments.
Lyan Vu