Vietnam's most wonderful places for kayaking
Ha Long Bay, Ba Be Lake and Tuyen Lam Lake are three perfect choices for sightseeing, relaxing and kayaking along the flows, which gives travelers more independence, and allows them to reach places that cannot be reached in cruise ships.
Ha Long Bay
Tourist kayaking through a cave in Halong bay (Photo: Shutterstock)
A spectacular seascape of some 1,600 limestone islands and islets towering from emerald water, Ha Long Bay is also an outstanding example of earth's history. Those limestone pillars are covered by lush green of tropical plants and boast amazing karst grottoes, caves and caverns. The Bay was first recorded as a UNESCO World Heritage Site in 1994 thanks to its exceptional natural beauty and aesthetic importance. In 2000, it had the honour of being recognised the second time for its significant geomorphic features, as a billon-year-living proof of Earth's formation.
Many travelers are unaware that Ha Long Bay actually has an immense value to the world because of its rare concentration of biodiversity, culture and history. Hence, this unique is exactly what makes Ha Long Bay a magical destination where travellers can have the chance to get up close and personal with the beating heart of Vietnam.
According to the Sino-Vietnamese, "Ha" means descending and "Long" means dragon. Therefore, Ha Long Bay literally means "the bay of the descending dragon", a fusion of ancient mythology and Vietnamese history. Same as Vietnam and Viet Nam, Halong is more popular through word of mouth due to a perception that has been existed for a long term while Ha Long is still an official name of the Bay.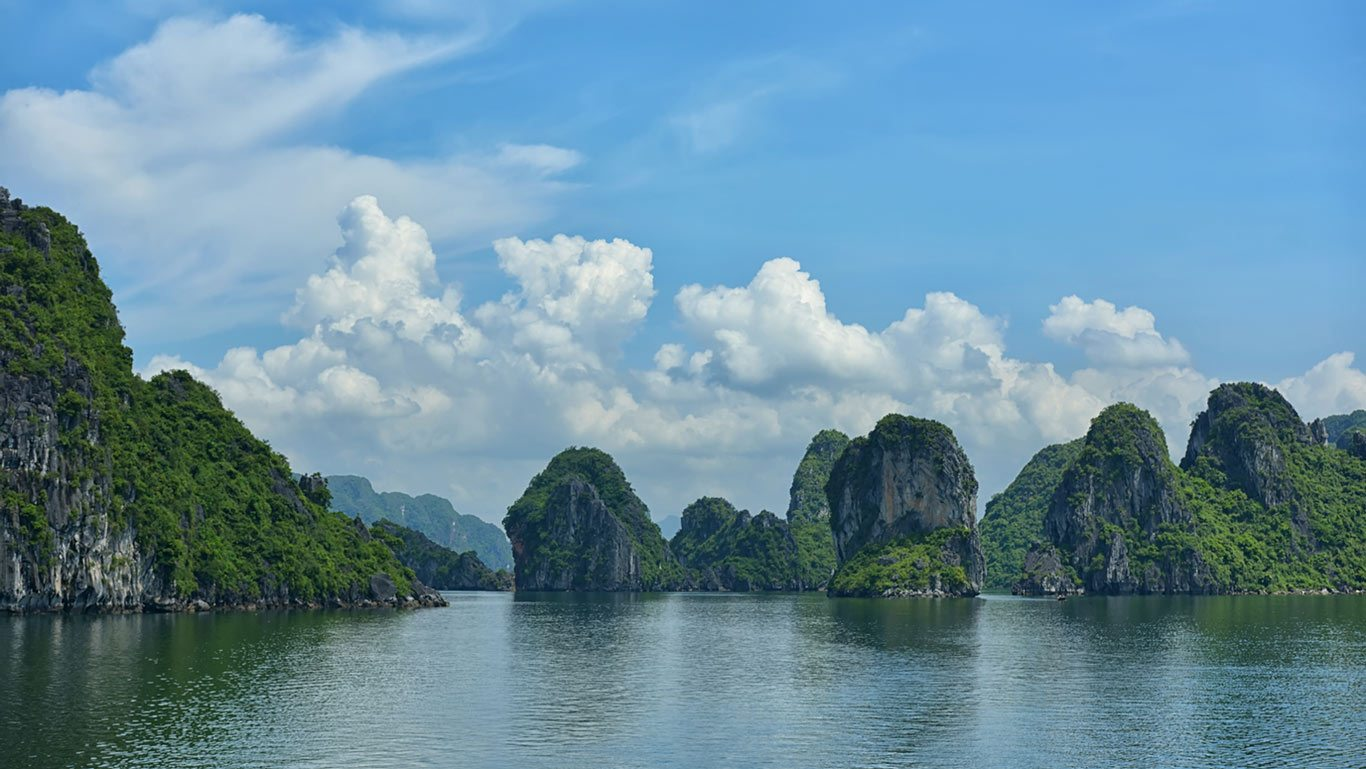 Photo: Paradise cruise
Cruising the green islands is the only way to truly experience Ha Long Bay. On a wooden junk or cruise vessel, you can take in the picture-perfect serenity of the area from balcony, sun deck and the front of the boat in complete luxury. Watch the sun rise and set over the Bay, all pink and orange and plump, and breathe the fresh air - tangy with salt - deep into your lungs, recharging your soul.
And don't be put off by forecasts of rain. Even inclement weather and mist can't dampen the beauty of Ha Long Bay; instead, rain creates a soft, mysterious ambiance, reminiscent of an ancient time long past...
Kayaking through Halong Bay is a must-do bucket list activity and by far the best way to explore all that the bay has to offer. Sliding through the water in a nifty kayak gives travelers more independence, and allows them to reach places that cannot be reached in cruise ships. Kayaking tours are offered by most Halong Bay cruises.
Follow these safety tips and be well-prepared for a kayaking trip:
Before kayaking warm your body up with a bit of movement beforehand - the last thing anyone wants is a cramp while in a kayak.
Listen carefully to the tour guide and remember details of the route, timings and rules.
Wear a life-vest.
Be aware of the weather, tides and currents and the wind strength.
Stay well away from cliffs, caves and rocks.
Never, ever go kayaking whilst intoxicated. It's dangerous and not worth the risk.
Ensure you hold the oar with your arms about the same width as your shoulders, with the concave sides of the oar facing behind you.
Tuyen Lam Lake, A Miniature Paradise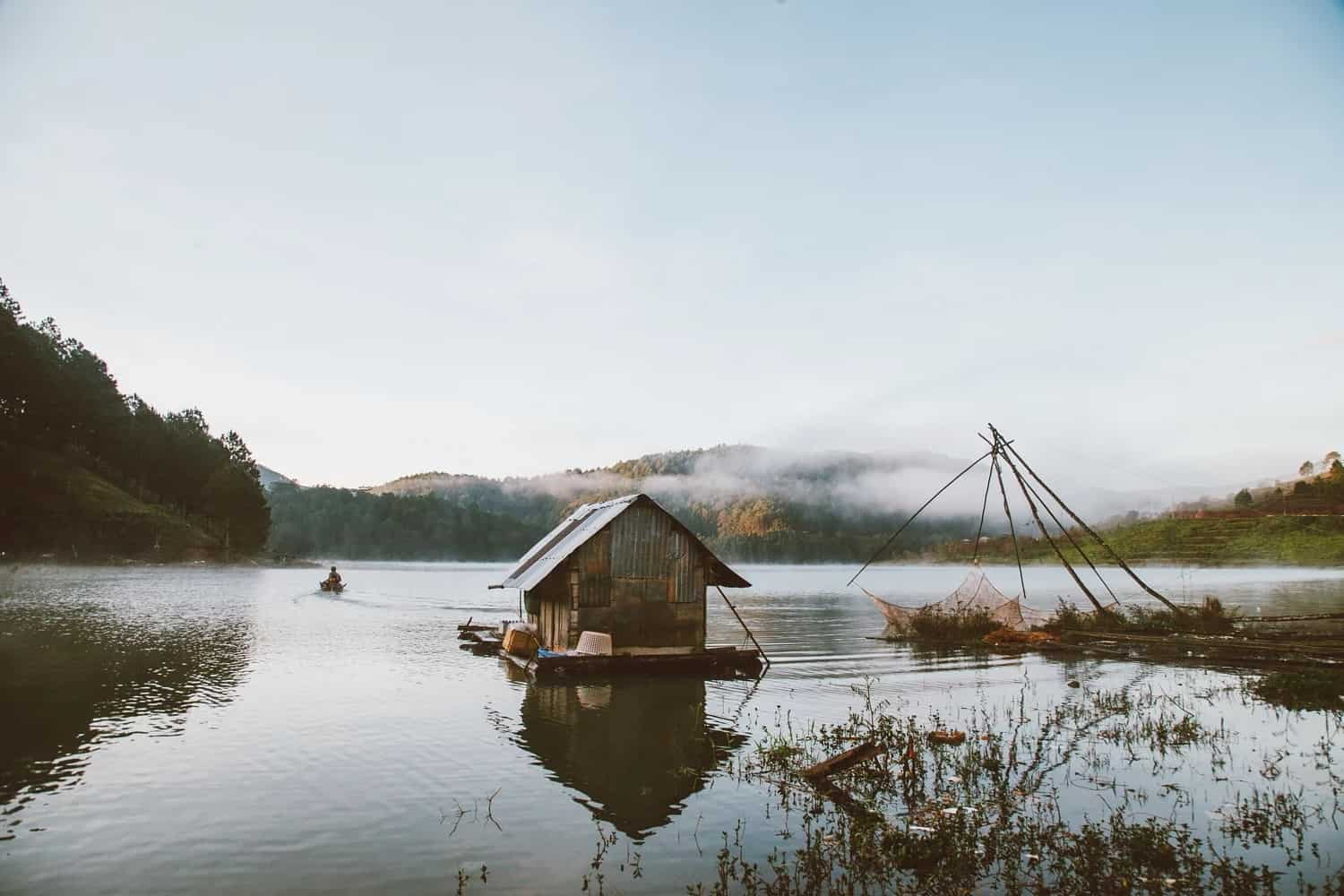 Photo: Phuongnguyen
With the pristine charm, almost all people mistake it for a natural lake. In fact, Tuyen Lam Lake is an artificial lake which was built in 1930s and then discovered by a French farmer named Farraut. At that time, Tuyen Lam Lake was surrounded by the grandiose Elephant Mountain and in connection with the poetic Purple Stream.
During the resistance against the United States army, there was a secret base of Democratic Republic of Vietnam army around Tuyen Lam Lake, called Quang Trung Area – named after a talented general in Vietnam feudal history.
In 1987, to ensure water for hundreds of hectares of rice in Duc Trong District nearby, a dam was constructed across Purple Stream. The lake was also renamed Tuyen Lam Lake as we call nowadays. "Tuyen" means "stream", "Lam" stands for "forest", Tuyen Lam Lake is the place where water, forest and sky meet in harmony, create a splendid ink painting of nature and life in the middle of an immerse mountainous area.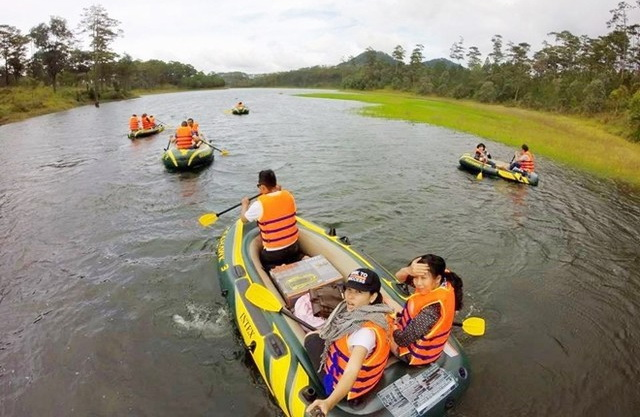 Photo: Tour Dalat
In order to enter the maple leaf forest, you will move on the kayaks, this is the only way you can touch the most natural things. Boating on the Tuyen Lam Lake, the fanciful and romantic scenery of the lake with diverse and rich vegetation gradually appear in front of you. You will feel a fall of Dalat right before your eyes as the kayak approaches the maple leaf forest.
If you've ever admired the red streets of autumn in Japan, now, you will have the opportunity to see the maple leaves right in Vietnam. After the kayak stops, the first maple leaf appears before your eyes. The deeper you go inside, the more you will be surprised when you look up at the red sky covered with maple leaves. The forest is full of colors from red, yellow, orange, changing the color of this branch to another, which will satisfy you after the hours of tired kayaking.
Ba Be Lake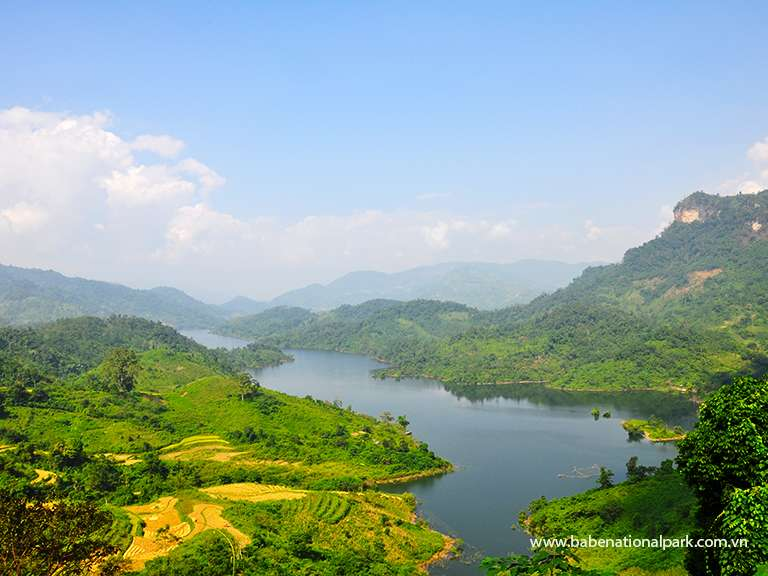 Photo: Babenationalpark
For a sightseeing tour of the northeast region, a fantastic place to start is Ba Be National Park in Ba Be District, Bac Kan Province. There is a huge amount to explore here, with a vast variety of flora and fauna - including many species of butterflies - as well as interesting geology and landscapes to discover.
One of the best ways to get a feel for the area on arrival is by boat on one of the three lakes - kayaks for the more adventurous or guided motor boat tours for those who want to relax a little. Ba Be National Park has featured in hundreds of newspapers, magazines, forums and blogs, but nothing can prepare you for experiencing its intoxicating landscapes and clear waters first hand. The lakes have a lot to offer, including waterfalls, rivers, valleys, lakes, and caves all set amidst picturesque landscapes. From Ba Be Lake, tourists can also visit other neighbouring attractions such as Dau Dang Fall, Puong Cave and Tien Pond.
The lake itself is actually three small lakes joined together – Pe Lam, Pe Lu and Pe Leng. The area was established as a national preserved forest and tourist centre in 1978, before being established as Vietnam's eighth national park in 1992. It was recently recognised by UNESCO as the third Ramsar site in Vietnam - an important wetland of the world. Located 145m above sea level, the lake has an average depth of 20-25m and its deepest part is 35m. The lake bed is made up of limestone with millions of crags and crevasses that are ideal for a large variety of marine life - there are over a hundred of species of freshwater fish in the lakes.
Ba Be Lake lies in the middle of the vast limestone mountain range of Ba Be National Park with large and small islands of limestone rising out of the water, many of which can be explored as you kayak around. There are also several caves to find, with beautiful rock formations that have developed over millions of years. Of those, a good example is Puong Cave, through which the Nang river runs under its magnificent limestone structures. It is 30 metres wide, and 300 metres deep with thousands of stalactite and stalagmite structures and a bat colony numbering tens of thousands. Its picturesque entrance lies to the north east of Ba Be Lake, in the hillside of the Lung Nham Range.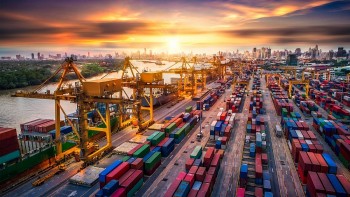 National
Vietnam, a rising star in the global supply chain, has the potential to become a new tiger in Asia, economist Brian Lee Shun Rong at Maybank - Malaysia's largest financial services group and the leading banking group in South East Asia – has reportedly said.