Central Provinces in Vietnam - A wonderful destination for tourists to visit post-pandemic
According to the American news channel CNBC, the central provinces of Vietnam have been said to be one of the lesser-known destinations for the tourists to visit after Covid-19 pandemic ends.
With three UNESCO heritage sites including historic Hoi An, former imperial capital Hue in Thua Thien Hue Province and My Son Sanctuary in Quang Nam Province, central Vietnam has long been famous on the country's tourism map, according to Vietnamnet.
In addition, Quy Nhon Town, blessed with a 42-kilometre coastline, called the "Maldives of Vietnam", is now a rising star on central Vietnam's tourism map.
Son Doong Cave in central Quang Binh Province is estimated to be between 400 and 450 million years old, but only "discovered" in 2009. The cave, with a total length of nine kilometres, was declared the world's largest and opened to tourists in 2013, four years after members of the British Cave Research Association finished their exploration.
The TV channel also included other destinations worth visiting post-pandemic such as Normandy in France, Kagawa in Japan, and Dandenongs in Australia.
Hoi An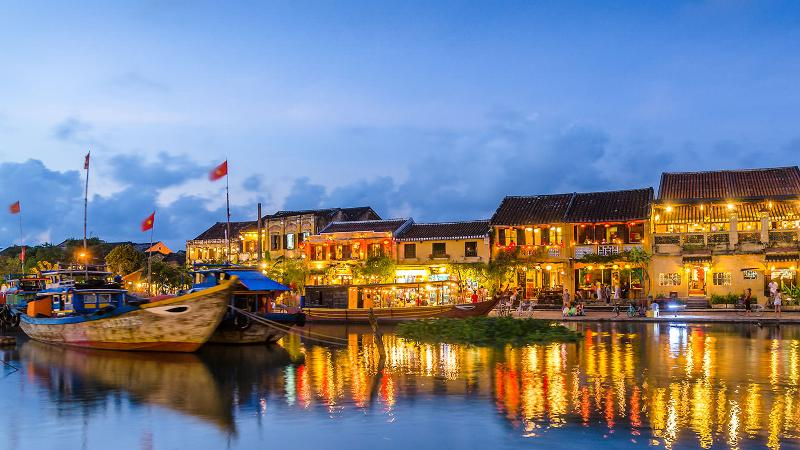 Photo: Vietnam Travel Guide
Graceful, historic Hoi An is Vietnam's most atmospheric and delightful town. Once a major port, it boasts the grand architecture and beguiling riverside setting that befits its heritage, and the 21st-century curses of traffic and pollution are almost entirely absent.
The face of the Old Town has preserved its incredible legacy of tottering Japanese merchant houses, Chinese temples and ancient tea warehouses – though, of course, residents and rice fields have been gradually replaced by tourist businesses. Lounge bars, boutique hotels, travel agents and a glut of tailor shops are very much part of the scene here. And yet, down by the market and over on Cam Nam Island, you'll find life has changed little. Travel a few kilometres further – you'll find some superb bicycle, motorbike and boat trips – and some of central Vietnam's most enticingly laid-back scenery and beaches are within easy reach, according to Lonely Planet.
Hoi An has no airport, and no train station either. The only way to get there is by road. You can hire a taxi from the neighbouring city of Da Nang, which does have an airport with daily flights from Hanoi, Ho Chi Minh City and other large Vietnamese cities. There's also a train station in Da Nang, and bus services are plentiful. We have a wide selection of hotels for you to choose from in both Cua Dai Beach and Hoi An City, whatever suits your pocket and style.
Hue, the former capital of Vietnam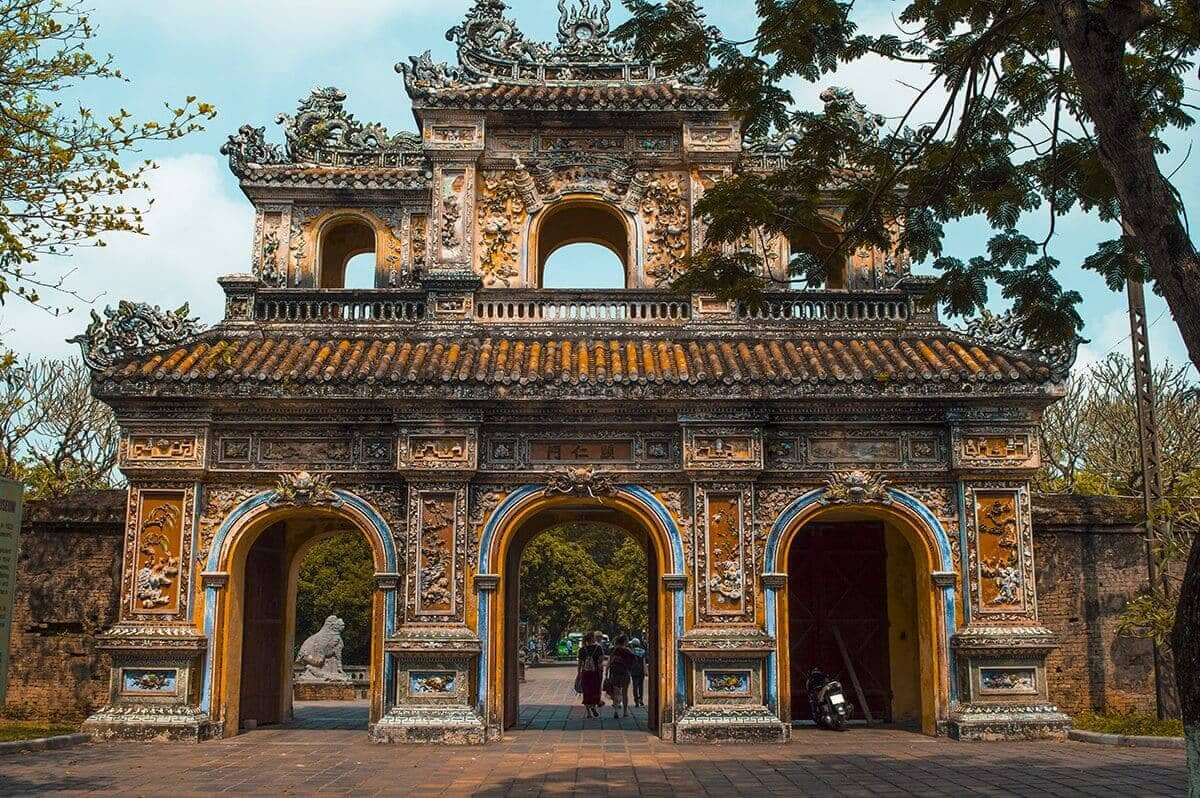 Photo: Backpackers Wanderlust
Hue was part of the Champa kingdom until 1306 and was the national capital from 1802 to 1945. Today, Hue is the capital of Thua Thien Hue province and is located 654km south of Hanoi and 1079km north of Ho Chi Minh City. Due to its history and position, Hue remains the heart of education, culture and tourism in central Vietnam.
Hue has a tropical climate prone to monsoons. The dry season lasts from March to August, with temperatures between 35 – 40 oC. The rainy season starts in August and ends in January with flood season beginning in October. The average rainy season temperature is 20 oC.
Hue is well known for its historic monuments. In 1993, Hue was recognized as a World Heritage Site. In 2003, Hue Royal Music was honored and recognized as a World Cultural Heritage.
Completed in 1832, the Citadel is a square enclosure. It was built in an auspicious location chosen to preserve the harmony between the king and his subjects, between heaven and earth, and between man and nature. It took more than 30 years to build with tens of thousands of people working on the complex. There are three concentric areas: the City, the Imperial City, and the Forbidden City.
The Imperial City was a very important place where the king, his family, and the highest mandarins worked and lived. It is nearly square, more than 600m long for each side. Imperial City has 4 entrances. The main entrance, Ngo Mon, was built in 1833. The upper level, called Lau Ngu Phung, is where the king appeared on important occasions. It was here the last king, Bao Dai abdicated in 1945 when he handed over his symbols of power to the new government.
The Forbidden City was built in 1804 and reserved for kings and their families. The front and the rear sides of Forbidden City are 423 m long, left and right sides are 290 m long. The Forbidden City was connected to the Imperial City by seven gates.
My Son Sanctuary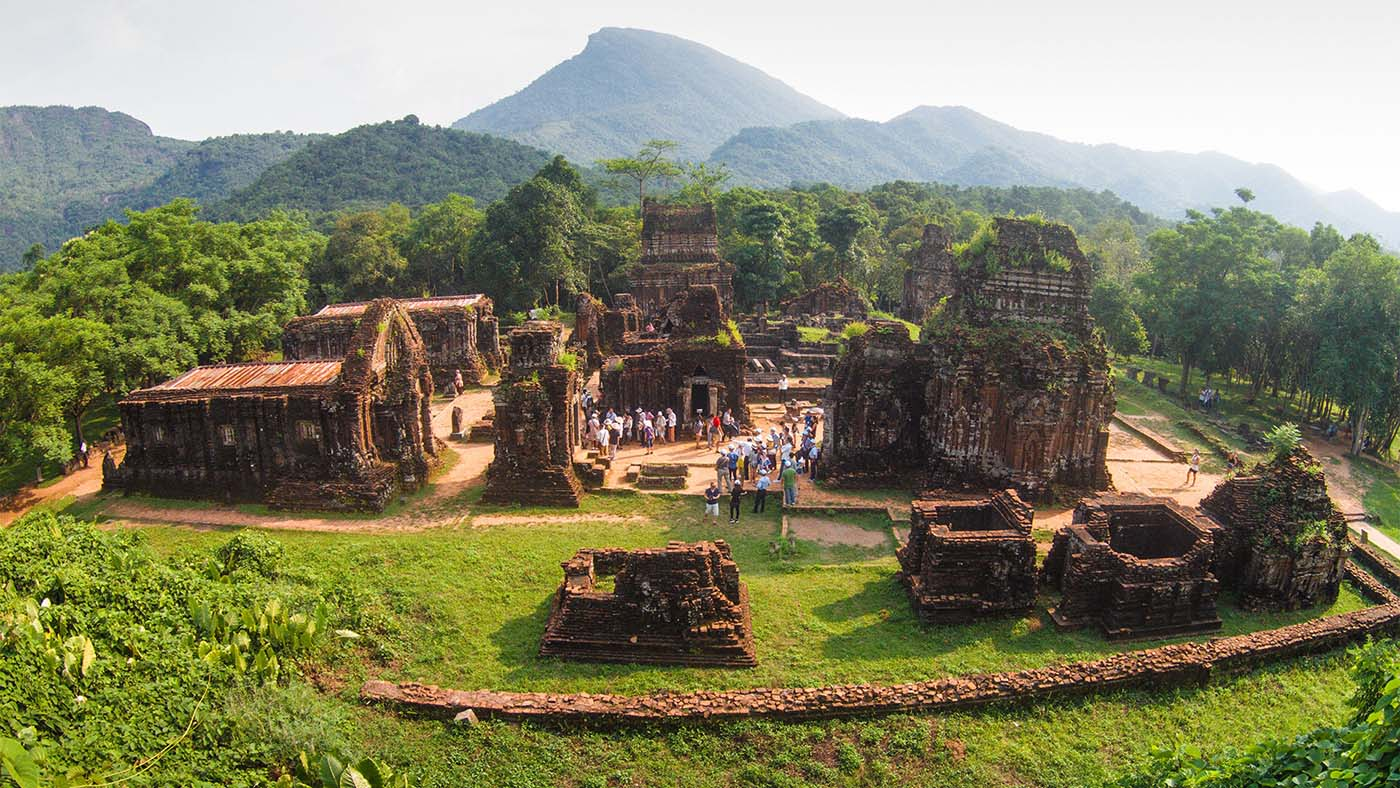 Photo: VietnamOnline
Between the 4th and 13th centuries a unique culture which owed its spiritual origins to Indian Hinduism developed on the coast of contemporary Viet Nam. This is graphically illustrated by the remains of a series of impressive tower-temples located in a dramatic site that was the religious and political capital of the Champa Kingdom for most of its existence.
My Son Sanctuary dates from the 4th to the 13th centuries CE. The property is located in the mountainous border Duy Xuyen District of Quang Nam Province, in central Viet Nam. It is situated within an elevated geological basin surrounded by a ring of mountains, which provides the watershed for the sacred Thu Bon river. The source of the Thu Bon river is here and it flows past the monuments, out of the basin, and through the historic heartland of the Champa Kingdom, draining into the South China Sea at its mouth near the ancient port city of Hoi An. The location gives the sites its strategic significance as it is also easily defensible.
The tower temples were constructed over ten centuries of continuous development in what was the heart of the ancestral homeland of the ruling Dua Clan which unified the Cham clans and established the kingdom of Champapura (Sanskrit for City of the Cham people) in 192 CE. During the 4th to 13th centuries CE this unique culture, on the coast of contemporary Viet Nam, owed its spiritual origins to the Hinduism of the Indian sub-continent. Under this influence many temples were built to the Hindu divinities such as Krishna and Vishnu, but above all Shiva. Although Mahayan Buddhist penetrated the Cham culture, probably from the 4thcentury CE, and became strongly established in the north of the kingdom, Shivite Hinduism remained the established state religion.
The monuments of the My Son sanctuary are the most important constructions of the My Son civilization. The tower temples have a variety of architectural designs symbolizing the greatness and purity of Mount Meru, the mythical sacred mountain home of Hindu gods at the center of the universe, now symbolically reproduced on Earth in the mountainous homeland of the Cham people. They are constructed in fired brick with stone pillars and decorated with sandstone bas-reliefs depicting scenes from Hindu mythology. Their technological sophistication is evidence of Cham engineering skills while the elaborate iconography and symbolism of the tower-temples give insight into the content and evolution of Cham religious and political thought.
The My Son Sanctuary is a remarkable architectural ensemble that developed over a period of ten centuries. It presents a vivid picture of spiritual and political life in an important phase of the history of South-East Asia.
Quy Nhon Town
Photo: Viet Vision Travel
A large, prosperous coastal city, Quy Nhon (pronounced 'hwee ngon') boasts a terrific beach-blessed shoreline and grand boulevards. Its seaside appeal and tidy, litter-free streets make it the kind of place that affluent Vietnamese couples choose to retire to, spending their final days ocean-gazing and promenade-walking.
The city is certainly a good spot to sample some fresh seafood, but for most foreign visitors its attractions are less obvious. But change is occurring – a crop of new cafes and bars has injected a dose of cosmopolitan cool, and Quy Nhon is steadily shaking off its somewhat staid reputation.
Quy Nhon is also the main gateway to lovely Bai Xep, a pretty cove beach 13km to the south where there's a collection of fine guesthouses popular with independent travellers.
While the town of Quy Nhon was only founded in the 18th century, many signs suggest the area was already inhabited by people of the Champa culture as far back as the 11th century. Around the 14th century the first Vietnamese settlers came to the area and in the early 18th century the Tay Son Dynasty developed the growing town's seaport of Thi Nai for both trade and military fortification. What made the town most famous though, is that Emperor Nguyen Hue is said to have been born in Quy Nhon.
During the Vietnam War, the city gained importance as an American naval and army base. Today the port is mainly used for trade and Quy Nhon is slowly being discovered as a great destination for a relaxing getaway thanks to its soft sandy beaches and the beautiful landscape around the city.
Son Doong Cave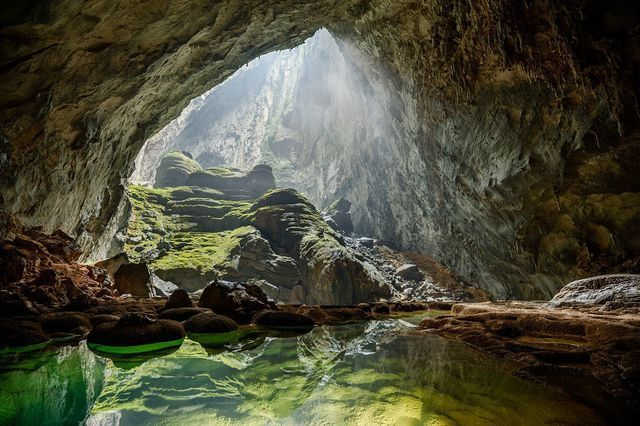 Photo: Vietnamnet
Hang Son Doong (Mountian River Cave), the largest cave in the world, is located right in the heart of Phong Nha-Ke Bang National Park in the Quang Binh province of Vietnam. It was formed during the Cambrian-Permian geological eras, putting it at a date between 400–450 million years old. No words can do justice to the size of this UNESCO protected cave—it stretches for over three miles (five kilometers), and it reaches heights of 650 feet (200 meters). The main cavern is large enough to house an entire New York City block.
What's even more amazing is that the ecosystem created within the cave has its own weather system and creates its own clouds. Inside, you will find the largest stalagmite known to man, hanging at 262 feet tall (80 meters), and fossils dating back millions of years. Collapsed ceilings have created openings known as dolines, and this has allowed foliage to grow inside the cave. You will come across jungles and rivers enveloped by misty clouds, and microorganisms thriving in the darkness. It is a whole other world, devoid of much human interaction. You will be walking into an image of Earth as it was hundreds of million of years ago. Think of it like A Journey to the Center of the Earth by Jules Verne. Maybe you will find dinosaurs inside.
To reach Hang Son Doong, you need to pass through the only village located inside the Phong Nha Ke-Bang National Park. The Ban Doong ethnic minority village is only accessible by foot, as it is surrounded by dense jungles. The village is home to less than 40 people, and their hardships have been alleviated by the discovery of the cave and the subsequent conservation partnership with Oxalis. Exploring this village and interacting with the locals is also an exciting part of the journey, as there is a lot you can learn. The village offers a view of a way of life that has been unchanged for centuries.
Then you will continue on your journey to Hang Son Doong, and it is not easy. There will be two days of intense jungle trekking and river crossings in order to reach the entrance. Once inside, you will have to abseil, climb, crawl, and swim through underground rivers to complete your journey. Making it even more beautiful is that you will get to camp inside the cave, eat, take extraordinary photos, and laugh along with your crew. Hang En, the world's third largest cave is also included in the tour.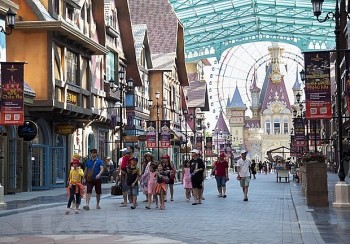 National
Vietnam News Today (October 29): Vietnam records 4,876 new local Covid cases; Vietnam ready to welcome sport teams to SEA Games 31 in mid-May 2022; HCMC vaccinates 40,000 children against Covid; No seven-day quarantine planned for foreign tourists with negative Covid tests.