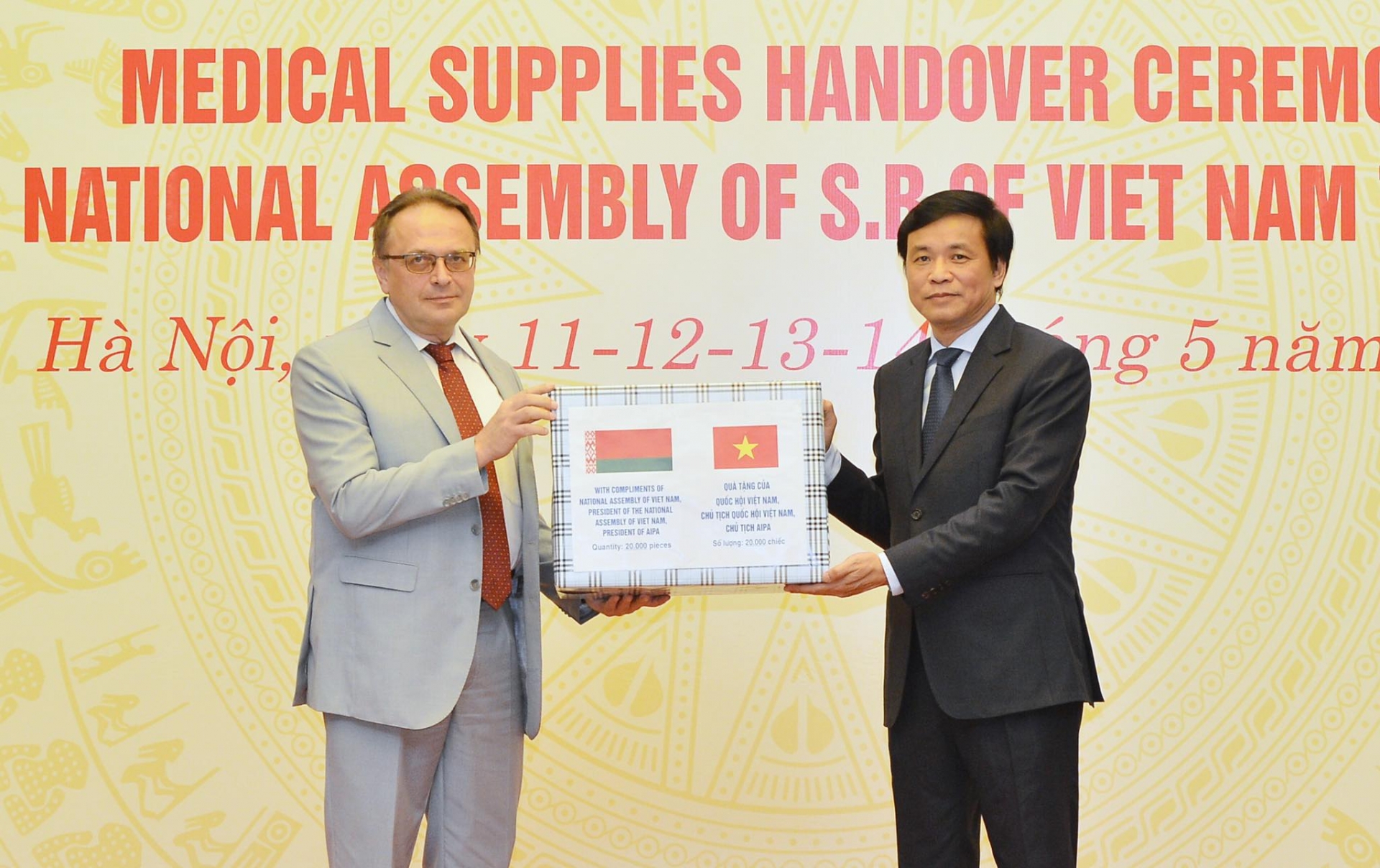 At the hand-over ceremony.
Nguyen Hanh Phuc, Chairman of the Office of the National Assembly on behalf of NA Chairwoman Nguyen Thi Kim Ngan, on May 11 symbolically handed over 20,000 face masks to Vladimir Goshin, Ambassador of the Republic of Belarus to Vietnam, as a gift to the Council of the Republic of the National Assembly of the Republic of Belarus.
According to Phuc, this step "reflects the desire to share with the parliamentarians of the Republic of Belarus the hardships caused by the continuing spread of the COVID-19 around the world and is also based on the traditions of the long-term friendship between the two countries and the close ties between the Parliaments of Vietnam and Belarus".
Received the face masks, Ambassador Vladimir Goshin thanked Vietnam for the timely support.
Belarus reported 921 new COVID-19 cases on May 10, taking its total to 22,973, according to the country's health ministry.
Of all the confirmed cases, 6,406 people have recovered so far, while 131 people with chronic diseases have died.
As of May 11, Vietnam has recorded 288 coronavirus infections, with 249 patients have recovered and been discharged from hospital. NO deaths have been reported so far.
Not only Belarus, in recent months, but Vietnam's government and collectives have also donated many masks and medical supplies to a number of countries, which are heavily affected by the COVID-19 epidemic.
Vietnam has been highly appreciated by many countries for the spirit of solidarity. Although it is also affected by COVID-19, Vietnam is still willing to share resources, provide medical assistance, and create favorable conditions for citizens of countries to stay here.
Last December, NA Chairwoman Nguyen Thi Kim Ngan had paid official visits to Belarus.
This was the first official trip to Belarus by Chairwoman Ngan, enhancing the traditional friendship and multifaceted ties between Vietnam and Belarus, and push on with the implementation of cooperation deals between the two NAs.
Hannah Nguyen