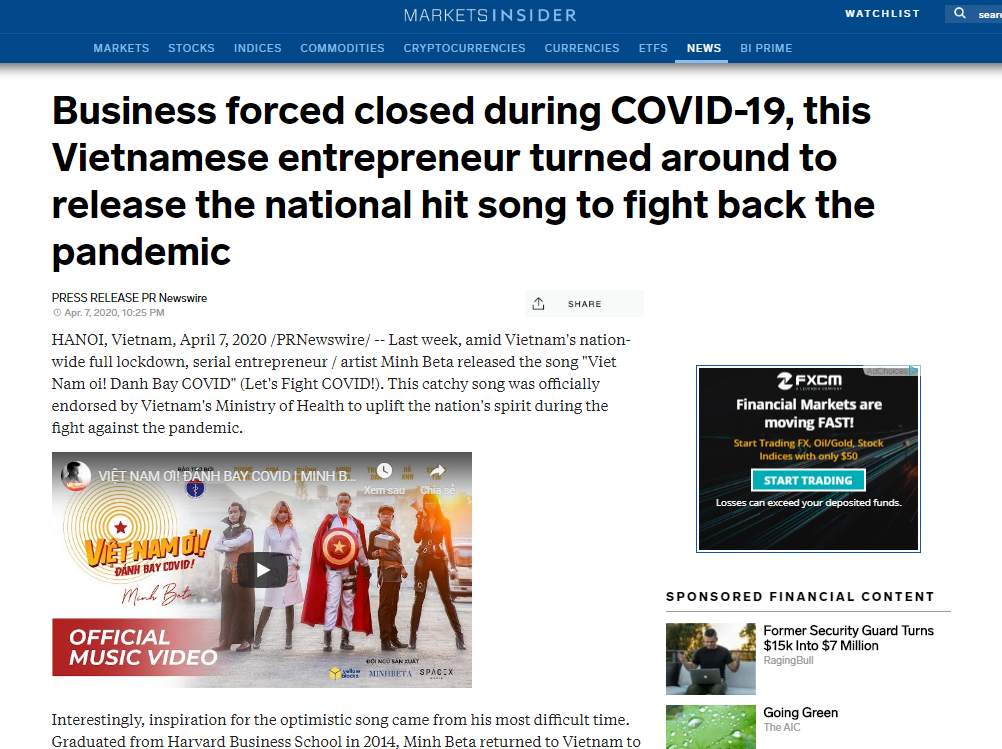 Minh Beta's song appears in Bussiness Insider Markets (Photo: captured)
"Vietnam! Let's Fight COVID" (Vietnam oi! Danh Bay COVID) is a new project of Vietnam's Health Ministry, based on the original version Dear Vietnam (Vietnam Oi) penned and sung by singer Minh Beta.
Business Insider in the US ran an article praising the song as catchy, displaying "positive yet touching lyrics", and is an inspiration for thousands of fanmade contents. The song is also lauded as "quickly went viral": got millions of views on different platforms only one day after released and became No.1 Vietnamese song on Zingchat and ZingMP3.
"It is also heavily rotated on TV and radio channels, and was used as the default ringtone by major mobile networks", the famous American press lauded.
Mr. Dinh Anh Nguyen, Head of Emulation and Commendation Department of the Ministry of Health, was also quoted as saying "This is the best motivational song at this right time to call for citizens to be together with the health sector to win the war against the pandemic".
(Video: Youtube)
Aside from the beautiful content, "Vietnam! Let's Fight COVID" is also exclaimed in delight with singer-songwriter Minh Beta's story behind.
"Interestingly, the inspiration for the optimistic song came from his most difficult time", Business Insider writes.
Accordingly, the paper describes "Business forced closed during COVID-19, this Vietnamese entrepreneur turned around to release the national hit song to fight back the pandemic", adding that Minh Beta had graduated from Harvard Business School, returned to Vietnam and had successfully built Beta Cineplex. When his cinema chain and most businesses in the service sector were forced to close due to COVID-19, Minh didn't feel dismayed but "picked the fight against the pandemic in the most positive way: to cheer the nation with his upbeat song".
His move is lauded as "echoes the resilient spirit of Vietnam: to keep on fighting and never give up".
Minh Beta and his story of creating the hit within 14 days amidst the tough time has inspired many domestic businesses. Generali Việt Nam, Biti's, Elsa, Owen, Sendo, Sunhouse are among the businesses that have immediately joined the singer by cheering and giving financial support to help Minh Beta's production team quickly starting off the community music project, according to Nguoi Lao Dong.
The article about "Vietnam! Let's Fight COVID" and Minh Beta's story appeared in Business Insider is republished on other international media outlets such as yahoo.news, newsbreak, prnasia, etc,.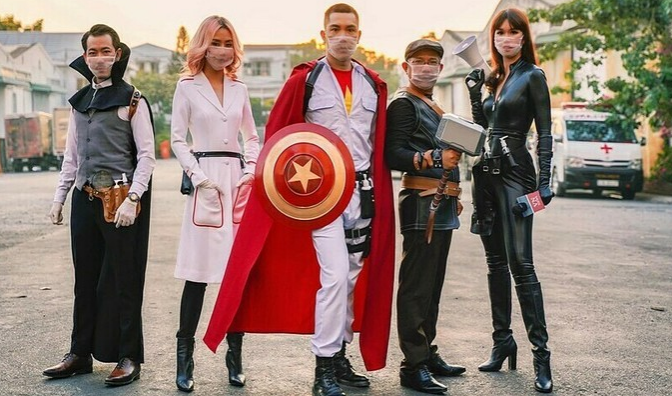 A still from "Vietnam! Let's Fight COVID" music video. (Photo courtesy of Minh Beta)
The video features Minh Beta, veteran actor Trung Dan, choreographers Quang Dang and Khanh Thi, model Ha Anh, and YouTubers Pom and Quynh Anh Shyn, who encourage people to wash their hands, wear face masks, and report to authorities if their health declines.
They also ask people to stop sharing fake news, stockpiling and hoarding goods, and gathering together in public places.
The music video ends with images cut from the Top 20 videos in the "Hat Len Viet Nam Oi!" (Let's Sing Together) video contest held by the Ministry of Health, VNA reported.
Other Vietnamese artists have also won praise for using their talents to join the nation's COVID-19 fight. "Ghen CoVy", a Vietnamese public announcement on the COVID-19 in the form of a song has also gone viral and was carried by famous comedy show "Last Week Tonight with John Oliver" aired March 2.
Jasmine Le