Vietnam's success in COVID-19 fight receives constant praises
Vietnam's robust and effective response towards the outbreak of COVID-19 has been constantly making  international headlines. World major news agencies such as Reuters, The Guardian, Vox, WSJ have analysed and given the country's efforts rave reviews.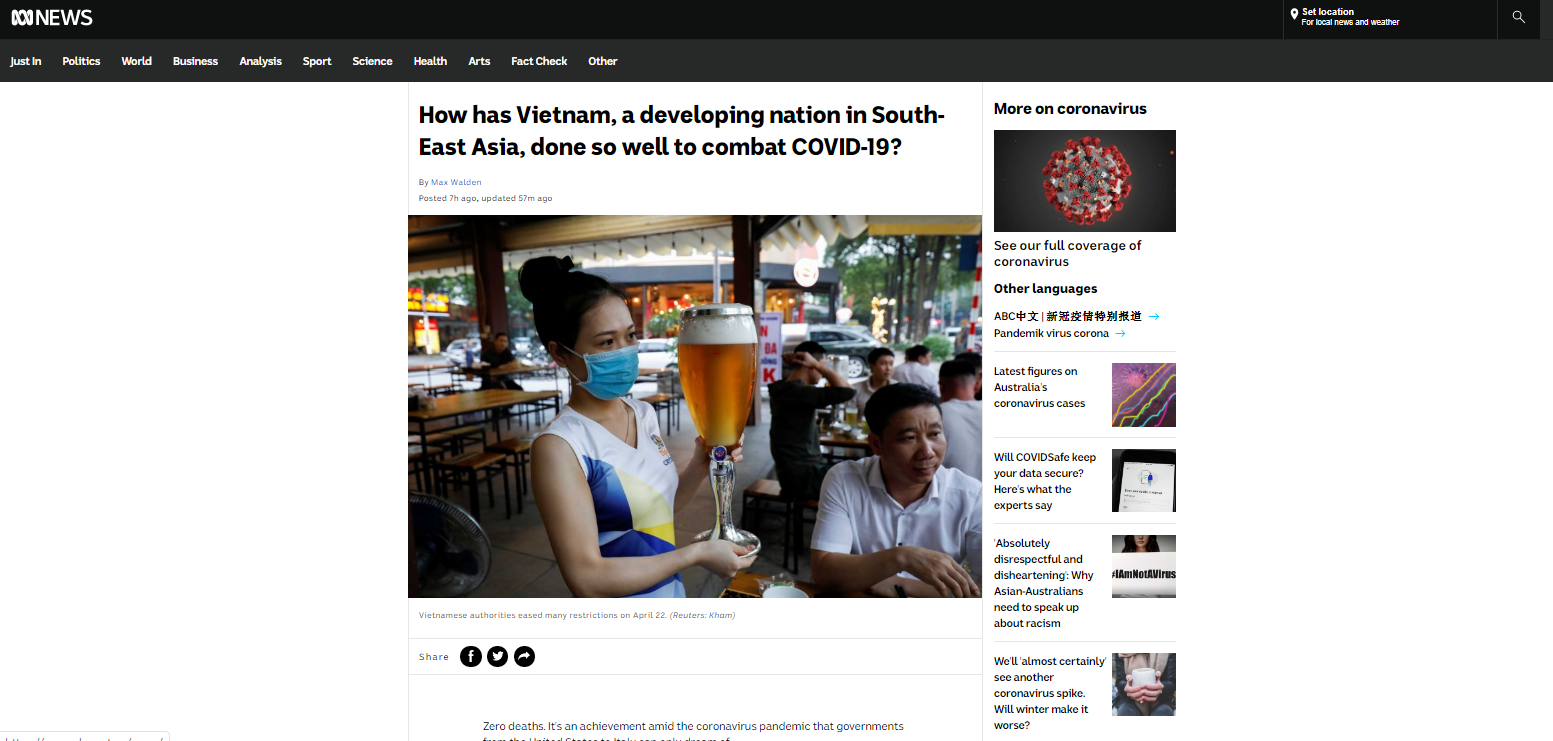 ABC news lauds Vietnam's attainment in COVID-19 fight (Photo: captured)
The country's medical capacity in dealing with COVID-19 was lauded by the US in mid-February.
Vietnamese leaders, from central to grassroots levels, had issued quick instructions and taken comprehensive, drastic measures to combat the disease, they said, praising Vietnam's efforts in improving public awareness of the virus.
The US expressed its belief that with a good medical infrastructure system and a widespread vaccination network, Vietnam will effectively combat the epidemic, VNS reported.
Meanwhile, at a meeting Assistant to the Vietnamese Foreign Minister Phạm Quang Hiệu in Geneva, Switzerland on March 6, Director-General of the World Health Organisation (WHO) Tedros Adhanom Ghebreyesus has praised Việt Nam for its early and effective measures against COVID-19, especially the political commitment of senior leaders and the resolve of agencies and localities in fighting the disease.
In the latter half of March, when Vietnam witnessed a slight increase in cumulative cases, the Hong Kong-based Asia Times lauded Vietnam's Covid-19 containment efforts, saying the country is touting its quick, effective and uncharacteristically transparent management to win citizens' hearts and minds.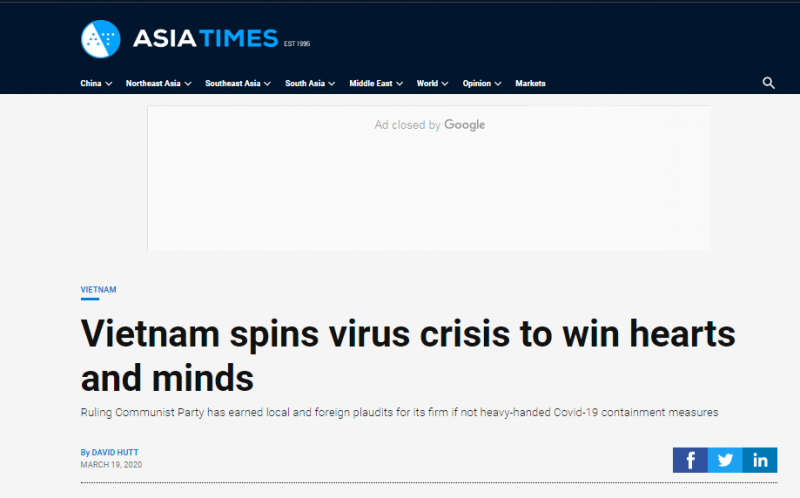 (Photo: Captured)
"Indeed, Vietnam responded quicker than most Asian nations by shutting down travel to and from China in January, even as the virus outbreak coincided with Tet, the Vietnamese Lunar New Year period when many people travel home to visit family and friends", Asia Times said.
Junge Welt daily, a German news outlet in April also praised Vietnam's prompt and resolute response to the COVID-19 as it is quickly spreading in many countries despite their numerous measures.
The New York-based newspaper Wall Street Journal has run an article praising Vietnam is among the countries successfully conquer Coronavirus curve, adding that the country's prompt response is likely to boost the country's credibility among global manufacturers. The article was then republished on other international media outlets, including Newstral, Headtopics, Ritholtz, etc.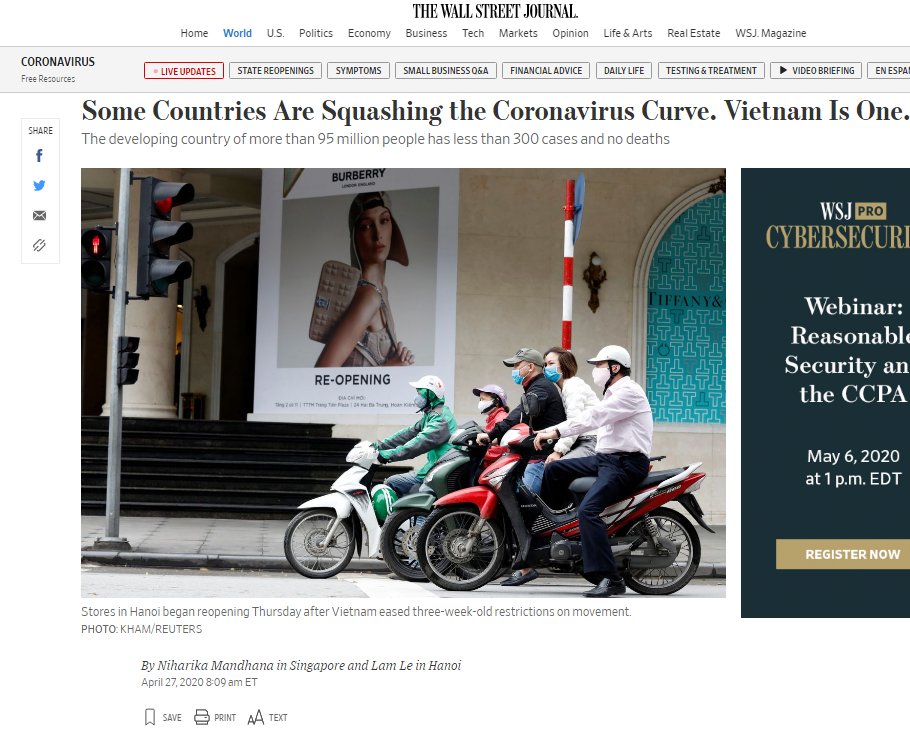 (Photo: captured)
The UK's The Nation outlet said "Vietnam may have the most effective response to COVID-19", clarifying that the country has done it through "mass mobilization of the health care system, public employees, and the security forces, combined with an energetic and creative public education campaign".
In one article about COVID-19 in Vietnam published April 30, Reuters cited that "CDC has great confidence in the Vietnamese government's response to the crisis".
In the lastest update on May 13, the Australian ABC News has attributed Vietnam's success in COVID-19 containment to strategic testing, aggressive contact tracing, effective public communications campaigns, saying the achievement remains the envy of the world.
Opening the article titled "How has Vietnam, a developing nation in South-East Asia, done so well to combat COVID-19?", it said Vietnam's zero deaths is something that governments from the United States and Italy can only dream of.
The news outlet further emphasizes the S-shaped country's attainment by mentioning straining situations in other South-East Asia countries and Singapore, in particular, before concluding that Vietnam, which shares a long border with China, "is an unlikely outliner".
"Vietnam is not in that situation. I think it's a remarkable achievement for such a huge country", ABC News quoted Mike Toole, a communicable diseases specialist with the Melbourne-based Burnet Institute as saying.
According to the news agency, Vietnam's quick and decisive move since the beginning of the outbreak are key factors. Strategic testing, aggressive contact tracing, and effective public communications campaigns are hailed as promptly implemented, along with the border closure, suspension of all international flights.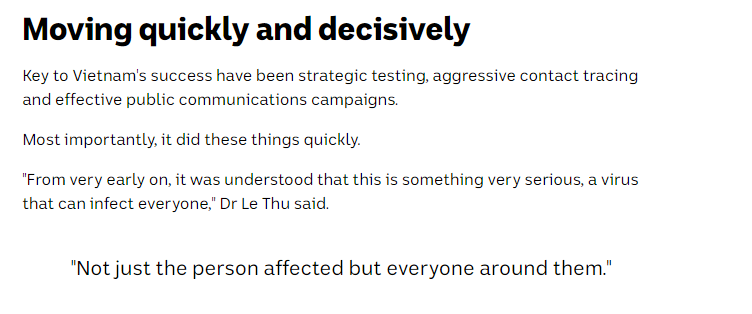 (Quick and decisive moves are considered key factors in the success (Photo: captured)
Particularly, the propaganda methods are commented as creative and is a matter of patriotism. "The Government was very creative. Every day, different parts of the Government would text citizens with information."
Journalist Max Walden who contributes to the article, also cites Vietnam's mass testing efforts and effective development of test kits, quoting Tooles as saying "By that point, the US didn't even have an effective test. Vietnam has three effective test kits".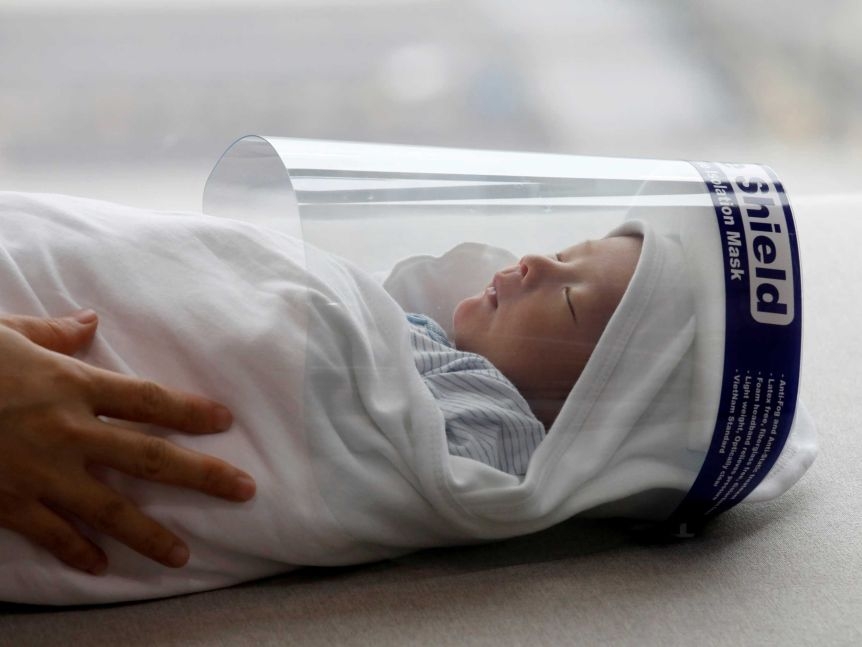 "Vietnam has made clever use of its limited resources", ABC News said (Photo: Reuters/ Kham)
Walden further emphasizes that most experts believe Vietnamese authorities are being honest about coronavirus statistics, saying international organizations, foreign epidemiologists and even Australia's ambassador to Hanoi have expressed confidence in the data.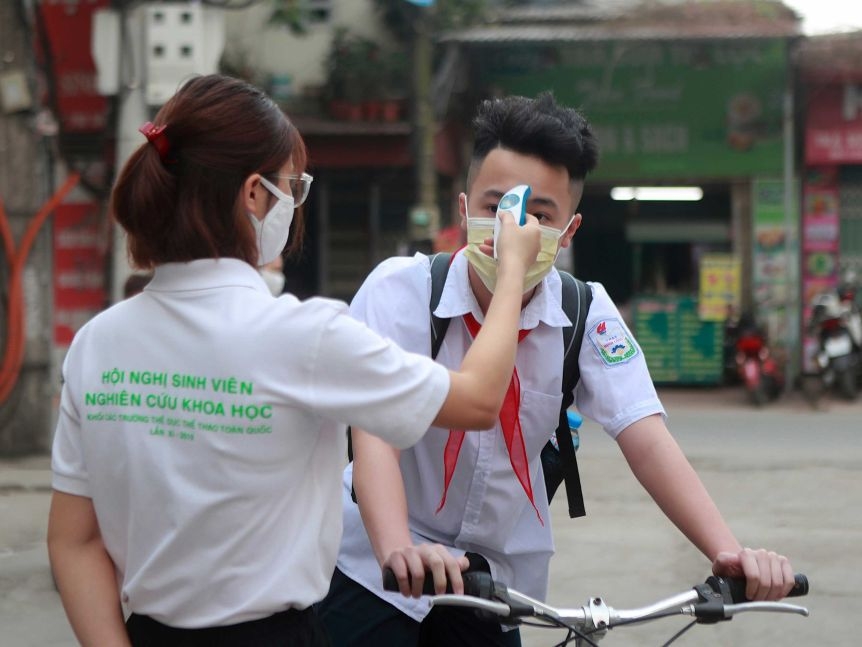 Vietnam's response to COVID-19 has been praised by many, with the official death toll at zero
(Photo: AP/ Hau Dinh)
The article ends with reports on the country's business resumption after a relaxed social distancing order, which mentions various fields, from aviation, education, tourism, and part of the entertainment industry, etc.
"The risk of COVID-19 is low now, and that's a good thing," Prime Minister Nguyen Xuan Phuc statement last week was quoted as conclusion.
As of May 16, Vietnam has gone 30 consecutive days without any community transmission across the country.
The nation's Covid-19 tally has remained at 314 since last this morning, while 260 others have recovered with the number of active patients down to 36 after three relapsed patients, all Brazilian, were discharged Tuesday.
Vietnam has not recorded any COVID-19 death to date.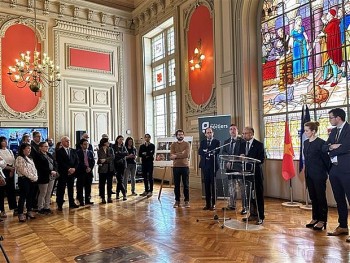 National
Vietnam News Today (Mar. 26): Vietnam and Thailand promote labour cooperation; Vietnamese, French localities look to step up cooperation; Attractive incentives on offer at Hanoi Tourism Festival 2023; E-commerce accounts for 60% of Vietnamese digital economy.