Virgo Horoscope August 2021: Monthly Predictions for Love, Financial, Career and Health
Virgo Horoscope August 2021: The month of August will induce average results for natives belonging to the zodiac sign Virgo. You will focus on your work, but the tendency of laziness can be harmful for you. You should be ready this month for all the helter skelter. There may be problems in professional lives too.
Monthly Planetary Horoscope
The month starts with the leftover energy from the Mercury and Sun conjunction that happened on the last day of July. This transit happened in your 12th house of secrets, the subconscious, and the mysteries of life.
The Sun here represents your ego, while Mercury how you think and project that ego into the world. Having this transit happen in a house that is so tucked away from the light might have gotten you shaken a little. Possibly you started the month feeling a little bit of mental fog. Things you idealize run the risk of crumbling to pieces with this lack of mental vitality. As dark and dreary as this sounds, this is quite a necessary transit. We often base our ideals on the assumption that we have control over the world. While we do have a say in some aspects of our lives, namely our actions and the people we associate with. Sometimes the Universe has its own plans, and we sort of just have to work around it. Surrendering can be liberating.
Mars will be transiting through your 1st house throughout this whole month. With the feeling of detachment caused by the Mercury conjunction, this can be a source of irritability. There can be a tendency to be impatient with yourself. Watch out for being overly critical. Resistance is your worst enemy.
On the other hand, if you trust in the process and let go, you can turn this transit upside down. The constructive side of Mars comes from knowing that you can never really be defeated. Having the perspective to see the times you've tumbled down and got back up again will be your biggest asset at this time. Even if you complain as you get up from another tiresome battle, at least you're getting up. Just know the more accepting you are of your current situation, the easier it will be to find a solution.
Mid-month, the warrior planet will also be meddling with another longer transit that has played a notable role in shaping this year's theme. In September of last year, the North Node made a shift into the sign of Gemini. This is an 18-month long transit taking place in your 10th house. There's a chance that this was quite a challenging year in your workplace. You may have had a difficult time adjusting to a new coworker or a change in work dynamics. Gemini is a sign of adaptability, and when a problematic transit happens in the sign, it aims to push us to become more flexible and open to new ways to tackle an obstacle. This is time to detach from any feelings of dependency. You are more than capable of conforming to the times. If anything, you will discover new skills that you never thought you'd be good at. The Mars square will be a tremendous energy to work with to kick any feelings of helplessness out of your way. It's time to alchemize any anger and frustration into the muscle power needed to force your way out of any rut you may find yourself in.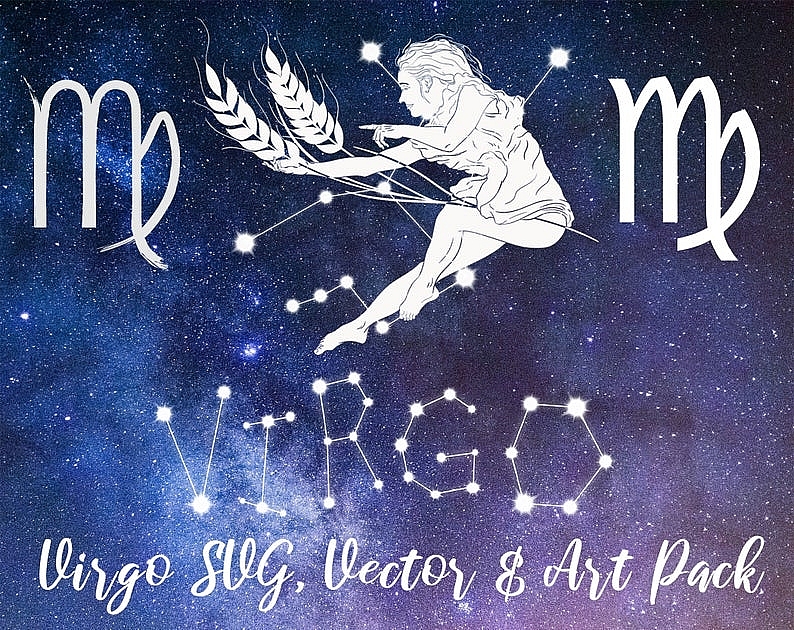 The Leo New Moon happening on the 8th is here to awaken your inner lion. As a Virgo, you likely enjoy staying backstage since that's where you have the most control over situations. Nothing can get past your keen eye for flaws, and assuming an observer's role is where your traits as a fabulous helper shine. Still, this new Lunar cycle is here to force you out of the backstage so you can get some credit for your many talents. You may be okay with being low-key and going unnoticed, but letting yourself be a target of flattery can be an incredible morale booster. This Moon will also be squaring with Uranus, who's been transiting your 9th house for a few years now. The addition of Uranus' cathartic energy will put your intellect to use as you break out of your fear of disappointing others. Maybe part of the reason why you enjoy being out of the public eye is that you are afraid of disappointing. Know this is all in your head. You're your worst critic.
The Aquarius Full Moon comes to close the month on a good note. It's happening in your 6th house, which could indicate a period of slight inner turmoil. You may fall under the trappings of thinking you aren't doing enough, and somehow you don't deserve your current situation—good or bad. This calls for relaxation so you can think upon your current efforts. Have you been not doing enough, or are you just being overly critical? Avoid chasing self-betterment at the cost of your own well being. It's okay to lay low for a while. If you're feeling drained, take a break. Time is literally endless.
Virgo Monthly Horoscope
This month will also not be very encouraging for students. There may be obstacles in studies. However, the month's time is beneficial for the natives who wish to pursue their higher education abroad. Lack of cohesion and travel etc. may lead to deprivation of family happiness, especially in the first half of the month. There can be a rift in the family about something. You will have to patiently make efforts to reconcile the broken strings.
Take baby steps while seeking the guidance of your parents. The month of August is going to be full of challenges for love and married life. Affection and romance will be quite needy in love relationships. Mutual disputes can lead to a breakup like situation. Try to bring an increment to your love life, and do not dominate each other. Married life is also going to be full of challenges.
Try to solve the problems with mutual understanding and conversations. Your spouse may also face a health problem, which can complicate things further. The economic situation can be full of ups and downs. Do not let the income dominate the trend of spending and spending money. Put a curb on extravagance, otherwise you may fall into the trap of a debt. One needs to be careful about health. Be very cautious about food and drinks while travelling.
Virgo Monthly Love Horoscope
In terms of love relations, the month of August cannot be said to be happy for the natives of Virgo. The natives who have a love affair going on will need to make an effort to save their relationship. Shani or Saturn is situated in the fifth house and is also aspecting the Sun and Mercury. Due to this, you will either be indifferent or angry about the relationship. Both expressions are bad for the health of relationships.
There may be a lack of love. Efforts will also be reduced from your side to improve it. There will be a lack of mutual communication. This will cause misunderstandings between the two of you. Avoid accusing each other. This will cause conflicts in the relationship anda separation like situation may get created. So, stay alert.
While the loving couple needs extra effort to bring sweetness to their relationship, the relationship is demanding time for married natives. There can be a lot of lack of cohesion in married life. It is a challenging time for married people. Seek the help of elders of the house and troubleshoot problems lovingly.
Your spouse may also suffer from health related problems. The chances of relationship fluctuations will be more in the first half. In the latter part of the month, due to the efforts of family members, the relationships will get sweetened.
Virgo love relationships predicts that you will be highly dynamic and full of energy. Your friends will try to restrain your actions. You are looking for clarity in relationships in spite of being uninhibited.
Virgo compatibility will see major transformations in their love relationships. You go by your instincts and you have the cooperation of your life partner for your actions. Love life will be extremely enjoyable with plenty of action and socializing. Single virgins are looking for flings than permanent relationships. The second half of the month is favorable for committing yourself to a good love alliance.
The Virgo Man is attentive and warm in his private life, enthralled by fondness, fascinated by the tactile sensation and as meticulous as in any other activity. As a lover and husband, he is a bit childish and dependent, he is overjoyed for the affection he receives and for any appreciation, no matter how small it is; he will do anything to deserve them.
Virgo Monthly Money Horoscope
From an economic perspective, the month of August will have mixed effects for you. There will be a situation of profit, but with fluctuations. Saturn will be seen in the eleventh house and in the first half of the month, the Sun and Mercury will be in the eleventh house. This will increase your income.
You will get good results from your hard work. You will be able to increase your source of income through your efforts, but Venus and Mars are also sitting in the twin houses. It is also benefiting from the aspect of Jupiter. This can cause a tremendous increase in expenses. Venus will inspire you to spend on luxuries and Mars will give it more air. Therefore, it is necessary to curb extravagance, otherwise you may get stuck in debt.
Due to Mars, there is also a tendency of debts occurring. If not cautious, economic challenges will arise. On August 9, Mercury will also move into the twelfth house. This may further increase the expenses. Mercury will be in twelfth house from 9 August to 25 August. Meanwhile, the Sun will also reach the twelfth house, but there will be some relief because of the transit of Venus in your zodiac sign.
The attraction towards luxurious items will decrease. You have to keep a check on your expenses, especially till 25 August, otherwise the economic imbalance will continue to prevail. If Mercury changes its zodiac sign on 26th August, the situations may improve slightly.
The configuration of stars facing you is none too favorable, and so there are the prospects for your financial advancement. There is a distinct possibility that some of you would be influenced by a mean streak that would goad you on to exploit your workers, juniors, or even people below you in the social strata for your personal advantage.
This would be met with stiff resistance and turn into an extremely unpleasant situation. Curb such tendencies. Artists should make provisions for the rainy day, since they might face a ban period. Even otherwise, the climate would not be congenial for investment and the launching of new ventures. These could easily get stuck.
Planetary influences are not very encouraging and this will not help businessmen to start new projects. Speculations will end up in losses and no surplus money will be available for investment purposes.
Virgo Monthly Career Horoscope
From the perspective of career and profession, the month of August will bring mixed results for the natives of Virgo. The presence of Mercury, the lord of the tenth house, in the eleventh house at the beginning of the month will be beneficial. Time is good for employed people.
It will take care of work. Your skills will also be praised at the workplace, new responsibilities may also be given, but due to the presence of Jupiter in the sixth house, you may fall prey to laziness. You may also be somewhat careless regarding work and your officers may be angry with you due to this. In the second week, Mercury will change zodiac signs.
During this, your careless attitude can prove to be overwhelming for you. Problems may arise due to this. So be careful. After August 9, you may be transferred or you may have to go on a journey in connection with the work. Foreign travel or distant travel is possible to fulfill work requirements. The best advice for business professionals is to take cautious steps.
Being in the sixth house and also Jupiter being under the aspection of Venus and Mars, a lot of expenditure is on the cards. There may also be a legal hurdle in the matters of business, for which you may have to spend money. Take any decision thoughtfully and only after going through some consultations with family members.
There is very little of a congenial nature for your professional prospects in the augury from the stars this month. You would have to work very hard, and what is more feel the burden of work. Nothing interesting is likely to happen. And to compound your woes, with all this effort there would be little likelihood of realizing expected gains.
There is some consolation in the fact that association with several gifted people of learning would bring some marginal material gains, and a fair degree of mental satisfaction. A small quantity of travel would bear some fruit. The most advantageous direction would be west.
Nothing particularly beneficial about the augury from the stars, in so far as your educational prospects are concerned. Most of you would find yourself struggling quite a bit to get to your objectives. Those going in for higher studies would face a particularly difficult period. They should, therefore, remain patient and not give up in the face of difficulties.
Those appearing for competitive examinations should go in for extra coaching since under the circumstances, this could well be the deciding factor for success. Those pursuing accountancy, journalism, and other forms of mass- communications would also face a rough time.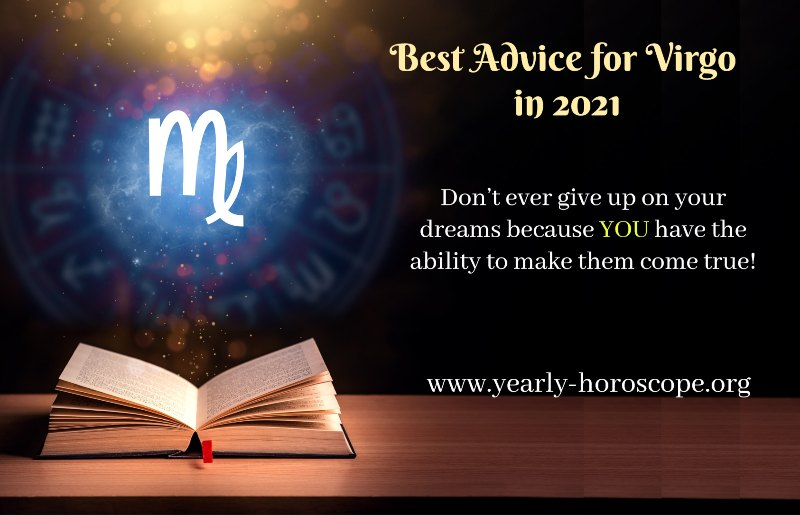 https://www.yearly-horoscope.org/
Virgo Monthly Health Horoscope
From the health point of view, time will bring mixed results. The presence of Jupiter in the sixth house and the conjunction of Venus and Mars is taking place in the seventh house. This depicts your carelessness regarding health. Having irregular routines can cause health problems.
Due to the aspection of the Sun on Saturn in the fifth house, stomach related problems or joint pain can arise. You need to take special care of catering. Consuming stale food and contaminated water can prove to be disastrous for you. Therefore, stay cautious about food and include yoga and exercise in your daily routine.
2021 monthly horoscope Virgo zodiac sign forecast a disturbing situation on the health front. Serious ailments tend to reappear and your stress levels will go up due to overwork. Proper medication and sufficient relaxation will be required to maintain good health. You have to change your working habits and time your activities to remain peaceful. Regular exercise and a healthy diet are very much important to maintain your fitness.
If you do this properly, there is no cause for worry on this score. Further, even though the turn of events may lead you to unpleasant people and places, you must with grit refuse to be led to such places and people, since this would directly affect your health.
Virgo August Important numbers: 1, 7, 13
Virgo August important dates: 9, 10, 16, 26, 27
Horoscope August special note:
"If you plan to start a diet, intense physical exercise or have other plans that will require great discipline from you, start working in the middle of the month. Do not hesitate to ask people who are experienced in the issues you care about - they can really help."