Wake up to the sunshine of Phu Yen
Phu Yen, an up-and-coming destination in Vietnam, is at its most charming under the sunlight at dawn and sunset. The southern tourist hotspot is also the inland place to receive the very first rays of sunshine in Vietnam.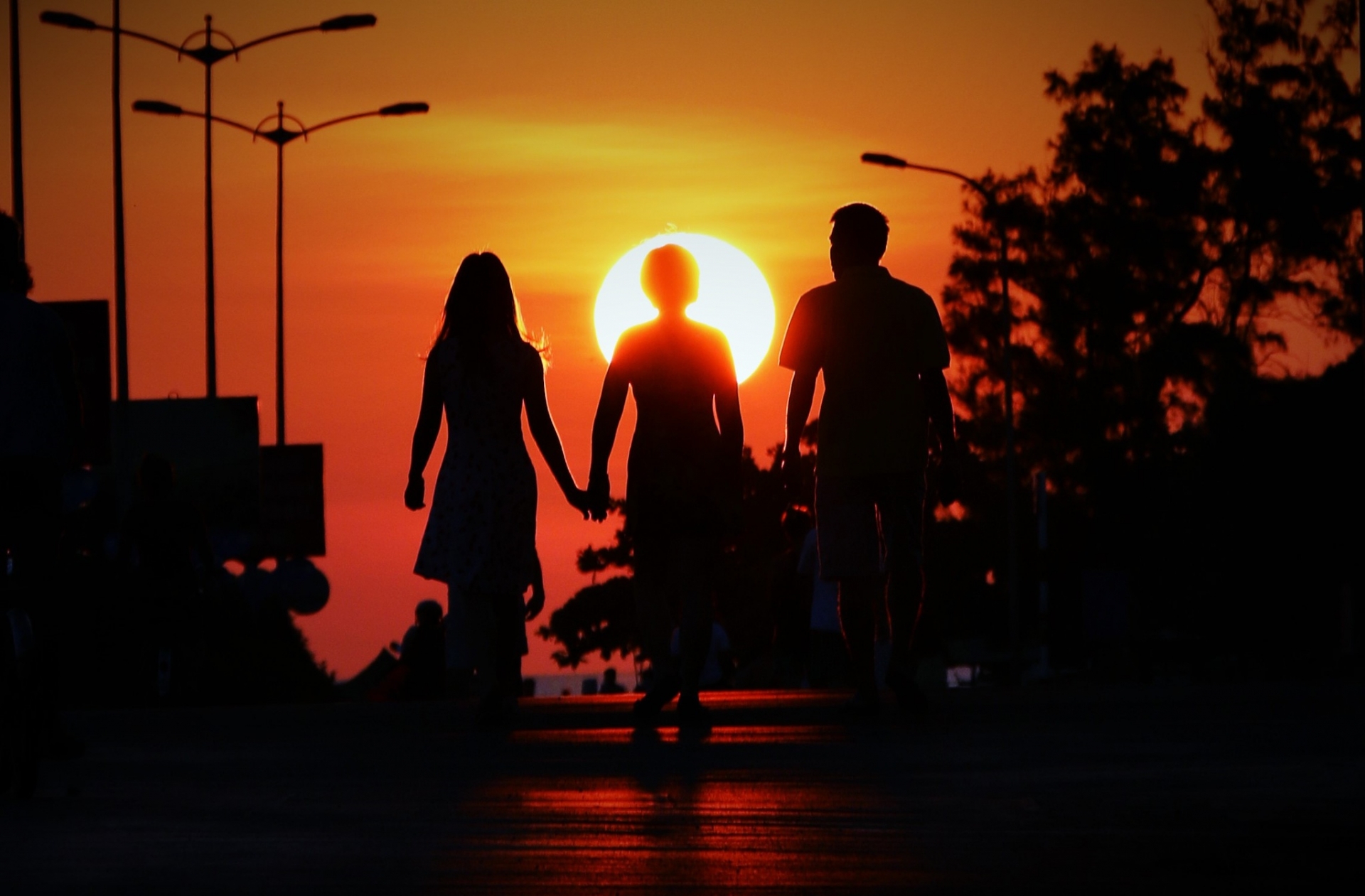 Photo: Thanh Nien
Phu Yen nestles between two other famous destinations, Khanh Hoa and Binh Dinh, and used to be quite "blur" on Vietnam's tourist map. It has been gaining more popularity in the past two years after the success of the blockbuster "I see yellow flowers on green grass", which was filmed amid its untouched nature.
Phu Yen is home to provincial yet stunning natural scenery, kind locals, and yummy foods. Nature boasts pristine beauty and an airy atmosphere that worth admiring. Nature lovers and travel enthusiasts alike surely should not miss the place.
Photo: Thanh Nien
A farmer carrying a heap of sugar cane leaves on his back, passing a group of children playing football on a "field" football pitch. Kids in Xuan Quang 3 commune have the habit of joining a few football matches after school time.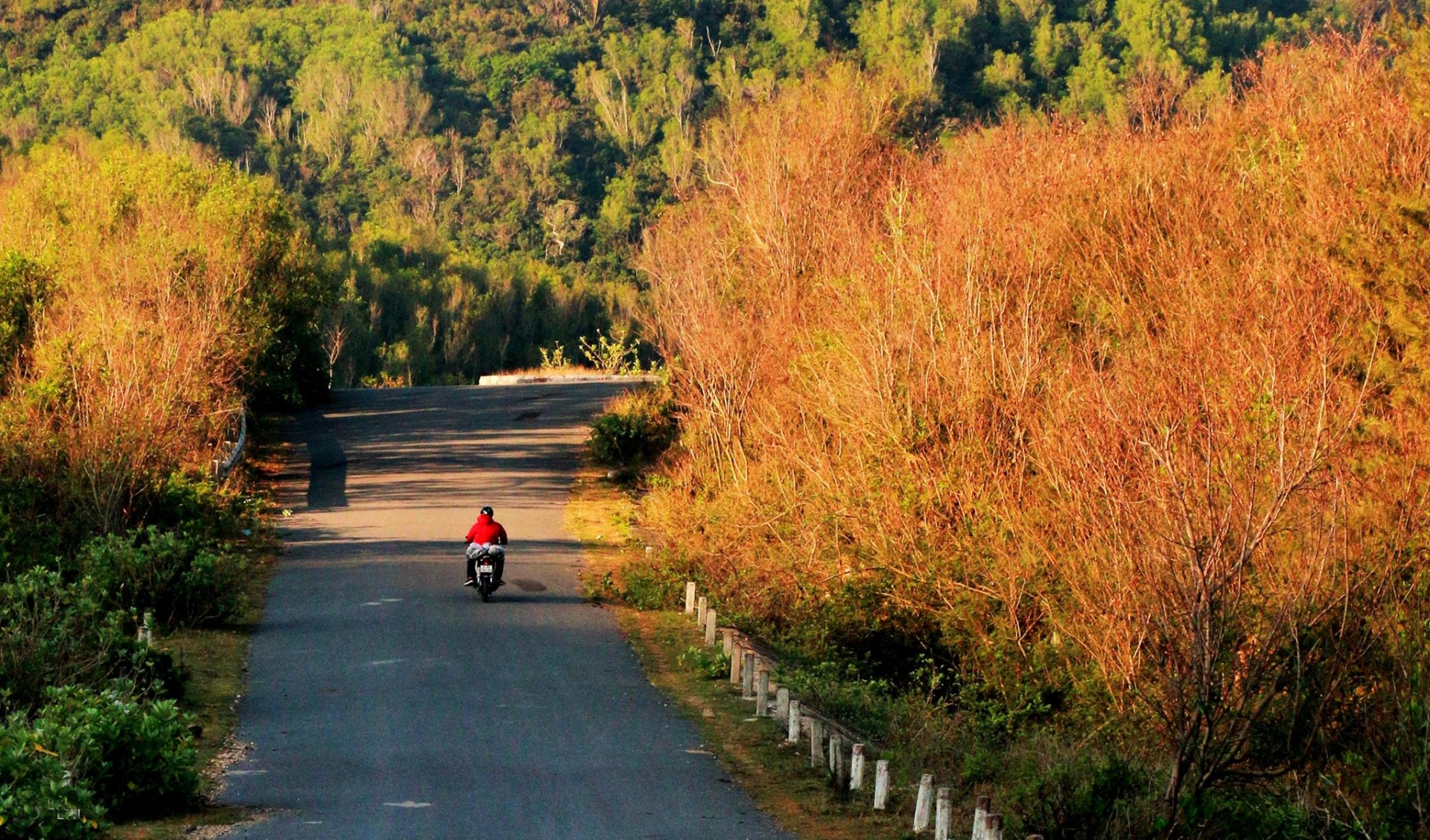 Photo: Thanh Nien
One man rides his motorbike on the road leading to Mui Dien, Dong Hoa district. Mui Dien is known as the first inland place to receive sun rays in Vietnam. In the photo, sunlight in the early morning gives trees on roadsides a golden brown makeover, adding charm to the already romantic scenery.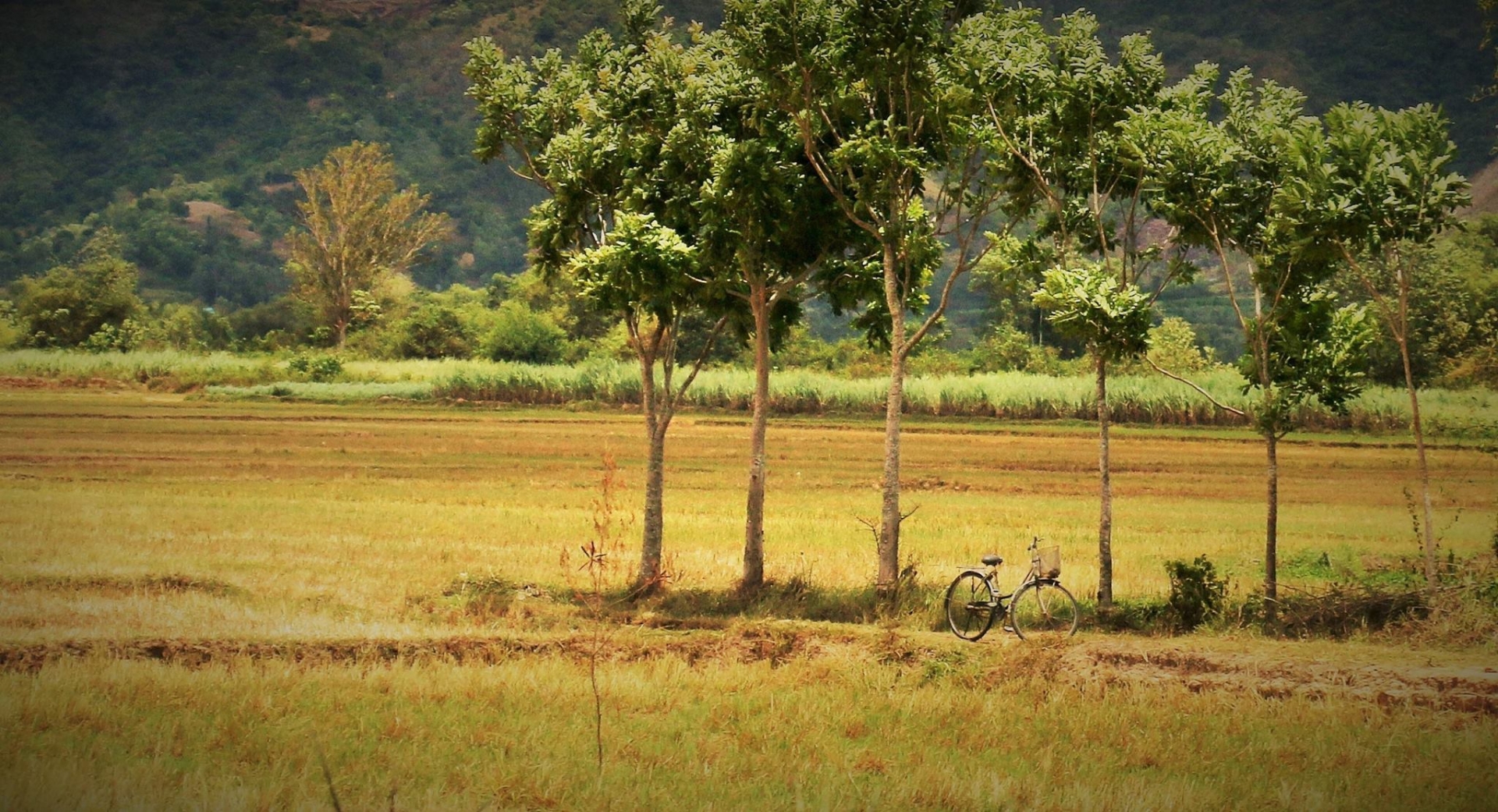 Photo: Thanh Nien
A farmer parks her bike on a small pathway in the middle of a rice field. Patches of ripening rice field is an iconic sight in rural areas, as reported by Thanh Nien.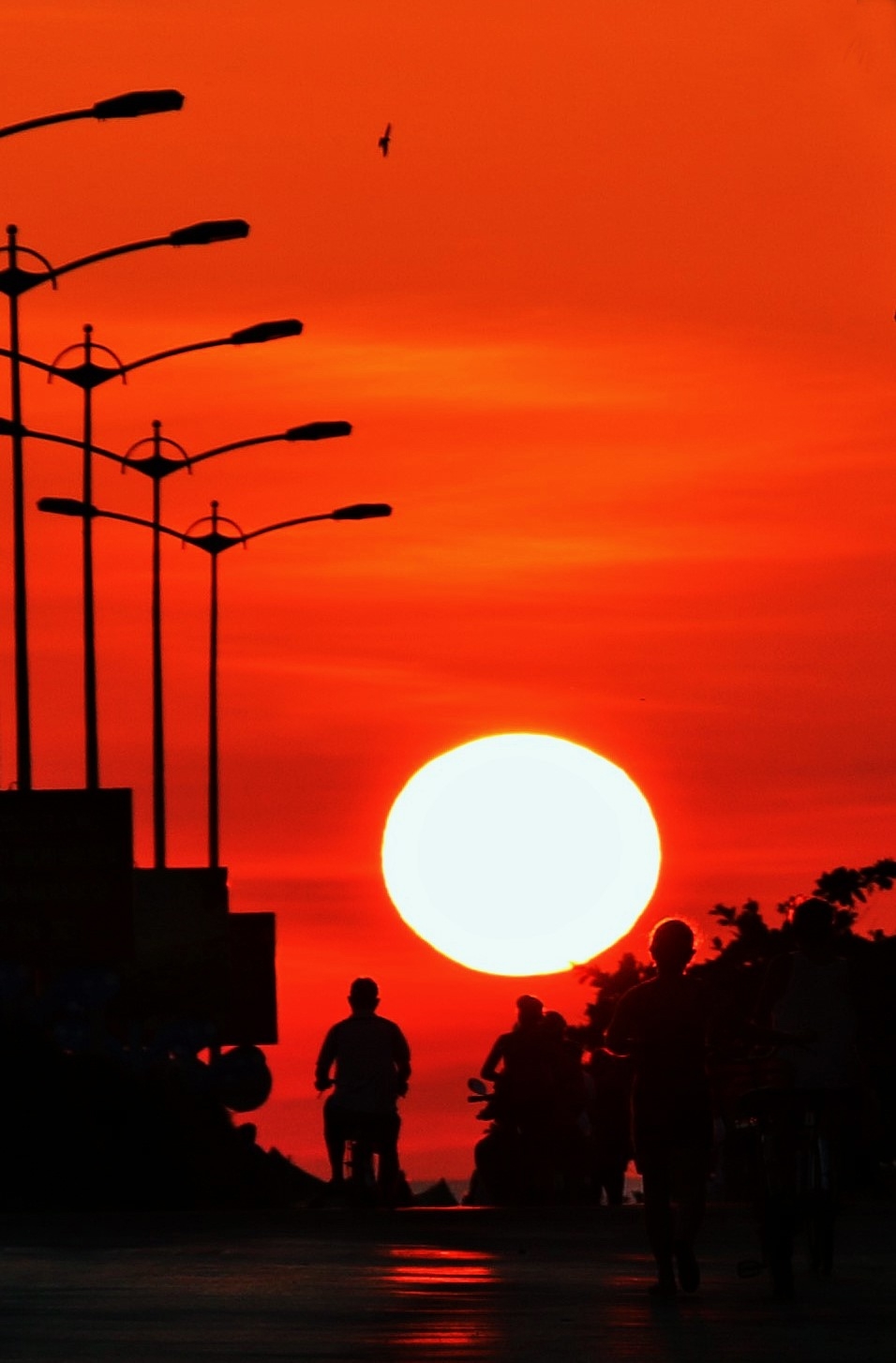 Photo: Thanh Nien
A bird flies over people who are doing morning exercises in Tuy Hoa, an affiliating city of Phu Yen. The first rays of sunlight are often not too strong, offering locals and visitors an ideal atmosphere to rise up early, do some physical movements, and enjoy the fresh air before start an energetic day.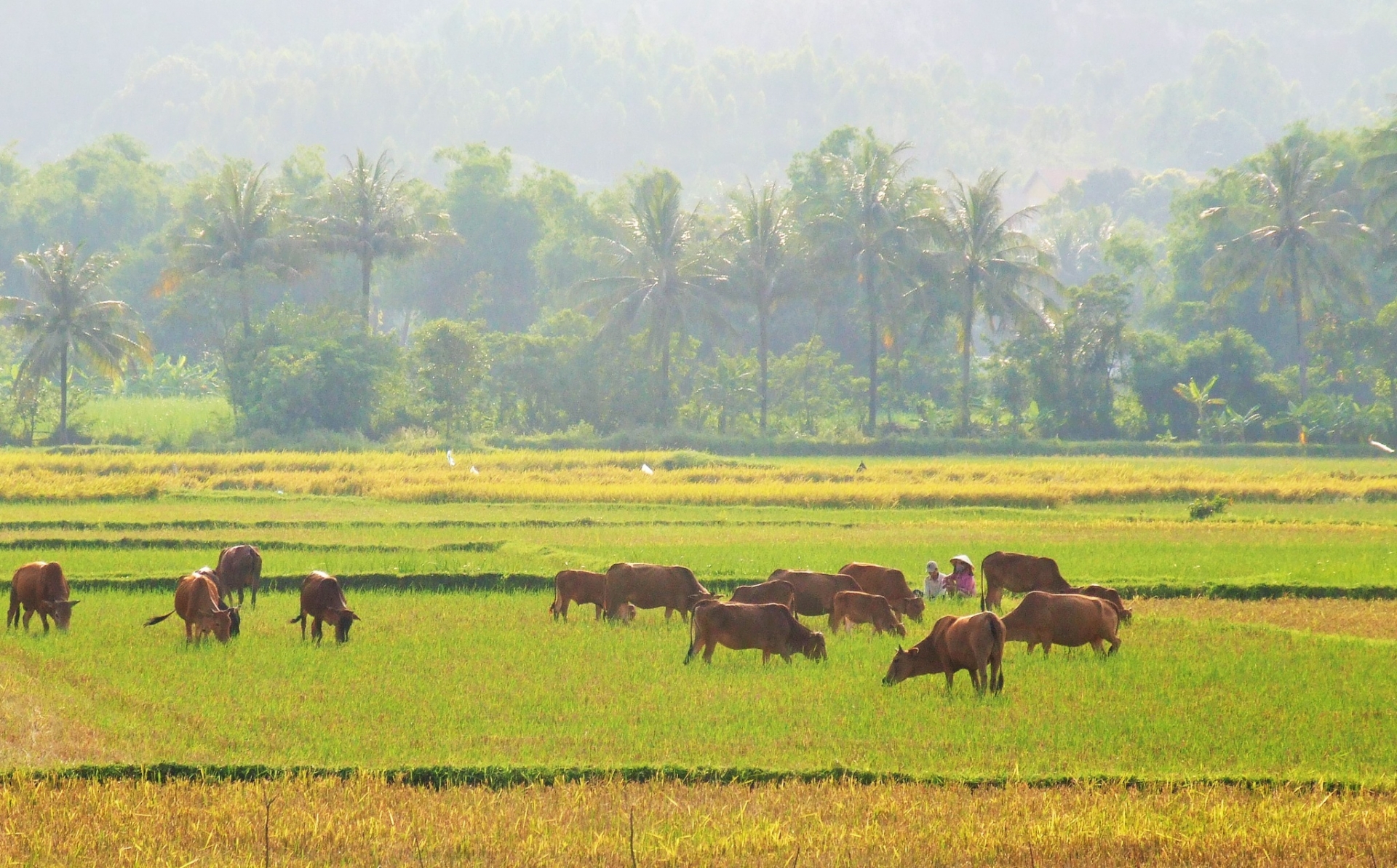 Photo: Thanh Nien
A heard of cows leisurely gnaw on straw feet after the rice cutting season in Tuy An. On the highway from Quy Nho en route to Tuy Hoa, prepare yourself for a little excitement as you come across farmers harvesting on ripe rice fields and others herding their cattle.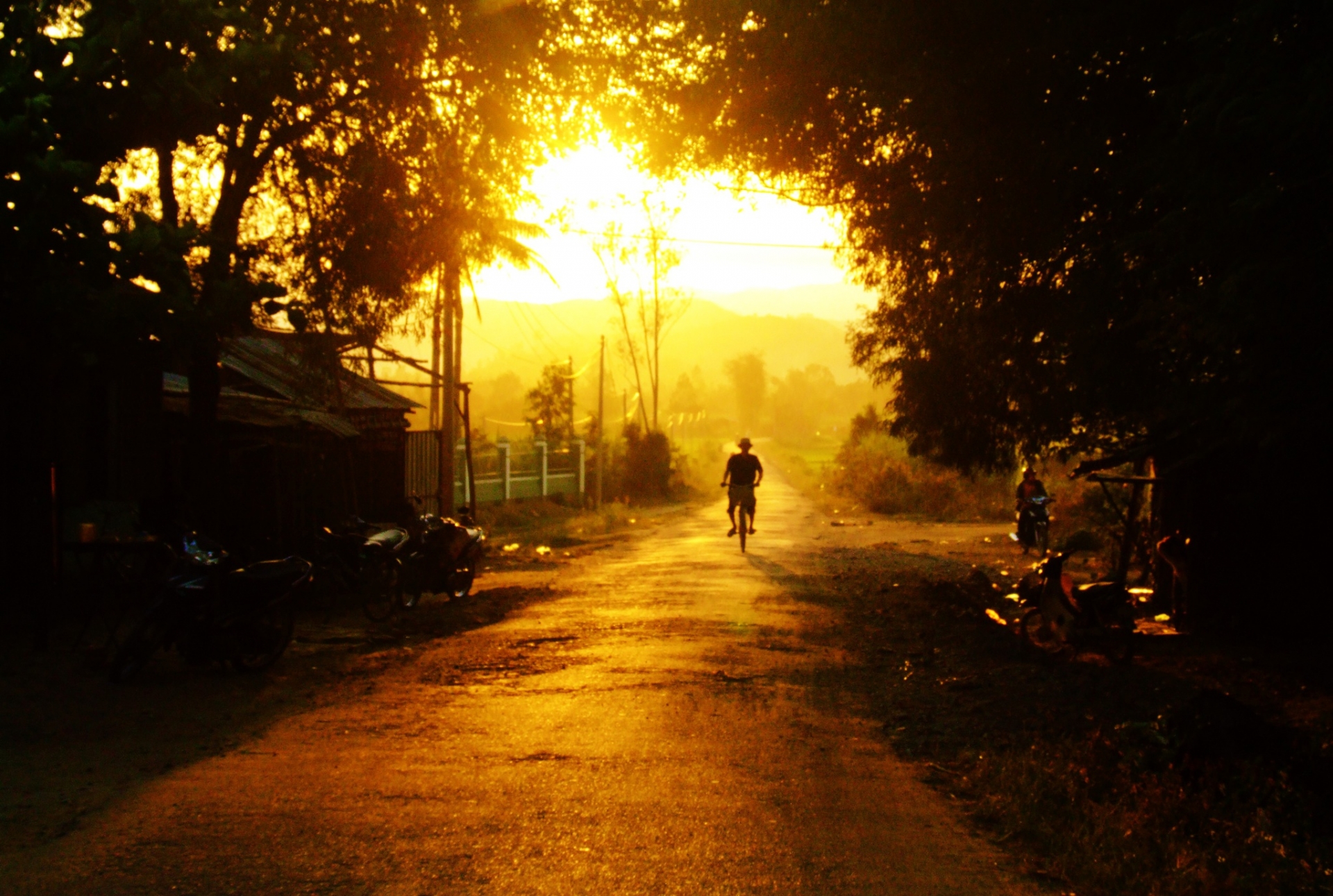 Photo: Thanh Nien
A man rides his bike on a road in Dong Xuan district. At this time, the afternoon sun shines on the last rays of the day and then disappears behind the distant mountains. The rustic, peaceful scene is what makes visitors want to travel and discover Phu Yen even more.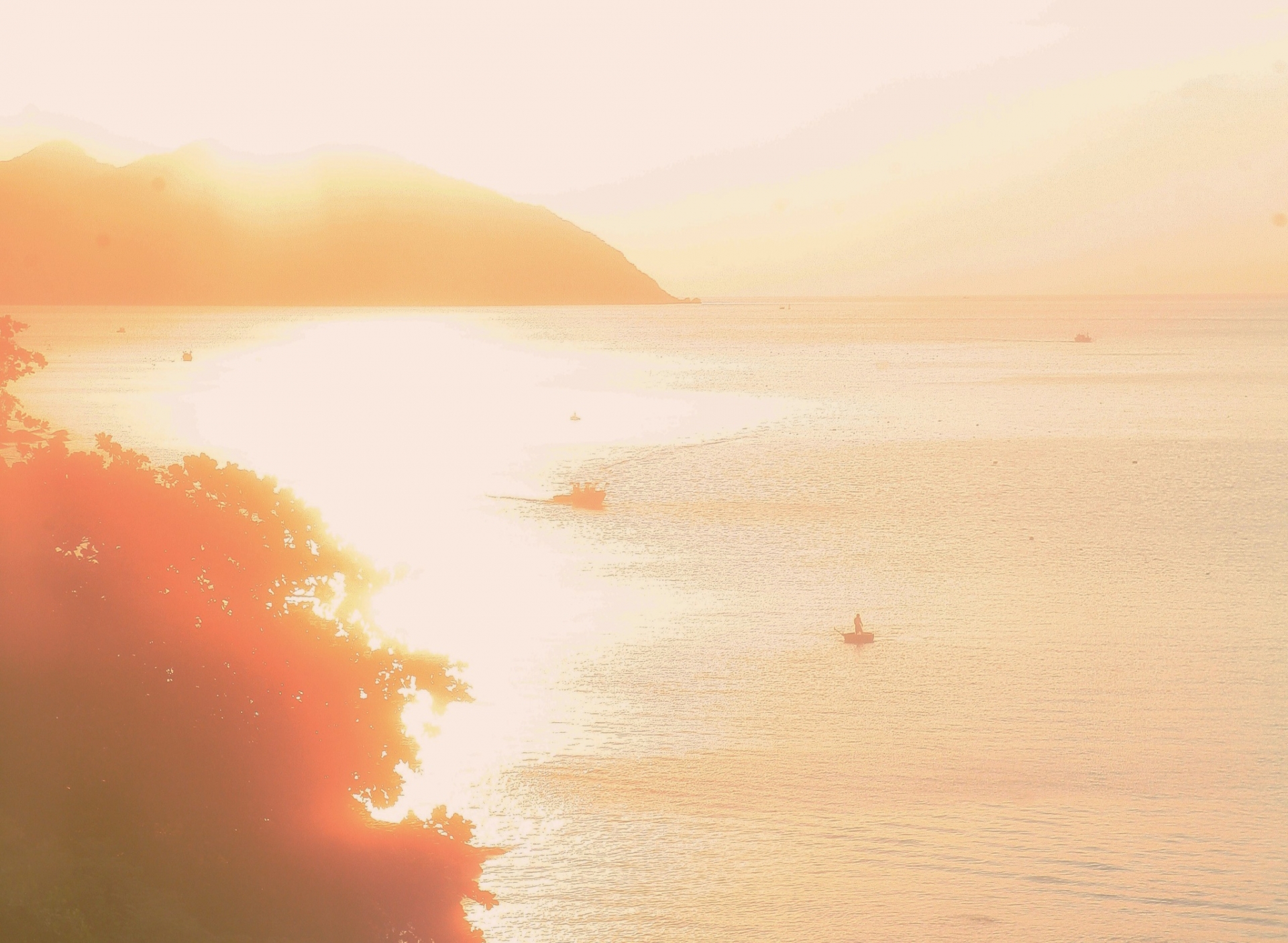 Photo: Thanh Nien
The photo is taken from a train on its way past Vung Ro, Phu Yen.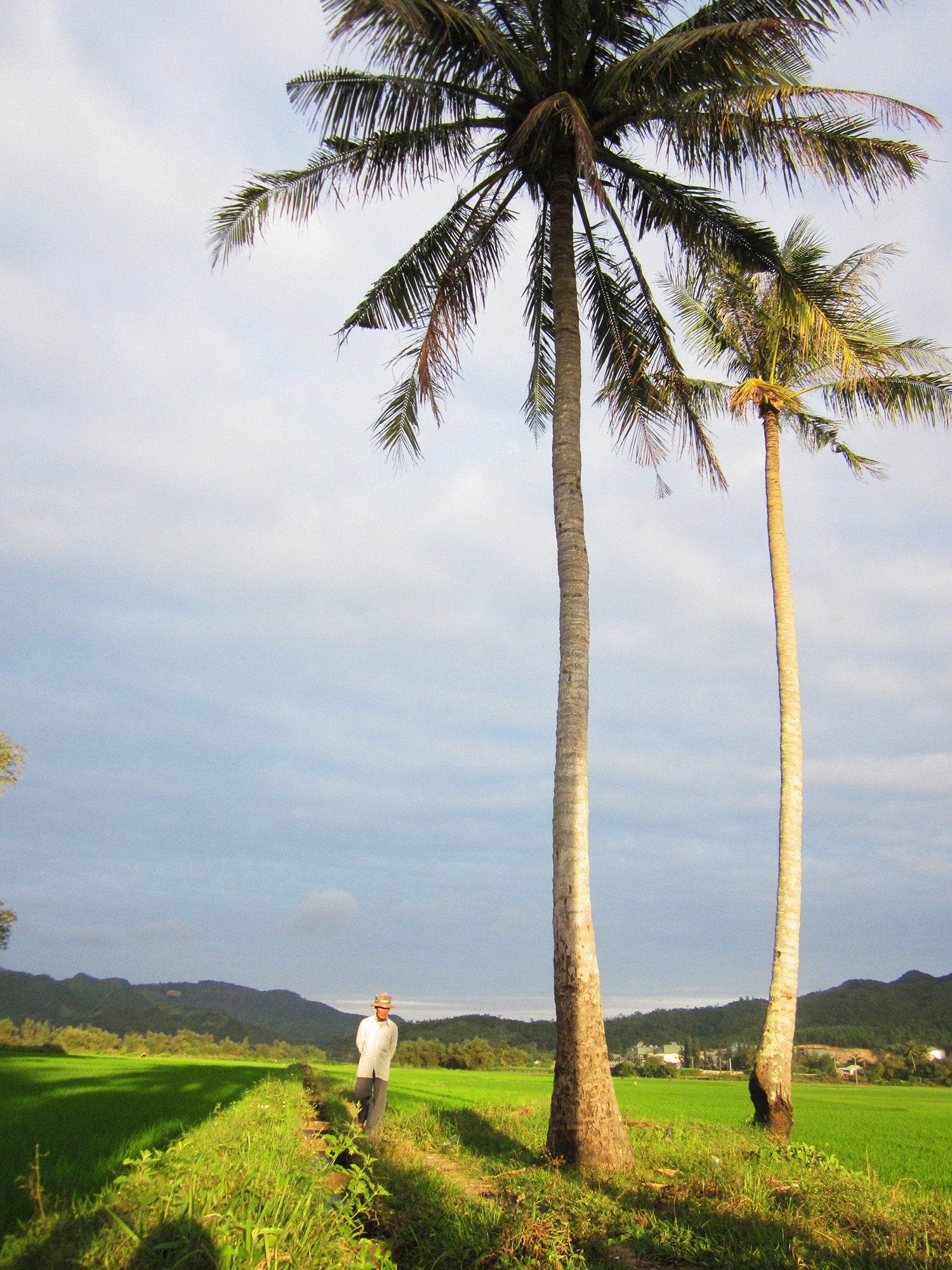 Photo: Thanh Nien
An old man visits his field under the light sun in the afternoon.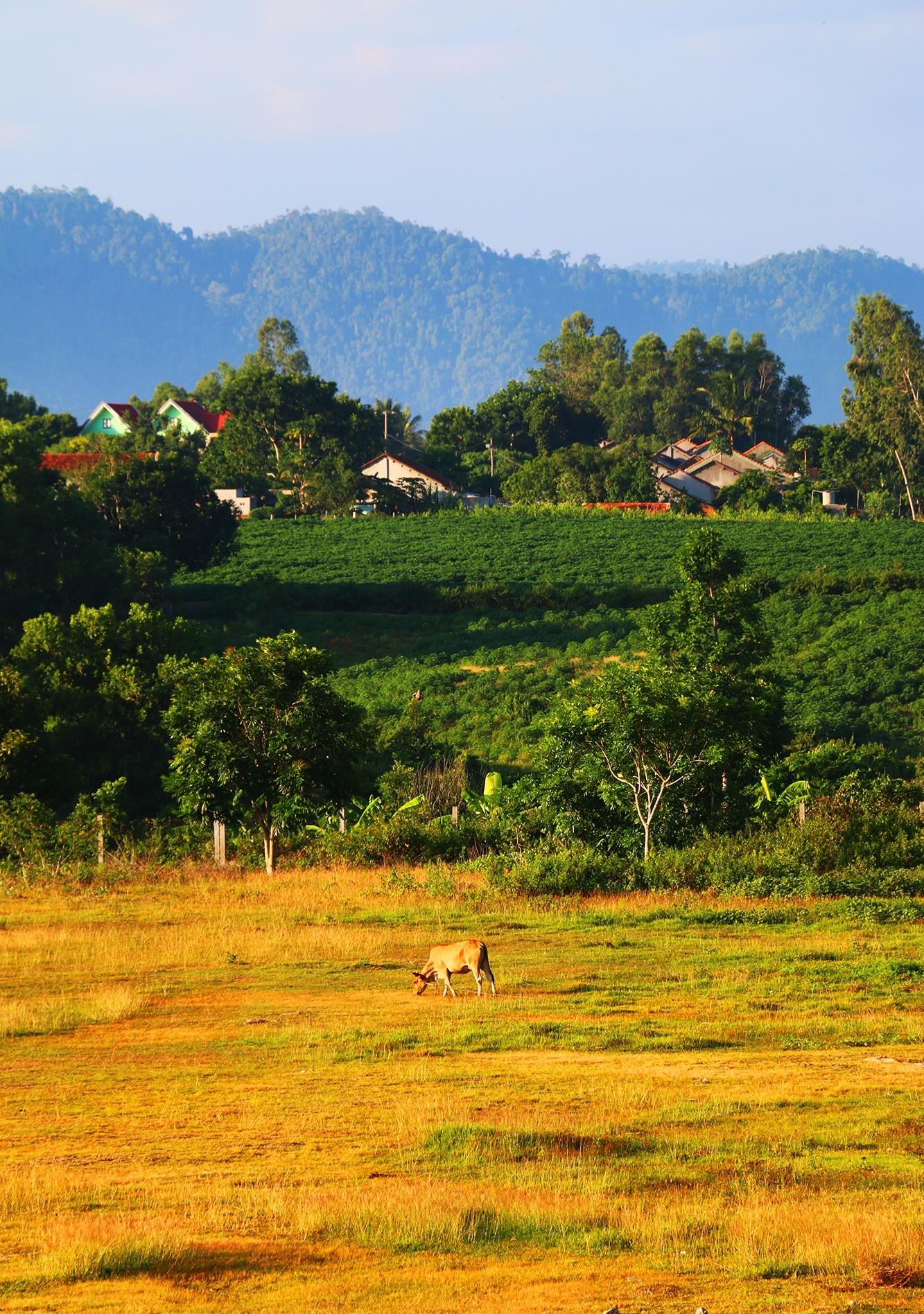 Photo: Thanh Nien
A cow leisurely grazes on an open field on the outskirts of Hai Rieng Town, Song Hinh district. The mountainous town offers a peaceful and scenic lakeside area which is often likened to Da Lat's Ho Xuan Huong.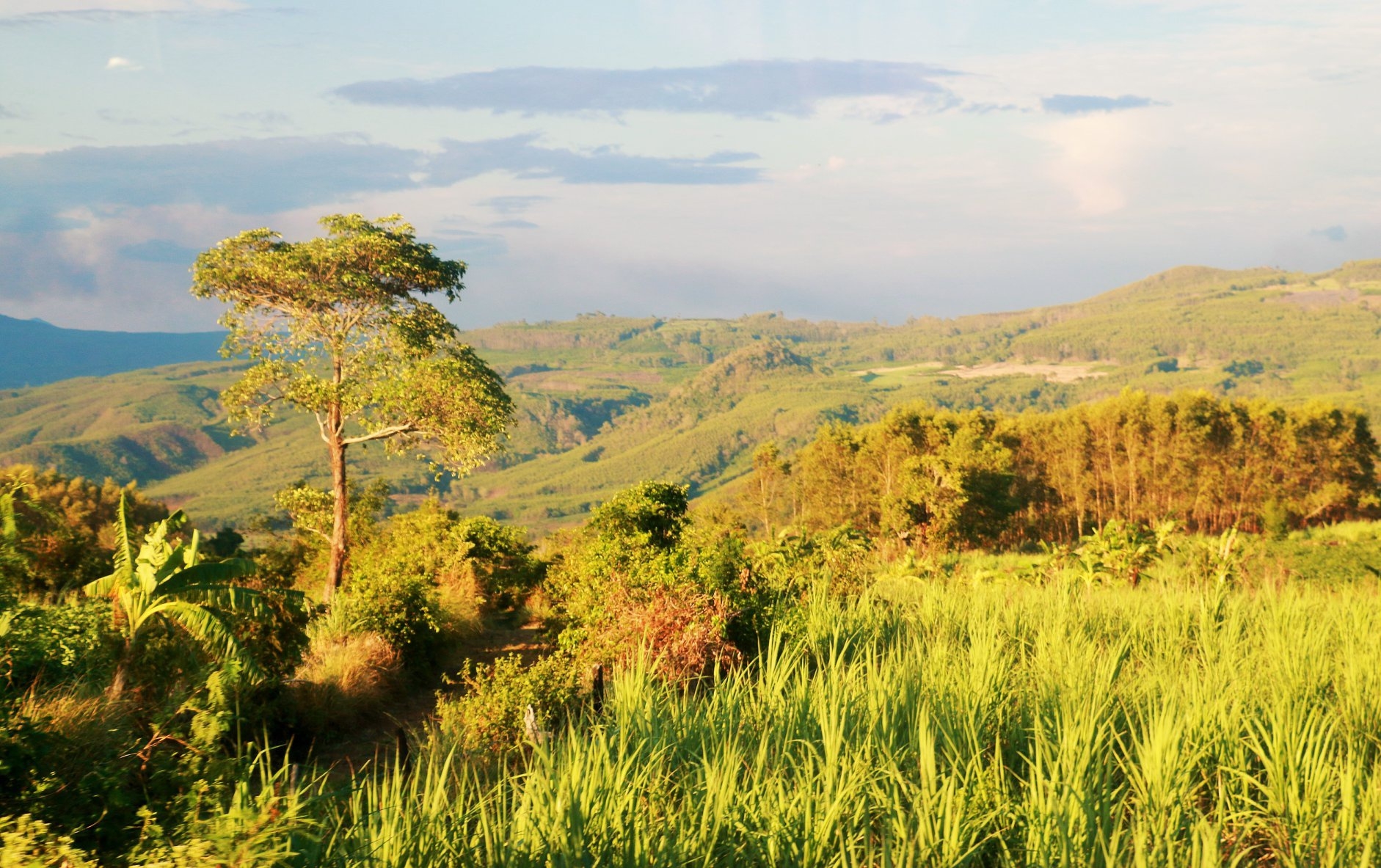 Photo: Thanh Nien
Van Hoa plateau offers a year-round cool climate. The 400-meter high plateau spreads over three communes and is home to a wide range of specialties, including red fruits, beef with yellow salted ants.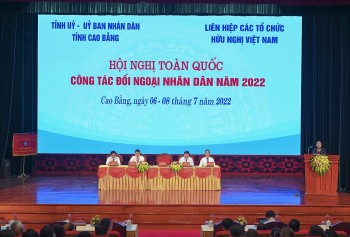 Friendship
During the event, many important issues will be discussed, and constructive suggestions and solutions will be provided to promote more effective people-to-people diplomacy operations.