Breath-taking bird-eye view of Khanh Hoa - Phu Yen route
Dai Lanh lighthouse, Xuan Dai bay and Diep Son island in Khanh Hoa and Phu Yen provinces emerge majestically under the lens of Vietnamese travel blogger Quy Coc Tu.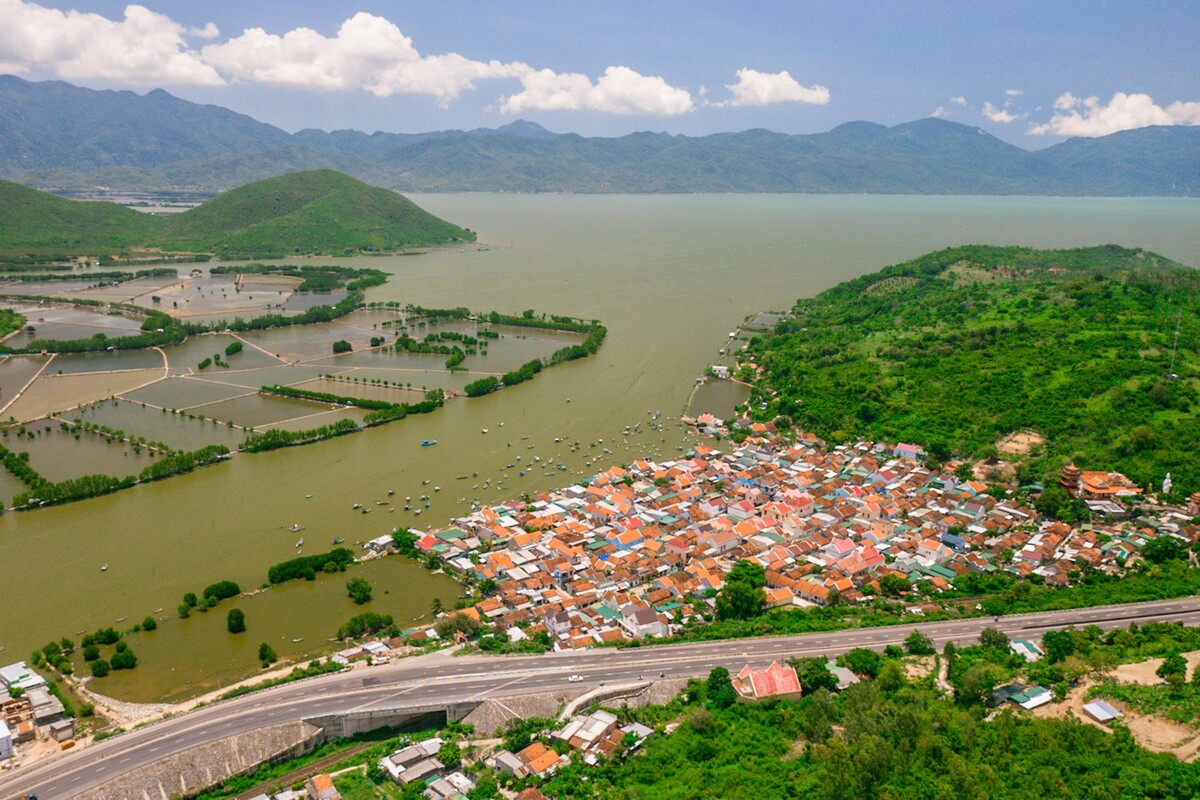 Ngo Tran Hai An/ via VnExpress
Travel blogger Quy Coc Tu (real name Ngo Tran Hai An) has introduced his photos capturing landscapes on the way from Khanh Hoa to Phu Yen provinces. Most of the photos were taken by a drone to get wide-angle shots from a bird-eye view, VnExpress reported.
The above picture is the foot of Ro Tuong pass, about 11 km from Ninh Hoa town, Khanh Hoa province. It overlooks Hon Vung island and a peaceful fishing village.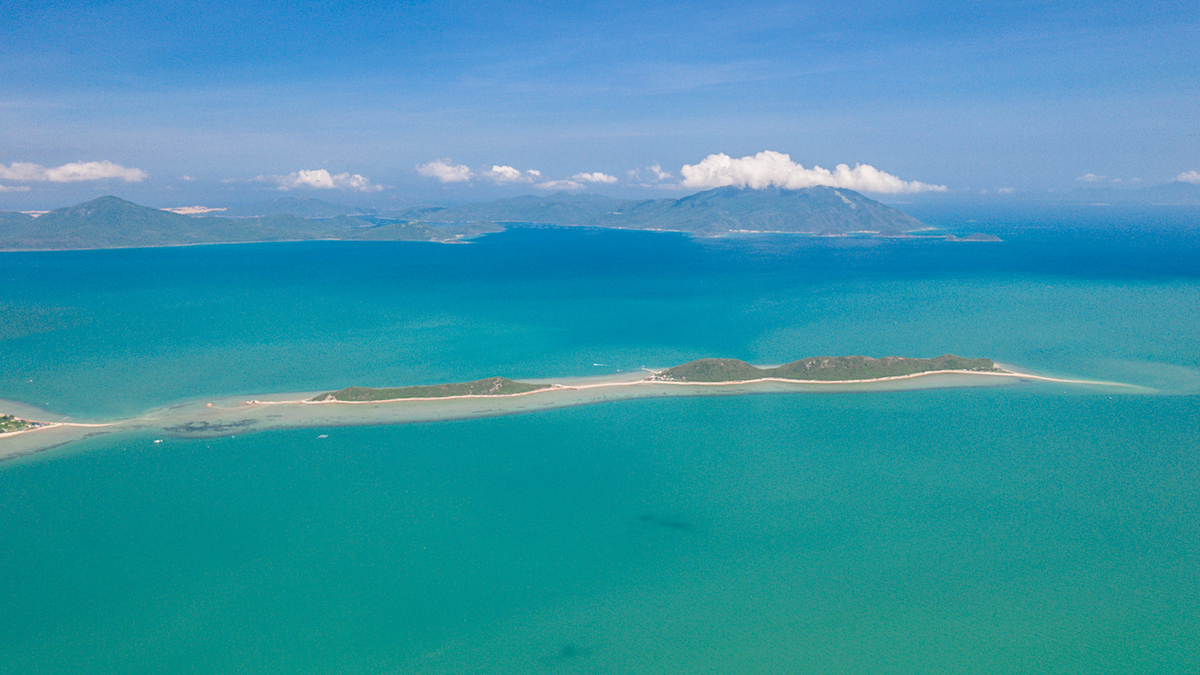 Ngo Tran Hai An/ via VnExpress
On the way from Khanh Hoa to Phu Yen, tourists will traverse Diep Son island, well-known for its cross-sea road connecting three small islands that only come into view when the tide recedes. Diep Son island is located in Van Phong Bay in Khanh Hoa. The local often call it Hon Bip island.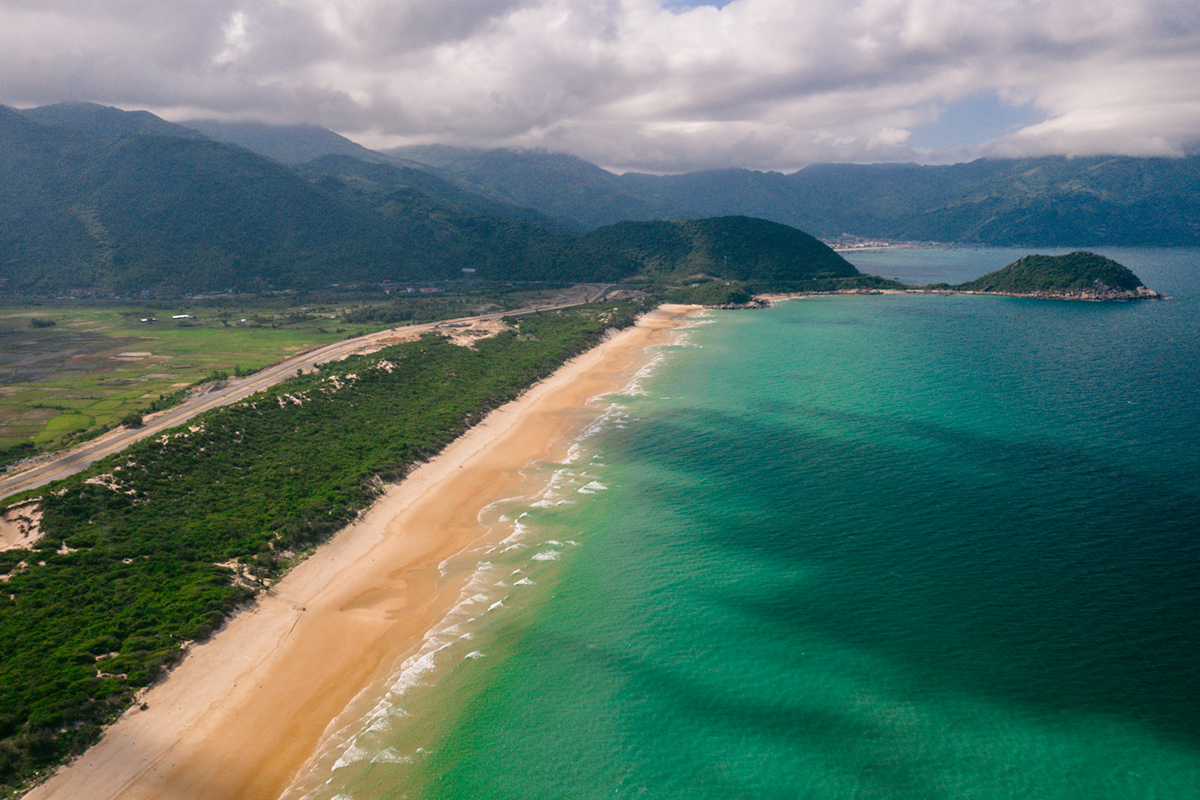 Ngo Tran Hai An/ via VnExpress
The route to Dam Mon peninsula faces Vietnam's easternmost point of Mui Doi in Van Thanh commune in Van Ninh district. Mui Doi, also known as Mui Ba Dau, welcomes the first rays of sunshine on the S-shaped strip of land. Conquering Mui Doi a challenge that most avid travelers want to overcome.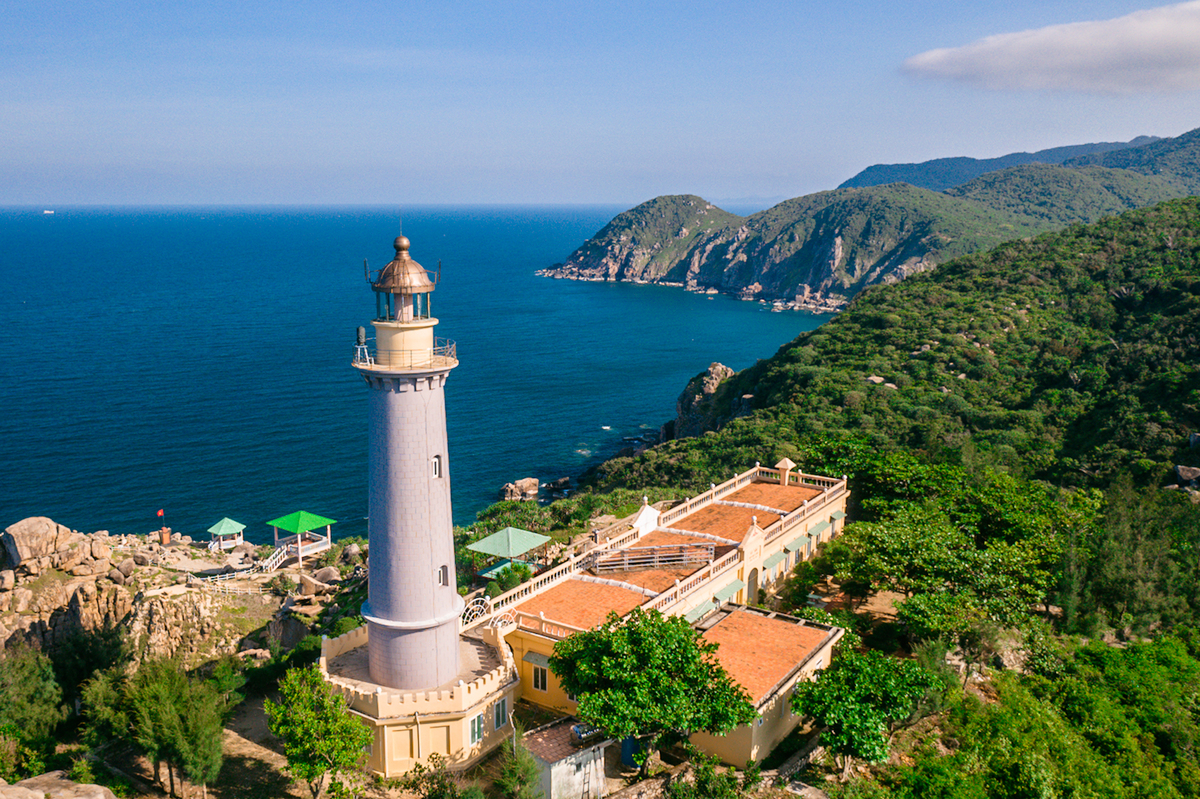 Ngo Tran Hai An/ via VnExpress
On the way to Phu Yen, blogger Quy Coc Tu also stopped at Dai Lanh lighthouse.
To reach the top of the lighthouse, visitors must walk on the 1-km-long trail and climb another 100 steps. Standing on its top, tourists have the opportunity to capture the entire view of the blue sea and undulating mountains.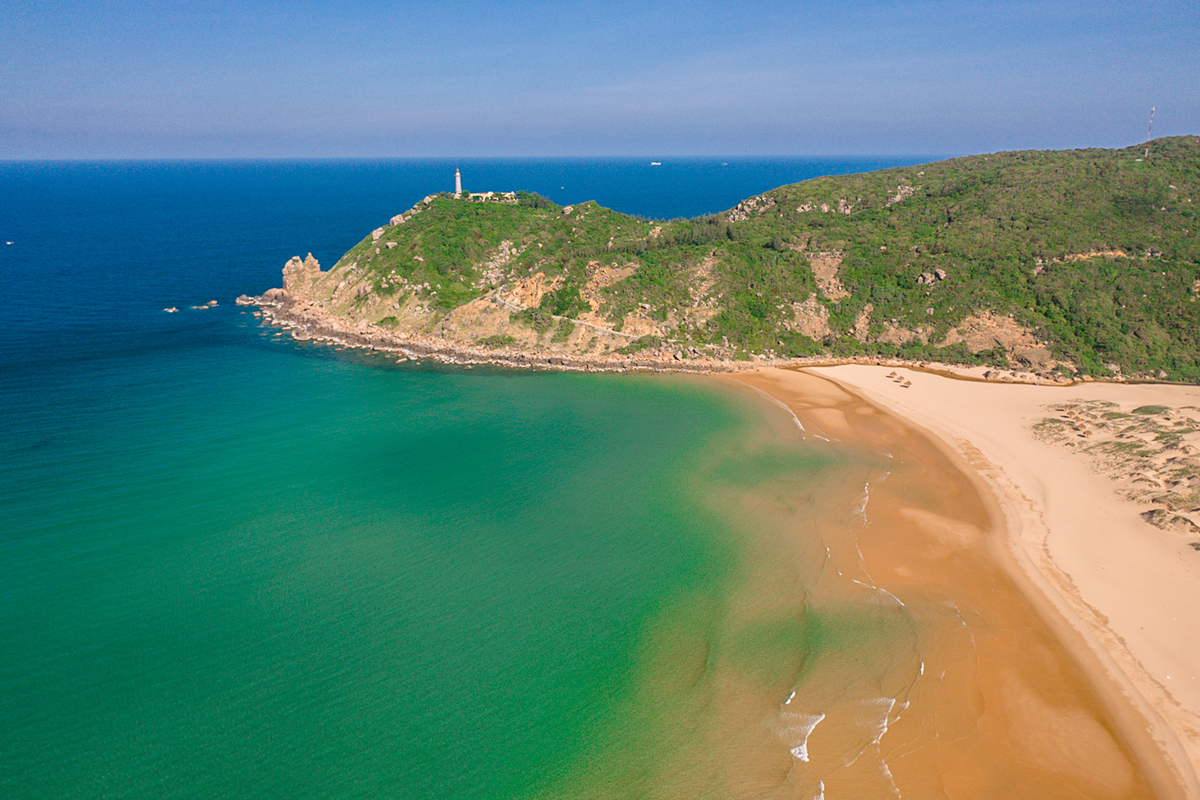 Ngo Tran Hai An/ via VnExpress
A vista of Dai Lanh lighthouse with Bai Mon underneath. Not only is it a tourist attraction, but Bai Mon-Mui Dien is also a national scenic relic of Phu Yen province. Bai Mon boasts emerald green water and long stretches of white sand.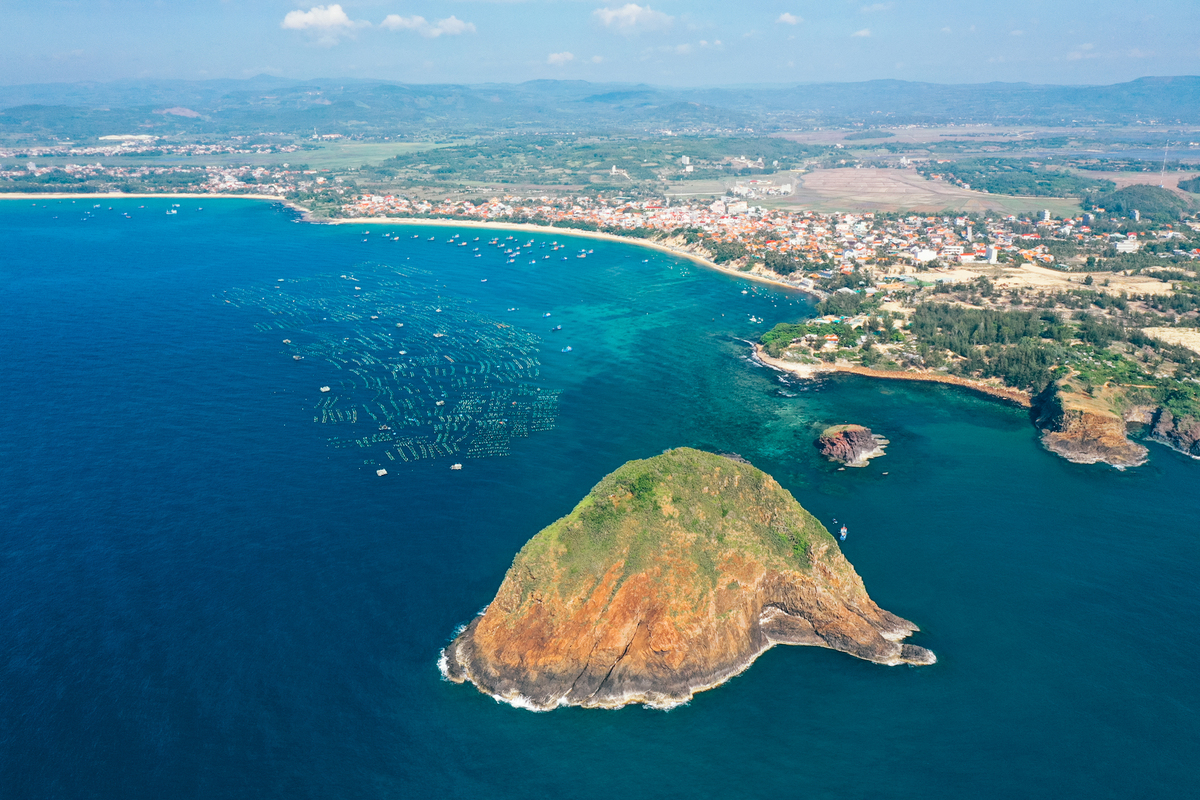 Ngo Tran Hai An/ via VnExpress
Another not-to-be-missed destination of the land "yellow flowers and green grass" in Phu Yen is Hon Yen island, located in Nhon Hoi village, Tuy An district, more than 20 km from Tuy Hoa city. The island spellbinds both visitors and photography enthusiasts thanks to its multi-colored coral reefs.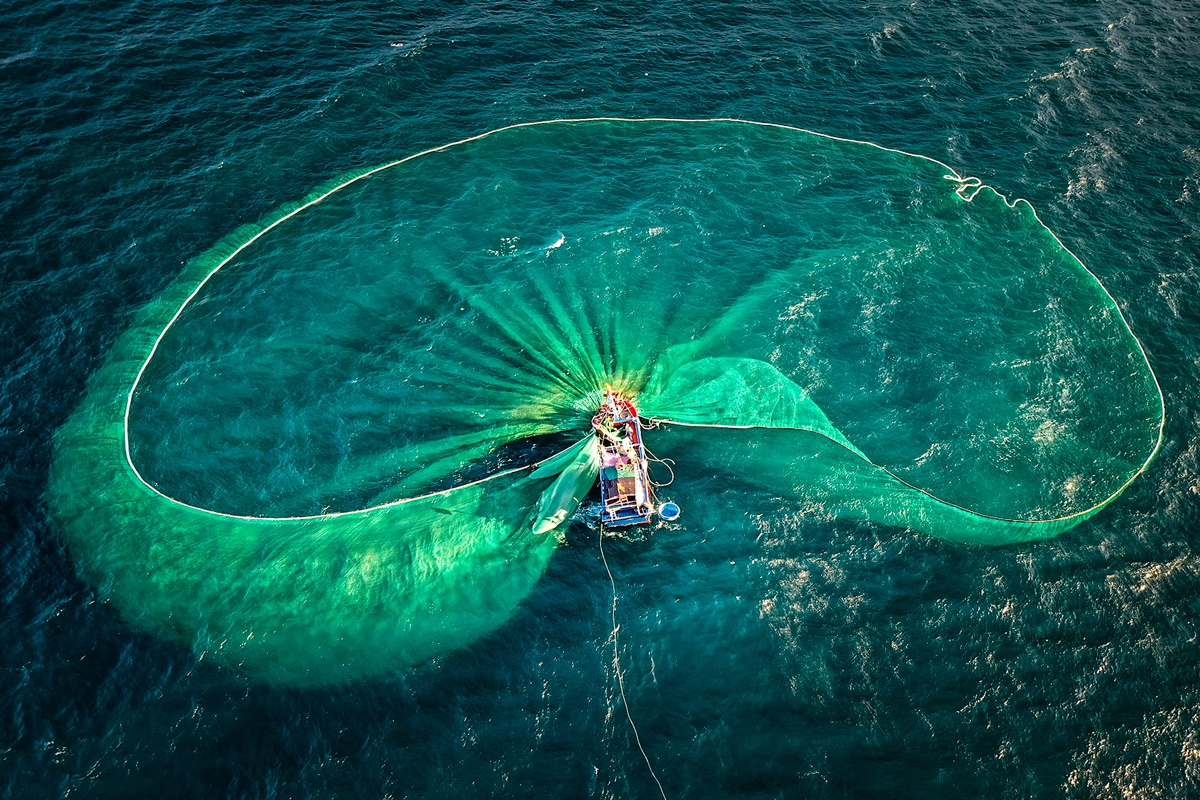 Ngo Tran Hai An/ via VnExpress
Fishermen cast nets to catch anchovies, a familiar scene on Hon Yen.
Ngo Tran Hai An/ via VnExpress
A breath-taking panoramic view of Phu Luong street, Bai Truong beach and An Hai bridge.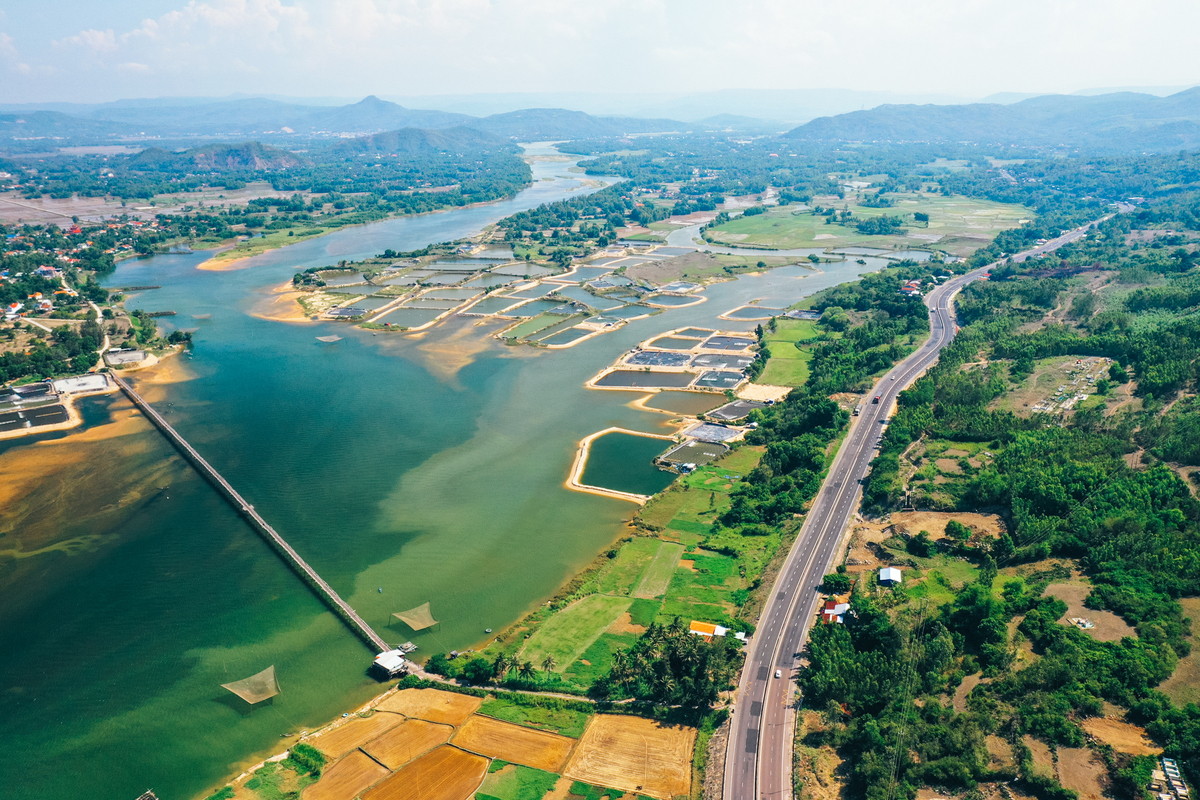 Ngo Tran Hai An/ via VnExpress
On the right of the photo is National Highway 1, on the left is Ong Cop bridge, which is the longest wooden bridge in Vietnam. The bridge spans Binh Ba river and links northern villages of An Ninh Tay commune in Tuy An district and Xuan Dai ward in Song Cau town. The bridge is mainly made of casuarina, eucalyptus and bamboo. It is 800 meters in length and 2.3 meters in width and only for pedestrians and motorbikes.
Ngo Tran Hai An/ via VnExpress
Traveling to Phu Yen, don't miss out on the opportunity to stroll on the cross-sea road Nhat Tu Son in Xuan Tho 1 commune, Song Cau town, about 50 kilometers from the downtown Tuy Hoa city. Tourists park their vehicles on the mainland and reach the island by this unique road.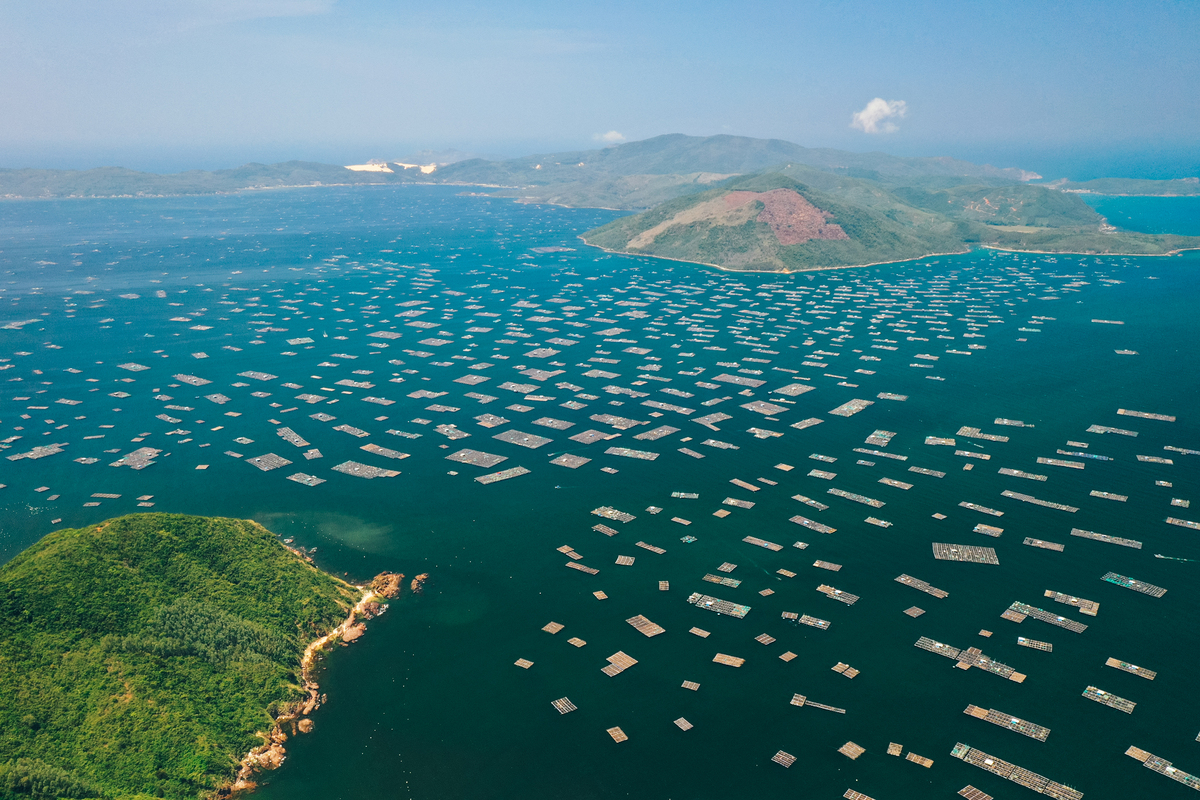 Ngo Tran Hai An/ via VnExpress
A spectacular bird-eye view of Xuan Dai Bay. Adding to the already charming beauty of Xuan Dai Bay are serene fishing villages. In addition, when coming to the bay, tourists can also visit Ganh Den lighthouse, Bai Om beach and Ong Xa island.
Phu Yen dining
Though Phu Yen has few standout restaurants, there are hundreds of inexpensive places to eat in its capital Tuy Hoa and surrounding districts. Seafood is the main culinary attraction, with grilled blood clam one of the province's local specialties. Other local favorites include Hoa Da girdle cake rolled with boiled pork and raw vegetables, dit leaf sour soup, steamed glutinous rice cooked with young dove meat, ocean tuna and giant perch, according to Vietnam guide.
Oysters and mai fish from O Loan Lagoon are also sought after. The mai fish is made into a salad with lemon, roasted peanuts, basil, coriander, green tomatoes, green banana, star fruit and spices. All along the beach of Tuy Hoa are rustic cafes serving fresh seafood and beer, while more restaurants are found along the main highway and Tran Hung Dao street.
Those craving burgers and pizza head to Bob's Cafe' American on Nguyen Dinh Chieu street in Tuy Hoa, one of the few western restaurants in the area. Outside of the hotels, most restaurants do not have menus in English so it's good to learn the names of some of the dishes you want to try before venturing out for a meal.
Phu Yen shopping
Like most anywhere in Vietnam, there's no shortage of things to buy in Phu Yen. Tran Hung Dao Street is where the Tuy Hoa market plus a number of shops are located. Find souvenirs, clothing and more here.
Hung Vuong Street has shopping centers among its hotels and restaurants, where one can spend an afternoon browsing and strolling this wide, pleasant avenue. Every village outside of the city has a central market where you can snap colorful photos of local daily life, even if you're not there to shop.
One of Phu Yen's most prized products is bird-nest soup. Made from the saliva secretions of swiftlets, the nests are harvested twice a year with some 1,000 kg collected in the province each year. The soup is believed to boost health and virility, and it certainly boosts the fortunes of those selling it with going rates as high as US$ 2,000 per kilo.
When is the best time to travel to Khanh Hoa?
Khanh Hoa's climate has unique features with distinct characteristics. Compared with other provinces and cities from Ca Pass in the North and from the Ghenh Da Silver to the South. Khanh Hoa's climate is more moderate due to the ocean.
There are usually only two distinct seasons, the rainy and dry seasons. From January to August, it is dry season, and the weather changes gradually. In the early months of the season, it is cool, the temperature is from 17-25 degrees Celsius. But from May to August it is hot and the temperature can reach 34° degrees Celsius in Nha Trang, and 37-38° degrees Celsius at the Orange line. The short rainy season is from about mid-September to mid-December.
The appropriate time to travel to Khanh Hoa is from May to June every year, at this time the sea is calm and the weather is still a bit cool. However, from June to September, besides a little hot sun, there is no problem visiting. The Ponagar Tower Festival in Nha Trang takes place around the end of the third lunar month every year.
How To travel to Khanh Hoa?
Khanh Hoa has a relatively developed infrastructure system. It's located on important coastal roads in Vietnam such as: National Highway 1A running along the coast from Ca Pass to Ghenh Da Bac connecting to the neighboring provinces. North and South; Highway 26 connecting Ninh Hoa with Dak Lak and the Central Highlands provinces; road 723 (Nha Trang to Da Lat) and the North-South highway project going through Khanh Hoa. Currently from Hanoi and Saigon every day there are high-quality buses going to district cities in Khanh Hoa province.
1. Travel by train
As one of the major stations of the North-South railway. Nha Trang station is a stop and transit place for most travelers who want to take the train to Khanh Hoa.
From Hanoi daily, there are SE1, SE3, SE5, SE7 and SE9 trains departing from Hanoi and stopping in Nha Trang with a travel time of 24-28 hours. The best train to Nha Trang during the day, so you can start the journey, is always SE5 (departing from Hanoi at 8:50 and arriving in Nha Trang at 10:44 the next day). Also, you can book SE7 (departing from Hanoi at 6:00 and arrive in Nha Trang at 8:24 the next day), Origin Vietnam reported.
From Saigon, daily trains SE2, SE4, SE6, SE8, SE10, SE22, SQN2, SNT2 depart from Saigon station and stop at Nha Trang station with a travel time of about 6-9 hours. Trains are the most suitable SE6 departure from Saigon at 8.45 am and went to Nha Trang at 15h58, SE8 departure from Saigon at 6.00 am and to Nha Trang at 13h21.
2. Travel by airplane
There are daily direct flights to Cam Ranh from Hanoi by Vietjet, Vietnam Airlines and Bamboo, round-trip tickets range from VND 2,000-3,000 with a flight time of about 2 hours. From Saigon, the flight time will be shorter (about 1 hour). You can move from Cam Ranh airport to central Nha Trang by bus or taxi.
| | |
| --- | --- |
| | Nhat Tu Son Island, Mui Dien, Ganh Da Dia together with work of anchovies drying, lobster farming show up the beautiful, colorful life in Phu ... |