Who is Britney Spears? Full story of conservatorship locking over a decade
The prominent pop star Britney Spears has recently insisted on her happiness amid fan's worries over conservatorship drama locking her life more than a decade.
A dramatic life of a superstar
According to allmusic, Britney Jean Spears was born December 2, 1981, in the small town of Kentwood, Louisiana, and began performing as a singer and dancer at a young age. With a nationally televised appearance on Star Search already under her belt, Spears auditioned for the Disney Channel's The New Mickey Mouse Club at age eight. The producers turned her down as too young, but one of them took an interest and introduced her to an agent in New York.
Spears spent the next three years studying at the Professional Performing Arts School, and also appeared in several television commercials and off-Broadway plays. At 11, she returned to The New Mickey Mouse Club for a second audition, and this time made the cut.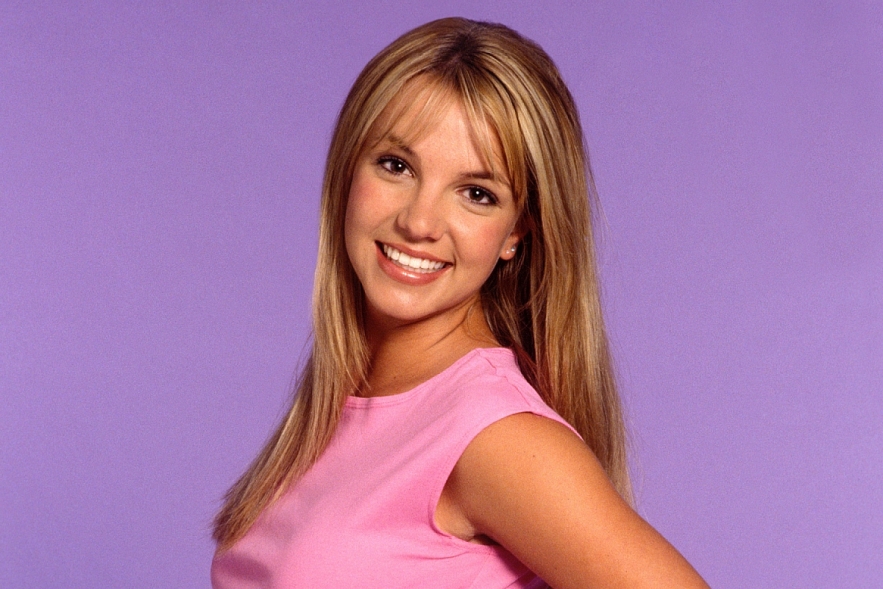 Britney Spears poses during a portrait session in Los Angeles, California in May, 1999. WireImage
Britney Spears starred in The All-New Mickey Mouse Club at age 11 and began a highly successful career as a pop singer and performer with the release of the single "...Baby One More Time" in 1998. Spears achieved massive sales with albums like Oops!... I Did It Again and Britney, before experiencing a series of personal and professional setbacks. She rebounded with the chart-topping Femme Fatale in 2011 and later enjoyed an extended residency at Planet Hollywood Resort & Casino in Las Vegas, biography reported.
Marriage to Kevin Federline
By January 2004, Spears appeared to be rebelling again—this time, against her intense work schedule. She married her childhood friend Jason Alexander in Las Vegas, but the union was annulled two days later. She then got involved with backup dancer Kevin Federline. At the time, Federline's girlfriend was pregnant with their second child. Spears' relationship with Federline only intensified with the media's scrutiny of her private life.
Britney and Kevin. Photo: Aol.com
Trouble in the spotlight
The new mother found herself in hot water in February 2006, after she was caught on film driving her car with her infant son in her lap. Her parenting skills became a subject of national debate, and she was even rebuked by Transportation Secretary Norman Mineta for her actions. Calling her behavior "irresponsible" and "troubling," Mineta said that Spears was sending "the wrong message to millions of her fans."
Spears apologized for the incident, claiming that she just wanted to get away from the paparazzi. "I love my baby more than anything, and as unfortunate an experience as this has been for me and my family, if it brings more attention to child safety then I fully support that," she told People magazine.
In September 2006, Spears and Federline had a new addition to their young family with the birth of their son Jayden James. But Spears made a surprising move two months later when she filed for divorce, claiming "irreconcilable differences."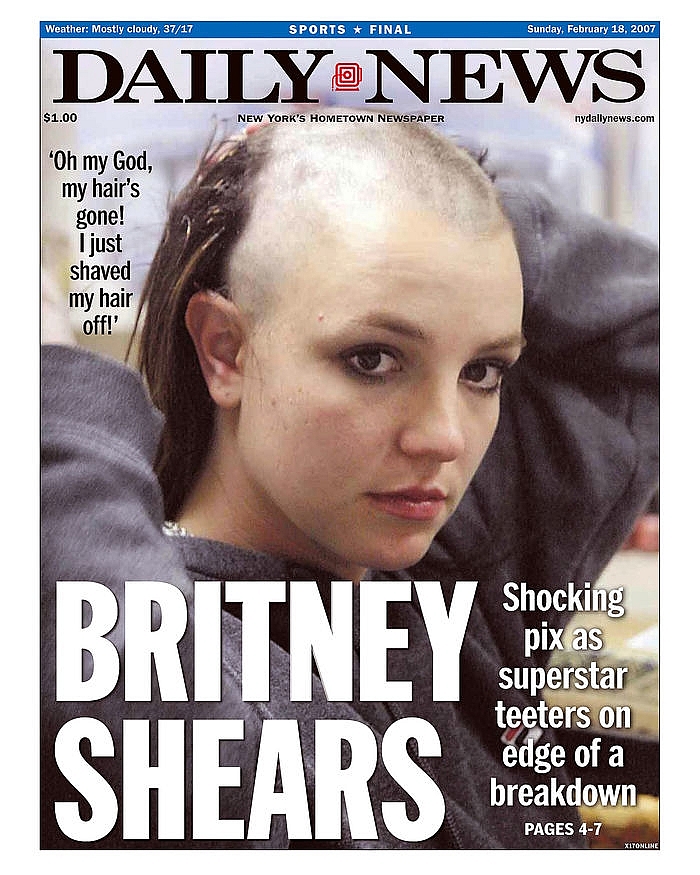 Image via New York Daily News Archive/Contributor/Getty Images
After her separation, Spears frequented the club scene for a time, partying with socialite Paris Hilton, among others. She reportedly checked in and out of rehabilitation, and then shaved her head in a California beauty salon while the paparazzi took pictures in February 2007. She told the salon owner that "my mom is going to freak." The following month, Spears spent time at a treatment center in California.
By the summer, Spears and Federline were in the midst of a difficult custody battle for their two sons, with Spears also estranged from her mother. Despite her personal challenges, she moved forward musically with the album Blackout. The single "Gimme More" was released in September and received a warm reception from the public and critics.
Recovery and insisting a normal relationship amid conservatorship drama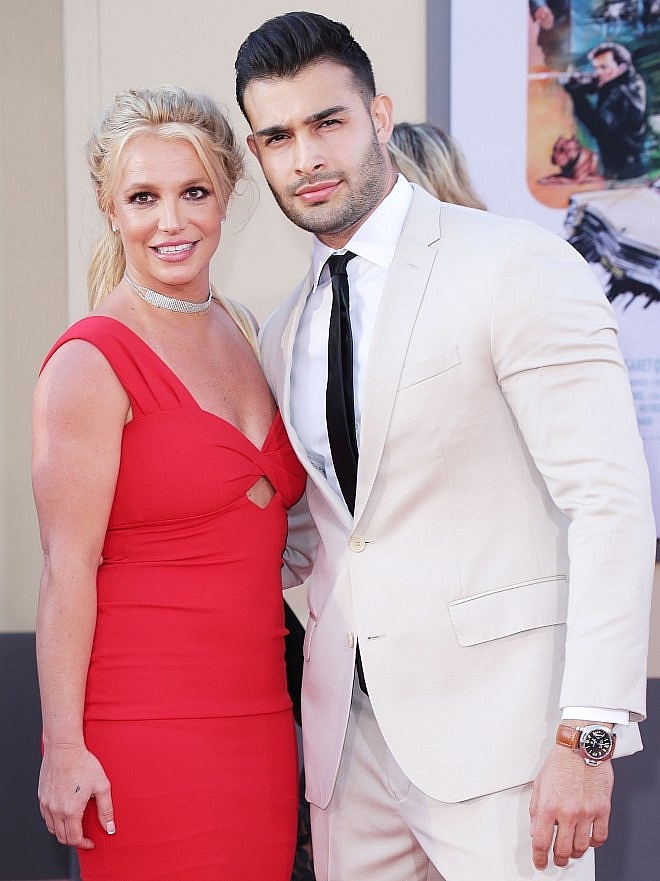 Britney Spears and Sam Asghari at the 'Once Upon a Time in Hollywood' premiere on July 22, 2019. Matt Baron/Shutterstock
Britney Spears may be going through a lot of personal turmoil at the moment but she can rely on her boyfriend, Sam Asghari, who insists they have a 'normal' relationship. The couple have been dating for two years and Sam, 25, has been a prominent figure of support for Britney, 37, in the midst of her mental health battle and conservatorship drama involving her father Jamie Spears. But fortunately the Toxic singer has her reliable boyfriend to lean on. Speaking to Us Weekly about their relationship, Sam explained: 'What I love the most about my relationship is the fact that it's so normal. It's not glamorous or anything.
Insisting her happiness over fans' worries
According to Daily Mail, not everyone may understand her Instagram posts. But Britney Spears doesn't care what everybody thinks. The singer, 38, called out her haters on Instagram, where she posted a Bible quote and insisted she was happy.
'I get how some people might not like my posts or even understand them, but this is Me being happy ….. this is Me being authentic and as real as it gets !!!!! I want to inspire people to do the same and just be themselves without pleasing others ….. that's the key to happiness,' Britney wrote on Instagram, along with a string of pink floral emojis.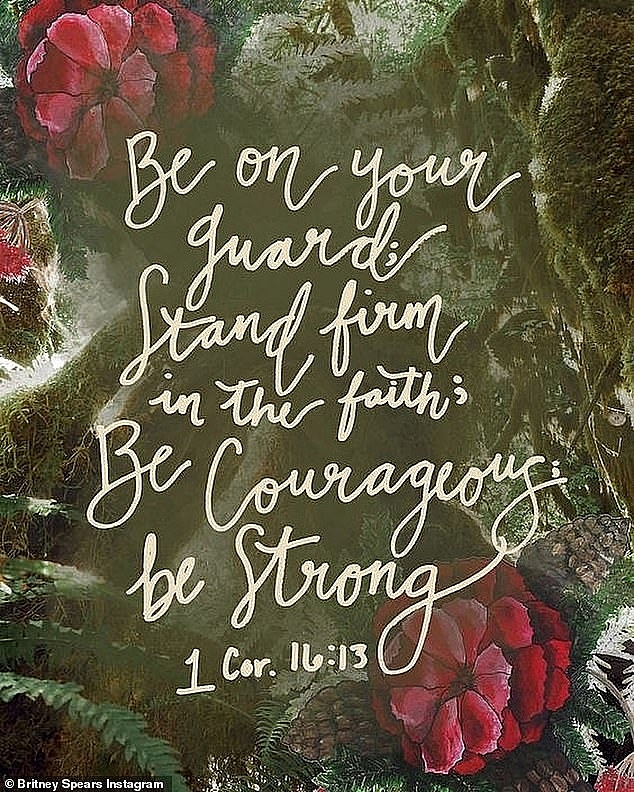 'Be strong': Spears posted a Bible verse onto her Instagram account as she addressed her haters. Daily Mail.
Britney fans have recently been left stumped by the singer's video uploads to Instagram and TikTok. Recently, they called on the star for an explanation as she showcased a quirky "left and right" dance routine. The chart star took to her caption to explain why she was holding a bright bouquet at the start of the routine and wrote: "HOLY HOLY CRAP.
#freebritney hastag trending fuels once again
Fans have indeed been concerned about the super star, with the #FreeBritney hashtag trending once again in recent days. A Change.org petition has garnered more than 82,000 signatures to let her hire a lawyer to get her out of her conservatorship, Daily Mail reported.
The petition reads: 'Since 2008 Britney Spears has been held in a conservatorship, this gives her conservator (Jamie Spears) full control over her life, body and finances/estate. Conservatorships are typically used for SEVERELY mentally ill individuals or people in comas.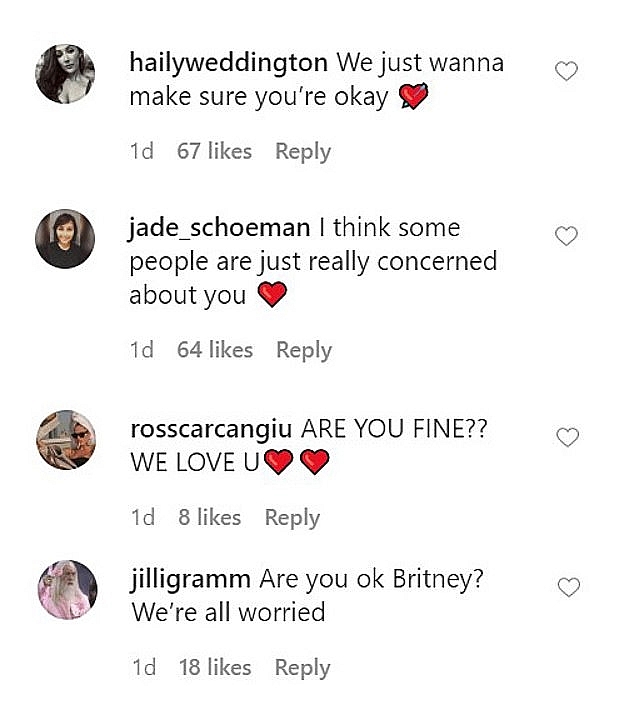 Sending their love: Worried followers assured the pop star they merely wanted to make sure she was doing OK. Photo: Daily Mail.
'Having been on 3 world tours with dangerous flying and fire stunts, it's safe to say she is sane enough to feed and clothe herself. With this conservatorship, she is unable to properly fight for her freedom as she isn't legally allowed to hire her own lawyer. We need this petition so that Britney can hire her own lawyer and live a normal life as a 38-year-old woman with two kids.'
The #FreeBritney movement gained traction last March, after she entered a psychiatric facility, which many believed to be against her will.
After fans protested outside of West Hollywood City Hall the next month, Britney took to Instagram to assure them 'all is well.'
Her father Jamie, 68, stepped down as her conservator back in September, and her care manager Jodi Montgomery took over as a temporary conservator, with the next hearing postponed to September, amid COVID-19.
The latest #FreeBritney resurgence was sparked after Kanye West's bipolar disorder and past opioid abuse came up amid his bizarre presidential bid, highlighting a double standard around gender and mental health.
One fan tweeted: 'A man has a mental breakdown, he runs for president. A woman has a mental breakdown, she's stripped of all basic rights. Kanye's a joke and #FreeBritney. I hate Hollywood.'
Britney Spears has been locked into conservatorship for over a decade. Photo: AP.
Why #freebritney trending and what conservatorship means
Why #feebritney trending
According to The Sun, fans of Britney Spears say the 38-year-old superstar is being manipulated and controlled under the grounds of her conservatorship.
Under the hashtag #freebritney, they're calling for the end of her conservatorship after Kanye West announced he would be running for president of the United States. Britney currently has no legal control over her estate or financial and personal assets — those rights were granted to her father and a lawyer 12 years ago.
She is said to be worth $59million. Specifically, fans are calling for Britney to have access to her own lawyer in her case.
The topic blew up on Twitter after Kanye announced his intention to run for office as fans noted that he, too, was hospitalized for mental illness and held against his will.
"Britney Spears goes through a mental health crisis publicly and she loses her rights. Kanye West goes through a mental health crisis publicly and he runs for president," one tweeted.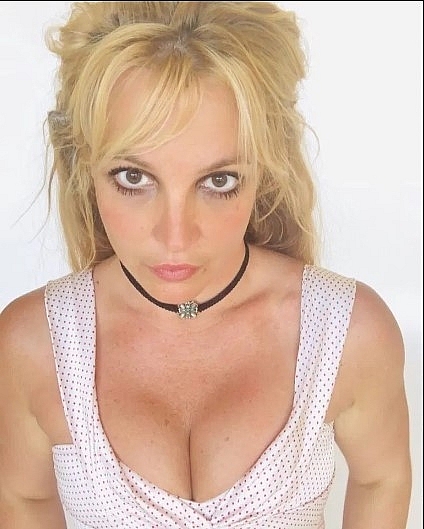 The star currently has no control over her assets Credit: INSTAGRAM
What conservatorship means
A conservatorship is a form of legal guardianship. It grants a chosen individual full authority over another's life and assets. The conservator typically holds the same rights and responsibilities as a parent would over a child. It is typically enacted for individuals who are incapable of making their own decisions.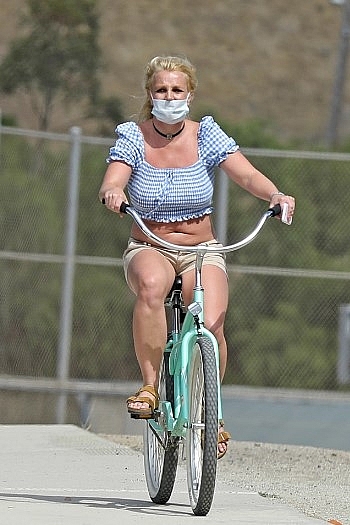 Britney rides a bike wearing a surgical mask in quarantine Credit: COLEMAN-RAYNER
Britney's conservatorship was implemented in 2008 after the star had a series of public meltdowns. The arrangement put her financial assets, estate, and personal assets under the control of her father and lawyer.
It has been extended until August 2020 according to court documents obtained by Entertainment Tonight, with temporary conservator Jodi Montgomery to stay on in the role. Montgomery is reported to be Britney's longtime care manager.
Why are fans worried about Britney?
Britney fans have recently been left stumped by the singer's video uploads to Instagram and TikTok. Recently, they called on the star for an explanation as she showcased a quirky "left and right" dance routine. The chart star took to her caption to explain why she was holding a bright bouquet at the start of the routine.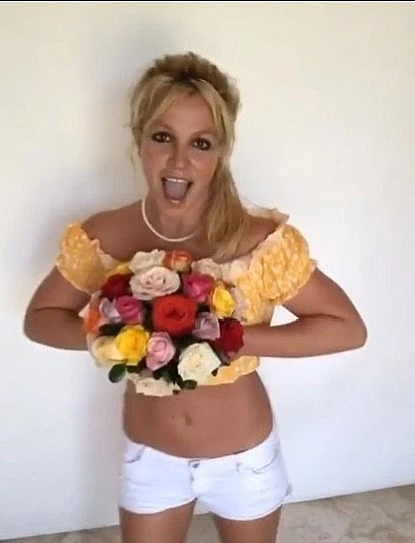 Britney Spears baffled fans with her latest dance holding a bunch of flowers Credit: INSTAGRAM
Many Britney fans have now taken to social media to highlight the double standard when it comes to gender and issues surrounding mental health in the US.
One person criticized her conservatorship and tweeted: "A man has a mental breakdown, he runs for president. A woman has a mental breakdown, she's stripped of all basic rights. Kanye's a joke and #FreeBritney. I hate Hollywood."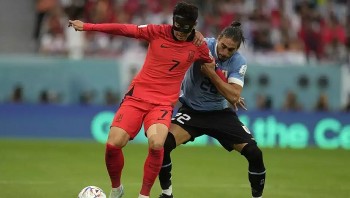 World
Both South Korea and Ghana are searching for their first wins at this year's World Cup. Ghana are facing the prospect of an early elimination from World Cup 2022 Group H when they travel to the Education City Stadium to face South Korea on Monday.