Willing Vietnamese man buys "fire engines" himself to help the society
Afraid of the serious damages that possible fire could cause to houses in small alleys, where features narrow driveways for standard fire engines, Thanh decided to buy pieces of fire-fighting equipment himself to help local residents once a blaze breaks out.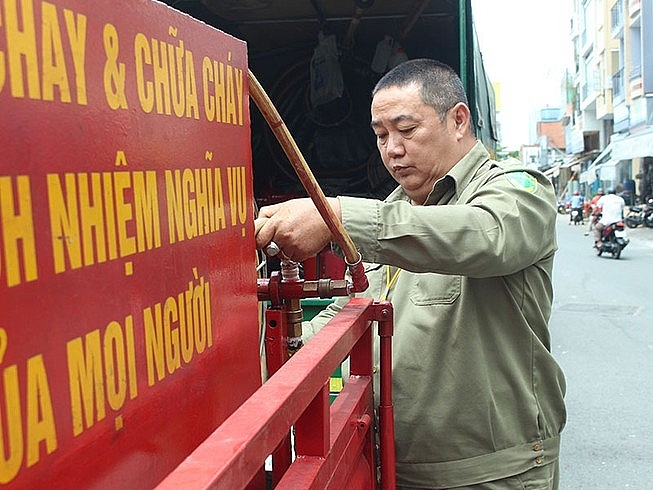 As fire would cause damages to houses in small alleys, Thanh buys fire-fighting equipment to help local residents.
Ly Nhon Thanh, 55, is working at an office of the Residential Security Board of Nguyen Thai Binh ward, District 1, Ho Chi Minh City. The office is located near Calmette Bridge. Numerous lifebuoys, life jackets, ropes, ladders and aid bandages are displayed. He is currently working as the head of the Residential Security Board, PLO reported.
Encouraging "bad drivers" to work as residential securities
Having years serving in the army and working as a security guard, Thanh is able to identify suspicious cases. He can persuade "bad drivers" to join the Board. "I can do anything to help the people" - Thanh said. They help him in fighting bad drivers and keep the area safe.
However, firefighting is a real problem that Thanh determined to solve. When he was 10, he helped people during a fire. "At that time, when my friends and I were playing football near Ben Thanh Market, we saw a bus covered in smoke. I immediately ran back to the nearest petrol station and took out a fire extinguisher to fire without any fear "- Thanh said.
In the 2002 ITC Mall fire, Thanh was also among the firsts to burst into the fire to save people. That time, when he was bringing lunch to his wife in the market, he saw a fire and did not hesitate to save lives and goods of more than 200 small businesses. He was severely injured.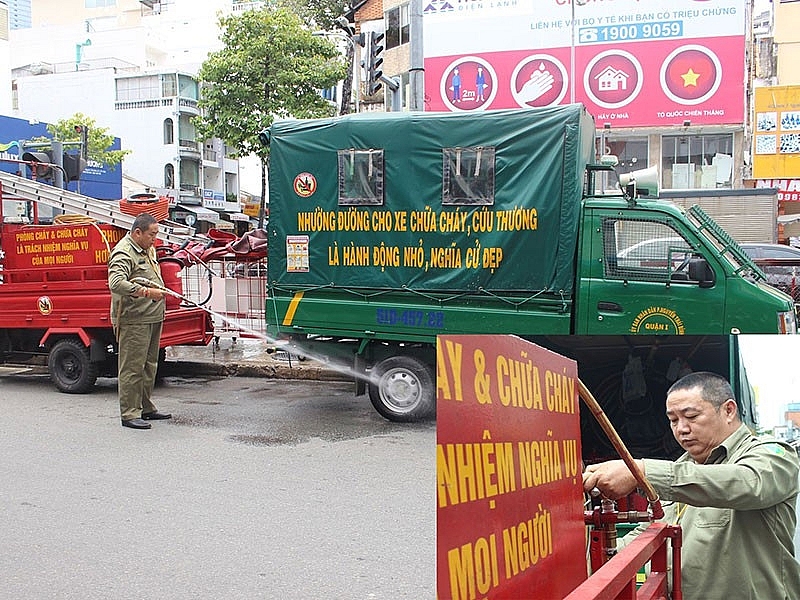 Ly Nhon Thanh regularly carries out firetruck maintenance, which he bought by his money to help people. Photo: LE THOA
Mortgaged house for firefighting equipment
After the ITC fire, he bought in firefighting equipment for Nguyen Thai Binh ward where he worked as a security guard.
During his first days at work, he bought a motorbike with firefighting equipment. On this bike, he can easily access small alleys. After a few fire cases on the bridge or roads, he could not use water from local houses, thus he decided to buy two firefighting vehicles. They are a tricycle with firefighting equipment, including a ladder and a large pump, and a small truck with other equipment such as lifebuoys, medical tools and bandages.
"My dream is to be a firefighter. I saw Thanh on TV fighting fire to help people. I decided to join the Residential Security Board to fulfil my dream. It's been three years. Uncle Thanh is like a father, guiding us. He buys vehicles so that we can work safely." – said Pham Quoc Hung (22-year-old), residential security guard.
"I remember the fire on Calmette Street, the fire was too big, plastic dripped down from the ceiling into my legs. It was painful and I had to keep the fire from spreading until firefighters come. I have carried this would since then. When the weather changes, it hurts so much that I cannot even walk", Thanh shared.
Thanh mortgaged his house to the bank to raise 2 billion VND for firefighting and rescuing equipment. He and the Residential Security Board have been fighting more than 100 fires. When he heard the fire alarm, he immediately went to the case to assist local residents in fighting the fire.
Despite financial difficulties and injuries, Thanh would never stop doing this. "I know that I might die. Even so, I am not afraid. I know this is the right thing to do."
Save people regardless of night
Mr. Nguyen Van Chien, a local resident is touched by Thanh's sacrifice for the community: "Thanh is enthusiastic about this job. He does anything for the people. Even at night, he takes injuries people to the hospital. If they have no money, he pays the fees for them. Once a guy attempting to commit suicide, Thanh and securities left their meal and ran out to save that guy. Despite the rain, Thanh stands in the middle of the road to regulate traffic."
Friendship
In Da Nang, the Vietnam-Laos Solidarity and Friendship Year 2022 was celebrated on July 2. Collectives and individuals of the Lao Women's Union were also awarded medals of Vietnam.