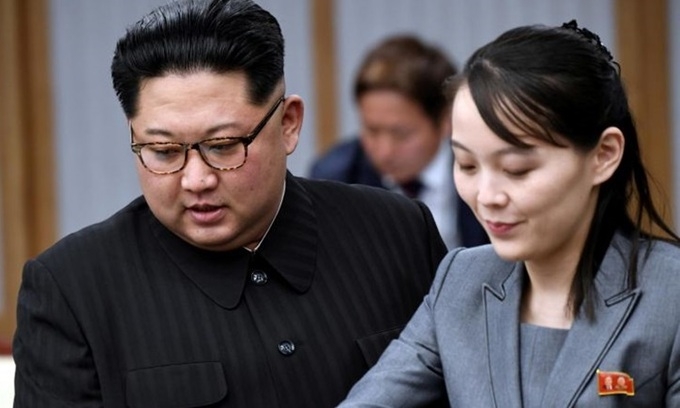 Kim Jong Un reportedly has delegated part of his authority to his younger sister, Kim Yo Jong, to help him cope with his mounting stress in leading North Korea (Photo: Reuters)
Kim Jong Un reportedly hands part of his power to sister Kim Yo Jong
According to New York Post, Kim Jong Un has delegated part of his authority to his younger sister, Kim Yo Jong, to help him cope with his mounting stress in leading North Korea, according to South Korea's spy agency.
The despot's sister now serves as his "de facto second-in-command," though she has not been designated his successor, the National Intelligence Service said.
The power shift partly seeks to "relieve (Kim's) stress from his reign and avert culpability in the event of policy failure," the intelligence agency said.
"Chairman Kim Jong Un is still maintaining his absolute authority, but some of it has been handed over little by little," it said, adding that his sister is not the only one who shares power with him.
Pak Pong Ju, vice chairman of the State Affairs Commission, and the new premier, Kim Tok Hun, have assumed power in controlling the economic sector, the agency added, Yonhap reported.
Ex-Trump adviser Steve Bannon arrested on charges of defrauding
Federal prosecutors in Manhattan announced that Bannon had been charged in an unsealed indictment for allegedly defrauding hundreds of thousands of donors through a $25 million crowdfunding campaign called, "We Build the Wall."
According to the indictment, Bannon promised that 100 percent of the donated money would be used for the project. But the three men are accused of collectively using hundreds of thousands of dollars in a manner inconsistent with the organisation's public claims. Kolfage, whom prosecutors described as the public face and founder of the operation, allegedly received thousands of dollars that he used to fund a lavish lifestyle.
However, after calling the effort a "volunteer organisation", Bannon received more than $1 million of the donations, which he funneled through a non-profit he controlled, prosecutors said, using some of it for his personal expenses.
All four men are charged with one count of conspiracy to commit wire fraud and one count of conspiracy to commit money laundering.
The indictment said they faked invoices and used sham "vendor" arrangements, among other methods, to hide what was really happening with the money, France 24 reported.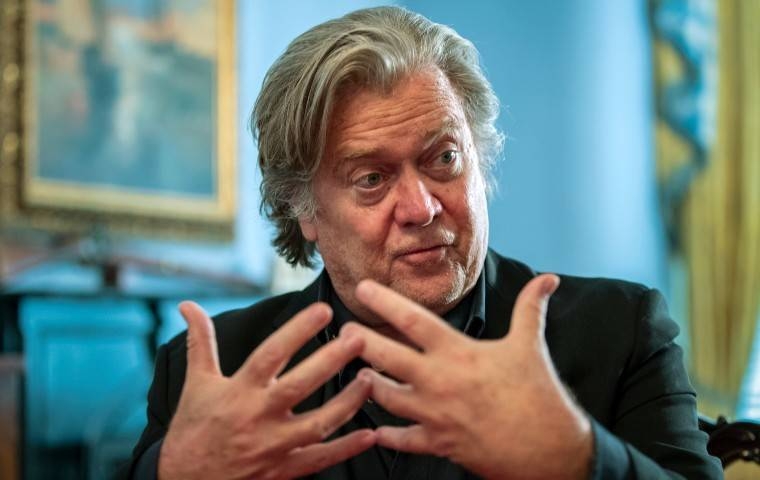 Steve Bannon (Photo: Star-Advertiser)
US to ask United Nations to reimpose sanctions on Iran for violating nuclear deal
President Donald Trump has directed Secretary of State Mike Pompeo to call on the United Nations to impose "snapback sanctions" on Iran for violations of the nuclear deal with world powers.
The United States left the 2015 Joint Comprehensive Plan of Action in 2018. The agreement allows for sanctions to be reimposed if Iran violates the agreement.
One year ago, Iran breached the uranium enrichment limit set by the nuclear deal. In January it announced that it had enriched enough uranium to build a nuclear bomb.
Trump's order comes days after the U.N. Security Council voted against a U.S.-drafted resolution to extend the international arms embargo on Iran. The embargo is set to expire in October as part of the nuclear deal. It is not clear, however, whether the U.S. can reactivate the sanctions since it is no longer a partner to the agreement, as reported by Jewish Telegraphic Agency.
Pompeo was scheduled to travel to New York to make the case for the sanctions on Thursday and Friday, The New York Times reported. But he told reporters at a news conference Wednesday with Iraqi Foreign Minister Fuad Hussein that "I don't have any announcement on timing on when we're going to do – the President's made clear we're going to do that soon, and we will."
He added that the request would be a "fully valid, enforceable UN Security Council resolution," and that "We have every expectation that they'll be enforced just like every other UN Security Council resolution that is in place".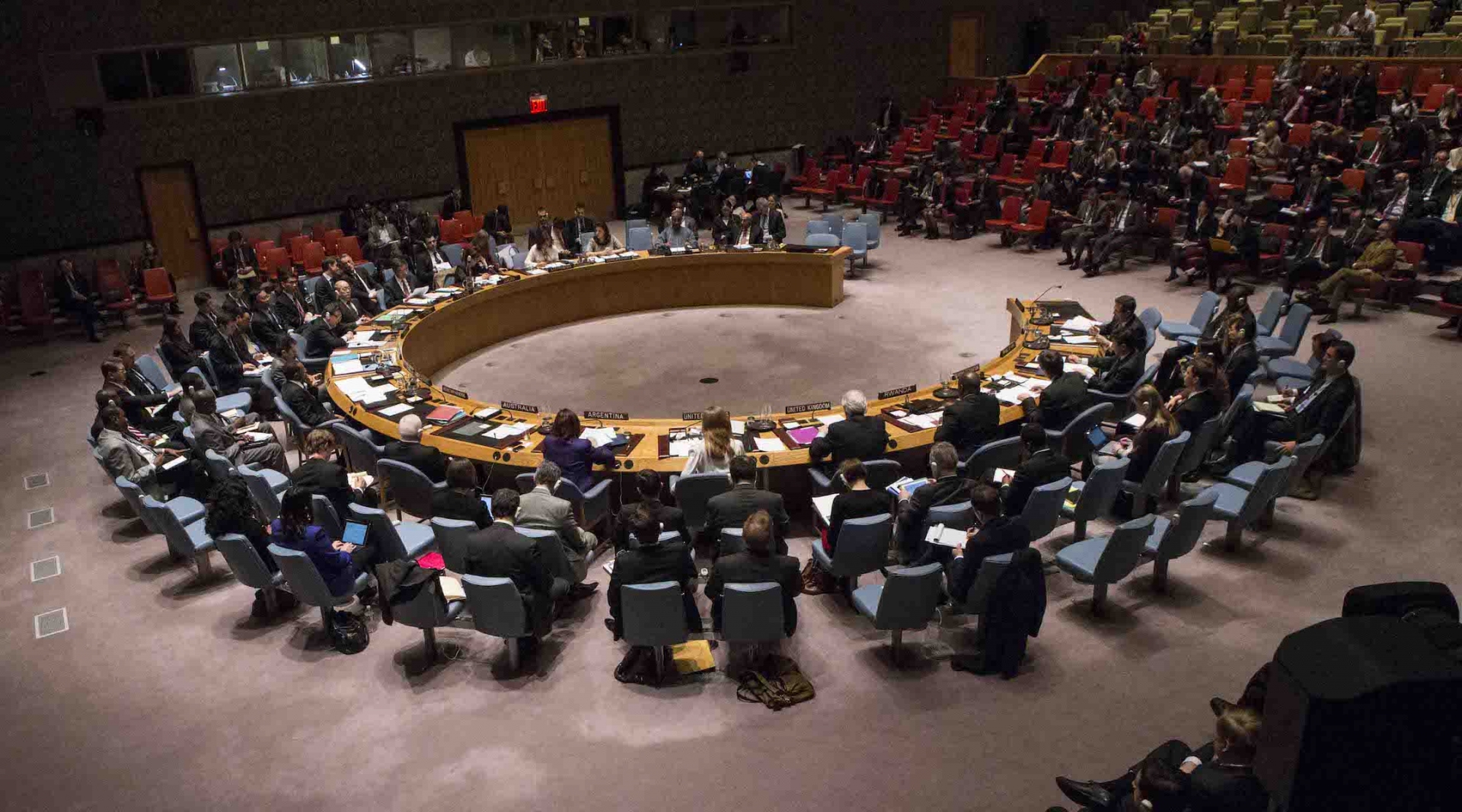 US to ask United Nations to reimpose sanctions on Iran for violating nuclear deal (Photo: Jewish Telegraphic Agency)
Gold price today plunge, fall ₹1,600 in 2 days; silver rates crash
Gold and silver prices continued to decline for the second in Indian markets. On MCX, October gold futures were down ₹700 to ₹51,915 per 10 gram. Tracking gold, silver futures were also down ₹900 to ₹67,028 per kg. In the previous session, gold had slumped 1.8% or ₹950 per 10 gram while silver had crashed 2% or ₹1,400 per kg. Gold prices have been volatile in India after hitting a new high of ₹56,191 per 10 gram.
In global markets, gold rates today recovered some ground after slumping more than 3.5% to a near one-week low in the previous session. Today, spot gold was up 0.5% at $1,940 per ounce. Among other precious metals, silver rose 0.8% to $26.94 per ounce while platinum climbed 0.3% to $934.01.
The reason for gold crash's in the previous session: Minutes from the latest Fed meeting gave few clues about whether an even more dovish shift in its policy framework is possible in the 18 September meeting.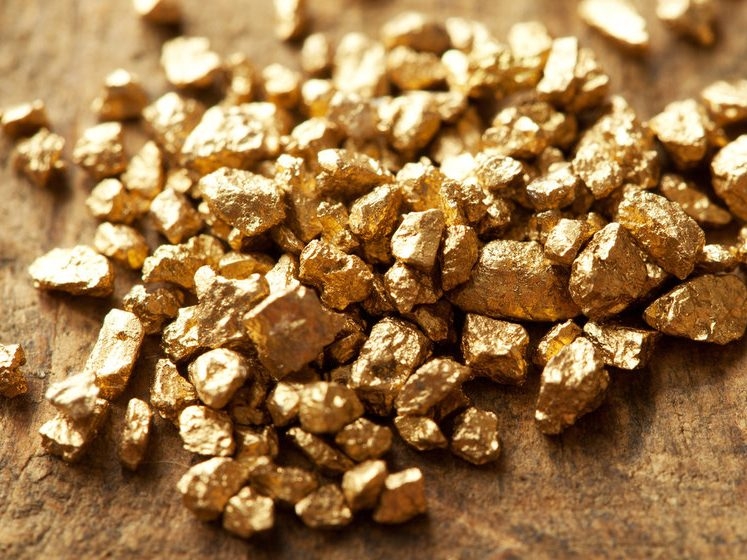 (Photo: Mining Technology)
Gold's advance today was limited by a higher dollar, which makes the precious metal expensive for holders of other currencies. The dollar index today rose 0.2% after sharp gains in the previous session against its rivals,
Higher treasury yields also capped gold's advance. Higher yields increase the opportunity cost of holding non-yielding assets such as bullion. Minutes showed US Fed skeptical about capping government bond yields as a means of encouraging recovery and investment.
Many analysts still remain bullish on gold which is up 27% this year in global markets. Spot gold hit an all-time high of $2,075.47 on August 7 as the dollar weakened and real interest rates fell well below zero. But since then gold has been on a wild ride, Live Mint reported.
Jasmine Le