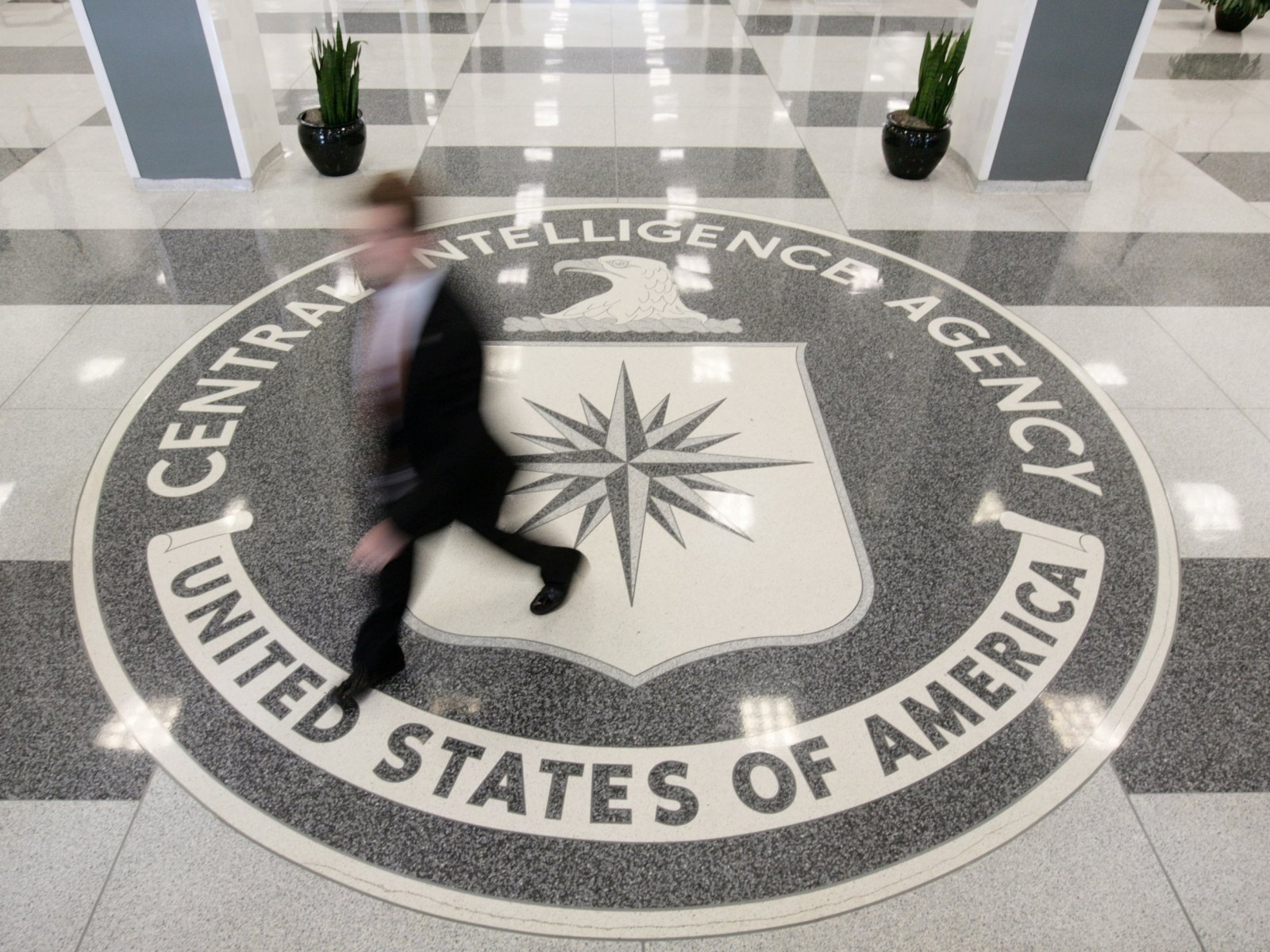 Alexander Yuk Ching Ma, 67, from Honolulu was charged with violating American espionage laws after working for the CIA from 1982-1989 (Photo: The Hill)
Former CIA officer charged with selling US secrets to China
Alexander Yuk Ching Ma, 67, from Honolulu was charged with violating American espionage laws after working for the CIA from 1982-1989. The charge for the naturalized U.S. citizen who was born in Hong Kong was unsealed Monday morning.
Prosecutors said Ma met officials from China's intelligence service in Hong Kong 12 years after he retired and allegedly shared information about CIA operations, who CIA officers and human assets were and how the agency communicates.
A video recording of the meeting allegedly showed Ma getting and counting $50,000 in cash for the information, The Hill reported.
Ma worked as a Chinese linguist in the FBI's Honolulu field office after leaving the CIA. Prosecutors allege that he used his position to copy and photograph classified documents and give them to Chinese sources. NBC News reported the information included documents on guided missile and weapons systems.
Prosecutors said Ma said he "wanted 'the motherland' to succeed" and allegedly told the agent that he gave classified information to the Chinese government.
Ma could face life imprisonment if convicted.
Trump wants to commemorate his brother in the White House
President Donald Trump said on Monday he was looking at having a memorial service for his late brother, Robert Trump, on Friday at the White House, as reported by Reuters.
Robert Trump, 71, died on Saturday night at a hospital in New York of an undisclosed illness.
"We're looking at Friday and we may do just a small service here at the White House for my brother," Trump told reporters as he left the White House on a trip to Minnesota and Wisconsin.
"I think he would be greatly honored. He loved our country so much," Trump said. "I think it would be appropriate. So we will probably Friday afternoon have a small service in honor of my brother Robert."
President Trump has campaign travel this week on Monday, Tuesday and Thursday.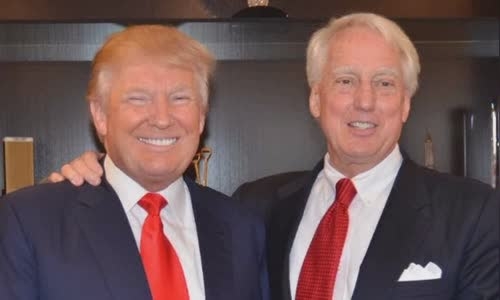 Trump and his late brother (Photo: Stream News)
Russia summons Dutch diplomat after discovery of "tracking equipment"
Russia has summoned a Dutch diplomat to Moscow over alleged spying on Russia's military attaché in the Netherlands, AFP reported.
The Russian Foreign Ministry announced on Monday that they had "strongly protested" to the discovery of "tracking equipment" in the service car of an embassy assistant.
Moscow has instructed the Charge d'Affaires of the Netherlands, Dominique Bakker-Kühling, to "immediately take comprehensive measures to prevent such incidents".
"Such unfriendly actions complicate the already difficult bilateral relations," the ministry said in a statement.
Prime Minister Mark Rutte has declined to comment, according to Dutch media.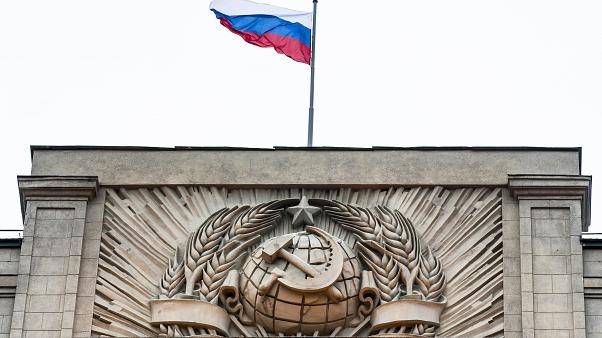 Espionage equipment was found in a Russian service car in The Hague (Photo: Euro News)
Prices Surge but As Buffet Joins Gold Rally
Gold prices rebounded sharply on Monday following news on Friday that Warren Buffet had taken a big stake in Barrick Gold. The dollar continued to trend lower, while US yields ran into resistance and eased throughout the trading session.
Gold prices rose nearly 2% on Monday but were unable to recapture resistance is seen near the 10-day moving average at 1,989. Target support is seen near the 50-day moving average at 1,845. Short-term momentum has turned positive as the fast stochastic generated a crossover buy signal. Medium-term momentum has turned negative as the MACD (moving average convergence divergence) index generated a crossover sell signal. This occurs as the MACD line (the 12-day moving average minus the 26-day moving average) crosses above the MACD signal line (the 9-day moving average of the MACD line). The MACD histogram is printing in the red with a declining trajectory which points to accelerating negative momentum.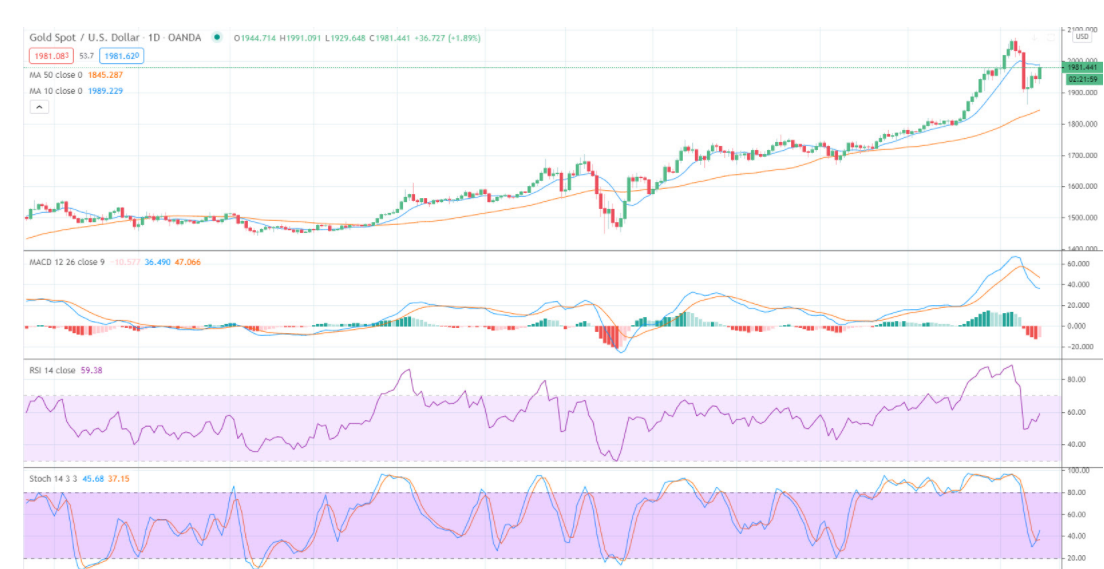 (Photo: Kitco News)
Builder confidence in the newly built, the single-family home market jumped 6 points to 78 in August on the National Association of Home Builders/Wells Fargo Housing Market Index. Anything above 50 is considered positive sentiment. The index is now at the highest level in the 35-year history of the monthly series and matches the record set in December 1998. Builder sentiment plunged to 30 in April, when the coronavirus pandemic shut down the U.S. economy, but it recovered quickly as consumers suddenly sought more space in less urban areas, FX Empire said.
Jasmine Le