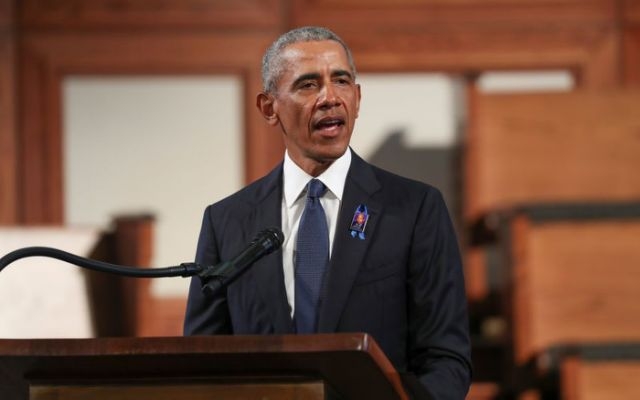 Former U.S. President Barack Obama will tell Democrats on Wednesday that Donald Trump's failures have left 170,000 Americans dead from the coronavirus pandemic (Photo: Yahoo News Singapore)
Obama to say Trump has failed, praise Biden as 'a brother'
Former U.S. President Barack Obama will tell Democrats on Wednesday that Donald Trump's failures have left 170,000 Americans dead from the coronavirus pandemic, cost millions their jobs and threatened democracy both at home and abroad.
"He's shown no interest in putting in the work; no interest in finding common ground; no interest in using the awesome power of his office to help anyone but himself and his friends; no interest in treating the presidency as anything but one more reality show that he can use to get the attention he craves," Obama was quoted by Reuters as saying.
"Donald Trump hasn't grown into the job because he can't."
Obama's words echo those of his wife, Michelle Obama, who said on Monday night that Trump had proven he was incapable of meeting the moment and "simply cannot be who we need him to be."
Obama, who remains enormously popular among Democratic voters, will also use his speech to offer a personal endorsement of Biden, who served as his vice president for eight years.
New York teachers threaten strike if schools reopen without more COVID-19 testing
New York City teachers on Wednesday threatened to strike or bring legal action unless the largest U.S. school district implements a more rigorous COVID-19 testing plan and other safety measures before reopening schools next month, Reuters reported.
The warning by the United Federation of Teachers, which represents the city's 133,000 public school teachers, could delay Mayor Bill de Blasio's plan to provide a mix of in-classroom and online learning from Sept. 10.
"The minute we feel that the mayor is trying to force people in to a situation that is unsafe... we go to court, we take a job action," UFT President Michael Mulgrew said during a briefing, adding that a "job action" could include a strike.
Residents of college towns have voiced concerns about flare-ups in cases once students return.
Three towns in Connecticut, where the infection rate has recently hovered below 1%, urged state health officials to enforce strict social distancing measures for college students arriving from areas with higher infection rates.
Middlebury College in Vermont has told students to "pack light" when returning to campus and have an evacuation plan in the event of an outbreak.
At Tulane University in New Orleans, students were invited back to campus this week but were told they could be expelled or suspended for hosting large gatherings.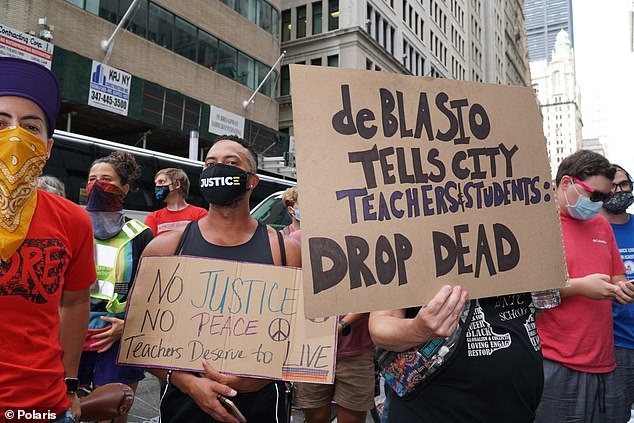 New York City teachers on Wednesday threatened to strike or take legal action unless the largest US school district implements a more rigorous COVID-19 testing plan of reopening next month (Photo: Daily Mail)
Greece's top national security advisor resigns over Turkey remarks
Greek Prime Minister Kyriakos Mitsotakis' top national security advisor stepped down on Wednesday after suggesting that Greece conceded ground to Turkey in their ongoing face-off over offshore energy prospecting rights in the eastern Mediterranean, as reported by Euro News.
Alexandros Diakopoulos said his comments — which he had later retracted — "caused confusion and created a problem" for Mitsotakis and his centre-right government, "which was not my intention."
Greece says it has exclusive economic rights on much of the seabed Turkey is surveying, and demanded that the Turkish government withdraw the 'Oruc Reis' research vessel and its naval escort. Ankara refused to do so, arguing it has every right to prospect there and in waters claimed by Cyprus.
Diakopoulos embarrassed the Greek government by saying in a TV interview that the Turkish ship had been able to conduct research — contradicting the official narrative that Greek naval ships deployed to the area had prevented any real work from being carried out over the country's continental shelf.
Greece's main opposition Syriza party contrasted the national security advisor's comments with the government's contention that any attempt to breach Greek sovereignty would trigger a harsh response.
Mitsotakis has balanced tough talk with a desire to avoid starting a military confrontation with Greece's much bigger and more heavily-armed neighbour. The prime minister has also focused on drumming up support from EU partners and other regional countries.
Despite the concentration of naval units around the 'Oruc Reis,' tensions have not escalated uncontrollably. Nevertheless, Greek state ERT TV reported on Wednesday that a Greek and a Turkish escort frigate collided last week after the Turkish vessel left its position and suddenly cut across the bow of the Greek ship on its right — which hit it close to the stern.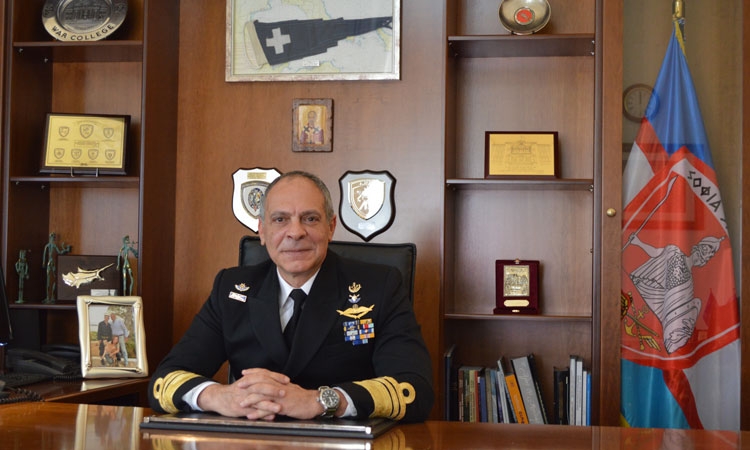 Greek Prime Minister Kyriakos Mitsotakis stepped down on Wednesday after suggesting that Greece conceded ground to Turkey in their ongoing face-off over offshore energy prospecting rights (Photo: Greek Herald)
Gold Price Prediction – Prices Drop as the Dollar Rebounds
Gold prices moved lower as the dollar rebounded and US yields moved sideways. The rally in the greenback came as the dollar was oversold having declined more than 10% since hitting a high in March. The Fed meeting minutes from their July meeting showed that Fed officials are concerned that the spread of the coronavirus could continue to weigh on economic growth.
Gold prices dropped nearly 3% eliminating the week gains in one day following two consecutive days of more than 1% upside. Prices sliced through short term support near the 10-day moving average at 1,978, which is now seen as resistance. Target support is seen near the 50-day moving average at 1,855, but appears to be about to generate a crossover sell signal. Medium-term momentum remains negative as the MACD histogram is printing in the red with a sliding trajectory which points to lower prices, according to FX Empire.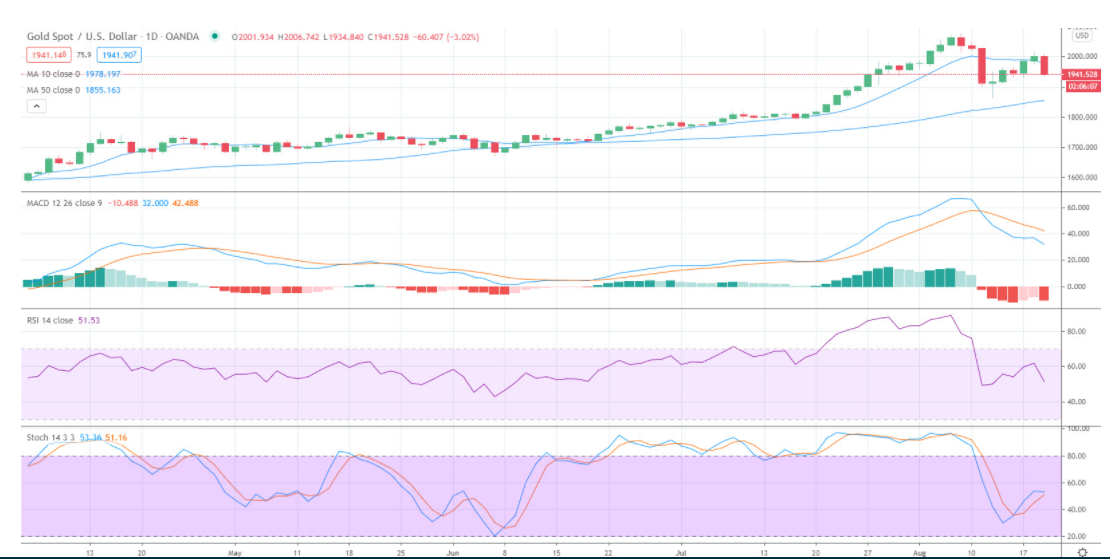 (Photo: FX Empire)
Jasmine Le