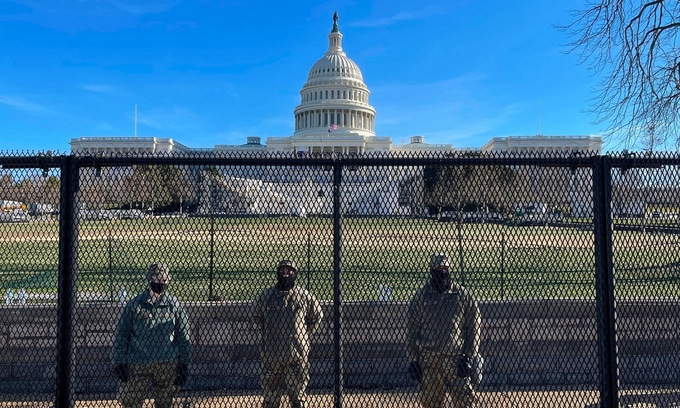 U.S. Capitol Police plan to maintain their enhanced level of security around the Capitol at least through President Joe Biden's first official address to Congress (Photo: AFP)
Capitol Police chief warns extremists 'want to blow up the Capitol' when Biden addresses Congress
U.S. Capitol Police plan to maintain their enhanced level of security around the Capitol at least through President Joe Biden's first official address to Congress because intelligence suggests that extremists could be planning an attack, acting Chief Yogananda Pittman said Thursday.
"We know that members of the militia groups that were present on January 6th have stated their desires that they want to blow up the Capitol and kill as many members as possible with a direct nexus to the State of the Union, which we know that date has not been identified," she told members of Congress, referring to Biden's coming first address to a joint session of Congress.
"So based on that information, we think that it's prudent that Capitol Police maintain its enhanced and robust security posture until we address those vulnerabilities going forward," she said.
Pittman was asked at a House Appropriations subcommittee hearing on the Jan. 6 riot at the Capitol about the need for continued security measures around the building, including fencing and the deployment of the National Guard.
Pittman emphasized that the rioters who attacked the Capitol "weren't only interested in attacking members of Congress and officers."
Biden is expected to deliver an address to a joint session of Congress, similar to a State of the Union address, sometime after Congress passes his Covid-19 relief package, NBC News said.
UK announces further sanctions against Myanmar generals
Britain announced further sanctions Thursday against members of Myanmar's military for their part in the coup that ousted the country's elected government.
Foreign Secretary Dominic Raab said six more top generals face sanctions for serious human rights violations, in addition to 19 others previously listed by the U.K.
The new round of sanctions targets Myanmar's State Administration Council, which was set up following the coup to exercise state functions. The measures immediately ban the generals, including Commander-in-Chief Min Aung Hlaing, from traveling to Britain and will prevent U.K. businesses and institutions from dealing with their funds or economic resources in Britain.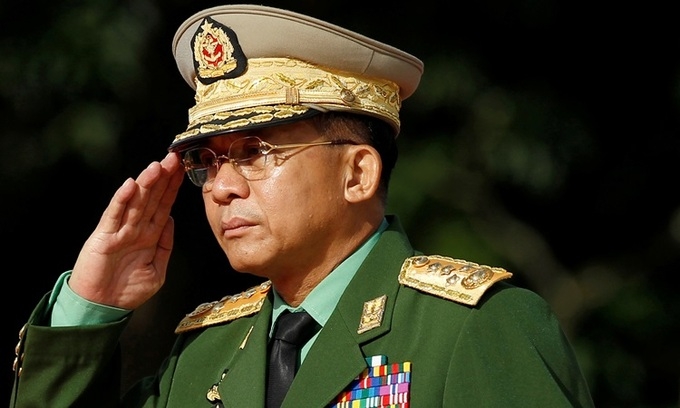 Commander-in-Chief Min Aung Hlaing (Photo: Reuters)
The British government added that it will ensure U.K. businesses do not trade with Myanmar's military-owned companies.
The government has said it was ending aid programs that sent money to the Myanmar government but that aid would still reach "the poorest and most vulnerable in Myanmar", Start Tribune reported.
Biden orders airstrikes against Iran-backed militia in Syria
The United States launched airstrikes in Syria on Thursday, targeting facilities near the Iraqi border used by Iranian-backed militia groups. The Pentagon said the strikes were retaliation for a rocket attack in Iraq earlier this month that killed one civilian contractor and wounded a U.S. service member and other coalition troops.
The airstrike was the first military action undertaken by the Biden administration, which in its first weeks has emphasized its intent to put more focus on the challenges posed by China, even as Mideast threats persist. Biden's decision to attack in Syria did not appear to signal an intention to widen U.S. military involvement in the region but rather to demonstrate a will to defend U.S. troops in Iraq.
Austin said he recommended the action to Biden.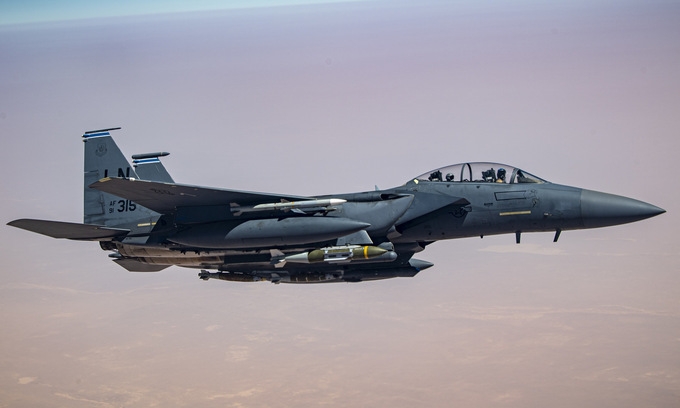 (Photo: USAP)
Earlier, Pentagon spokesman John Kirby said the U.S. action was a "proportionate military response" taken together with diplomatic measures, including consultation with coalition partners.
Kirby said the U.S. airstrikes "destroyed multiple facilities at a border control point used by a number of Iranian- backed militant groups," including Kataib Hezbollah and Kataib Sayyid al-Shuhada. The U.S. has blamed Kataib Hezbollah for numerous attacks targeting U.S. personnel and interests in Iraq in the past.
Further details were not immediately available, according to Market Watch.
India tightens regulatory grip on Facebook, WhatsApp with new rules
India announced new rules on Thursday to regulate content on social media, making Facebook, WhatsApp and others more accountable to legal requests for swift removal of posts and sharing details on the originators of messages, as reported by Reuters.
The rules -- part of an effort by Prime Minister Narendra Modi's nationalist government to tighten the leash on Big Tech -- come after Twitter recently ignored government orders to drop content related to farmers' protests.
India is the largest market by users for both Facebook and its messenger service WhatsApp.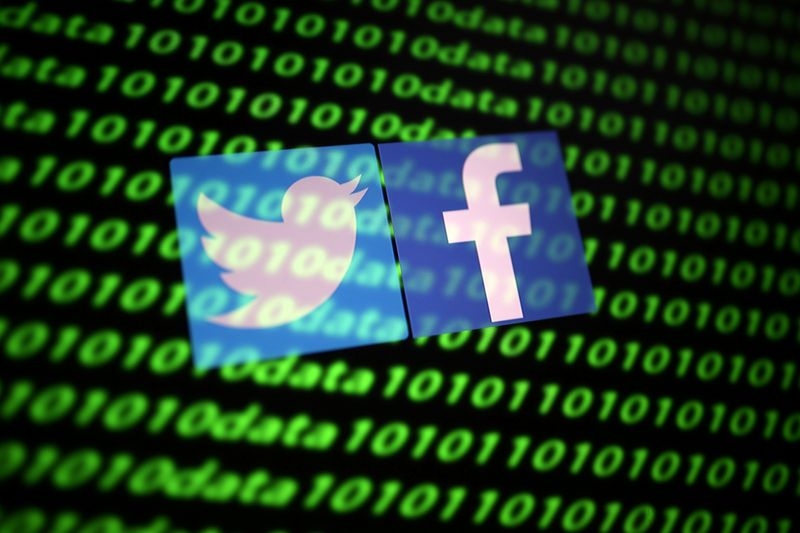 (Photo: US News and World Reports)
The new rules issued by the government, called the Intermediary Guidelines and Digital Media Ethics Code, will be legally enforceable.
They will require big social media companies to set up a grievance redressal mechanism and within three months appoint new executives to coordinate with law enforcement.
Social media firms should be "more responsible and accountable," Ravi Shankar Prasad, the minister for information technology, told reporters in outlining the rules.
Big social media firms will be obliged to remove content within 36 hours of receiving a legal order, according to the rules.
The government also said companies need to assist in probes or other cyber security-related incidents within 72 hours of receiving a request. They must also disable within a day any post depicting an individual in a sexual act or conduct, said the rules, a draft copy of which was reported by Reuters on Wednesday.
Gold price forecast – gold markets get hammered
Gold markets got crushed during the trading session on Thursday, as interest rates continue to cause havoc in the gold market.
Gold markets have broken down a bit during the trading session on Thursday, slicing down below a couple of hammers. At this point, gold looks like it is about to fall apart, but it is not until we break down below the $1750 level that I feel gold really start to kick off a major move lower. The $1500 level underneath could be the target given enough time, and obviously we will not get there overnight. Gold is extremely sensitive to interest rates, mainly for the ability to simple collect coupons instead of paying for storing gold.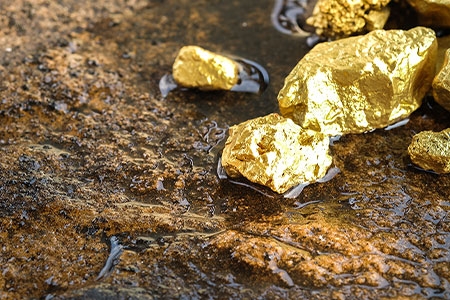 (Photo: Global Mining Review)
While some metals will do quite well, namely silver and platinum, gold is going to get hammered in the reflation trade if interest rates continue to climb. Because of this, there has been a bit of a market to be made for shorting gold while buying silver and profiting from the differential.
This spread trade has been quite profitable, and one that a lot of people are getting involved in. Silver is sent to break out, while gold is set to break down. This does not mean the gold has to break down, just that it is more likely than not going to continue to see downward pressure, but if we do get that breakdown, it could be a rather sudden and violent drop, FX Empire reported.
Jasmine Le