World breaking news today (March 18): 21 Republican-led states sue Biden
World breaking news today (March 18): 21 Republican-led states sue Biden. Meanwhile, EU threatens to halt Covid vaccine exports to UK, North Korea ignores US offer for talks, Russia recalls US ambassador and gold price also make headlines today.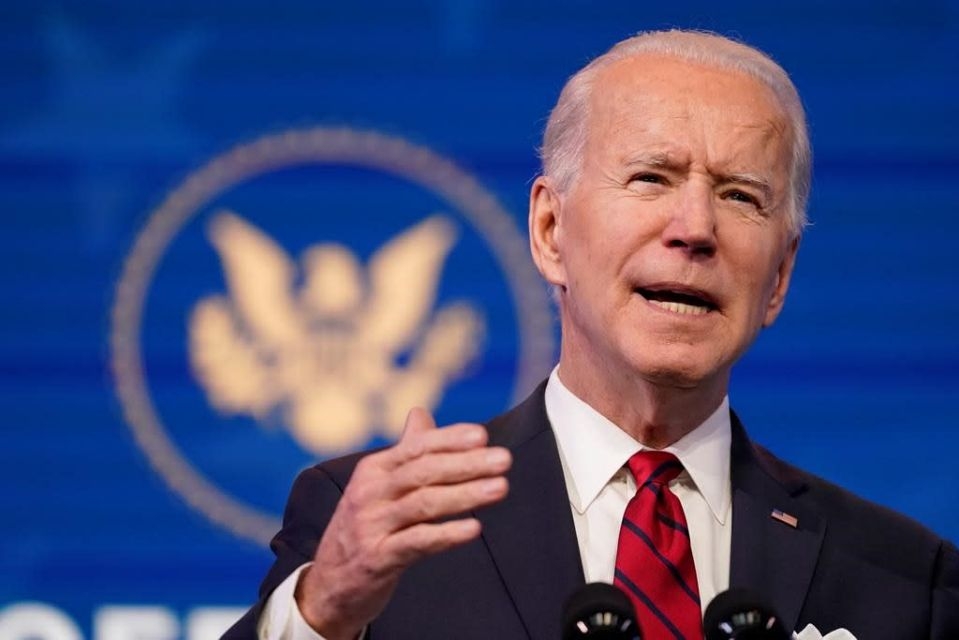 Texas, Montana and 19 other Republican-led states are suing President Joe Biden (Photo: Yahoo Finance)
21 Republican-led states sue Biden
Texas, Montana and 19 other Republican-led states are suing President Joe Biden, Secretary of State Antony Blinken and other Cabinet members in federal court over his rejection of the Keystone XL pipeline.
The lawsuit was filed Wednesday in U.S. District Court for the Southern District of Texas. Along with Texas and Montana, the other plaintiffs are Alabama, Arizona, Arkansas, Georgia, Indiana, Kansas, Kentucky, Louisiana, Mississippi, Missouri, Nebraska, North Dakota, Ohio, Oklahoma, South Carolina, South Dakota, Utah, West Virginia and Wyoming.
Many of those states are not geographically near the proposed path for Keystone XL, which would carry oil from tar sands in Alberta, Canada, to refineries along the Texas Gulf Coast. So why do those states believe they have standing? The Montana Attorney General's office says it's because nixing the pipeline would "also have a ripple effect that adversely impacts the economy and environment in non-pipeline states."
The GOP-led states argue that Biden exceeded his authority by revoking the permit for Keystone XL on his first day in office, because of a provision Congress tucked into tax legislation in 2011 that required then-President Barack Obama to either approve the pipeline within 60 days or issue a determination that it wasn't in the national interest, according to NBC News.
EU threatens to halt Covid vaccine exports to UK
The EU is prepared to take exceptional steps to halt exports of Covid-19 vaccines to Britain and secure doses for its own citizens unless the UK starts shipping shots to the bloc, the European commission president has said.
As reported by Guardian, Ursula von der Leyen's threat quickly produced a strong response from the UK, with the foreign secretary, Dominic Raab, accusing the EU of engaging in brinkmanship of the type exhibited by "less democratic countries".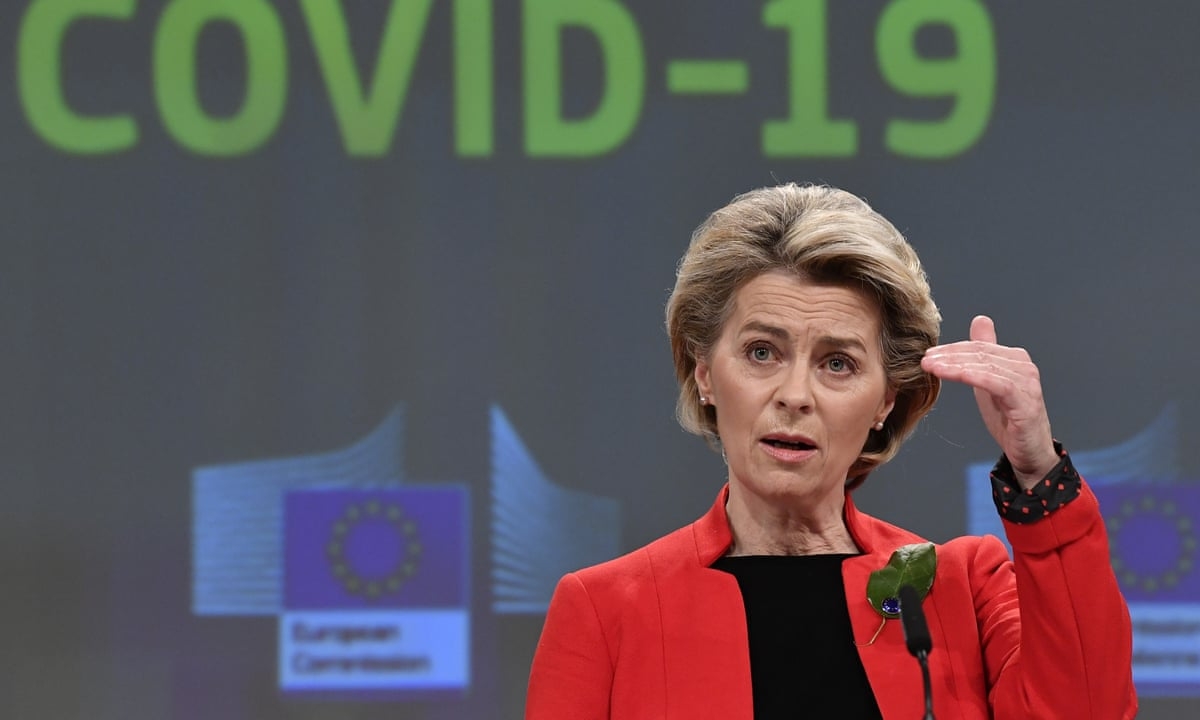 (Photo: Guardian)
Von der Leyen's comments come the same day NHS England revealed that people under 50 will have to wait a month longer than planned for their Covid vaccination because of a major shortage of vaccine that will start at the end of the month.
The commission president said that the EU wanted "to see reciprocity and proportionality in exports and we are ready to use whatever tool we need to deliver on that" . She added: "This is about making sure that Europe gets its fair share."
Von der Leyen said the EU could trigger article 122 of the EU treaty, an emergency clause which would allow the bloc to take exceptional measures such as seizing production of vaccines and suspending intellectual property rights "if severe difficulties arise in the supply of certain products" to member states.
North Korea ignores US offer for talks, citing hostility
North Korea said Thursday it will ignore a U.S. offer for talks unless it withdraws its hostile policy, after Washington reached out to Pyongyang in a bid to resume nuclear negotiations.
The statement by Choe Son Hui, the first foreign minister, came hours before the U.S. and South Korean foreign and defense chiefs met in Seoul for their first joint talks in five years to discuss North Korea's nuclear program.
"What has been heard from the U.S. since the emergence of the new regime is only a lunatic theory of 'threat from North Korea' and groundless rhetoric about 'complete denuclearization,'" Choe said, calling the offer for talks a "time-delaying trick."
He reiterated North Korea's position that no "dialogue of any kind" can be possible unless the U.S. rolls back its hostility. "Therefore, we will disregard such an attempt of the U.S. in the future, too."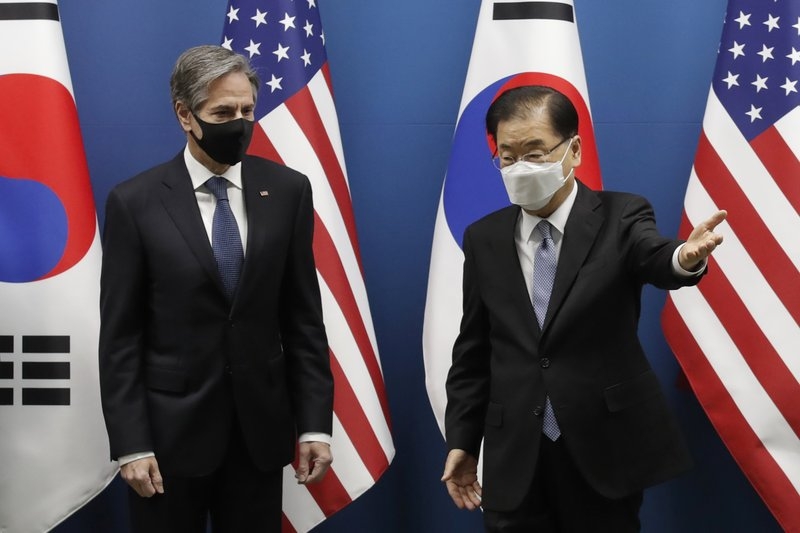 (Photo: AP)
U.S.-led diplomacy focusing on North Korea's nuclear weapons remains stalemated for about two years because of disputes over U.S.-led sanctions. Experts are debating whether the United States and its allies should settle for a deal that would freeze North Korea's nuclear activities in return for relaxing sanctions to prevent its arsenal from growing.
Earlier this week, the powerful sister of North Korean leader Kim Jong Un threatened to abandon rapprochement with South Korea and warned the United States to "refrain from causing a stink," while criticizing regular U.S.-South Korean military drills that her government views as an invasion rehearsal, AP reported.
Russia recalls US ambassador after Biden threatens sanctions for election-meddling
Russia recalled its ambassador to the United States to Moscow for consultations on the future of US-Russia ties on Wednesday, shortly after President Joe Biden said Vladimir Putin would "pay a price" for alleged election-meddling.
Russia said it had summoned its Washington ambassador to Moscow for consultations on its ties with the United States, but stressed it wanted to prevent an "irreversible deterioration" in relations.
The announcement from the Russian foreign ministry came after US President Joe Biden said Russia would "pay a price" for meddling in US elections and he agreed with the assessment that his Russian counterpart Vladimir Putin is a "killer".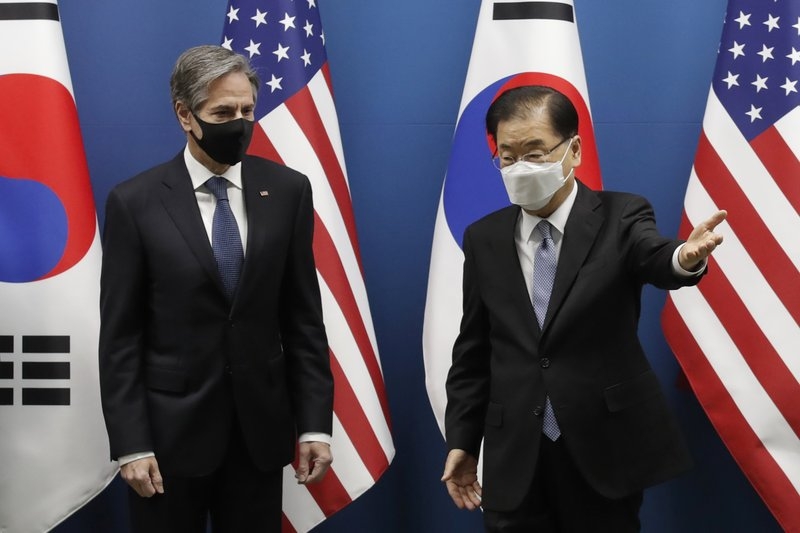 (Photo: LA Times)
"The Russian ambassador in Washington, Anatoly Antonov, has been invited to come to Moscow for consultations conducted with the aim of analysing what should be done and where to go in the context of ties with the United States," Russian foreign ministry spokeswoman Maria Zakharova said in a statement.
Zakharova said the most important thing for Moscow was to determine how to mend Russian-US ties "that have essentially been driven by Washington into a dead end in recent years".
The foreign ministry did not reference Biden's remarks on Putin, but said Moscow wanted to analyse the results of Biden's first 100 days in office, France 24 reported.
Gold price forecast – gold markets await central bank intervention
Gold is sitting sideways at a very low level, as we wait to figure out whether or not the FOMC will give hints of some type of action to bring down yields.
Gold markets have been very quiet in general during the trading session on Wednesday as we await the FOMC meeting results and more importantly the question and answer session. All things being equal, this is a market that I think is trying to make a longer-term decision based upon the fact that we are sitting at a potentially major support level, and as a result it is likely that we would see a lot of interest here.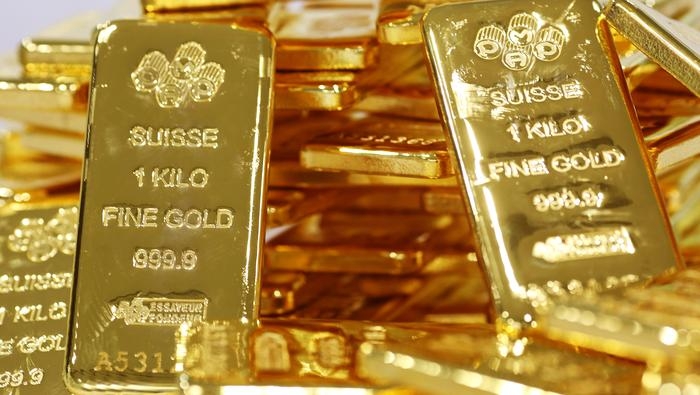 (Photo: Daily FX)
One of the most important things to pay attention to is the bond markets, as the spike in yields have worked against the value of gold, as it is much easier to simply clip coupons in the bond market than it is to pay for storage of gold. That being said, the market is likely to continue to see a lot of noise, but if the bond yields get pushed lower, that will help gold as the 61.8% Fibonacci retracement level of course would be a place that a lot of people would be paying attention to, not to mention the fact that the $1700 level is a large, round, psychologically significant figure, FX Empire said.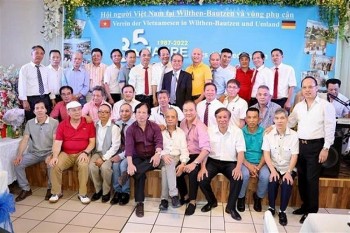 Economy
The Overseas Vietnamese Association in Wilthen - Bautzen and surrounding areas in Germany held a get-together on the occasion of the 35th anniversary of Vietnam - Germany labour cooperation.