World Intellectual Property Day Observed in Hanoi
In celebration of World Intellectual Property Day, a movie screening was held in Hanoi. The event was an opportunity for young people to learn more about the role of the intellectual property in stimulating innovation and creativity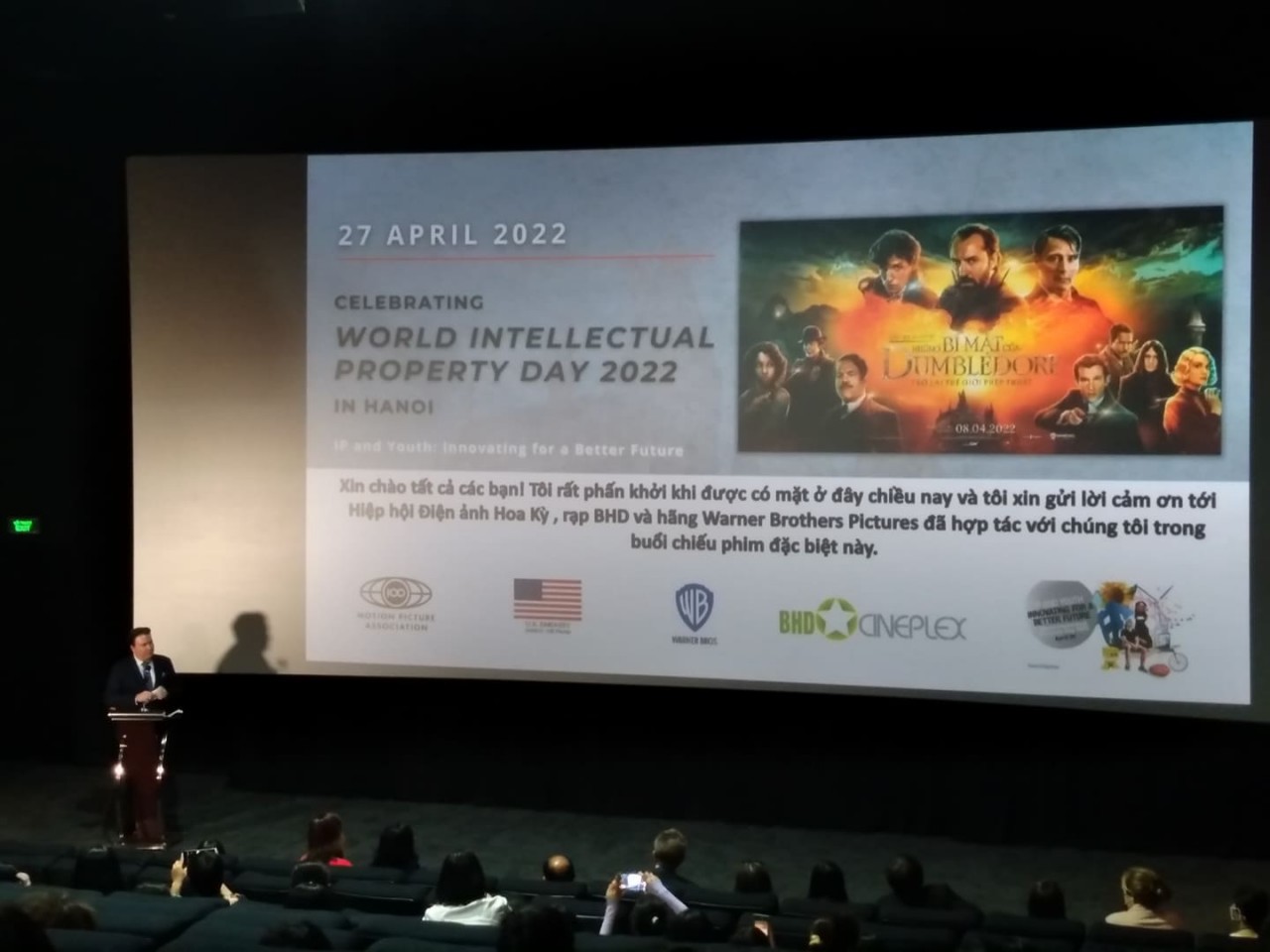 Remark by U.S. ambassador to Vietnam focused on the role of copyright in promoting creativity and innovation, as well as the need for adequate protection and enforcement of IPR.
A movie screening event was held by the U.S. Embassy in Vietnam and the Motion Picture Association (MPA) in Hanoi on April 27 to mark World Intellectual Property Day 2022 themed "IP and Youth: Innovating for a Better Future".
Representatives from the Vietnamese government, diplomatic corps, and students attended the event and watched the screening of Warner Bros movie Fantastic Beasts: The Secrets of Dumbledore to raise awareness about the need to protect the work of artists, as well as promoting appreciation of Intellectual Property Rights in Vietnam.
The event featured opening remarks by the U.S. Ambassador Marc E. Knapper, followed by remarks by Deputy Minister of Culture, Sports and Tourism Trinh Thi Thuy, Warner Bros' Associate Director of Public Policy Esther Peh and Senior Vice President Ed Neubronner of MPA Asia-Pacific Region.
U.S. Ambassador Marc E. Knapper highlighted the important role of IP rights in encouraging innovation and creativity, appreciating the hard work of all people working in the film industry and a range of other professionals whose creative efforts must be protected, with a simple step of saying no to piracy in any format.
The U.S. Government looks forward to partnering with Vietnam to develop and protect the intellectual property, he affirmed.
The event aims to raise public awareness of innovation and intellectual property of Vietnamese youths in socio-economic development and sustainable development, and to promote anti-piracy activism among youth who are generally the end users of pirated products.
Deputy Minister of Culture, Sports and Tourism Trinh Thi Thuy highlighted some of the country's attainments in the field of IP, acknowledged international partners such as U.S. Embassy and MPA's support for the protection of IP rights in Vietnam and mentioned her hopes for close cooperation with them in the time ahead.
In addition to screening, the event also screened a short video to raise public awareness and call for increased intellectual property rights protection at Vietnam. A similar event also was held on the same day in Ho Chi Minh City.
Vietnam ranked 44th out of the 132 countries and economies in the Global Innovation Index 2021 (GII 2021).
The Global Innovation Index 2021 report mentioned Vietnam as one of the four middle-income economies which also include Turkey, India and the Philippines with the potential to change the global innovation landscape.
Since 2017, IP Vietnam has implemented models that connect participating research institutes and universities as part of the World Intellectual Property Organisation (WIPO)'s project on enabling innovation environment (EIE) for IP and technology. So far, such implementation has assisted the participants in building their own IP regulations and organising training courses for the establishment and commercialisation of IP rights.