World news today: Fire and explosion rip through downtown L.A, 11 firefighters injured
World news today May 17: A massive fire broke out in downtown Los Angeles Saturday evening, touching off an explosion and leaving nearly a dozen firefighters injured.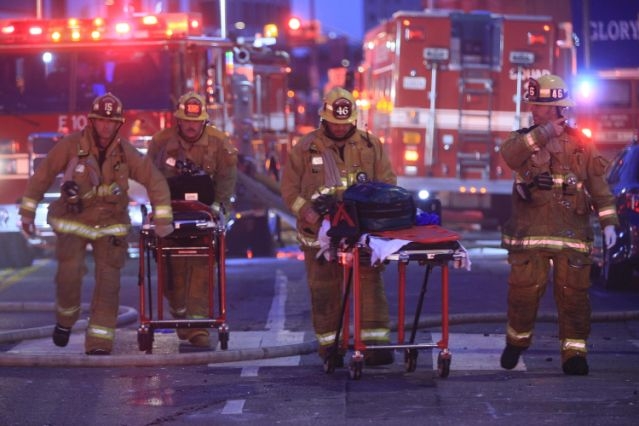 (Photo: Yahoo News)
Fire And Explosion Rip Through Downtown L.A., Leaving 11 Firefighters "With Burn Injuries"
A massivefire broke out in downtown Los Angeles Saturday evening, touching off an explosion and leaving nearly a dozen firefighters injured. Several firefighters suffered injuries while trying to bring the raging flames under control.
The fire was initially reported at 327 East Boyd St. just before 6:30 p.m. It started in a single-story commercial building, and quickly spread to other nearby structures.
In a statement shared on Twitter earlier in the evening, the LAFD reported "over 230 firefighters are responding. Firefighters have moved to a defensive posture for fire attack, and a medical branch has been created for treating and transporting injured firefighters."
Flames and thick black smoke could be seen in the footage as fire crews struggled to bring the blaze under control. Streets in the area were blocked off to traffic, and residents were urged to avoid the area.Video posted on the NBC4 News Los Angeles website and Twitter feed showed multiple ambulances and fire trucks on the scene.
The fire was knocked out at 8:08 p.m. The cause of the blaze remains under investigation and "is of paramount concern," Scott was quoted by Deadline as saying.
Obama attacks Trump's administration
in response to COVID-19
Former President Obama criticized the Trump administration for their response to the coronavirus pandemic during a commencement speech for the students graduating from 78 historically black colleges and universities, NBC news reported.
"Let's be honest, a disease like this just spotlights the underlying inequalities and extra burdens that black communities have historically had to deal with in this country," said Obama, during an online commencement address to graduates of historically black colleges and universities (HBCUs). "We see it in the disproportionate impact of Covid-19 on our communities."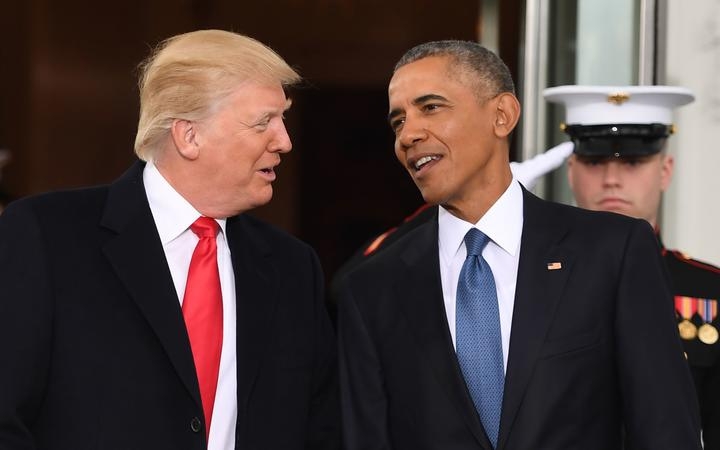 (Photo: RNZ)
As he continued, Obama criticized federal response efforts to the coronavirus crisis: "More than anything, this pandemic has fully, finally torn back the curtain that so many of the folks in charge know what they're doing. A lot of them aren't even pretending to be in charge," he said.
The former president's comments come amid dual crises – one a pandemic disproportionately sickening people of color in the US, and another born by the economic impacts of attempts to contain the virus through lockdowns.
So far, there have been 1.4 million confirmed cases of Covid-19 in the US, and 88,000 people have died from the virus.
Although Obama has largely avoided criticizing Trump's performance in office, in a call leaked last week the former president described the US government's coronavirus response as, "an absolute chaotic disaster," and questioned whether the justice department's decision to drop charges against former national security advisor Michael Flynn could endanger the "rule of law" in the United States.
Health Canada approves first clinical trial for potential COVID-19 vaccine
Prime Minister Justin Trudeau announced Saturday that the Canadian Center for Vaccinology at Dalhousie University has been given the green light by the federal health authority to begin clinical trials of vaccine candidate, CTV News reported.
Trudeau said the National Research Council of Canada will work with the manufacturers of the potential vaccine so that it would be able to be manufactured domestically should the trials be successful.
"If these vaccine trials are successful we could produce and distribute it here at home," Trudeau said during his daily press briefing outside his home in Ottawa.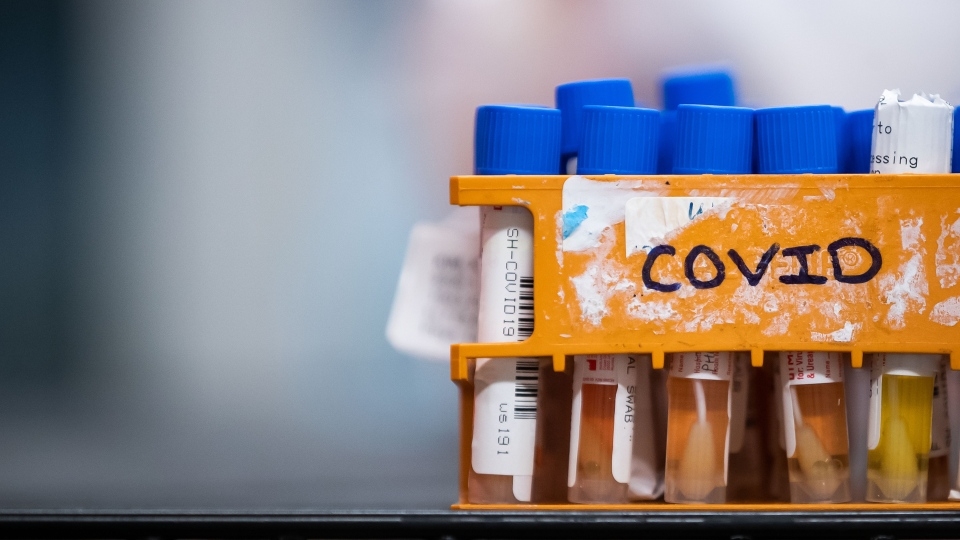 Specimens to be tested for COVID-19 are seen at LifeLabs after being logged upon receipt at the company's lab, in Surrey, B.C., March 26, 2020 (Photo: The Canadian Press)
Health Canada has authorized 33 clinical trials for supportive care or treatments for COVID-19 to date. The vaccine trial announced Saturday, however, marks the first approved Canadian endeavour at finding a vaccine for the disease.
The announcement comes several days after the health agency announced the first authorized use COVID-19 serological tests, or antibody tests, in the country.
The Italian-made test, the DiaSorin LIAISON, was approved by Health Canada on Tuesday and will be used in Canadian labs to determine if a blood sample contains COVID-19 antibodies -- evidence that an individual was exposed to the virus and recovered.
Comic Fred Willard Dies at 86
Fred Willard, who was recently seen in his recurring role as Frank Dunphy on ABC sitcom Modern Family, died Friday of natural causes.
"My father passed away very peacefully last night at the fantastic age of 86 years old," said Willard's daughter Hope Mulbarger in a statement. "He kept moving, working and making us happy until the very end. We loved him so very much! We will miss him forever."
Born on September 18, 1933 in Shaker Heights, Ohio, Willard's stage career began when he moved to New York in the late 1950s. Paired with his early comedy partner Vic Grecco under the moniker of "Willard & Grecco," the two began touring and making guest appearances on series like variety-themed The Dean Martin Show and The Smothers Brothers Comedy Hour, and The Tonight Show Starring Johnny Carson in late night.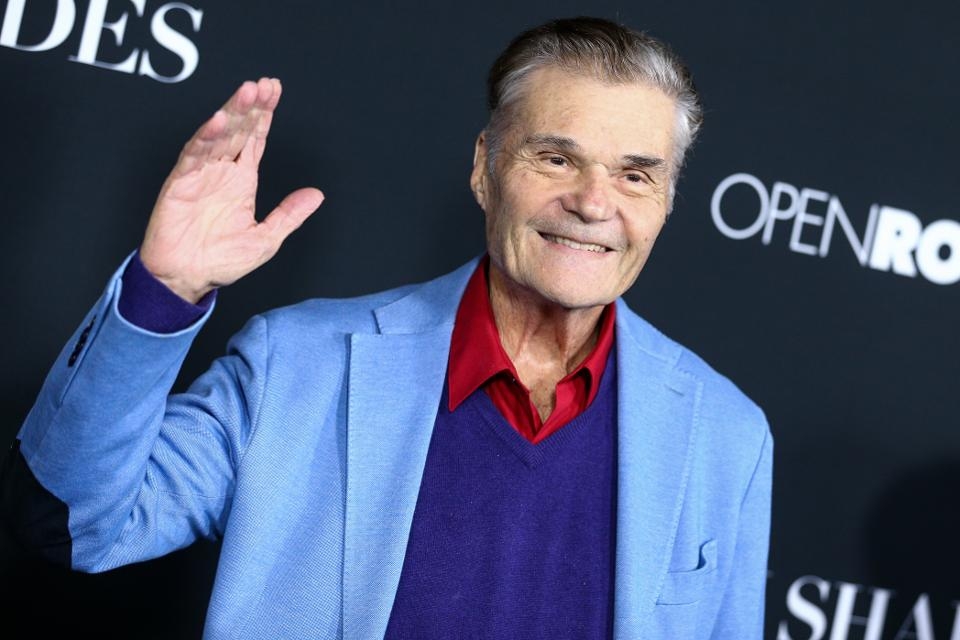 (Photo: Forbes)

Willard performed in improv, starting with Chicago's Second City comedy troupe, and began guest-starring in TV series like Love, American Style, Get Smart, The Bob Neehart Show, and Laverne & Shirley. He was an original cast member on the NBC series Real People in 1979 (and again from 1981 to 1983). And his first regularly scheduled series role came in one-season NBC sitcom Sirota's Court in the 1977-78 TV season, Forbes reported.
After breaking up in 1968, Willard's career break came in 1977 as Martin Mull's sidekick and the announcer, Jerry Hubbard, on Mary Hartman, Mary Hartman fictional talk show spin0ff Fernwood 2 Night (which was revamped into Forever Fernwood and America 2-Night).
Gold prices hit record high, surge about 50% in past one year
Gold prices in India surged to a record high in India on Friday, tracking strong gains in global markets. On MCX, gold futures surged as much as 1.6% to fresh high of ₹47,462 per 10 gram, overtaking previous high of ₹47,327, hit last month. Silver prices also surged ₹2586 or about 6% to ₹46,721 per kg. Gold prices in India includes 12.5% import duty and 3% GST, live mint reported.
Gold prices have surged about 50% in past one year in India amid rupee's depreciation against US dollar, US-China tensions and worries about deeper global recession amid the coronavirus crisis.
Indicating robust investor interest in gold, holdings with SPDR ETF, the world's biggest gold exchange traded fund rose to 1104.71 tonnes, highest since April 2013.
On Friday, gold prices crossed the $1,750 mark per ounce in global markets, posting around 2% gain for the week.
Expectations of further stimulus from US Federal Reserve has risen after chairman Jerome Powell earlier this week warned of an "extended period" of weak economic growth, vowed to use the central bank's power as needed.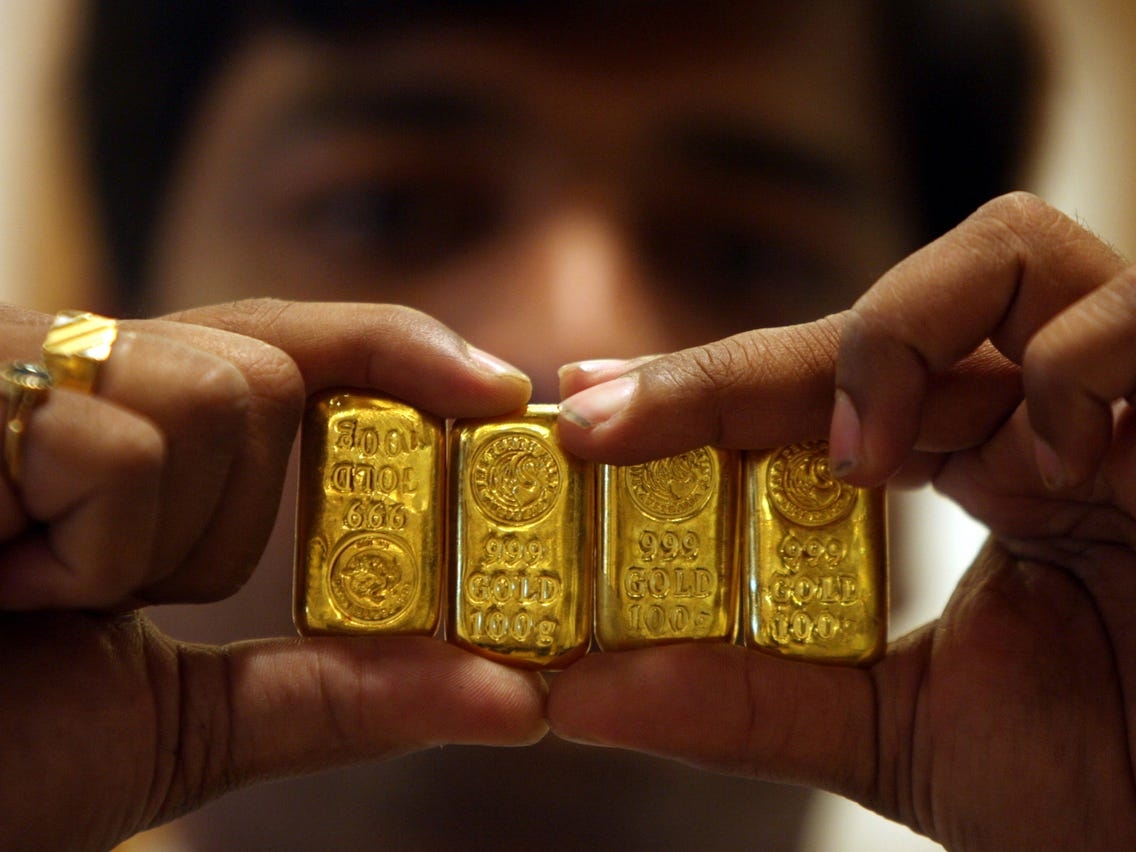 (Photo: Business Insider)
Gold prices have been underpinned by talks of further US stimulus and worsening US-China relations while the investment demand for gold is also rising on the back of recessionary pressures and trade war, said Jigar Trivedi, research analyst at Anand Rathi Shares.
The coronavirus, which has infected over 4.46 million people across the world, has hammered global economic activity, prompting central banks and governments to unleash massive stimulus measures. Gold tends to benefit from economic stimulus because it is widely viewed as a hedge against inflation and currency debasement. Though many countries have started to ease restricitons, the move has rekindled concerns of a second wave of infection.
"The outlook is positive for next week. FOMC meeting minutes, US existing home sales and building permits data will be critical to monitor. Trade conflicts have resurfaced and pressure on Fed is building to bring rates below zero. On the other side Donald Trump has spoken for strong dollar," he added, saying that the undertone for gold remains positive and suggested a buy-on-dips strategy.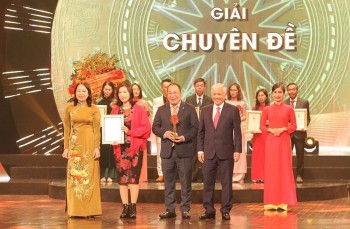 Overseas Vietnamese
VietnamTimes (Viet Nam Union of Friendship Organizations) is a reliable address for overseas Vietnamese to quickly and objectively update political, economic, cultural, and social news. The agency has created a helpful forum and connection between expatriates and the motherland.